Airport construction mid-year review 2015: USD441 billion in airport investment, 2,520 projects
Analysis
The purpose of this short report is to provide a mid-2015 update on airport construction activities and associated capital expenditure globally.There are 340 new airport projects, only 10 of them in North America. China will increase the number of its airports by 58, to 260 by 2020, up from 202 in 2014.
CAPA regards airport construction as a 'hot issue' and the annual report that is published online in January each year has a wide readership, to the extent that a mid-year report has become appropriate.
The subject matter is covered in full in the unique CAPA Airport Construction Database. This database is one of the eight components of the CAPA Airport Data Suite available to CAPA Members. The report which follows contains a brief synopsis of that database.
At the time of writing (Jul-2015) CAPA is aware of 2,520 airport construction projects worldwide, with their distribution represented in the chart below.
All airport projects/project types, activity by region, as of Jul-2015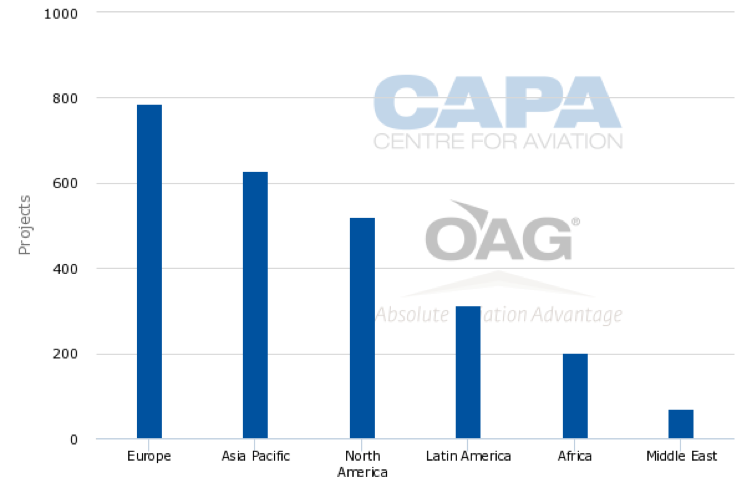 Source: CAPA - Centre for Aviation
That figure is slightly higher than the one reported in Jan-2015 ('just over 2300').
CAPA records as many project completions as is possible, bearing in mind that a great deal of the smaller ones in particular are not reported, and transfers them to a 'historical transaction' database. Allowing for these completions it is still fair to say that airport construction activities are on the rise.
Investment rises to USD441 billion
As for the US dollar value of these activities, CAPA calculates the Jun-2015 amount (the most recent full month) to be USD440.6 billion, with the global distribution as below. The higher value of Asia Pacific construction contrasts with the larger number of European projects, reflecting the size of many Asia Pacific developments:
All airport project investment by all types, activity by region in USD, as of Jun-2015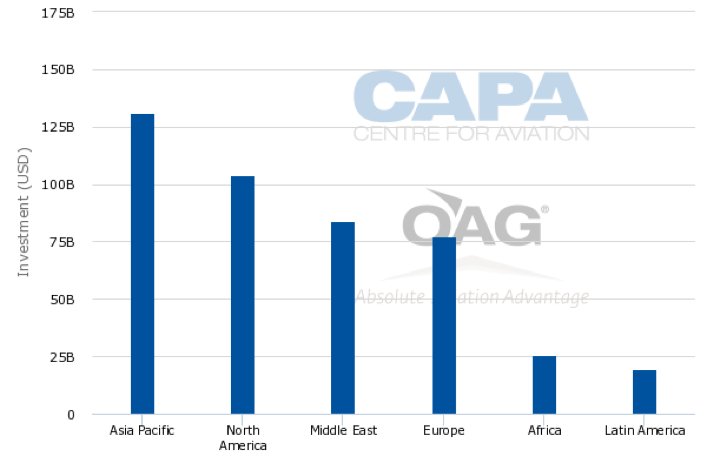 That compares with an overall figure of USD390.2 billion in Jan-2015. The trend remains relentlessly upwards, again allowing for some completions that may have escaped us.
As reported previously there are some apparent contradictions between the total of projects and the total of investment, with Europe leading the way in the former category but only coming in fourth in the latter, while Asia's investment exceeds its projects by some margin in the tables. This is explained by the considerably greater value of individual projects in Asia Pacific, and in the Middle East.
The Jul-2015 investment chart has not been published here as it is still mid-month and much can change in just a few days.
However, there are two notable developments that will push both the regional and global investment totals up considerably.
The first one is the announcement that China may invest up to USD78 billion to build a string of regional airports, raising the total number of airports there from the 202 reported at the end of 2014 (itself nine more than in 2013) to 260 by 2020. The table below indicates the location of existing airports.
China – airport distribution by region, existing airports
Region

No. of airports,
2014

% of airports,
2014

Number of pax
(millions)

% of pax

Cargo volume
(tonnes, m)

% cargo

West

102

50.5

237

28.5

2.0

14.7

East

48

23.8

461

55.4

10.3

75.9

Central

30

14.9

83

10.0

0.807

6.0

Northeast

22

10.9

51

6.1

0.467

3.4
According to CAAC, China invested CNY150.8 billion (USD24.5 billion) in fixed assets in 2014, including a 2.5% year-on-year increase investment in civil aviation infrastructure and technological upgrades at CNY73.4 billion (USD11.9 billion).
Investment in airport systems specifically increased by 10.5% to CNY56.1 billion (USD9.1 billion), amongst which were included 13 major projects such as expansion projects at Nanjing, Nanning, Tianjin, Guangzhou, Chongqing, Wuhan, Harbin, Changsha and Yinchuan as well as new airport projects at Zhengzhou, and Beijing.
Investment in air traffic control systems fell though, by 5.6% to CNY2390 million (USD388.9 million).
Chinese airports' revenue gains in 2014 outstrip those of its airlines - encouraging further development

Moreover, the Chinese are, at last, starting to see some returns on their airport investment.
In Jul-2015 CAAC reported that China's aviation industry as a whole incurred a profit of CNY28.9 billion (USD4.7 billion) for the full year 2014, an increase of CNY3540 million (USD576 million) year-on-year.
Breaking the figures down, the airline segment made the greatest revenue gain at USD68.6 billion but the increase of 8.6% over 2013 was more than three percentage points less than the airports' revenue gain of 11.8% to USD11.8 billion.
The airports also trumped the airlines in the profitability league. Profits were USD1.2 billion, which is 43% of the airlines' profit, compared with only 16.6% of the airlines' revenues. Airport profits increased by USD455.6 million over 2013; compared to only USD193.6 million in the case of the airlines.
Figures like this will encourage China's government to keep on building airports, and to finance them as far as possible from their own resources, now that positive financial returns are being recorded.
The other factor that will influence the Jul-2015 airport investment pipeline chart is the announcement that Hong Kong International Airport has commenced preparations for the third runway at the airport, a project valued at USD19.3 billion based on anticipated completion year exchange rates.
In total these two announcements added USD110 billion of anticipated expenditure on airport infrastructure in Asia Pacific on their own. They are needed, make no mistake. Passenger numbers in China increased by 10.2% to 832 million in 2014. The regional distribution is recorded in the table above.
64 Chinese airports handled more than one million annual passengers, three more than in 2013.
The number of airports handling more than 10 million annual passengers remained the same at 24 while the number of airports handling between one and 10 million annual passengers increased by three to 40. These 64 airports handled a combined 95.3% of total passengers at Chinese airports, including a 76.2% share by the top 24 airports.
Cargo volume increased by 7.8% to 13.6 million tonnes. Again, the distribution is recorded in the table above. There were 50 airports that handled more than 10,000 tonnes of cargo per annum, the same as in 2013 and accounted for 98.5% of total cargo traffic at Chinese airports.
Aircraft movements meanwhile increased by 8.4% to 7.9 million.
Massive investment into Iraq airports; USD32.7 billion investment planned in the UAE

The other region that will affect the July chart to a large degree is the Middle East. In the first instance CAPA decided to accept as fact that USD50 billion will be spent in Iraq over an unspecified - possibly 10-year – period, on airport infrastructure including several new airports, new or refurbished terminals at existing ones (many of which have crumbled into a state where they are not functional) and on air traffic control buildings and equipment. Iraq has 19 civilian airports for a population of 33 million.
Traditionally CAPA takes a cautious line where forthcoming airport construction activity is suggested in countries where there are wars and/or large scale insurgent activity or where the projected investment is large and how it will be financed is unclear.
Iraq falls into all those categories. In this instance, a year after the plans were revealed, the decision was taken to give the benefit of the doubt to the government. As always, it will be kept under review so the investment figure could go down (or up).
It is also necessary to be mindful of the fact that announcements, whether they are made by airport authorities or governments, can be dictated by public relations requirements. For example it has recently (Jun-2015) been reported that USD32.7 billion in airport investments are under way or planned in the UAE.
However, a figure greater than this is already reported separately by CAPA in respect of the Dubai International Airport (where expansion is drawing to an end for the time being) and at the Dubai World Central (Al Maktoum) Airport where by comparison it is only just starting. Every attempt is made to prevent any double counting of investment projections by airport and also by country, which is why occasionally announcements are reported but without a supporting investment figure entry.
This happens most frequently in the case of generic entries for airport investment in countries as opposed to specific announcements concerning individual airports.
Apart from China and the Middle East, there are many grand projects at existing airports around the world
Leading the way in Asia Pacific are those (over USD1 billion in value) at:
| | | |
| --- | --- | --- |
| Airport | Investment USD bn | Description |
| | 2.5 | Expansion projects/3rd runway |
| | 3.6 | New runway and associated works/terminal redevelopment |
| | 1.8 | Terminal enhancement and planned fourth runway |
| | 1.6 | New runway and terminal and related works |
| | 1.8 | Terminal enhancement/potential new runway |
| Jakarta | 1.7 | New terminal/terminal redevelopment/possible 3rd runway |
| | 2.0 | Construction of a new terminal five, (recommended for approval 21-Jul-2015) |
| Melbourne (Essendon) | 1.8 | Development of an 'airport precinct' including a terminal building |
| Melbourne (Tullamarine) | 7.8 | New terminal/runway/ integrated transport facility and associated works |
| | 2.9 | New terminal/Real estate development/Expansion of terminal 2 and other works |
| | 2.2 | Terminal renovations/new terminals/new runway/associated works |
| Taipei (Taoyuan) | 2.3 | Airport City/new terminal and upgrade/new runway redevelopments |
The major developments in Europe are as follows:
| | | |
| --- | --- | --- |
| Airport | Investment USD bn | Description |
| | 2 | General improvements |
| | 6.2 | New airport on site of old one, now opening 2017 |
| | 3.6 | Terminal expansion and refurbishment/runway rehabilitation |
| | 2.9 | Business complex/terminal refurbishment/new apron and taxiways/possible new runway |
| | 10 | New runway/New terminal/Terminal renovation/Cargo city extension |
| | 1 | Terminal expansion/Runway rehabilitation/Apron extension/General enhancements |
| | 3.3 | General improvements across both terminals/potential third terminal/potential new runway (presently not recommended by Airports Commission) |
| | 13 | Five-year infrastructure plan (ongoing)/Potential new runway (presently recommended by Airports Commission) |
| | 2 | Terminal upgrades and expansion/Airport City/Logistics facility/Additional car parking |
| | 2.7 | Terminal expansion and upgrades/Apron and taxiway rehabilitation/New terminal/New runway |
| | 2 | Masterplan implementation including terminal extensions/Airport City/Carparks |
| | 1.3 | Multiple projects |
| | 1.1 | Airport City/terminal upgrade |
(n.b. the third runway at Munich Airport, which has just acquired legal certainty in the Federal Court, is not included here as precise costs are not known).
3. The Americas
In the Americas most are in the US:
Airport

Investment
USD bn

Description

9

Long term development programme including new (sixth) runway

1.8

General infrastructure enhancements

1.2

New terminal/runway improvements

1.2

Multiple projects

1.7

New runway/terminal expansion/other works

3.5

Expansion including second runway

2.5

General infrastructure expansion/Potential new runway

15

Ongoing airport-wide capital investment plan

1.6

Terminal expansions/Airport City

1.3

Runway extension/terminal renovation

Houston George Bush

1.45

Terminal redevelopment/new terminal

Kansas City

1.2

New terminal/enhancements

1.6

Long-term expansion plan/New administrative tower

1.0

New terminal/Control tower/Second runway/Other works

6.8

Terminal construction and renovation/runway relocation/other infrastructure works

1.5

General terminal expansion

1.1

Modernisation programme/new terminal

New York JFK

1.4

Terminal expansion/Cargo upgrade/Runway and taxiway rehabilitation

New York La Guardia

3.9

New central terminal and other works

Orlando

3.8

New terminal/terminal enhancements/other works

7.5

Runway extension/New runway/Cargo complex development

1.4

Terminal expansion and other works

2.4

Renovation works

2.0

New terminal

4.2

Master/business plan development including expansion of main terminal

3.0

New terminal and runways

1.0

Master plan development/retail development

Washington DC

4.6

Concourses/new terminal/airport hotel
The number of new airport projects reaches 340
Let us turn now to new airport construction projects. In the Jan-2015 report 315 new airport projects were identified. In Jul-2015 this has risen to 340 despite several completions during the intervening months.
Total investment in new airports amounts to USD157 billion - so when added to the total of investment in existing airports the grand total presently is USD597.6 billion.
The breakdown is as follows:
Number of new airport projects by region, Jul-2015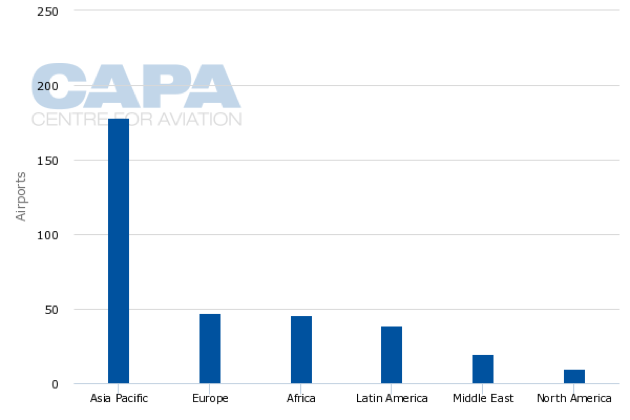 Number of new airport projects by region (investment, USD), Jul-2015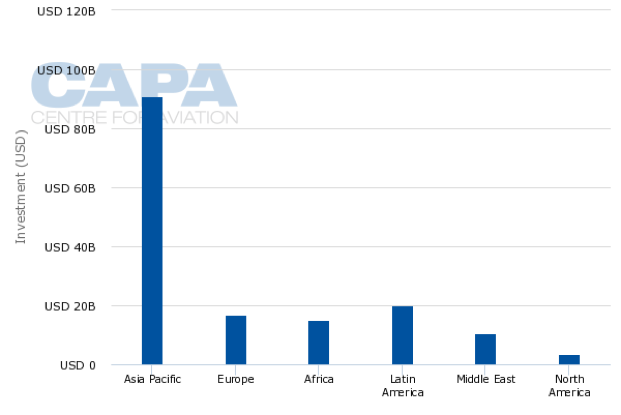 In both charts the Asia Pacific region easily leads the way in construction and investment terms, vastly outstripping other regions in both categories. China features highly as suggested above, accounting for 54 of the 178 new airport projects in Asia Pacific of which CAPA is aware (under construction or planned). The new Beijing and Chengdu airports are among these, totalling USD24.6 billion in anticipated expenditure.
New airport construction is also a feature in India – 39 airports presently including the much delayed Navi Mumbai project and the recently announced Delhi Greater Noida/Jewar airport.
Indonesia is also active. There are 30 new airport projects known to CAPA in Indonesia, including the new airport for Jakarta – Karawang – which will serve as an alternative to Soekarno-Hatta airport.
Africa matches Europe in projects and investment
It may come as a surprise that Africa almost matches Europe in both projects and investment. The number of new airport projects remains low for the size of the European continent and they tend to be smaller ones and situated in the central and eastern regions.
It would be fair to say that big new airports are frowned upon in Europe and even the addition of a runway often brings about years of debate.
The same is broadly true for Africa – projects tend to be smaller but they are well spread out across the continent. There may be no global scale projects but there are some quite significant ones at capital cities such as Dakar, Blantyre, Kampala and Addis Ababa, amongst others. Resistance to projects from an environmental angle is hugely less than in Europe (though that is not to say there is no resistance).
Airports mean employment and tourists, both much needed.
New airports in North America reach the grand total of 10, dwarfed by Latin America
Both the number of new airport projects and their investment levels remain low in North America, which has a net gain of one (North Dakota Bowman County Airport) to just ten since the Jan-2015 report. At least there is a modicum of green field airport development to report in the US.
In Canada, there is virtually nothing, only the long-projected USD2 billion Pickering Airport to the east of Toronto. There is however much more construction activity at existing North American airports, as indicated earlier.
To read opinion on the issues facing new airport construction and financing in the US see the CAPA report: https://centreforaviation.com/analysis/reports/ppps-could-reinvigorate-us-airport-privatisation-191920.
While North America makes do with what it has, Central and Latin America is home to a number of big projects, the largest being the USD11.3 billion new Mexico City International Airport, the others including the projected new Bogota (El Dorado II) Airport in Colombia; the Chinchero Cusco International Airport in Peru (USD660 million); Palmerola Airport in Honduras (USD105 million); two airports in Sao Paulo totalling over USD4 billion; and the new Port Alegre airport (USD505 million), also in Brazil.
Since the last report CAPA has added two additional sections to the Airport Construction Database, recording historical transactions that
(a) have been completed within the last 12 months and
(b) have been completed since the database began in 2013 and in some cases further back in time.
(This was in response to Member requests for historical data for a variety of purposes.)
In conclusion, airport construction and associated capital expenditure continues, not unabated, but in a fashion that does suggest that confidence is returning to the industry globally.
The construction of new, green field airports, or the conversion of existing military or other purpose airstrips and especially in Africa and Asia Pacific regions is further testimony to that assurance.