Airlines reduce flights from Shenzhen and Guangzhou to Xiamen after high-speed rail opens
Analysis
China's airlines are settling into a changed market from Shenzhen and Guangzhou to Xiamen in southern China, where a high-speed 200 km/h rail line (HSR) opened on 28-Dec-2013 and reduced travel time between Shenzhen and Xiamen from 11 hours to three hours and 50 minutes. What was once a journey where air had a distinct advantage is now a trip where air has only a minor advantage.
Unsurprisingly, flights from Shenzhen to Xiamen have been cut, by a third, with 53 weekly flights decreasing to around 35.
Flights from Guangzhou to Xiamen have dipped 12% from 91 a week to approximately 80. (Fare information is unavailable, which could show discounting to better compete with rail.) The changes are real, but their relative impact in the wider scheme of things is very small: China in Jun-2014 had approximately 31,000 weekly domestic round-trips. Taking a few dozen flights out is a rounding error, although more realistically the slots and airspace can be used to open new routes.
The Guangzhou-Xiamen and Shenzhen-Xiamen routes should first be placed in context. They are not trunk routes. In 2013, Guangzhou-Xiamen saw approximately 26,000 weekly return seats compared to the 145,000 weekly return seats on Beijing Capital-Shanghai Hongqiao, the largest domestic route in China in 2013.
Guangzhou-Xiamen was the 50th largest domestic route in 2013 ranked on seat capacity, according to OAG. Shenzhen-Xiamen saw approximately 15,000 weekly return seats and was the 137th largest route.
Top 15 Domestic China Routes Ranked on Seat Capacity: 30-Jun-2014 to 6-Jul-2014
Rank
Origin
Destination
Total Seats
1
PEK
Beijing Capital International Airport
SHA
Shanghai Hongqiao Airport
147,096
2
CTU
Chengdu Airport
PEK
Beijing Capital International Airport
100,302
3
CAN
Guangzhou Baiyun Airport
SHA
Shanghai Hongqiao Airport
95,018
4
PEK
Beijing Capital International Airport
SZX
Shenzhen Airport
92,276
5
PEK
Beijing Capital International Airport
CAN
Guangzhou Baiyun Airport
88,056
6
SZX
Shenzhen Airport
SHA
Shanghai Hongqiao Airport
86,237
7
KMG
Kunming Airport
JHG
Jinghong Gasa Airport
66,381
8
PEK
Beijing Capital International Airport
XIY
Xian Airport
60,683
9
SHA
Shanghai Hongqiao Airport
XMN
Xiamen Gaoqi International Airport
59,111
10
PEK
Beijing Capital International Airport
KMG
Kunming Airport
56,124
11
PEK
Beijing Capital International Airport
HGH
Hangzhou Airport
55,134
12
CTU
Chengdu Airport
CAN
Guangzhou Baiyun Airport
55,058
13
CAN
Guangzhou Baiyun Airport
HGH
Hangzhou Airport
54,380
14
PEK
Beijing Capital International Airport
CKG
Chongqing Jiangbei International Airport
50,812
15
PVG
Shanghai Pudong Airport
DLC
Dalian Airport
48,596
Shenzhen-Xiamen high-speed rail line has been open for six months
The Shenzhen-Xiamen high-speed rail line opened on 28-Dec-2013, introducing 250km/h trains (slower than other 300 km/h lines in China) from Shenzhen to Xiamen. That cut the 514km journey from 11 hours to three hours and 50 minutes.

Xiamen is the only major stop along the route, so this analysis focuses on traffic impacts from the Pearl River Delta (PRD) to Xiamen. Although Guangzhou is a not an insignificant distance from Shenzhen, it is included in this analysis because much of the population around the PRD lives outside the cities. So a prospective passenger around Guangzhou may in the past have gone to Guangzhou Airport but now could travel slightly further to Shenzhen's railway station to access cheaper and more numerous services to Xiamen via rail.
The same can be true in reverse: Xiamen passengers may be living far outside Xiamen, and in the past would have to fly to Xiamen and then take a car journey; now with high-speed rail they can reach their destination more directly.
Hong Kong, also part of the PRD, is excluded in this analysis as journeys from Hong Kong to Xiamen via Shenzhen are too convoluted to be practical for most. This however will change as Hong Kong receives an express train link to mainland China.
Already airlines are forgoing Hong Kong-south China route opportunities as they will likely be impacted – or made redundant – by high-speed rail later in the decade. From Xiamen, connections are available to Fuzhou and onwards to Shanghai, but again the length and complicated nature of this journey does not warrant a survey of the potential impact.
Rail has a clear advantage over air with regards to price, frequency and location in Shenzhen. In Xiamen the airport is closer to the city centre than the airport (although the airport is moving at the end of the decade farther out of town, and many people will not be heading to the city centre, which is on an island). Rail also presents flexibility as fares are not revenue managed.
Shenzhen-Xiamen transport options: 16-Jul-2014
| | | | | | |
| --- | --- | --- | --- | --- | --- |
| Mode | One-way Lowest Ticket Cost (RMB) | Daily Frequency | Gate-to-Gate/Platform-to-Platform Duration | Distance from Shenzhen City Centre to Air/Rail Terminal | Distance from Xiamen City Centre to Air/Rail Terminal |
| Air | 820-900 | 5 | 1h0m | 41km | 11km |
| Rail | 150.5 | 24 | 3h50m | 11km | 25km |
Shenzhen-Xiamen flights have decreased by one third
In northern summer 2013, Shenzhen-Xiamen typically saw 53 weekly round-trips offering approximately 8,000 seats. This has dropped to approximately 35 weekly round-trip flights (down 34%) across 5,000 seats (down 36%), showing airlines are decreasing seats and frequencies in equal proportion. In northern summer 2012, there were 60 weekly round-trips; airlines decreased capacity prior to the launch of high-speed rail.
This in some ways is different from prior experiences with high-speed rail where airlines boost frequencies prior to the introduction of high-speed rail in the hope of making a higher-frequency service more attractive.

Between the northern summers of 2013 and 2014 Xiamen Airlines has kept its three daily flights flat, while China Southern has decreased capacity from 18 weekly flights to seven, Hainan Airlines from seven to three, and Shenzhen Airlines from seven to three as well.
Shenzhen-Xiamen weekly flights: 02-Jul-2012 to 23-Jun-2014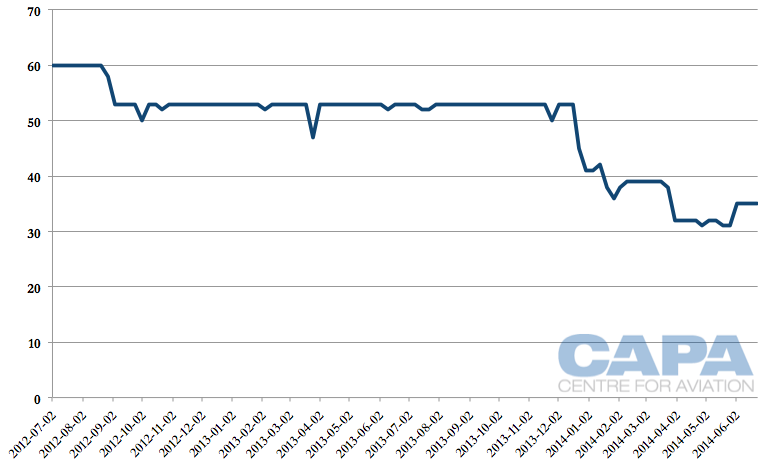 Guangzhou-Xiamen flights have decreased by 12%
In northern summer 2013, Guangzhou-Xiamen typically saw 91 weekly round-trips offering approximately 13,000 seats. This has dropped to approximately 80 weekly round-trip flights (down 12%) across 11,300 seats (down 13%). The similar figures once again indicate airlines are not seeking to preserve frequency by moving to smaller-capacity aircraft.
However, this was not a reasonable option. Already airlines were primarily flying Airbus and Boeing narrowbodies (unlike widebodies on trunks routes) and regional jets are rare in China, limiting their potential deployment.
Since Jul-2012, five carriers have operated between Guangzhou and Xiamen: China Southern, Hainan Airlines, Shanghai Airlines, Shenzhen Airlines and Xiamen Airlines. Hainan Airlines stopped flying the route in Jan-2014 while Shenzhen Airlines commenced flying the route a month after Hainan Airlines exited the market.
Hainan Airlines offered a daily service while Shenzhen Airlines since it started has offered three weekly flights. China Southern has decreased its capacity from 42 to 35 weekly flights while Shanghai Airlines has kept its daily flight and Xiamen Airlines has retained its 35 weekly flights.
Guangzhou-Xiamen weekly flights: 02-Jul-2012 to 23-Jun-2014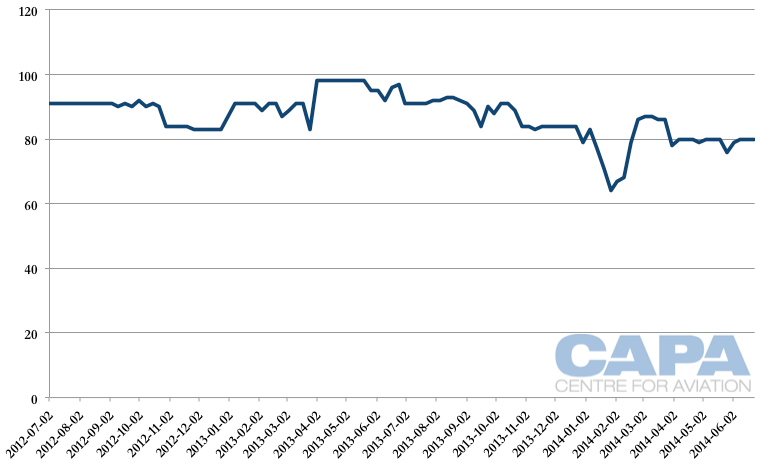 Outlook: Opportunities still abound for air-rail cooperation
The relationship between air and rail in China is complex. On the one hand, airlines resent what was likely un-coordinated over-growth of high-speed rail.
The railway company was ambitious and often an entity unto itself; it has since been reformed following a restructuring that has seen top officials removed and in some cases placed before courts for corruption. There is benefit to the public from high-speed rail, but it remains unclear if this outweighs the large and unquantified infrastructure cost. Tickets are cheap – unrelated to fully allocated costs, so prices may eventually need to be increased to pay off debt.
Yet what has been done cannot be undone, and rail growth is here to stay. In Dec-2013, China ordered 258 high-speed trains, including 78 250km/h trains and 180 350km/h trains (these have been running at 300 km/h).

Airlines are inevitably looking at how to cooperate with high-speed rail. Some may even begin to argue they are better with it than without it; cooperating with high-speed rail can attract passengers to one carrier and its hub.
See related reports:
The opportunities are numerous but so too are the challenges. Airlines have had to work with the usually bureaucratic provincial division of each railway bureau; a single central partnership has not been possible. Further, air-rail cooperation has taken a back seat to internal railway reform.
There will inevitably be stops and starts. Europe has advanced air-rail cooperation but by no means has it mastered the opportunities. In Japan, air-rail cooperation is mainly taking the form of marketing and limited discounts, and even then is being promoted by LCCs. New entrants have limited establishment and working capital so seeking partners makes sense, as Spring Airlines is doing.
It can be guaranteed that there will be further air route reductions as high-speed rail grows. Brakes may well be applied to high-speed rail if construction is reduced, ticket prices increased or train speeds slowed.
Until there is a seismic leap in train speed – not likely until the middle or latter part of the century at the earliest – reports of aviation's death in China will continue to be exaggerated. There will certainly be challenges, but also opportunities for those that chose to seize them. What remains key is agility in an ever-changing Chinese domestic market.