Airlines in trouble - international passenger traffic stalling, cargo shrinking
In mid-Jul-08, Cathay Pacific CEO, Tony Tyler, stated airlines are "going to have to test the elasticity or the inelasticity of demand. [Premium fares] are getting to the point where you have to wonder whether people are going to continue to pay that".
Airlines have now arguably pushed fares and fuel surcharges just about as far as they can go. International passenger growth rates have dramatically slowed in Jun-08, as travel costs surged and economies weaken around the world.
The dip in the price of oil below USD120 per barrel overnight in New York - the lowest level in three months - will provide some relief to consumers, but oil prices remain stubbornly high.
Airlines will continue to trim their networks, focusing on the better yielding markets, until there is a sizeable reduction in the cost of oil. With few other levers remaining, now that the pain threshold on fares appears to have been reached and other costs already slashed, they have little option but to fly less.
Air India is the next Asia Pacific airline set to announce a major reduction in international flying affecting up to 15 routes, to take effect after the Summer peak.
IATA reports international passenger traffic (RPKs) rose 3.8% in Jun-08 (the slowest monthly growth since the SARS outbreak), while cargo volume contracted 0.8%, in a worrying indicator of underlying global economic fragility. The world's cargo engine room, Asia, suffered a 4.8% reduction in Jun-08 cargo volume - the second consecutive month of lower cargo volumes. Asia Pacific airlines saw their international passenger traffic growth fall to 3.2% in Jun-08 from 4.5% in May-08, influenced by weakening long haul destination economies and inflation concerns, according to IATA.
IATA Passenger traffic (RPK) growth (year-on-year % change):
Industry vs Asia Pacific: Jul-07 to Jun-08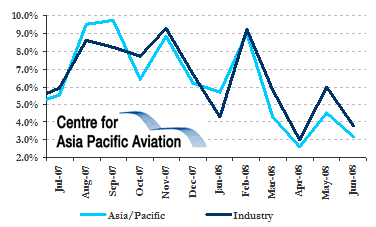 Industry capacity growth is still outstripping supply, resulting in a passenger load factor reduction to 77.6%.
The outlook is bleak according to IATA. Director General and CEO, Giovanni Bisignani, stated, "with consumer and business confidence falling and sky-high oil prices, the situation will get a lot worse". Early airline traffic reports for Jul-08 show demand has weakened considerably.