Airlines and coronavirus COVID19 in pictures
Analysis
The Wuhan/coronavirus/COVID19 impact on airlines has been sudden and ugly, especially for airlines in the Asia Pacific region.
The CAPA graphs - "pictures" - in this report show how airlines have reduced capacity in the first quarter of 2020, according to CAPA's capacity analytics tool, which is built on schedules filed with our data partner OAG, coupled with the aircraft configuration data contained in the CAPA Fleets database. We have selected a handful of airlines in the Asia Pacific region.
These quite striking reductions only show the number of seats being flown. They don't directly address how full those flights are and for obvious commercial reasons airlines are reluctant to give too much away; but stories abound of much less than half full flights.
The graphic examples contained in this short report relate only to a handful of countries and airlines. As the impact of COVID19 continues - and hopefully abates - CAPA will provide further reports.
Note: the filed capacity seat numbers are accurate up until 31-Mar-2020, the end of the current filing period (although even these will still be subject to short term change). Beyond that, the dotted line numbers are speculative and subject to adjustment as the new, northern summer filings are finalised.
Looking to the future. Easter is coming. And the Japan Olympics
The graphs below show current trends - and it is mostly not a pretty picture, with sufficiently large drops over a two month period to ensure some damaging effects on airline, airport and tourism financials.
Many events, from sporting to commercial are being cancelled or "postponed". Supply chain issues are having flow on impacts across industry.
For the airline industry, next in line is to see how forward bookings are holding up, if in fact they are, for the next crucial holiday period, Easter. Falling in mid-April this year, it is for some countries one of the peak travel periods of the year, given that the Lunar New Year holidays were mostly cancelled or heavily downsized. Easter already looks to be greatly challenged for Asian tourism this year, however soon the COVID-19 storm abates.
The Olympic Committee is placing a three month time frame on a decision whether or not to go ahead, although typically the Olympics have a mixed impact on air travel, with surges before the Games begin, then a sudden peak at the end.
Japan will be hoping many Olympic tourists will stay around afterwards, but the overall offsetting impact on business travel and non-Olympic tourism can always be negative, regardless of other factors. In other words, for airlines, the direct numerical impact of cancelling the Games would not be extreme.
1. CHINA - at the heart of the problem for now
Inevitably, at the heart of the crisis, China's industry is most badly affected (and bear in mind that much of the capacity is usually carrying outbound tourists to countries in the region and beyond, giving some insight into the impact on regional tourism).
China's international seat numbers are down nearly 80% y-o-y for w/b 24-Feb-2020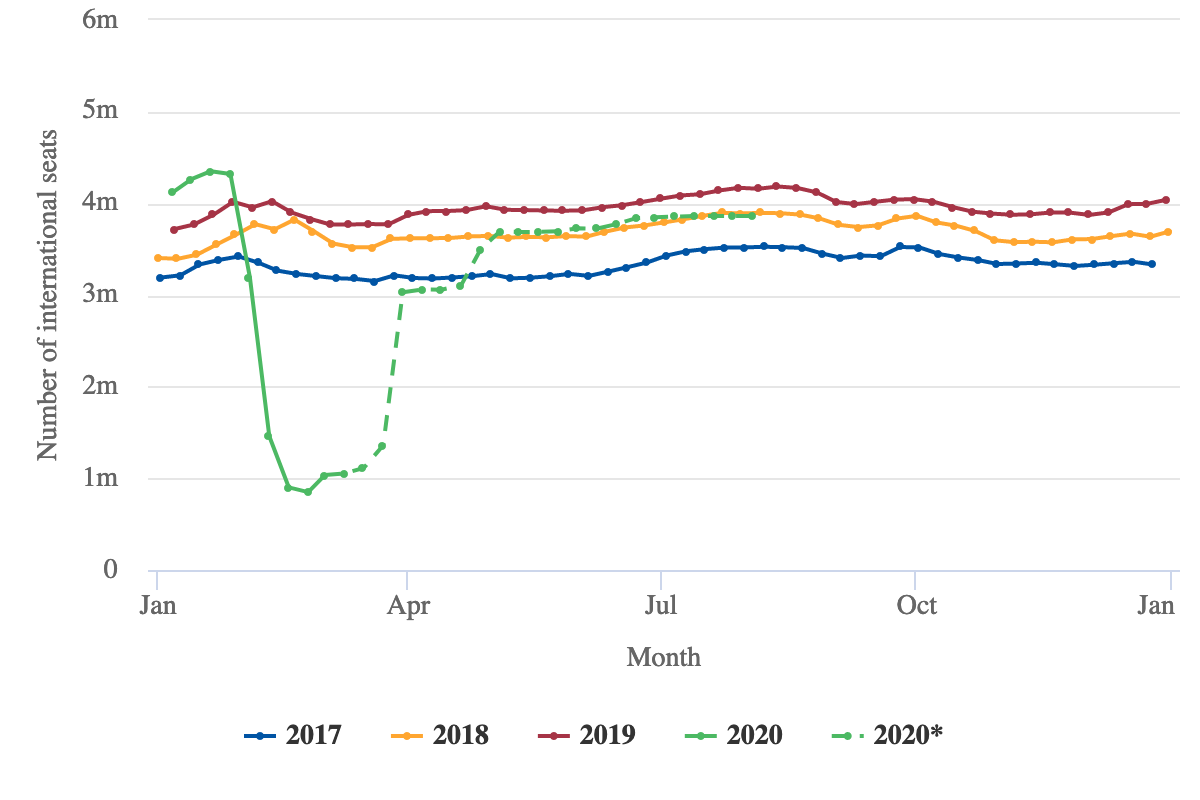 Domestically, a larger proportion of flights continued within China, although as noted above, these capacity figures do not necessarily reflect the amount of travellers. Reports suggest many flights flew at very low load factors.
China's domestic seat numbers are down nearly 60% y-o-y for w/b 24-Feb-2020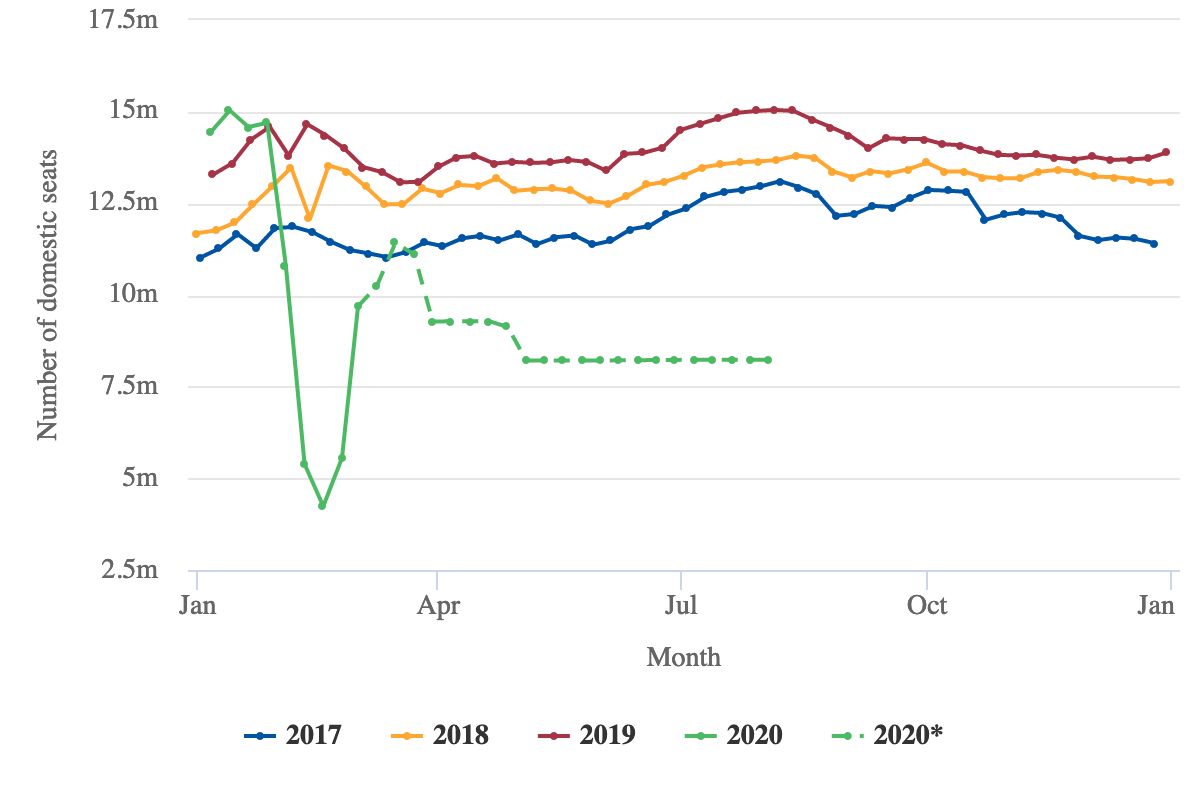 The Chinese government is anxious to restore normality and is seeking to hasten its airlines to recommence services dropped at the height of the Wuhan crisis.
The CAAC is posting weekly updates of capacity for the coming week, to illustrate the recovery, as well as the reductions. The rapidity of changing circumstances is such that South Korea for example will almost certainly be adjusted downwards in the w/b 2-Mar-2020.
CAAC Capacity changes w-o-w by number of airline services
| | | | |
| --- | --- | --- | --- |
| | w/b 17-Feb-20 | w/b 24-Feb-20 | Week-on-week % |
| | 430 | 380 | -12% |
| | 315 | 344 | 9% |
| | 277 | 320 | 16% |
| | 119 | 139 | 17% |
| | 106 | 87 | -18% |
| | 73 | 50 | -32% |
| | 46 | 35 | -24% |
| | 18 | 25 | 39% |
| | 18 | 23 | 28% |
| | 19 | 22 | 16% |
| | 26 | 21 | -19% |
| | 20 | 20 | 0% |
| | 24 | 19 | -21% |
2. AUSTRALIA
Australia's international seat numbers are down over 10% y-o-y for w/b 24-Feb-2020
But this fall is mostly foreign airlines reducing capacity, as Qantas' international seats are almost unchanged y-o-y: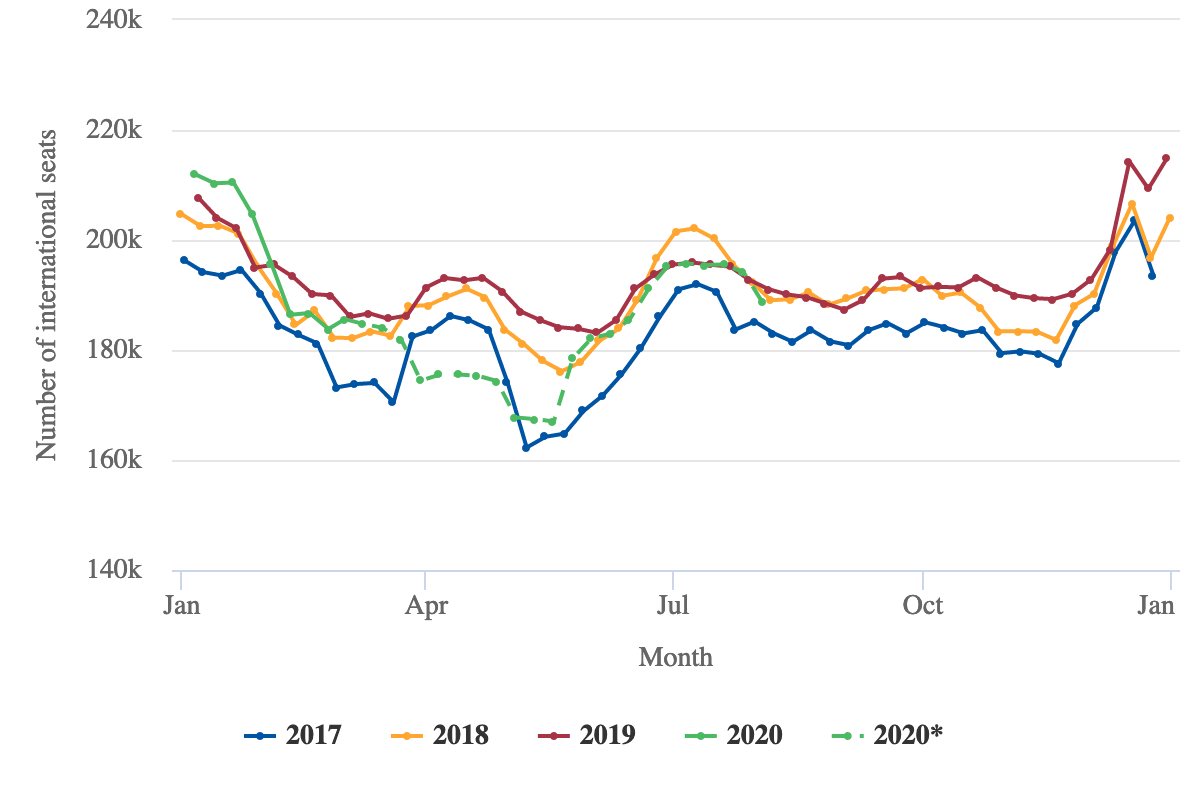 Australia Domestic seats are for the time being at least, relatively stable, down only 1% y-o-y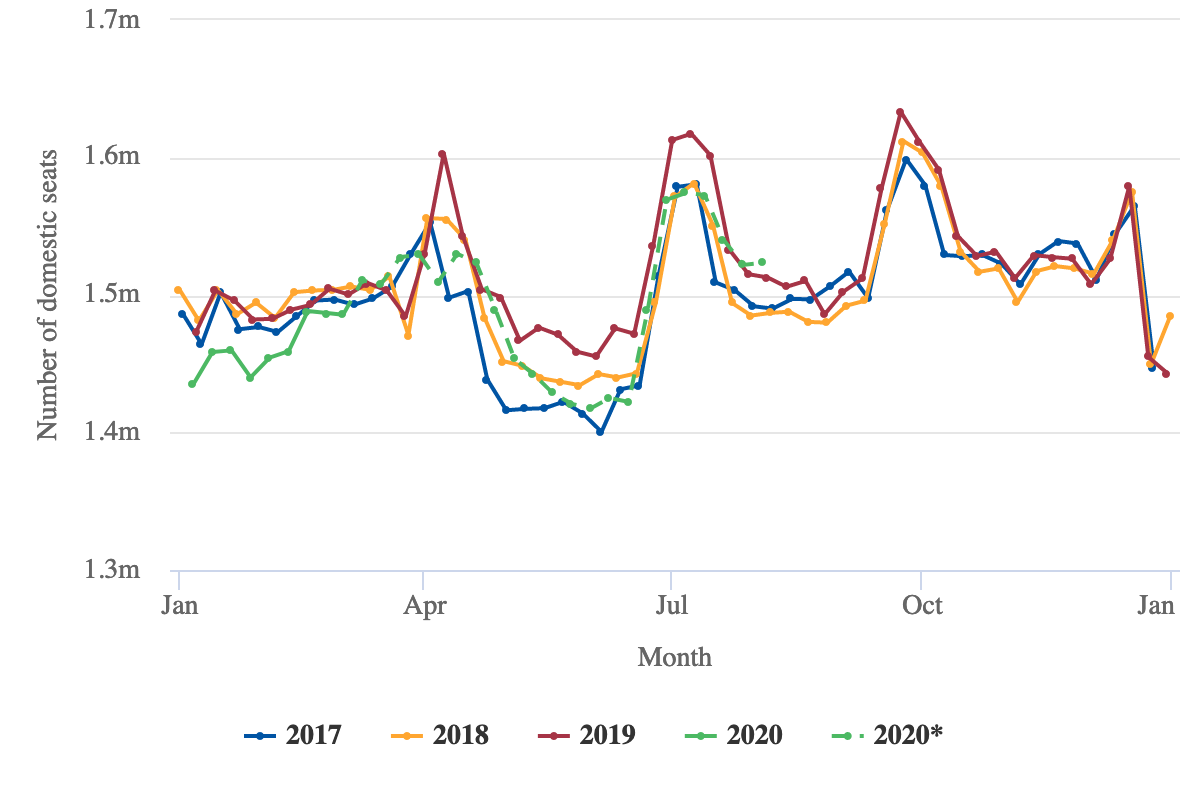 3. SINGAPORE
Singapore seat capacity is well down year on year
Singapore Airlines is however maintaining most of its capacity
But LCC subsidiary Scoot is down 20% (See also the recent report - SIA fine-tunes group strategy to tackle big new challenges)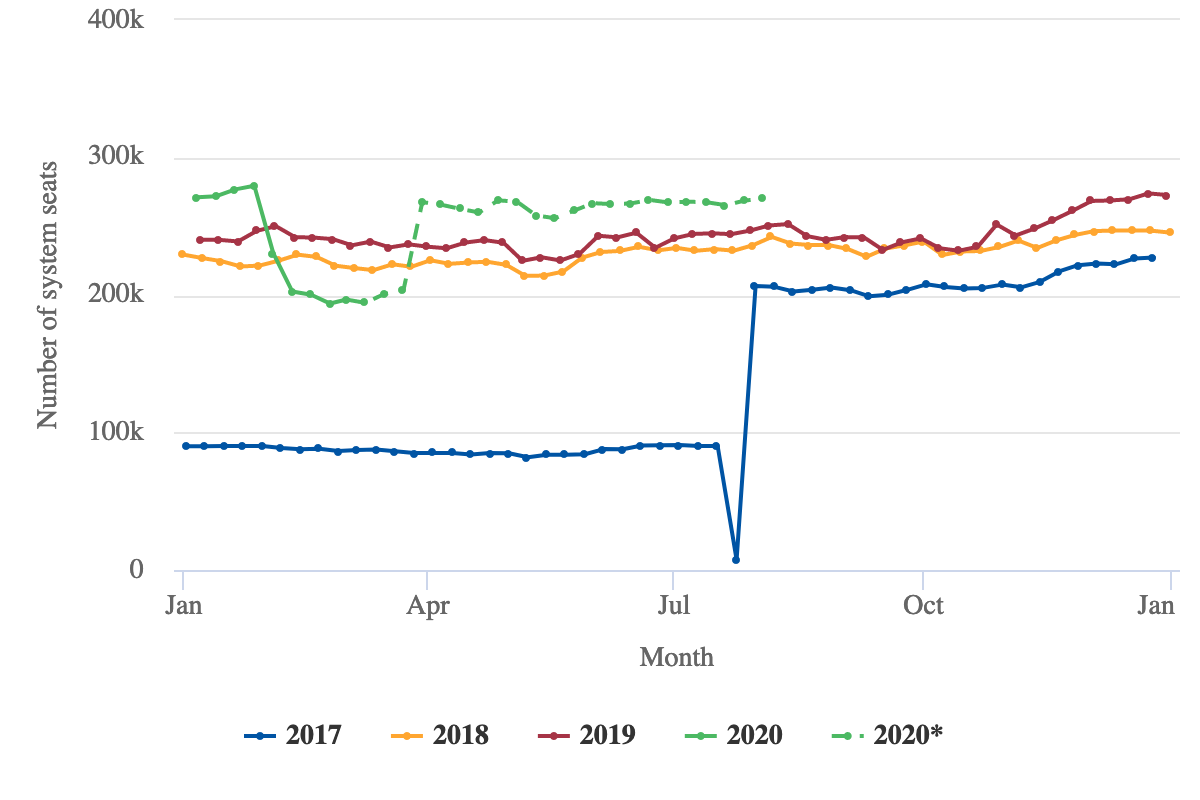 4. JAPAN
Japan's international seat numbers are down over 20% y-o-y for w/b 24-Feb-2020 (but hoping for a resurgence as the 2020 Olympics loom)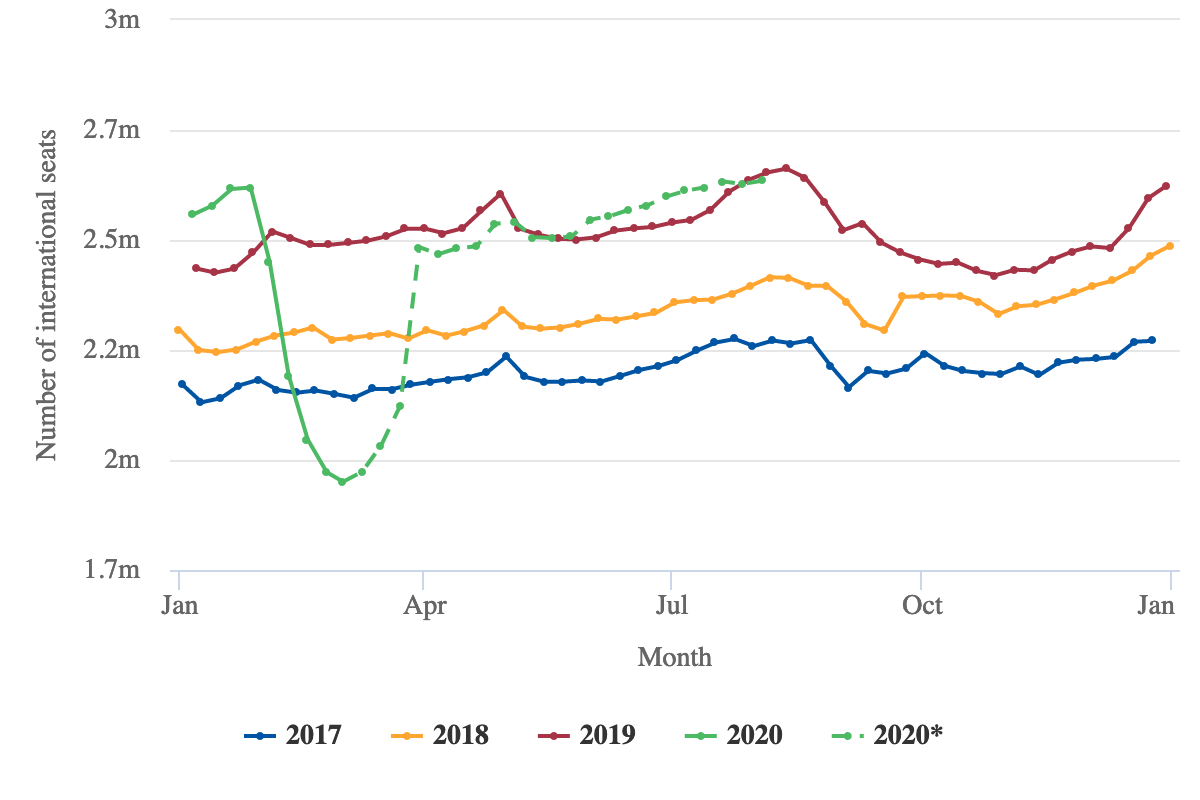 5. MALAYSIA
Malaysia's international seat numbers are (only) down around 10% y-o-y for w/b 24-Feb-2020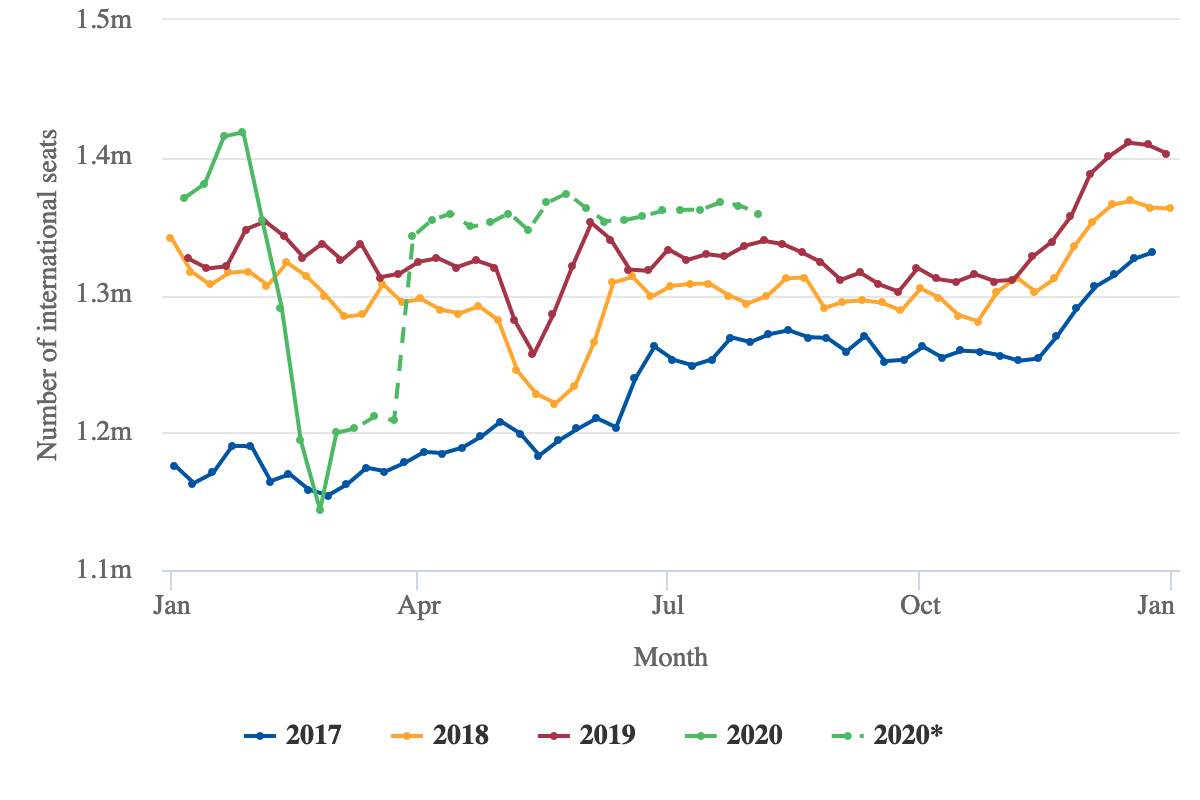 6. SOUTH KOREA - problems looming
South Korea international seats are down 20%, but will be significantly reduced in coming days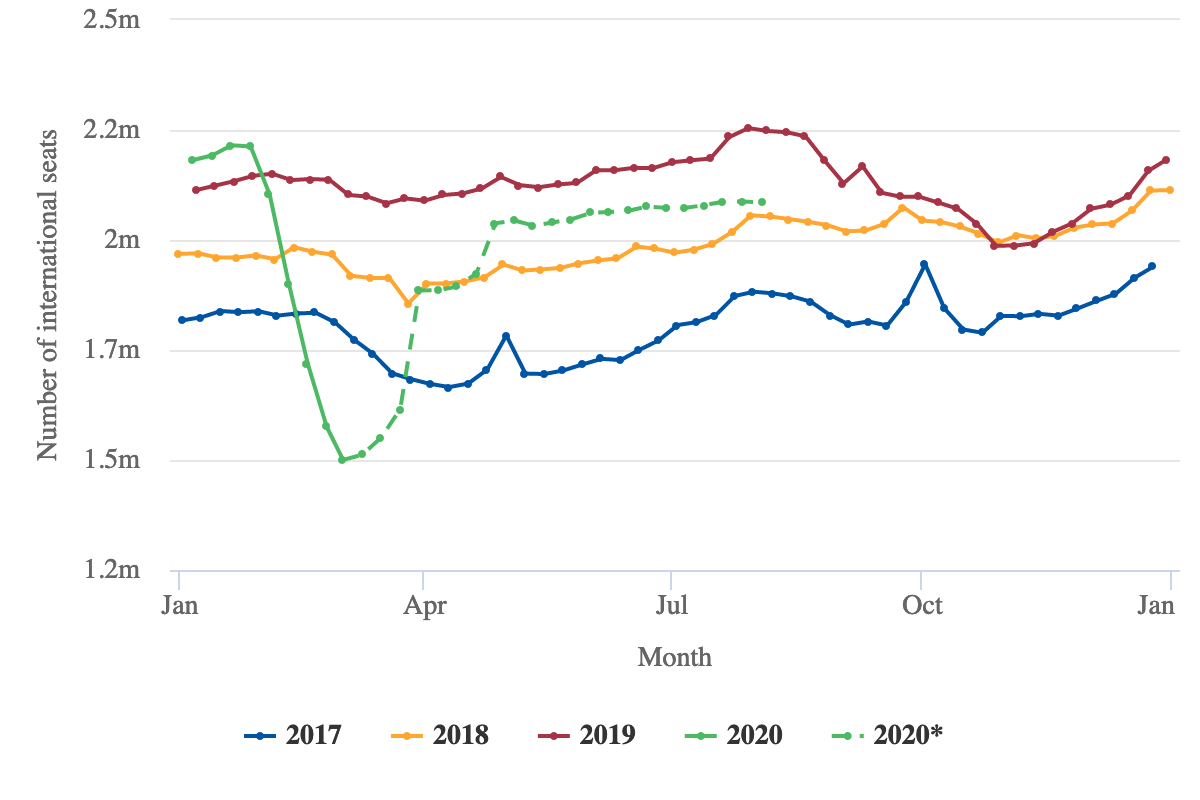 As noted above, we would anticipate a more substantial reduction in Korean international services, given the significant increase in Korea's COVID19 cases over recent days.
CAPA MEMBERS - Stay up to date with the latest critical global developments effecting the industry with our customisable CAPA Alerts. Please contact our Sales Team for assistance.
MEDIA – If you are seeking further commentary on this topic, please contact our Marketing Team.