Airline yields in Europe showing signs of improving in Jul-2010: carrier comparisons
Analysis
European airlines are generally showing yield improvements in Jul-2010, with the UK and Continental Europe, in particular, showing improved signs and the Nordic market appearing to stabilise, albeit at weak levels. European traffic generally improved over the month, with many carriers adding capacity, although this resulted, in some cases, in load factor reductions for the period.
This review summarises and compares the various commentaries on yield and demand behaviour in the most recent reports of Air France, Lufthansa, Air Berlin, British Airways, Virgin Atlantic, Aer Lingus, Vueling, Norwegian, Finnair, SAS, Cimber Sterling, and easyJet and Ryanair.
The word "robust" appears frequently, although most carriers prefer to remain relatively vague when it comes to actual numbers. It would appear that there is some definitive improvement in premium yields - something that should be expected with even the slightest zephyr of economic recovery, so long as capacity remains tight.
But no airline is yet suggesting that there are only blue skies ahead in the immediate future.
Selected European carriers' passenger numbers and passenger numbers growth: Jul-2010 y-o-y
Select European airline traffic highlights: Jul-2010 y-o-y
| | Traffic – pax | % Change | Load factor (%) | % Change | Traffic (RPKs) (mill) | % Change | Capacity (ASKs) (mill) | % Change |
| --- | --- | --- | --- | --- | --- | --- | --- | --- |
| | 7.6 mill | +13% | 88% | -1 ppt | n/a | n/a | n/a | n/a |
| | 5.0 mill | +7.7% | 90.9% | +0.5 ppts | n/a | n/a | n/a | n/a |
| | 4.6 mill | -0.8% | 79.1% | +2.4 ppts | 3,813 | -1.4% | 4,645 | -4.4% |
| | 4.4 mill | +12.2% | 76.9% | +2.2 ppts | 3,425 | +15.5% | 4,453 | +12.2% |
| | 3.7 mill | +6.4% | 81.2% | -2.1 ppts | n/a | n/a | n/a | n/a |
| | 2.0 mill | +0.9% | 82.2% | +1.6 ppts | 2,119 | -0.2% | 2,579 | -2.2% |
| | 1.9 mill | +2.4% | 82.9% | -1.2 ppts | 1,601 | -0.2% | 1,998 | +1.8% |
| | 1.3 mill | +26% | 85% | -3 ppts | 1,653 | +30% | 1,950 | +34% |
| | 1.2 mill | +3.6% | 74.3% | -3.6 ppts | 1,048 | +4.9% | 1,410 | +9.9% |
| | 921,000 | -8.3% | 84.0% | -1.6 ppts | 1,027 | -7.1% | 1,223 | -5.3% |
| | 366,000 | -5.1% | 74.9% | -2.2 ppts | 527.3 | -4.1% | 704.0 | -1.3% |
| | 238,414 | +29% | 76% | -3 ppts | 234.3 | +28% | 309.6 | +33% |
Selected European carriers' load factor (%) and load factor growth (ppts): Jul-2010
Air France reports continued 'pick-up' in unit revenues

In Continental Europe, Air France stated it has witnessed a continued "pick-up" in passenger and cargo businesses in Jul-2010, both in terms of traffic and unit revenues, with the carrier adding: "This improvement reflects both an upturn in demand as well as prudent capacity management."
The French flag stated that, as in the previous two months, unit revenue per ASK ex-currency saw a "strong" year-on-year improvement, with a "marked recovery" in premium and economy classes. The carrier said that, in long-haul, the rise was "especially strong" on the Asia and Americas networks. In medium-haul, the capacity adjustments undertaken in the context of the product overhaul led to a load factor of 79.1% – the highest ever achieved since the merger of Air France and KLM – with unit revenues on the Paris-Europe routes driven by the strong performance of the new "premium eco" class, aimed at the business traveller. However, no exact figures were disclosed by the carrier.
Air France this month announced its Premium Voyageur class is now available to 39 destinations on its international long-haul network, and 20 new destinations will be added by the end of 2010. All B777-200s (24 seats) and B777-300s (28 seats) are equipped with this cabin. All A330s and A340s will be equipped by the end- of Nov-2010 (21 seats) and its A380s during summer 2011.
Upon the release of its 1QFY2011 financial results (to Jun-2010), Air France commented that a pick-up in traffic in the three months "was accompanied by a recovery in unit revenues to levels close to those of 2007-08", with the carrier reporting double-digit yield improvements. Specifically, passenger yield increasing 11.8% to EUR 8.45 cents, while passenger RASK increased 14.8% to EUR 6.89 cents. Cargo yields, meanwhile, jumped 39.9% to EUR 26.90 cents, with cargo RATK increased 54.1% to EUR 18.15 cents.
Lufthansa sees 'robust' pricing environment; premium demand improving
In the German market, Lufthansa, while not providing monthly yield/revenue updates, commented that the "pricing environment remains robust", with the "dynamic recovery" in passenger and freight traffic continuing in Jul-2010.
During 2Q2010, Lufthansa reported a 14.2% year-on-year yield increase, with yield growth of 7.4% in 1H2010 "The recovery in long-haul traffic apparent since the beginning of the year continued steadily in the second quarter," the carrier stated. "Demand in the premium classes also rose by a larger extent than with the European competition. This took average yields for the reporting period up by a total of 7.4% and in the second quarter they were even 14.2% higher than last year. Positive effects from exchange rate movements (+3.2% in the first half-year) and fuel surcharges (+1.1%) also played their part. Overall, traffic revenue went up by 28.8% to EUR8.5 billion (adjusted: +8.8%)."
Air Berlin fails to report RASK data in Jul-2010; RASK slumps in Jun-2010
Also in the German market, Air Berlin has reported a slump in revenue per ASK (RASK) over the past few months, not disclosing RASK data in Jul-2010. The carrier had reported impressive increases in RASK in 2008 and 2009, stemming from its effective capacity deployment plans and acquisitions that have reduced fare competition in some core markets.
In Jun-2010, the carrier reported a 9.3% year-on-year RASK reduction, marking the largest year-on-year reduction in more than 24 months. The reduction compared with growth of 14.0% in Jun-2009 which was preceded by 9.0% RASK growth in Jun-2008.
Air Berlin revenue per ASK (RASK) growth (% change year-on-year) and trend line: Apr-2008 to Jun-2010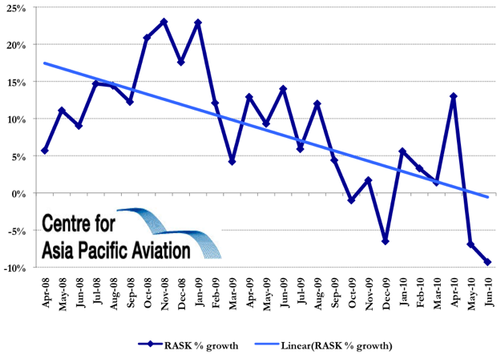 Air Berlin two-year change in revenue RASK (EUR cents) and trend line: Apr-2009 to Jun-2010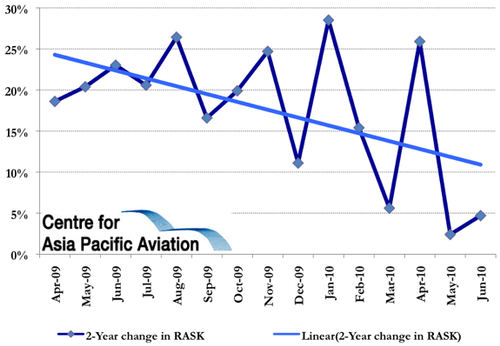 Vueling reports increase in unit revenues for Jun-2010 quarter
In the Spanish market, Vueling reported a 6% increase in unit revenues in the three months ended Jun-2010, with Vueling's average pure fare per passenger increased 4% year-on-year in the quarter to EUR66.57, while average pure ancillary revenue per passenger decreased 17% to EUR8.04.
This reduction in ancillary revenue was due to the increase in sales through the GDS channel (from 19% to 33% in 2010) in which some of ancillary products are already included in the basic fare. As a result of these reductions, total income per passenger decreased 1% to EUR74.60 with revenue per flight also weaker, slipping 3% to EUR9,602.
See related article: Vueling's 2010 expected to beat 2009 results as clickair merger shows benefit

Norwegian yields down again, but with less severity

In the Nordic market, Norwegian Air Shuttle reported a 8% year-on-year reduction in yields and a 12% slump in unit revenues in Jul-2010 to NOK0.54 (EUR6.79 cents) and NOK0.46 (EUR5.78 cents), respectively. The results compare with growth of 4% and 6%, respectively, in Jul-2009.
The LCC stated that approximately a third of the year-on-year RASK reduction was related to the introduction of 11 new B737-800 aircraft with higher capacity and lower unit cost since Jul-2009. The yield developments also reflect an adjusted route portfolio with 3% longer sector length.
Norwegian Air Shuttle yield and RASK growth: May-2008 to Jul-2010
In the three months ended Jun-2010 (2Q2010), Norwegian reported a 15% year-on-year yield reduction, a turnaround from the solid increases experienced in late 2008 and early 2009. The reduction reflects the strong competition and pressures caused by the downturn in the Scandinavian economy. It also reflects the carrier's adjusted route portfolio, a 4% increase in sector length and the introduction of new aircraft with higher capacity and lower unit costs. Unit revenues were down by an even greater extent, slipping 18% in the quarter. Yield and unit revenue figures stood at EUR 6.55 cents and EUR 4.91 cents, respectively.
See related report: Scandinavia's largest LCC, Norwegian Air Shuttle, slips into the red in 2Q2010 as yields decline
'Clearly improved' unit revenues for Finnair in 2Q2010
Meanwhile, Finnair (which does not provide monthly yield updates) commented upon the release of its second quarter financials, that "strengthening demand, recovering load factors and clearly improved unit revenues have restored profitability to a positive course". It said: "Air travel demand has clearly picked up and unit revenues are improving. Business travel is expected to strengthen, particularly outside Finland. The challenge is to regulate the balance between pricing and passenger load factor to deliver the best overall yield."
During the three months to Jun-2010, the carrier reported yield and unit revenue growth of 14.0% and 6.9%, respectively, compared with reductions of 3.5% and 0.7% in the six months to Jun-2010.
SAS Group continues to suffer, with Scandinavian Airlines, upon the release of its Jul-2010 traffic highlights, reporting a 9.0% yield (currency adjusted) contraction in Jun-2010. The reduction builds on a 7.6% reduction experienced in Jun-2009, which was preceded by yield growth of 1.3% in Jun-2008. RASK, meanwhile, decreased 7.2%.
Scandinavian Airlines yield growth: Apr-2008 to Jun-2010
The carrier stated the yield was "affected by a mathematical route mix effect from the relatively strong performance on intercontinental routes versus short-haul routes, one off adjustments of the frequent flyer liability but also due to overcapacity and price pressure in some markets". The yield outlook for July is "uncertain and indicates yield (change) in line with May".
The carrier added that the market continues to be "unpredictable" but a recovery has been noted on intercontinental routes and selected European routes, although "uncertainty still remains in particular on the yield development going forward". SAS has, as a result, initiated yield enhancing measures to offset the negative yield development. The carrier added that the implementation of the Core SAS strategy including cost-saving initiatives is on track.
Cimber Sterling reports 'stabilisation' in yield declines
Also in the Nordic market and reporting yield data for Jun-2010, Danish LCC, Cimber Sterling, reported a "stabilisation" in yield declines in Jun-2010, with single-digit yield and RASK reductions.
Specifically, yields decreased 7% (to EUR 7.5 cents), although the carrier added that a "stabilisation was seen relative to the performance in previous months and the periods have become more readily comparable".
Meanwhile, domestic yields declined 16%, which was partially offset by a 6 ppt domestic load factor improvement to 65%, while regional yields slipped 10%. Conversely, leisure segment yields increased 7% with average leisure yields for Jul-2010 expected to "be at a higher level" than Jul-2010. Overall revenue per ASK declined 8% to EUR 7.25 cents.
In the 12 months ended Apr-2010, Cimber reported a massive 53% slump in yields to EUR 11.94 cents, with RASK decreasing 35% to EUR 7.51 cents. Looking forward, the carrier expects an average yield of EUR 11.27 cents, implying further yield weakness and a 5.6% year-on-year reduction on the already-weakened yield levels.
British Airways sees premium traffic improvement

In the UK, British Airways' reported a 0.8% increase in premium traffic but a 3.2% reduction in non-premium traffic in Jul-2010, compared with a 11.9% reduction and a 3.5% gain, respectively, in the corresponding month of 2009.
The carrier stated: "For the summer, overall volumes are likely to be slightly lower than the peak levels seen last year with a lower proportion of transfer traffic and strong yield performance in both premium and non-premium. In the winter, yield growth is likely to slow due to capacity increases and the stronger base."
Similarly, upon the release of the carrier's financial results for the three months ended Jun-2010, CEO Willie Walsh said: "Trends in our passenger and cargo traffic continue to be positive with yields up and costs down." Passenger yield in the Jun-2010 quarter increased 13.5% to GBP 6.88 pence, with cargo yields increasing 33.9% year-on-year.
The carrier commented that although yields "have been stronger year-on-year, reflecting the underlying economic improvement, they have not fully offset the impact of lower volumes".
British Airways' premium and non-premium traffic growth: May-2007 to Jul-2010
Virgin and BA increase fares citing increased premium traffic demand
Meanwhile, Virgin Atlantic in May-2010 commented that it plans to place greater focus on raising yields in a bid to return to profitability with the carrier concerned it will never reach its peak yield levels of 2007. The carrier added that its premium service numbers rose by 10% Mar-2010 following strikes at BA.
In line with the strategy, Virgin Atlantic and British Airways have increased fares citing an increased demand in premium traffic as the reason for higher fares. The British long-haul operators have announced increases in bookings of up to 14% in the past quarter. BA added it has raised fares across all classes. Amounts were not disclosed.
Aer Lingus sees double-digit increase in trans-Atlantic fares
Aer Lingus raised its outlook for 2010, stating its operating result for the year (before exceptional items) "should be no worse than break even". The carrier's 1H2010 performance was ahead of last year's due to stronger revenues from increased fares and sales, particularly on trans-Atlantic routes and lower fuel and staff costs. Average trans-Atlantic fares rose 17.4% due to improved business demand. Meanwhile, average short-haul/European fares increased 9.0%, partly due to a change in booking patterns.
The carrier stated: "Recent yield performance and long-haul load factors have exceeded our expectations and the forward booking profile suggests that this strength should continue for at least the third quarter."
easyJet and Ryanair see improved unit revenue/fare levels in Jun-2010 quarter
easyJet and Ryanair reported improved unit revenue/fare levels in the three months ended Jun-2010, with Ryanair recording a 5% increase in average fare to EUR39 in the period (including baggage revenue) and a total revenue per passenger increase of 7%. Europe's largest LCC added that it is expecting a yield increase in the +5% to +10% range in FY2011.
See related article: Ryanair remains profitable and maintains full year profit target; profits hit by ash cloud in 1Q2011
Meanwhile, easyJet reported a revenue per seat increase of 4.5% to GBP43.27 in the three-month period, adding that total revenue per seat growth for the final quarter at constant currency is expected to be in the range of 2% to 3%, with full-year increases estimated at approximately 2.5%, "a better performance than originally expected".
See related article: easyJet profit outlook maintained but operational challenges a concern
Europe's three largest LCCs handle 16.3 million pax in Jul-2010; growth of 9.8%
Europe's three largest LCCs, Ryanair, easyJet and Air Berlin, handled approximately 16.3 million passengers in Jul-2010, a 9.8% year-on-year increase.
During the month, easyJet reported a 7.7% year-on-year increase in passenger numbers to 5.0 million, with load factors exceeding the 90% mark (+0.5 ppts to 90.9%). Ryanair reached a new passenger record of 7.6 million in Jul-2010, a 13% year-on-year increase and smashing the previous record of 6.8 million pasnegesr set in Aug-2009. This meant Ryanair handled more than 2.5 million more passengers than its closest LCC competitor. However, Ryanair's load factors (88%, -1 ppts) are more than 2 ppts lower than easyJet's.
In the 12 months to Jul-2010, Ryanair carried 70.1 million passengers – including up to 1.45 million who were booked to fly on flights which were cancelled by the volcanic ash disruption – a fresh 12-month record, with an average load factor of 82%. Meanwhile, easyJet handled 48 million passengers in the period, a 7.3% year-on-year increase, with an average load factor of 86.8% (+1.5 ppts).