Airline profitability falls by 60% in 2Q2011, as weak consumer confidence hits the sector
Deteriorating consumer confidence and weaker global economic growth prospects are placing further pressure on the world's airlines and their investors. Airline share prices have taken a battering, falling by around a quarter this year on economic jitters and earnings expectations. Airline industry profits in 2Q2011 were down by around 60% on 2010 levels, according to industry grouping, IATA. High jet fuel prices continue to pressure the sector, while a moderation in travel volumes and falling freight demand are also of concern.
IATA, in its Jul/Aug-2011 Airlines Finance Monitor, stated airline share prices, measured using the Bloomberg global index, declined by 9% in Aug-2011 and a further 5% in early Sep-2011. The financial markets still expect airline financial performance to be hit more than most sectors.
Bloomberg Airlines Index: Jan-2007 to Jul-2011
First year-on-year decline in airline profits in eight quarters with 60% decline in 2Q2011
From a sample of 33 airlines across all regions for 2Q2011, IATA noted that 2Q2011 net profits have totaled USD1.8 billion, an almost 60% year-on-year reduction. After a loss-making first quarter, the global airline industry has reported a breakeven result for the first half, compared with net profits of around USD3 billion during 1H2010. The deterioration in earnings is widespread but European airlines have improved relative to 2010 (which was impacted by the volcanic ash cloud crisis).
The airline industry typically earns 80% of its annual profits in the second and third quarters, with seasonal losses in the first quarter and weaker fourth quarter results.
Airline net and operating profitability: 2Q2010 vs 2Q2011 (USD million)
IATA, in its Jun-2011 finance forecast, more than halved its forecast for airline industry net profits in 2011 to USD4 billion, with passenger and cargo demand seen to be weaker than previous estimates announced in Mar-2011. IATA cited the impact of high fuel costs, unrest in the Middle East and the impact of Japan's 11-Mar-2011 earthquake and tsunami for the 54% reduction in its outlook from the USD8.6 billion profit forecast in Mar-2011. See related article: IATA halves profit forecast for 2011; 78% weaker than 2010
Jet fuel prices remain 50% higher than 2010 levels but trending downwards
In a slight reprise for the world's airlines, jet kerosene prices have been trending downwards from their peak in Apr-2011. However, prices remain volatile, with IATA noting that they are "swinging +/- 10% around that downward trend". Prices still remain around 50% higher than prices 12 month ago.
Jet fuel and crude oil prices (USD/barrel)
According to Platts data utilised in IATA's jet fuel price monitor, jet fuel prices in the week commencing 26-Aug-2011 stood at USD128.2/barrel, a 47.9% year-on-year increase but a 3.6% month-on-month decline. IATA estimates an average jet fuel price of USD127.9/b in 2011, for an additional fuel cost of USD61 billion compared to the 2010 total.
Looking into 2012, IATA expects fuel prices to decline, but to remain above USD100/b.
IATA jet fuel monitor: Week commencing 26-Aug-2011
IATA jet fuel monitor by region: Week commencing 26-Aug-2011
Passenger yields back to pre-recession levels in US. Freight yields declining
Passenger yields, at least for US airlines, are now back to pre-recession levels, as tight supply-demand conditions have allowed US airlines to react to rising fuel costs in their pricing. Yields have not been quite as strong outside the US but are seeing further improvement. Yields are falling in freight markets.
Average international return fare and US passenger yields (seasonally adjusted): 2007 to 2011
Air travel is trending upwards at a 5-6% pace but air freight markets have stagnated.
Load factors recover to 2010 highs
Air travel markets continued to expand at close to the trend growth rate in Jul-2011, with year-on-year growth of 5.9%. However, airfreight volumes continued to stagnate.
IATA stated that while airlines have been announcing cutbacks to capacity plans, "so far there is little sign of a slowdown". However, capacity growth has been closely matched with demand, in passenger markets at least. It is a different story in the freight market, where demand has stopped growing and freight capacity has continued to increase.
International passenger (ASKs) and freight (AFTKs) capacity (seasonally adjusted): 2007 to 2011
International passenger (RPKs) and freight traffic (FTKs) volume (Seasonally adjusted): 2007 to 2011
Meanwhile, passenger load factors have recovered to 2010 highs, aiding profitability and unit revenue performances. However, the situation is different in the freight market, with IATA commenting: "By historic standards load factors are reasonable. However, compared to early 2010 they are down 4-5 percentage points. This will have weakened unit revenues and supply-demand conditions, making it more difficult to recover high jet fuel prices".
Passenger and freight load factors (%) on International markets: 2007 to 2011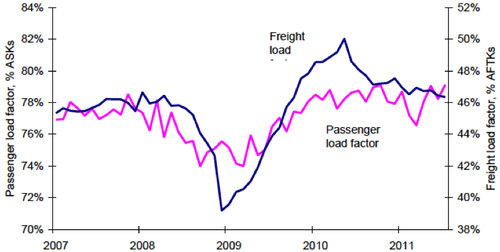 IATA stated the main reason for freight capacity growth amid the weak market conditions is this increased level of belly capacity in passenger aircraft.
Outlook: Time to reassess utilisation rates?

Deliveries of new jets and turboprops declined below 100 aircraft in Jul-2011, to 86 new deliveries, after four months of deliveries above 100 aircraft per month.
Aircraft retirements and deliveries: 2007 to 2011
IATA said, "Flows from the stored fleet are still boosting capacity. Overall a little more than 0.5% were added to seats. At an annualised rate of 6-7% this will imply that airlines may have to start cutting utilisation rates in order to keep available capacity in line with slowing demand, which would not be good for profitability."
The latest US consumer confidence readings are not encouraging. The Conference Board's Consumer Confidence Index, which had improved slightly in July, fell sharply in August to just 44.5 (1985=100) from 59.2 in July. Director of The Conference Board Consumer Research Centre, Lynn Franco, said, "Consumer confidence deteriorated sharply in August, as consumers grew significantly more pessimistic about the short-term outlook. The index is now at its lowest level in more than two years."
The European Commission Economic and Finance Affairs similarly stated the Economic Sentiment Indicator (ESI) declined by 5.0 points to 97.3 in the EU and by 4.7 points to 98.3 in the euro area in Aug-2011. "This decline resulted from a broad-based deterioration in sentiment across the sectors, with losses in confidence being particularly marked in services, retail trade and among consumers", it said. Only the construction sector in the euro area recorded an improvement. Among the largest Member States, Germany (-5.7 points) and the UK (-5.6) reported the strongest decreases in sentiment, followed by Poland (-3.6), the Netherlands (-3.0) and, to a lesser extent, Italy (-0.7), while the ESI remained broadly unchanged in Spain (-0.3). The ESI remains above its long-term average only in Germany.