Aircraft Interiors – industry development summary: Jul/Aug-2023
Analysis
This regular CAPA - Centre for Aviation report provides a summary of major developments in the aircraft interiors sector, supported by data from the CAPA - Centre for Aviation Aircraft Interiors Database and CAPA - Centre for Aviation News.
This edition covers Jul-2023 and Aug-2023 and features:
Continued Rise of Free Inflight Internet
Personal Electronic Devices (PED) Moving to the next level
The Rise of Premium Class Sliding Doors
+ news updates from OEMs and airlines around the world

Continued rise of free inflight internet
When Delta Air Lines, one of the largest airlines in the world, announced plans to introduce free WiFi in 2018, many predicted a domino effect.
This appears to have started taking shape, though not always in the form of blanket free WiFi. Global airlines are getting creative, basing offerings on cabin, route type, member tier and even fare types.
JetBlue Airways was the first major airline to offer free WiFi onboard, with its Viasat-powered service initially introduced in 2013. JetBlue offered two tiers of WiFi speeds, with the lower speed version being free. The LCC later opted to make WiFi completely free.
For years only a handful of airlines besides JetBlue offered free WiFi, including smaller boutique airlines like La Compagnie. Some airlines, including Qantas Airways and Air New Zealand, limited the free offering to domestic operations.
While the number of airlines offering free WiFi stayed low, full service carrier IFC penetration rate increased fivefold: from 10% in Aug-2013 to 49% in Aug-2023, according to the CAPA Aircraft Interiors Database. As availability drastically expanded, so did the quality of connection speeds. Now, airlines can explore ever more creative solutions with WiFi pricing.
Delta's free WiFi initiative may have marked the start of this new phase.
In Feb-2023 the airline introduced free WiFi for Delta SkyMiles members onboard Viasat-equipped aircraft. Viasat is currently fitted on the vast majority of Delta's narrowbody mainline aircraft; widebody installation has kicked off and is expected to conclude in 2024.
In 1H2023 Air Canada, Etihad Airways, Emirates Airline, Kuwait Airways, and Turkish Airlines sequentially announced that they would offer free onboard messaging service to their members across all cabins. More recent adopters include SWISS (long haul only), Qantas (selected international flights) and the IAG subsidiary LEVEL.
Some decided to limit the offering to selected cabin or fare types. Members travelling in Emirates' first and business class, and on Malaysia Airlines' business class long haul flights, can enjoy unlimited free WiFi from May-2023 and July-2023 respectively. The LCC heavyweight Southwest Airlines will also offer free WiFi for its Business Select fares.
Changes are happening rapidly.
Singapore Airlines has already made two major modifications to its pricing schemes in 2023 alone. In Feb-2023 the airline expanded its unlimited free WiFi service to all business class passengers and elites and offered free limited time WiFi service to all Krisflyer members travelling in premium economy and economy cabins. In July-2023 it further optimised the service by making free unlimited WiFI available to members across all cabins.
With more than a dozen major airlines rolling out different forms of free WiFi in 2023 alone, CAPA expects this trend to continue for the rest of 2023 and in subsequent years to follow.
Airline inflight WiFi options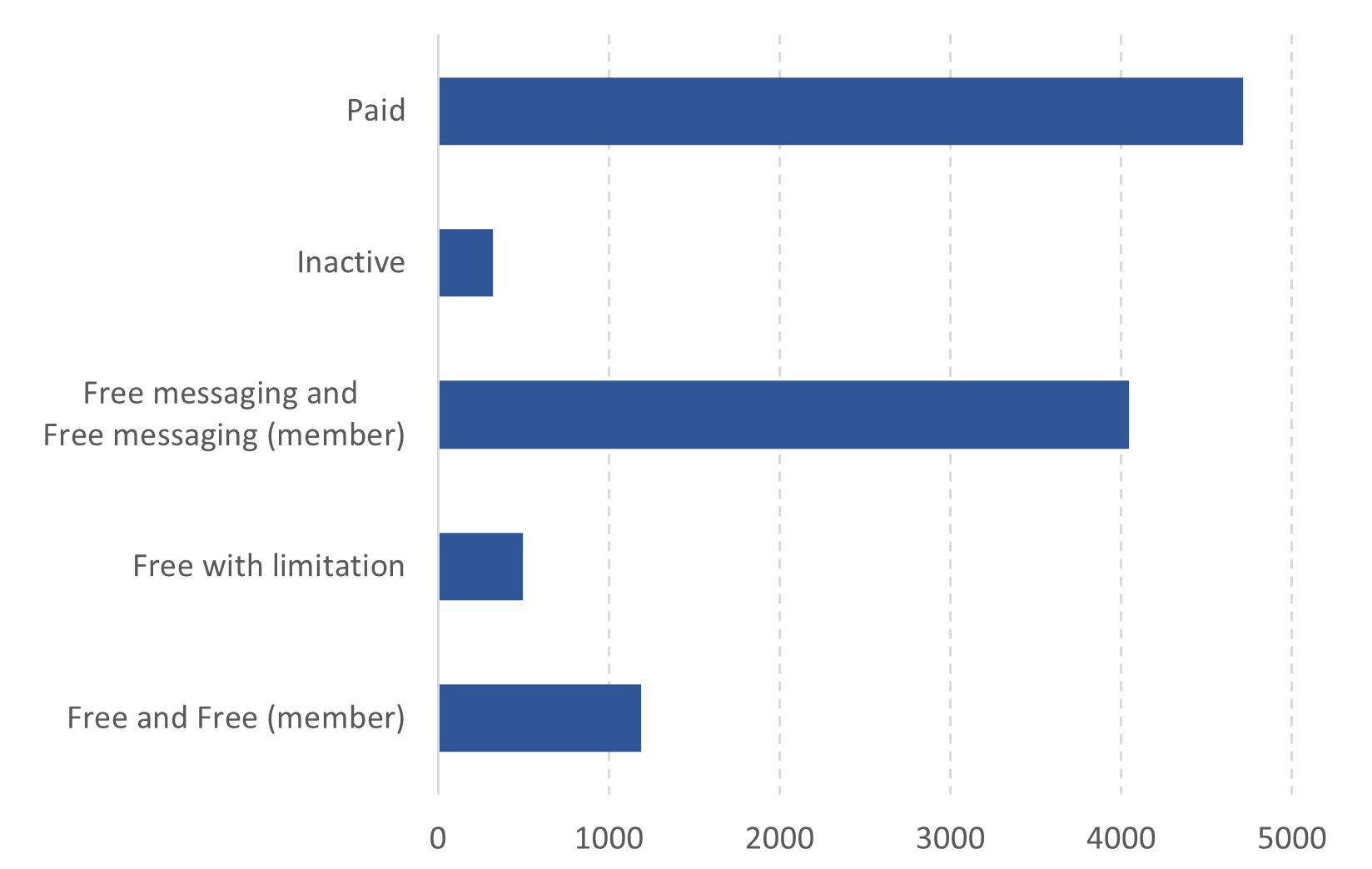 Personal Electronic Devices (PED) moving to the next level
Since iPhones took the world by storm, features supporting usage of personal electronic devices (PED) have become a standard cabin feature. Customers, especially those on long haul routes, now expect there to be power sources made available during their flight.
While this change is exciting, until recently airlines had mostly stuck with AC and/or USB-A ports. Outside the airline industry, USB-C, Qi (wireless charging) and Bluetooth are quickly becoming the new standard.
We are finally seeing the tide turn in aviation. More full service carriers now offer USB-C, Bluetooth, and device holders to all seats, while adding Qi and NFC for premium cabins. For USB-C alone, availability increased almost 20% over the past 5 years, according to the CAPA Aircraft Interiors Database.
United Airlines is one of the airlines embracing the PED age. Its new Safran Z600 first class seats, to be retrofitted to most mainline narrowbodies by 2025, will feature Bluetooth, Qi, AC and USB-C.
Air India also plans to add Qi to its new first and business class seats as part of its ambitious Vihaan.AI rebranding.
Qatar Airways was the first airline to offer wireless charging. The airline installed Qi in its Boeing 787-9 business cabin in 2020.
Until now, Qi is present in the business class cabin of 11 airlines, including Qatar's 787, Finnair's A350 and China Airlines' A321neo.
Usage of personal electronic devices (PED) on aircraft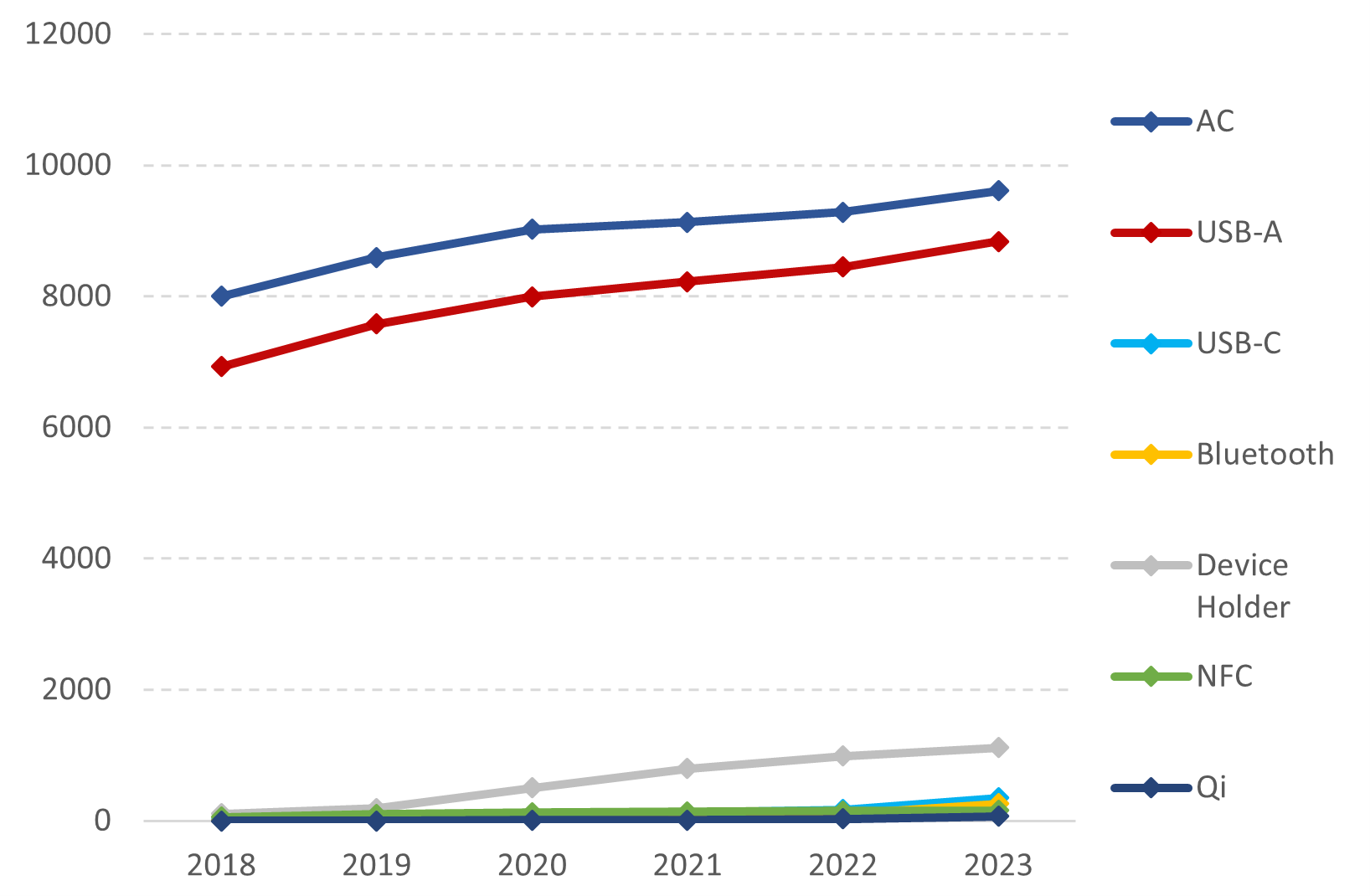 It is important to note that Qi remains a 'shiny' feature, with much room for improvement. Inflight wireless charging users often complain that the product is slow, or fails to charge. As adoption of the amenity picks up, CAPA expects in-seat charging vendors to explore new technologies to improve the reliability of wireless charging.
In 2015 Qatar Airways was also the first airline to install NFC in its 777-300ER QSuite seats.
Until now, there are six airlines providing NFC in their business class cabin. These include selected widebodies at Singapore Airlines and China Eastern Airlines.
While NFC adoption is increasing, news remains scarce as to airlines that have used the technology to truly provide radically new services. In fact, some airlines simply installed NFC while seemingly not using it at all.

The rise of premium class sliding doors
Another trend that is growing increasingly popular is the addition of sliding doors in premium seats.
Two major airlines in the Air France-KLM Group recently introduced new products featuring doors. KLM Royal Dutch Airlines launched a new enclosed 'World Class Business' seats on the Boeing 777 fleet. Meanwhile, Air France debuted STELIA Aerospace's "Opera WB" platform for its latest batch of Airbus A350s.
Over in the Indo-Pacific region, Hawaiian Airlines' new 787-9s will feature 34 enclosed Leihōkū Suites designed by Adient Aerospace.
Cathay Pacific also unveiled a new Aria Suite for its upcoming Boeing 777-300ER retrofit (starting 2Q2024).
Air India's retrofit program will also see installation of first and business class seats with privacy doors.
Narrowbody operators are not missing out on the trend either: flydubai's upcoming Boeing 737 MAX 8 will feature Safran Vue, Saudia's A321XLR will have Thompson VantageSOLO, and American Airlines' A321XLR will have Collins' Aurora seats.
According to the CAPA Aircraft Interiors Database, the Middle East has the highest proportion (11.7%) of widebody business cabins with door installed. In Europe, meanwhile, there has been the fastest growth, increasing from 0% to 9.4% in the past 5 years.
Growth of widebody fleet with business class sliding doors in the past five years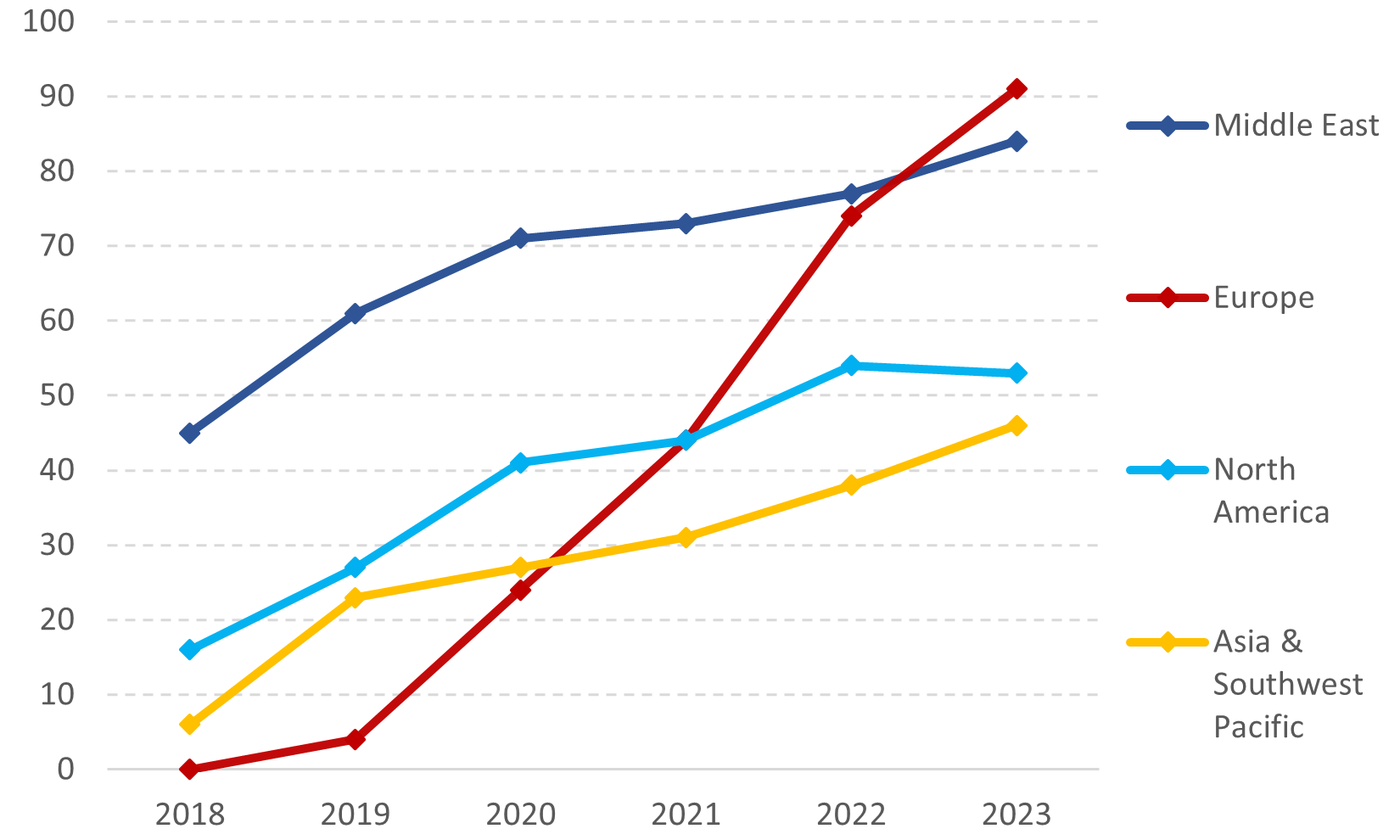 Latest global interior updates
OEM
Hughes Network Systems launches JUPITER 3 satellite for Americas coverage.
Jamco 'Quest Seat for Elegance' business class seat to be ready for installation in 2025/26.
ZIM Aircraft Seating launches ZIMlite platform with three variants.