Airbus vs Boeing 'battle' over-hyped: average ordering levels similar as Airbus leads in deliveries
Analysis
For the year to date, Airbus leads Boeing 1015 to 379 in terms of firm aircraft orders – a staggering lead of 636 aircraft, thanks in no small part to the success of the A320neo. Both manufacturers have large numbers of commitments for their revamped narrowbodies that are still to be confirmed as firm orders – around 425 for the A320neo and 496 for Boeing's B737 MAX, with Boeing promising "hundreds" more commitments to come. All indicators are present that this could be another record year of ordering, just as the global economy teeters on the brink of another recession and as Europe and America's airlines reduce capacity and ground aircraft. But the long-term trend shows the world's two largest airframers dovetail each other.
In the annual battle over firm orders, Airbus has pipped Boeing for the last three years running, although ordering has not approached the dizzy heights of 2007, when Airbus booked 1341 orders to Boeing's 1413.
Airbus and Boeing firm orders: 1997-2010*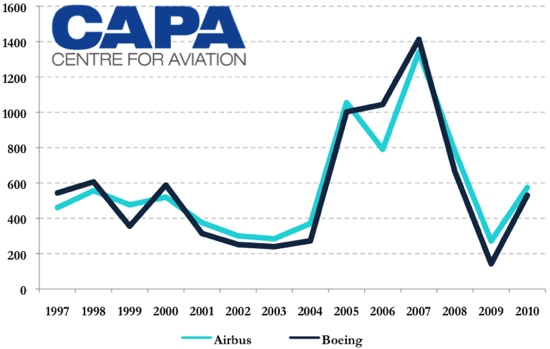 Levelling out the orders over a five-year average reveals there is actually very little difference in the number of outright orders between the two manufacturers. Based on this five-year moving average, Airbus and Boeing firm orders have been essentially level pegging over the last five to six years.
Airbus and Boeing firm orders, five-year average: 1997-2010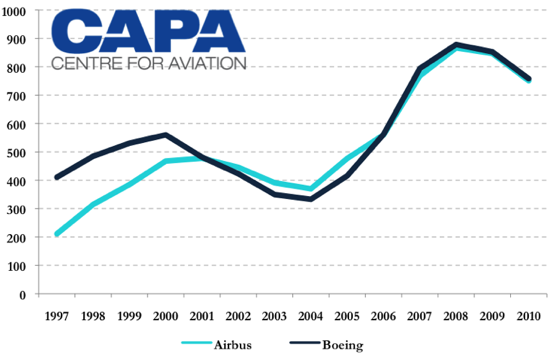 Aircraft deliveries are, however, a different story.
Over the 1990s, Airbus closed the gap in manufacturing capabilities compared to Boeing and has out-delivered its rival every year since 2003.
Airbus and Boeing aircraft deliveries: 1997-2010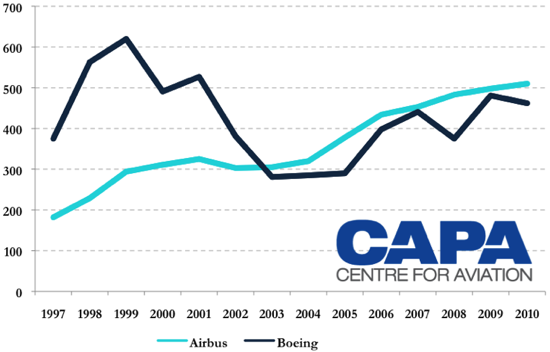 Since Airbus has caught up to Boeing, difference in delivery numbers is typically small – usually no more than 20-30 aircraft. A notable exception was 2008, when Boeing suffered a machinists strike, blowing the output difference to over 90 aircraft. Delivery rates in the medium-term future should increase significantly as both airframers look to increase narrowbody production – partially to avoid losing new orders to forthcoming entrants including the Bombardier CSeries, Comac C919, Irkust MS-21 and Sukhoi Superjet – and introduce their new medium/long-haul twin-jets, the A350 XWB and B787. Boeing planned to assemble 10 B787s a month – effectively assembling an aircraft every three days by snapping together fuselage barrels with wings – but will likely not achieve that rate until 2013 at the earliest. When Boeing meets that target, it will be thanks to an additional assembly line in Charleston, South Carolina, which over the long-term will help boost production and deliveries.
Airbus and Boeing aircraft deliveries, five-year average: 1993-2010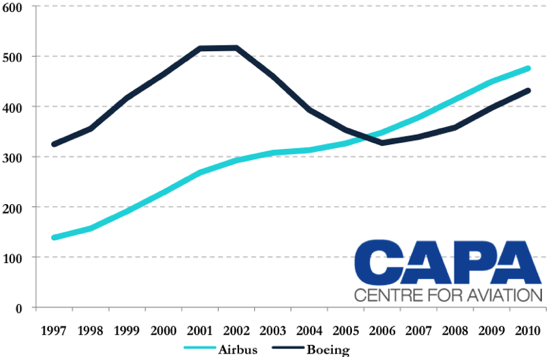 Looking at a five-year moving average for deliveries, Airbus' lead is more decisive.
What is also apparent is the greater exposure to the boom/bust cycle Boeing, the more mature airframer, has experienced. Airbus deliveries have grown constantly since the late 1990s, but Boeing's deliveries have weathered a number of peaks and troughs, partially attributable to it ending production of older aircraft like the B757 or slowing down on other aircraft types, like the B767 and B747, whereas Airbus – with the exception of the A300 and A310 – has not replaced any of its aircraft families with entirely new ones, as Boeing has. Airbus has also developed its current family more recently than Boeing, largely making its aircraft still relevant for the market. Only one of its aircraft types – the four-engined A340 – has lost relevance to the market as its competitor, the twin-engined B777, offers greatly improved fuel efficiency. Orders for the A340 dropped significantly in 2007 when the price of fuel skyrocketed.
Narrowbodies – the big growth area
Much of the heat and light between the manufacturers over the past decade has involved widebody aircraft – notably the A330, A380, B777 and B787 – in part because of the high margins airframers earn from them, but the real commercial activity has been around the typically lower margin single-aisle, short haul units.
Airbus' deliveries advantage has been mostly in the narrowbody segment. Since the late 1990s, when Boeing began to wind down B757 production, Boeing's narrowbody production lead over Airbus. In 2003, Airbus delivered almost 400 more narrowbodies than Boeing.
Airbus and Boeing narrowbody deliveries: 1997-2010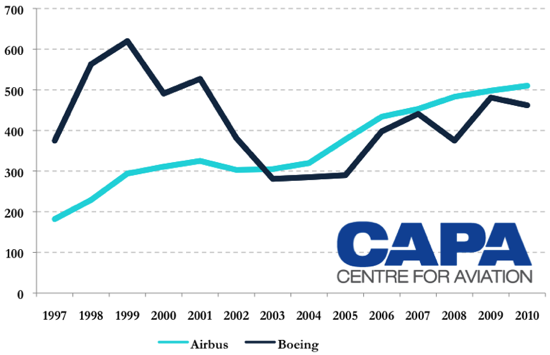 With both Airbus and Boeing increasing aircraft production, particularly in the narrowbody segment, deliveries are set to steadily increase for at least the next two to three years.
Airbus and Boeing both plan to push narrowbody output to above 40 narrowbodies per month. Airbus has already confirmed plans to raise output from 36 to 42 aircraft per month by late 2012 and is looking at developments to 44 and possibly 50 aircraft per month. Boeing's ramp-up will lag Airbus slightly: B737 production will go from 31.5 aircraft per month to 35 per month from early 2013, 38 per month in 1H2013 and 42 per month from 2014.
Both airframers will eventually be producing around 500 narrowbodies per year. With backlogs of more than 2000 aircraft in their respective narrowbody portfolios and revamped versions due to come into service in late 2015 (A320neo) and 2017 (B737 MAX), drawing down these backlogs is not a concern.
Mare narrowbody orders are set to flow. Reports have recently emerged that United Continental Holdings is in talks with Airbus and Boeing for an order for 100 to 200 aircraft. Aviation Capital Group has confirmed it is working on B737 MAX and A320neo orders. Boeing is promising "hundreds" more B737 MAX orders and commitments before the end of the year and Airbus will be looking to convert its hundreds of A320neo commitments into firm orders.