Airberlin: narrower 1Q loss helped by lower fuel prices, revenue growth as 2Q below "expectations"
Analysis
Airberlin narrowed its operating loss in 1Q2015 compared with 1Q2014, by growing unit revenue faster than unit cost, which was almost flat year on year. Unit revenue appears to be benefiting from network changes and a new revenue management system (and also from currency movements). However, the relatively contained unit cost performance owed much to lower fuel prices, without which the operating loss would have increased. Moreover, the airline said that seasonal effects such as Easter also had a positive impact on the result.
Airberlin still expects that yield improvement will lead to a "noticeable" improvement in earnings in 2015 after heavy losses in 2014. However, it says that "current foreseeable business development in 2Q has so far not fulfilled expectations". It continues to face significant challenges in its turnaround.
Airberlin's underlying operating loss narrows by 5%
In 1Q2015, airberlin's net loss remained at the previous year's level of EUR210 million, in spite of a 4% increase in revenue to EUR794 million. However, the net result was adversely affected by a EUR25 million loss on foreign exchange and derivatives (compared with a loss of EUR10 million a year earlier). At the EBIT level, airberlin's loss narrowed by EUR23 million, or 13%, to EUR160 million.
This is slightly less than the EUR25 million improvement anticipated by airberlin in its 1Q2015 EBIT at the time of its preliminary FY2014 results at the end of Mar-2015. Moreover, around EUR13 million of this improvement came from other operating income, which mainly consisted of aircraft disposal gains. Airberlin's underlying operating loss (under our definition, this excludes other operating income) narrowed by EUR9 million, or 5.1%, to EUR177 million.
Airberlin financial highlights 1Q2015

Balance sheet remains relatively fragile
The Group's balance sheet remained fragile at the end of Mar-2015, with negative equity of EUR555 million, compared with minus EUR399 million a year earlier and minus EUR416 million at the end of Dec-2014. Net debt was EUR782 million at the end of Mar-2015, a little lower than its level of EUR804 million at the end of Dec-2014.
The gross cash balance improved slightly from EUR259 million at the end of 2014 to EUR287 million at the end of Mar-2015, although this was mainly thanks to aircraft sales and the draw-down of debt, and was equivalent to only 25 days of revenues.
Airberlin balance sheet structure 31-Dec-2014 and 31-Mar-2015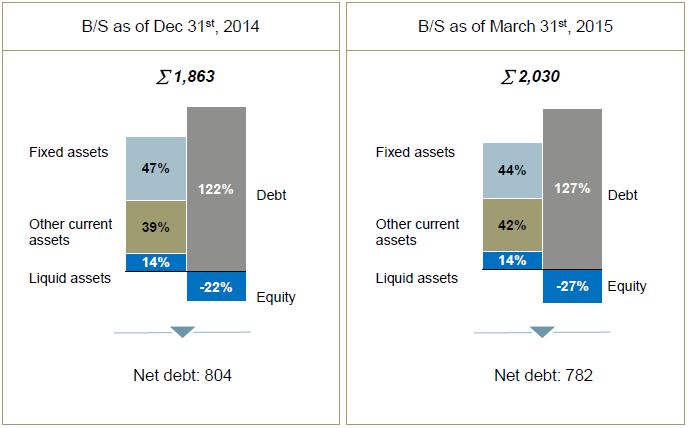 ASKs are up 1.5%, but seat numbers down 4.0%
Airberlin increased ASKs by 1.5% in 1Q2015 compared with 1Q2014, although seat numbers fell by 4.0%. The discrepancy between these two figures reflects a 5.8% increase in the average sector length flown, mainly due to airberlin's increased in the number of flights to Etihad's Dubai hub. The number of flights fell by 1.4%, less than the reduction in seat numbers as a result of fleet changes bringing the average number of seats per flight down to 162.6 from 167.1 a year earlier.
Three Embraer and three 737-800s were sold during the quarter
RPKs grew by 3.3%, faster than ASKs, and passenger load factor gained 1.4 ppts to reach 83.2%.
Airberlin operating figures 1Q2015

Revenue grew 4.2%, and RASK increased 2.6%
Airberlin's total revenue growth was 4.2%, faster than ASK growth. Flight revenue per passenger increased by 4.2% year on year to EUR121.66 in 1Q2015. The company's results statement attributes this growth to its new IT-based revenue management system, although it is less than the increase in average sector length.
Nevertheless, the overall increase in total revenue per ASK (RASK) was 2.6%, a welcome change of direction from 2014's fall in RASK. The stronger RASK trend began in 4Q-2014, but currency movements likely had a hand in the improvement.
See related report: Airberlin: another restructuring from another CEO after another loss in 2014
Airberlin revenues (EUR million) 1Q2015
| | 1Q2015 | 1Q2014 | Change | % of 1Q2015 total |
| --- | --- | --- | --- | --- |
| Flight revenue | 683.9 | 706.9 | 3.4% | 89% |
| Ground and other services | 72.6 | 81.4 | 12.1% | 10% |
| Duty free/in-flight sales | 5.2 | 5.4 | 3.8% | 1% |
| Total revenue | 761.7 | 793.7 | 4.2% | 100% |
Airberlin development of yield (flight revenue per passenger, EUR) and RASK (EUR cent) 1Q2015 vs 1Q2014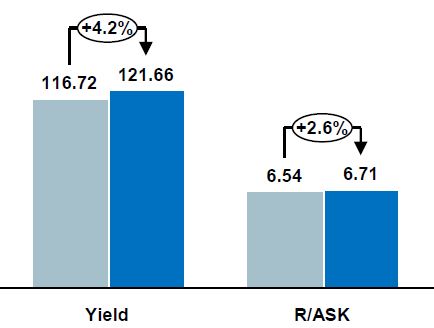 Airberlin's costs rose 2.4%, but CASK was only up 0.8%
Total operating costs increased by 2.4%, more than the growth in ASKs, but less than the increase in revenue. However, non-fuel costs were up by 4.7%, faster than revenue growth, while fuel costs fell by 5.7%.
Employee costs grew by 12.9%, with employee numbers up 5.3% year on year at the end of the quarter. The increase in employee costs reflected wage increases during 2014, restructuring costs and the integration of NIKI personnel into group staff costs.
Airport and handling charges grew by 8.9%, the result of increased tariffs. Depreciation charges fell, while operating lease costs grew, reflecting changes in the ownership mix of airberlin's fleet.
Total cost per ASK (CASK) increased by 0.8%, which was less than the 2.6% increase in RASK. However, ex fuel CASK grew faster, by 3.0%, and so the improved operating result is mainly explained by lower fuel prices. Foreign exchange rate movements inflated CASK (as with RASK).
Airberlin cost per ASK by category (EUR cent) 1Q2015 vs 1Q2014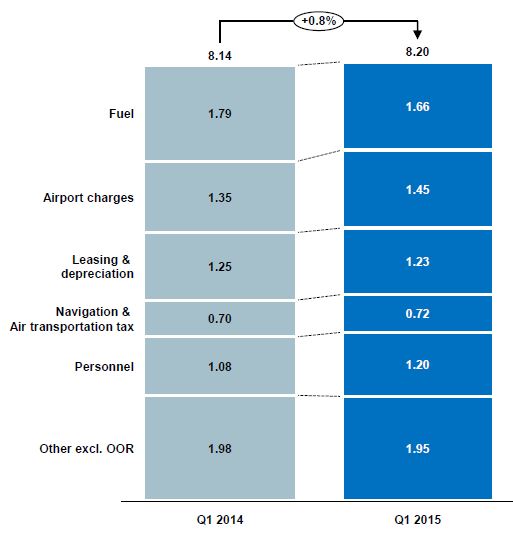 Airberlin cost ex fuel per ASK (EUR cent) 1Q2015 vs 1Q2014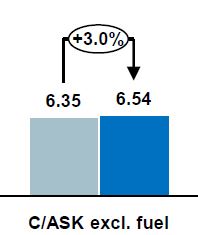 CEO Stefan Pichler highlights the airline's strategic challenges
On a conference call to discuss the 1Q2015 results, airberlin's CEO Stefan Pichler made a number of comments to analysts that highlight airberlin's strategic challenges.
First, the group is still in a transition phase with regard to its management. Mr Pichler only took up his post on appointed on 1-Feb-2015 and he made reference to some forthcoming new additions to airberlin's management. A new chief commercial officer will soon join airberlin from Vueling, described by Mr Pichler as "a rather successful Spanish low cost airline". In addition, a new SVP network management will soon join from Qatar and airberlin will also appoint a new head of revenue management.
Second, Mr Pichler launched another restructuring programme and the redesign of airberlin's business model soon after his arrival. Referring to this, he reiterated that he aims to grow airberlin's market share in its core hubs, although he recognised that it would take some time to reach the levels enjoyed by the likes of Lufthansa at Frankfurt, Air France at CDG and British Airways at Heathrow. He added that the group was also "looking into the question of where we grow and with what platforms".
This leads to the third challenge highlighted by Mr Pichler's comments on the anlyst conference call, namely cost efficiency. Growth is only a rational decision if it is profitable and, therefore, cost efficient. Mr Pichler noted that airberlin has a lower unit cost position than that of Lufthansa. However, its unit costs are higher than Ryanair's, so "there are some markets where we can't compete, especially low yield markets".
The group also has a low cost subsidiary, the Vienna-based NIKI. It does not publish separate financial results, but Mr Pichler told analysts that it NIKI is "around about the unit cost level of" Ryanair.
In addition to further cost reduction across the group, including actions such as the outsourcing of back office activities, he said that airberlin is looking at growth through platforms that can grow in a "sustainable and profitable way".
See related report: Airberlin: another restructuring from another CEO after another loss in 2014
No more funds are forthcoming from Etihad "at this stage"
Referring to Etihad Airways (owner of 29.21% of airberlin shares), Mr Picher told analysts that there are currently no plans for it to increase its shareholding. "There is no discussion around an equity injection, including quasi equity, at this stage."
As CAPA has noted previously, airberlin is likely to have to make significant progress with its latest restructuring in the absence of fresh funds from its largest shareholder.