AirAsia, Vietnam Airlines and Akbar Al Baker among CAPA Aviation for Excellence Award winners
Analysis
07-Nov-2017: AirAsia Berhad, Vietnam Airlines, Air Seoul and Rex scooped the airline awards at the 2017 CAPA Asia Pacific Aviation & Corporate Travel Summit, held in Singapore on 07-Nov-2017.
Qatar Airways Group Chief Executive Akbar Al Baker received the aviation executive of the year award.
Singapore Changi, Perth and Sunshine Coast airports were recognised as leaders across three airport categories. Philippine Department of Tourism was awarded in the tourism organisation category.
CAPA's Aviation Awards for Excellence are regarded as the pre-eminent awards for strategic excellence in aviation. From 2003, when the Awards were established, through until 2011 they were limited to Asia Pacific including the Middle East. In 2012 the Awards became global and began including recipients from all regions. In 2014 CAPA started two award events, one covering the global industry and one for Asia Pacific including the Middle East.
CAPA's Aviation Awards for Excellence are intended to reward airlines and airports that are not only successful but have also provided industry leadership in adjusting to a new environment. At a time of industry upheaval, our winners are adopting strategies that offer new directions for others to take up. The CAPA Awards for Excellence are not driven by customer surveys or sponsorship.
This award is to the airline that has been the biggest standout strategically during the year, has had the greatest impact on the development of the airline industry, has established itself as a leader, and provided a benchmark for others to follow.
Vietnam Airlines was selected for its rapid growth, high level of profitability and successful partial privatisation. Vietnam Airlines completed listing shares on Hanoi Stock Exchange under the stock code HVN in Jan-2017 becoming one of the first state owned enterprises in Vietnam to partially privatise. In addition to the public float, Japan's All Nippon Airways Holdings acquired a 8.77% stake in Vietnam Airlines in 2016 as part of a new strategic partnership.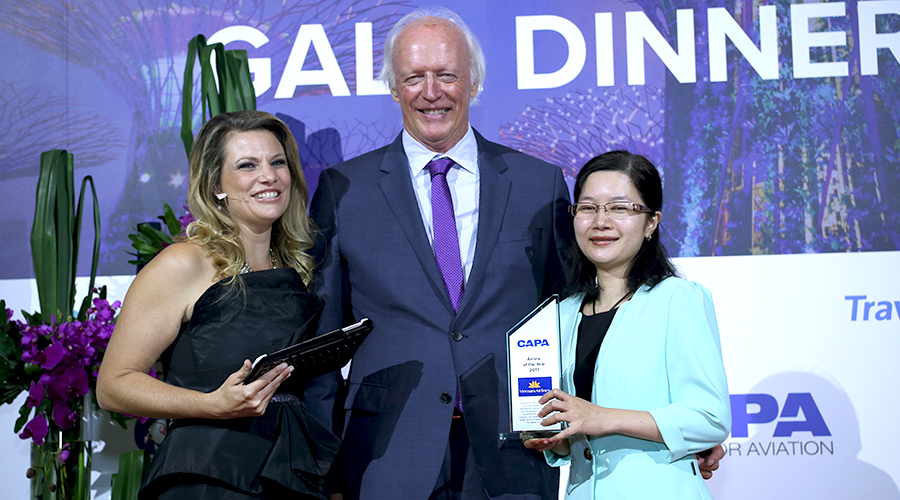 Vietnam Airlines has embraced partnerships, also recently forging a joint venture with Air France covering the Vietnam-Europe market, and pursued a successful dual brand model with LCC subsidiary Jetstar Pacific. Jetstar Pacific has accelerated expansion and been used to fend off intensifying competition at the bottom end of the market while the parent airline also has grown rapidly. Vietnam Airlines' passenger traffic was up 19% in 2016, making it the fastest growing flag carrier in Southeast Asia and one of the fastest growing full service airlines globally. Vietnam Airlines became one of only four airlines in Southeast Asia (and one of just two full service airlines) to surpass 20 million annual passengers in 2016.
Vietnam Airlines has been consistently profitable over the past decade. The parent airline reported a record profit before tax of USD73 million in 2016 despite intensifying competition. The group's profit reached USD114 million in 2016 and exceeded USD100 million in the first three quarters of 2017. Vietnam Airlines has already renewed its widebody fleet with new A350s and 787s – taking both new types at almost the same time in 2015 – and is committed to renewing its narrowbody fleet from 2018 with A321neos.

"Vietnam is among the fastest growing markets in the world and is attracting much added competition. Vietnam Airlines has emerged as a successful and fast growing full service airline group despite intensifying competition in its home market," CAPA executive chairman Peter Harbison said. "The group's dual brand strategy with Jetstar Pacific and pursuit of strategic partnerships have significantly improved its long term position. These strengths helped the airline achieve a highly successful partial privatisation in early 2017 while maintaining a high level of profitability. This airline is going from strength to strength!"
Akbar Al Baker received the CAPA Asia Pacific Aviation Executive Award
This is awarded to the airline executive who has had the greatest individual influence on the aviation industry, demonstrating outstanding strategic thinking and innovative direction for the growth of their business and the industry.
Qatar Airways in 2017 resisted external events denting its long term optimism for growth and ability to link people and markets with better service and greater value. Qatar Airways in 2017 faced challenges of certain passengers being banned in the US, a laptop and large electronic ban and then the near instantaneous loss of access to key neighbouring Gulf countries.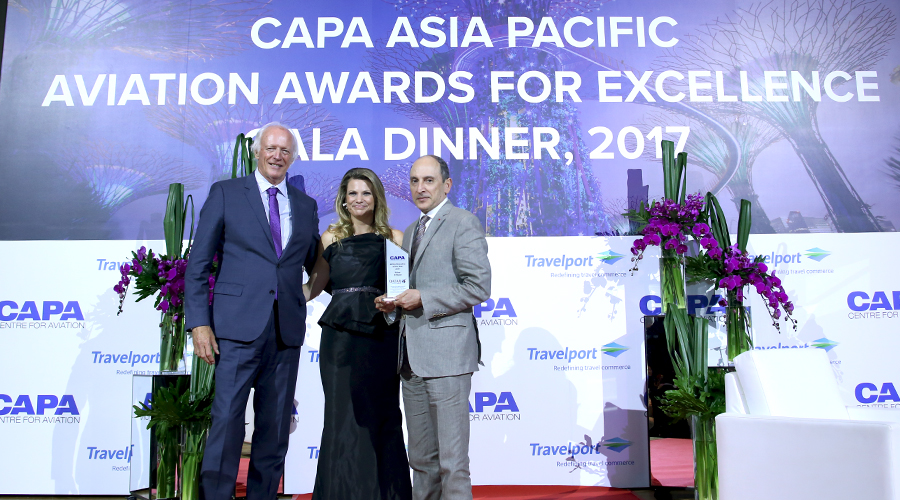 Qatar Airways was the first airline to take delivery of the A350-900 and will soon repeat the distinction as it takes delivery of the world's first A350-1000. Qatar Airways set a higher bar for itself with its new business class offering, the QSuite. As trying as 2017 was for one of the world's most visible airlines, it was also a year that Mr Al Baker - "chief" - established Qatar Airways for success well into the future.
Mr Harbison said: "Akbar Al Baker has not let Qatar Airways lose its shine during one of its most testing years. Under his guidance, the airline has recalibrated its network to function without access to several neighbouring countries. At the same time, Qatar Airways has continued its expansion plans and created new avenues for growth. He has turned a setback into an opportunity. This is truly a remarkable achievement."
AirAsia Berhad, also known as AirAsia Malaysia, was selected for its consistent industry leading financial performance and innovative expansion from secondary bases.
AirAsia Malaysia had a record 87% annual passenger load factor in 2016, representing a 6ppt improvement compared to 2015. Passenger traffic was up 9% to 26.4 million and, most impressively, yield was up despite intense competition, bucking an overall industry trend of declining yields. AirAsia Malaysia generated a pre-tax profit of more than USD500 million in 2016 with an industry leading 31% profit margin.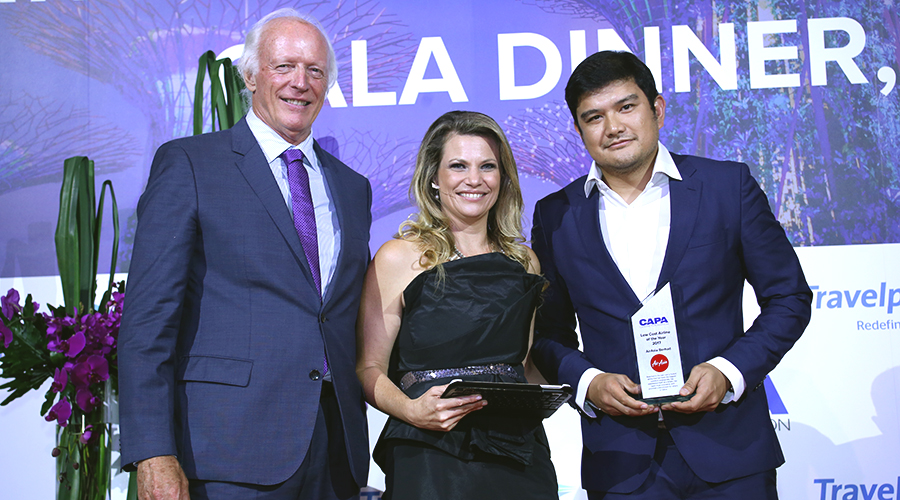 AirAsia Malaysia's load factor has improved even further so far in 2017, reaching 90% in the first half. Passenger traffic was up 7% in 1H2017 to nearly 14 million, while profitability has been maintained despite competition in Malaysia intensifying further.
AirAsia Malaysia has focused expansion in 2016 and 2017 on secondary bases, launching over 15 routes from Malaysian cities other than Kuala Lumpur. The airline began 2016 with 16 international routes from secondary bases and 57 international routes from its main Kuala Lumpur hub and ends 2017 with 31 international routes from secondary bases and 59 international routes from Kuala Lumpur. Five secondary bases have been expanded – Johor Bahru, Kota Kinabalu, Kuching, Langkawi and Penang – providing significant new international links for relatively underserved secondary cities, boosting tourism and the local economy.

"AirAsia Berhad has been a standout for more than a decade, consistently reporting the highest airline operating margin in Southeast Asia and one of the highest margins in the world," Mr Harbison said. "AirAsia's achievements in the Malaysian short haul market over the past two years has been particularly impressive given the intensifying competition in Malaysia and its success at diversifying its network by finding new options for growth outside Kuala Lumpur."
Rex was awarded CAPA Asia Pacific Regional Airline of the Year
This award is presented to the regional airline that has been the biggest standout strategically, has established itself as a leader, and demonstrated innovation in the regional aviation sector. Note that this award is not limited to operators of regional aircraft; it is intended to recognise smaller airlines – with fewer than 10 million annual passengers – that either do not operate any long haul services, or only operate limited long haul services.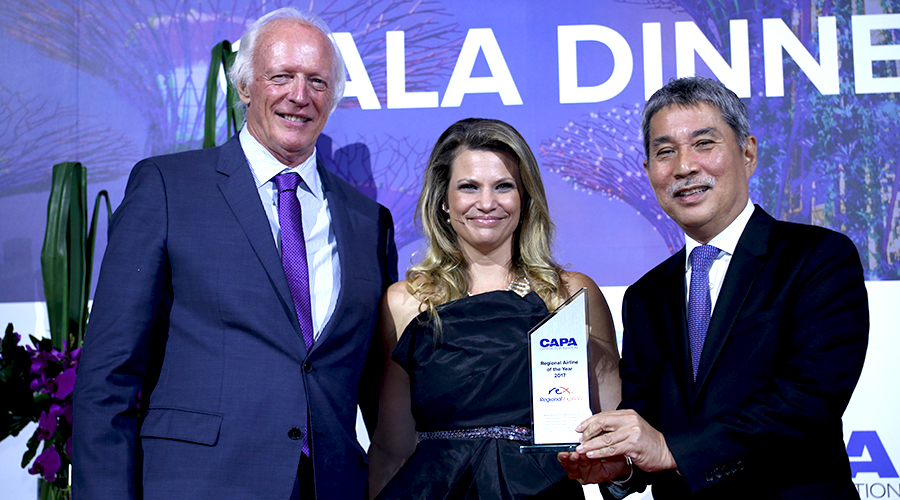 In FY2017, Regional Express, Rex, reported a nearly quadrupled operating profit, achieving an AUD17.8 million profit before tax, compared to AUD4.3 million in FY2016. The carrier also forecast double digit profit growth for FY2018. This impressive growth has resulted in a significant share price growth exceeding 30%. In the last two months alone, Rex's share price increased from AUD1.05 to AUD1.38, the highest result the airline has achieved since Feb-2008.
Recent research from Roy Morgan also identified that Rex had improved its customer satisfaction rating by 5.5% year on year, the highest of any carrier in Australia.
"Rex has flourished in a difficult domestic operating environment, expanding while improving profitability, a creditable performance," said Mr Harbison. "Over the years Regional Express secured a solid base and has now used this to expand more widely and strategically."
The Start-up of the Year award is for the past year's airline start-up that has been the most innovative and had the greatest impact on the industry since launch.
Air Seoul was resolute in its need to enter Korea's competitive LCC market in order to help parent owner Asiana Airlines. Air Seoul gives Korea's #2 airline a low cost presence in the country's largest market. With the slogan "It's mint time", Air Seoul is a visually distinct departure from Asiana's traditional experience yet Air Seoul continues the legacy of Asiana's network and aims to bring smaller and competitive destinations to profitability.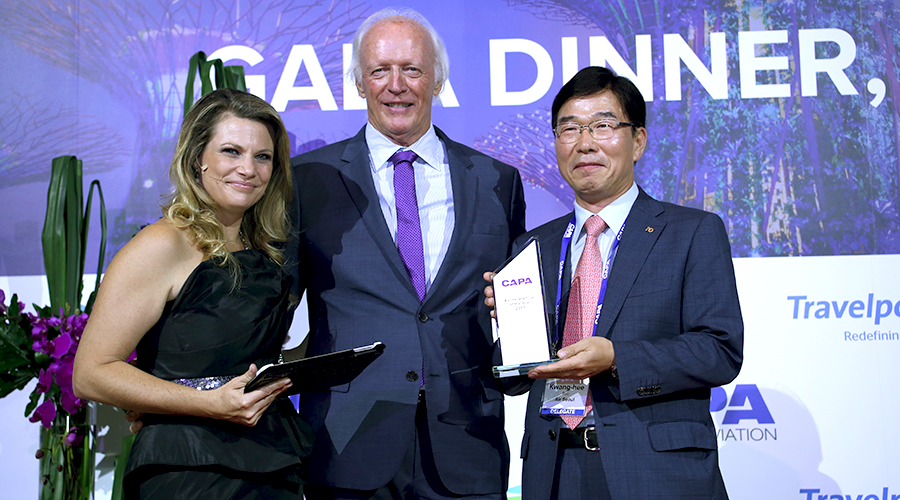 Air Seoul sees itself as a new type of LCC for Korea: one that offers passengers more leg room (its A321s seat the same number as competitors' A320s), service (in-seat IFE) and flair, in line with its objective to "keep style in the sky". Mr Harbison commented: "Air Seoul is forging a new direction in the highly competitive Korean low cost market, while adding a strong dimension to the Asiana strategy."
Philippine Department of Tourism was awarded CAPA Asia Pacific Tourism Organisation of the Year
The Philippines has managed to achieve double digit growth in inbound tourism over the past three years, on the back of a concerted campaign. This has included an active and targeted effort to attract new airlines and new air services to the Philippines. In doing so it has managed to maintain a good broad cross section of tourist origins, without relying too heavily on any one market. With two successful international airlines spreading their wings internationally, as well as a growing number of foreign airlines, continuing this form of expansion requires initiative and a positive branding proposition. Under the guidance of the Tourism Administration this strong record looks set to continue into the future.
Philippines.jpg" alt="" width="760" height="422" />
"With a host of highly attractive destinations, the Philippines has undertaken a substantial and continuing programme for promoting its advantages more widely. This is inspiring very significant growth, with highly positive implications for the national economy", said Mr Harbison.
This is awarded to the airport with over 30 million annual passengers that has been the biggest standout strategically, has established itself as a strategic leader, and done the most to advance the progress of the aviation industry.
Singapore Changi Airport was selected for the opening of Terminal 4 and its commitment for further capacity increases over the next decade.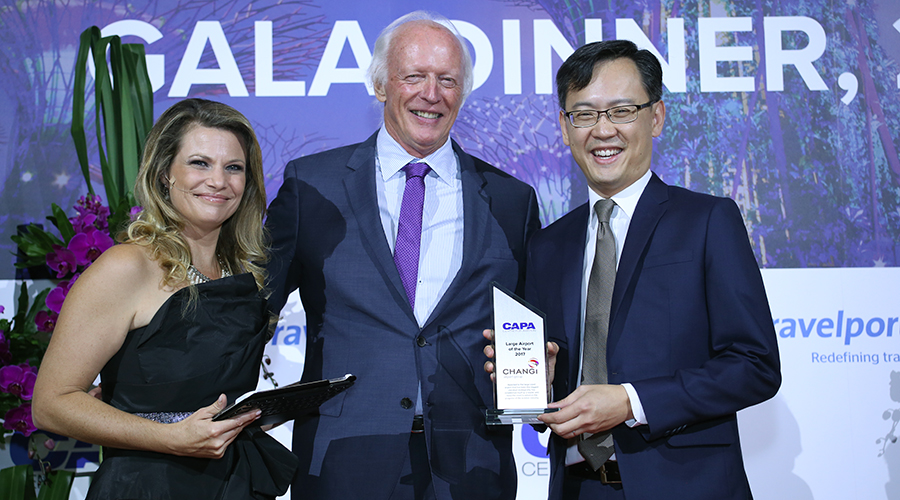 T4 increases Changi's capacity to 84 million passengers. The airport handled 58.7 million passengers in 2016 as traffic increased by 6% - the largest increase since 2012. Passenger traffic was up another 6% in the first three quarters of 2017 to 46 million, putting Changi on pace to easily break the 60 million mark for the full year.
Changi has started an even bigger project that will boost capacity by another 50 million passengers per year through the construction of a massive fifth terminal and third runway. While other airports in the region are struggling with infrastructure constraints and operating above capacity, Changi is committed to staying ahead of the growth curve and maintaining its position as a premier air hub.

"Changi has been an industry leader for decades, providing one of the world's best transit airports and always keeping ahead of the growth curve with new projects," Mr Harbison said. "Innovation has also been a Changi hallmark and this is once again evident in the newly opened Terminal 4, which embraces self-service technology and again raises the benchmark in the passenger experience space."
These awards are for the airports that have been the biggest standouts strategically for medium and small airports, have established themselves as strategic leaders, and done the most to advance the progress of the aviation industry.
Perth Airport ranks fourth largest in Australia on all parameters and 172nd in the world in terms of capacity and – an indication of its remoteness and therefore the importance of connectivity – a much higher 92nd when measured in ASKs. The city's closeness to Asia and isolation from the rest of Australia's major cities makes for a highly internationally focused airport.
Perth.jpg" alt="" width="760" height="422" />
"The fact that it currently has two widely separated terminals for domestic and international has made it that bit harder for the airport to capitalise in any way on its relatively high mix of flights for onward connections, however management has clearly had the foresight required to plan for future development," said Mr Harbison.
The airport reported that it plans to expand its infrastructure over the next seven to 10 years using AUD2.5 billion, CEO Kevin Brown confirming the expanded airport "will help unlock the full economic potential of WA".
Sunshine Coast Airport enjoyed record passenger movements in 2016/17, handling one million passengers for the first time. This included a record 296,000 international arrivals for the year ending Jun-2017, up 11.6% year-on-year. For the full year ending Jul-2017, the airport topped the list of airport growth in Australia, with a 10.4% increase.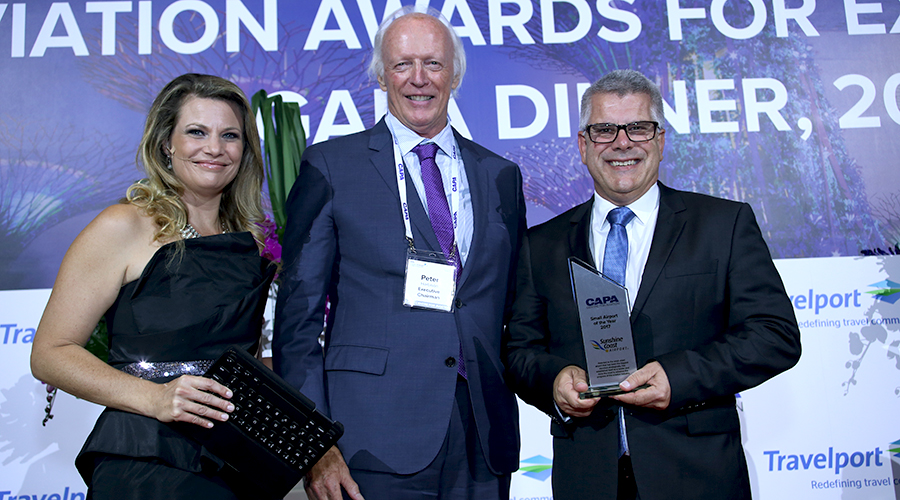 After the owners, Sunshine Coast Council, concluded a commercial agreement in Feb-2017 with Palisade Investment Partners who will operate, invest and develop the airport under a 99 year lease, the airport is shortly commencing construction of a new 2450m runway and upgrade existing terminal and apron facilities. "Sunshine Coast has leapt into a position where it has the potential for a substantial expansion which promises to provide an immense benefit for tourism and for the economy of the surrounding region,' said Mr Harbison.
About CAPA and the CAPA Aviation Awards for Excellence
Established in 1990, CAPA – Centre for Aviation is the leading provider of independent aviation market intelligence (publishing 500 news stories every working day), analysis and data services, covering worldwide developments.
The CAPA Aviation Awards for Excellence have recognised strategic leadership in the aviation industry since 2002. Initially limited to Asia Pacific and the Middle East, the awards were expanded by CAPA in 2012 to include all regions. This year the Aviation Awards for Excellence have been presented at two gala dinners – one for the global industry in London, held on 12 October, and one for Asia Pacific in Singapore, on 7 November.
For more information on the CAPA Aviation Awards for Excellence and CAPA Asia Pacific Aviation Awards for Excellence, including media queries, please contact press@centreforaviation.com