AirAsia up on bullish outlook: Euro LCCs extend losses
Analysis
LCCs posted mixed results, largely across geographies, to start the week. Asian markets were mostly up and LCCs in the region recorded modest gains. US LCCs bucked the wider downward trend to strengthen slightly, but lingering concerns in Europe extended last week's losses. LCCs in Europe all closed lower, with the exception of Dart Group, which has shown surprising resilience against the recent downward backdrop.
AirAsia bullish on Indonesian unit
AirAsia was the strongest LCC gainer yesterday, adding 0.8%. CEO Tony Fernandes suggested the group's Indonesian subsidiary, AirAsia Indonesia, might surpass its older, Malaysian brother, which carries almost four-times as many passengers. Mr Fernandes stated the company is targeting growth in Vietnam, the Philippines, India and China and plans to add 12 aircraft a year.
HwangDBS Vickers Sdn analyst, Juliana Ramli, was also bullish on the airline, commenting, "We believe that the market has underestimated AirAsia's growth potential in riding the sector recovery." She has a buy rating on the stock. Shares in AirAsia are up 89% in 2010, against a 17% gain on the FTSE Bursa Malaysia KLCI Index.
S&P upgrades JetBlue
Standard & Poor's raised its ratings outlook on JetBlue yesterday from stable to positive due to the LCC's improved financial profile. The ratings agency has a B- rating on JetBlue. Shares in the airline firmed 0.3% yesterday.
European LCCs extend losses
Europe's major indices closed sharply lower yesterday as the Irish bailout failed to alleviate concerns the sovereign debt crisis will spread to the Iberian Peninsula. Bond yields rose, the euro slumped to a two-month low against the dollar and equities were sold down. LCCs in the region followed markets into the red.
Dart Group, parent of Jet2.com, has performed well in recent weeks, posting gains despite bearish conditions in Europe. Shares in the company have increased almost 10% in Nov-2010, while the FTSE100 is down 2.2%.
Selected LCCs daily share price movements (% change): 29-Nov-2010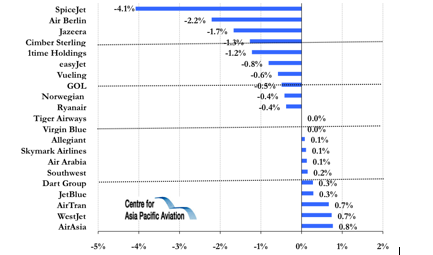 Source: Centre for Asia Pacific Aviation, Yahoo! Finance & Reuters