Air Seychelles returns to Paris while expanding partnerships and achieving second year of profits
Many will rejoice that Air Seychelles is to resume flights to Paris on 02-Jul-2014. The old Air Seychelles, operating as an independent company, had a long and painful withdrawal from Europe as fuel prices and the global financial crisis made services prohibitively expensive.
Under a new partnership with Etihad, Air Seychelles launched a moderate network, flying to Johannesburg, Etihad's hub at Abu Dhabi as well as serving Hong Kong. But Europe – the core market for the Seychelles – remained linked only via Etihad codeshares and not the flag carrier's own metal. While the Seychelles decided its carrier needed to be sustainable, and so introduced Etihad's involvement, there were emotional ties to the old days.
Twice-weekly services to Paris CDG arrive five months later than planned and will be routed via Abu Dhabi, allowing Air Seychelles to pick up passengers from Etihad to fill the A330-200 that Air Seychelles would struggle to fill sustainably on its own. Meanwhile a limited partnership with Cathay Pacific helps Air Seychelles on its other long-haul route. Air Seychelles has reported its second annual profit while CEO Cramer Ball, who arrived after the Etihad partnership, has left, giving the reins to Manoj Papa.
Since the Paris service was initially announced, Air Seychelles has switched destination airport from Orly to CDG, where Etihad flies and can offer Air Seychelles synergies, such as through ground handling and lounge space.
Etihad has a 40% stake in Air Seychelles, making it one carrier in Etihad's "Equity Alliance". Etihad also has a five-year management contract with Air Seychelles that commenced in 2012.
Paris will be served twice weekly via Abu Dhabi with local uplift rights
The twice weekly Paris CDG services are tags on Air Seychelles' existing Mahe-Abu Dhabi flights and will be operated by Air Seychelles' A330-200. The Air Seychelles flights arrive and depart Paris CDG at almost the exact same time as Etihad-operated services. Etihad has a flight arriving Paris CDG at 07:35, 10 minutes before Air Seychelles, and a flight departing Paris CDG at 22:05, 15 minutes after Air Seychelles.
Seychelles-Abu Dhabi-Paris schedule: from 02-Jul-2014
| | | | | | |
| --- | --- | --- | --- | --- | --- |
| Flight # | Departs | Dept. Time | Arrives | Arr. Time | Frequency |
| HM18 | Seychelles (SEZ) | 20:35 | Paris (CDG) | 07:45+1 | Tuesday, Thursday |
| HM19 | Paris (CDG) | 21:50 | Seychelles (SEZ) | 12:55+1 | Wednesday, Friday |
The close timings to existing Etihad services helps ensure connectivity, as well as schedule efficiency for Air Seychelles. The Mahe-Abu Dhabi leg arrives in Abu Dhabi at 01:05, which enables quick connections to many of Etihad's connecting flights departing between 02:00 and 02:59, Etihad's single largest hourly departure period.
The return Abu Dhabi-Mahe leg departs Abu Dhabi at 08:20, allowing for (long) connections from the large number of flights that arrive in Abu Dhabi between 04:00 and 06:00.
Etihad Airways slots at Abu Dhabi: 03-Jul-2014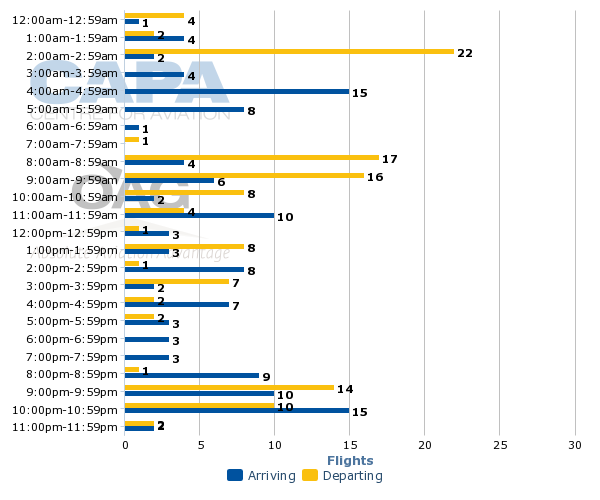 Although Air Seychelles and Etihad are not yet selling Air Seychelles' Abu Dhabi-Paris CDG flights, Air Seychelles will do shortly and Etihad intends to sell via codeshare. Etihad codes on most of Air Seychelles' services, including Abu Dhabi-Hong Kong.
While the Etihad partnership and its Abu Dhabi hub brings advantages, they also bring disadvantages, namely a one-stop connection between Paris and the Seychelles, exposing the route to other competitors, such as Emirates, which is increasing its frequency to the Seychelles. Emirates will also have an advantage on services to other French cities. Emirates serves Lyon and Nice from Dubai, enabling a one-stop journey from there to the Seychelles whereas an Air Seychelles itinerary would require a double connection or a train ride to Paris and connection in Abu Dhabi.
Air Seychelles had served Paris CDG (its sole European point) until early 2012 when it pulled down its European network. Air Seychelles typically operated 250 services a year, or about a five weekly service, with 767-300s, according to OAG data.
This made Paris Air Seychelles' largest destination, with the carrier having twice as many seats and frequencies than to its second largest destination, London Heathrow, which had 104 frequencies and about 26,000 flights in 2008, according to OAG.
Air Seychelles Paris CDG annual seat capacity and frequencies: 2004-2012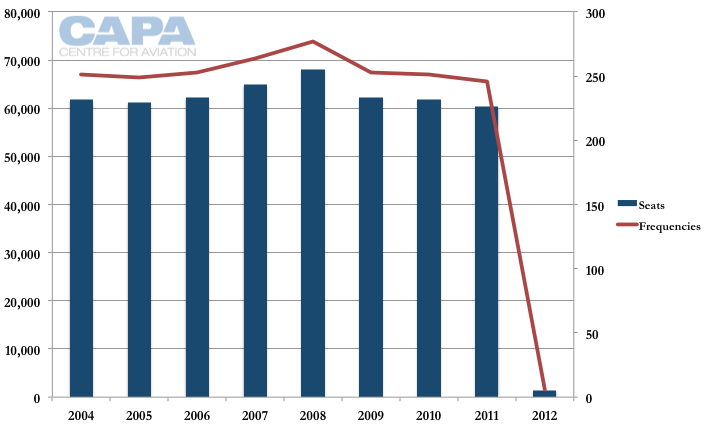 Air Seychelles' two weekly flights with an A330-200, seating 18 in business (lie-flat) and 236 in economy, will give Air Seychelles about 26,000 annual seats to Paris, less than half of its previous capacity. But so long as market conditions remain, to be sustainable Air Seychelles cannot have the network it once did.
Air Seychelles' international route map: 2011
France is the Seychelles' single largest source of visitors
With France being Air Seychelles' largest market, it naturally follows that France is the largest source of visitors for the Seychelles. Prior to 2012, France accounted for about one fifth of all visitor arrivals. Despite Air Seychelles dropping non-stop services in early 2012, the number of French visitors to the Seychelles in 2012 and 2013 were higher than any pre-2010 period. However, French visitor arrival growth has lagged the Seychelles' overall market growth. French arrivals are now only about 15% of total arrivals.
The figures support the principle that countries do not need a massively loss-making national carrier to ensure tourism. If there is demand, commercially oriented airlines will generally backfill it.
Visitors from France to the Seychelles and their proportion of all visitor arrivals to the Seychelles: 2006-2013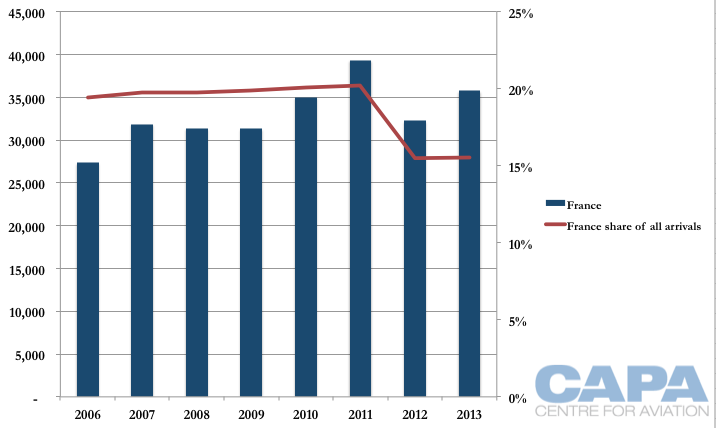 Today France remains the Seychelles' largest market with Germany a close second. Of the Seychelles' top 10 markets, seven are from Europe (including Russia). The remaining three are from the UAE, South Africa and mainland China. France will be the only European market Air Seychelles will serve, while of its three non-European core markets, Air Seychelles serves the UAE (Abu Dhabi), South Africa (Johannesburg) and mainland China (via Hong Kong).
Seychelles share of visitors by market: 2013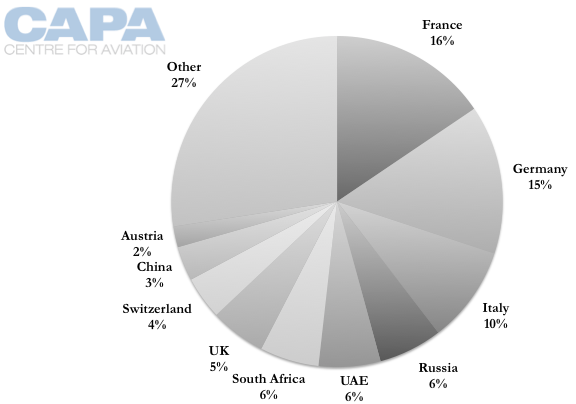 Georgia, 'Times New Roman', Times, serif;">Source: CAPA - Centre for Aviation and Seychelles National Bureau of Statistics
Seychelles receives as many visitors from Asia as France alone
Visitors from all of Asia in 2013 were 36,826 – only slightly more than visitors just from France (35,765). But this balance is changing as an ever-growing number of Chinese tourists seek island getaways, particularly the Maldives and to a lesser extent the Seychelles. Hong Kong visitors to the Seychelles were at an all time high in 2013, but this was only 350 – less than one person arriving per day.
Visitors from Hong Kong to the Seychelles and their proportion of all visitor arrivals to the Seychelles: 2006-2013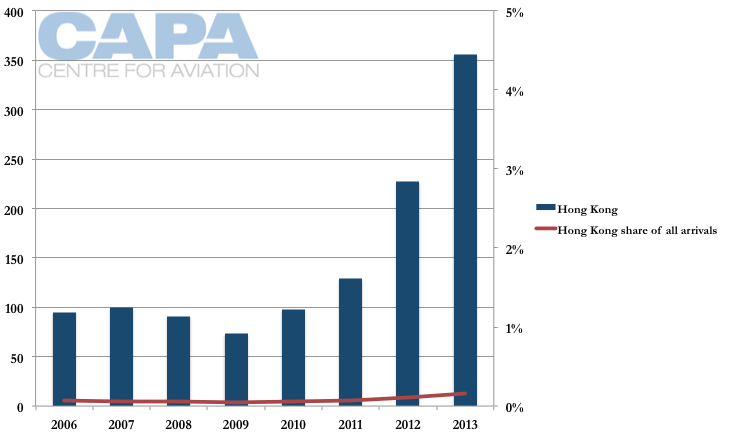 Looking at mainland China figures, however, shows much larger figures. Some of these passengers would have departed Air Seychelles' service from Hong Kong while others would have taken various other sixth freedom itineraries. This means Air Seychelles' Hong Kong service carries an absolute minority of passengers travelling from Hong Kong to the Seychelles.
It is difficult to attribute the growth in arrival figures from Hong Kong and mainland China just to Air Seychelles. While figures are up in 2013, the year Air Seychelles commenced Hong Kong services, figures also grew in 2012 when Air Seychelles did not operate the route.
Visitors from mainland China to the Seychelles and their proportion of all visitor arrivals to the Seychelles: 2006-2013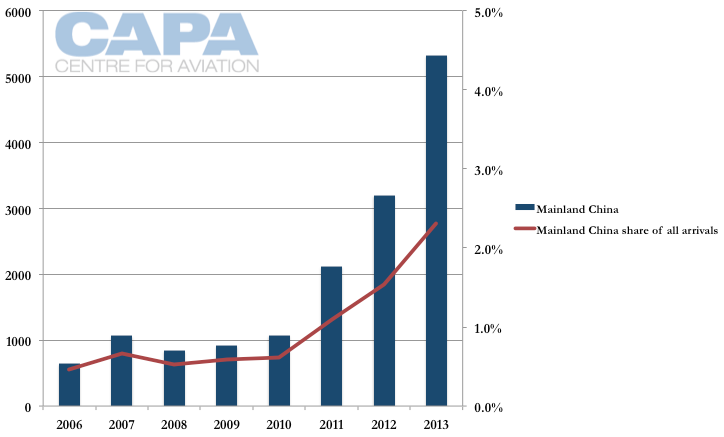 Air Seychelles has followed Etihad's partnership orientation with its own partnerships with airberlin, Cathay Pacific, Czech Airlines and South African Airways. Except for Cathay, the partners had existing ties with Etihad. airberlin helps Air Seychelles in the Seychelles' second largest market while the Czech Republic is a relatively large source of tourists (although not in the Seychelles' top 10). South Africa is the Seychelles' sixth largest market despite SAA not flying to the island nation.
The Cathay partnership gives Air Seychelles some basic beyond traffic opportunities with codeshares to Melbourne, Perth and Seoul, although a double-stop connection is required, reducing competitiveness. There is also a one-way codeshare from Hong Kong to Johannesburg targeting those looking to combine a land based South African holiday with a water based holiday in the Seychelles. Air Seychelles flies from Johannesburg to Mahe, and then Mahe to Hong Kong via Abu Dhabi. A return Johannesburg-Hong Kong codeshare could be implemented if the carriers adjust flight times to allow for a longer connection time, which is currently not offered.
Cathay also codes on Air Seychelles' Mahe-Hong Kong return service (via Abu Dhabi) and codes on Mahe-Abu Dhabi where Cathay could then carry a passenger on the Abu Dhabi-Hong Kong leg. However, Cathay is due to end Abu Dhabi services. Cathay did not code on just the Abu Dhabi-Hong Kong sector.
Air Seychelles in 2014 is due to commence early delivery of three DHC-6 Series 400 aircraft to renew its domestic fleet, critical for access to outer islands. Air Seychelles operates three DHC-6 Series 300 aircraft and 1 DHC-6 Series 400 aircraft.
Air Seychelles Fleet Summary: as at 17-May-2014
An A319 is due to join the fleet and enable in 4Q2014 expansion to India's Mumbai (3x weekly) and two other Vanilla Islands destinations: Antananarivo in Madagascar and Reunion in La Reunion (both 2x weekly). Combined with Air Seychelles' existing service to Mauritius (3x weekly), Air Seychelles will serve the key destinations of this region. That will allow Air Seychelles to cater to those looking to explore multiple island nations in the region, as well as have the Seychelles become a hub for this region.
The Vanilla Islands have struggled to maintain their own flag carrier, unsurprising given the small market size and lack of partners as Air Seychelles has with Etihad. While there have been calls for greater aviation cooperation amongst the countries, nothing has yet materialised. An Air Seychelles-Air Austral partnership was announced but then cancelled after Etihad's stake and strategic involvement in the carrier.
Air Seychelles' relative size and backing makes it easy for it to become a de facto flag carrier for the region, but this can also bring contention to countries still enamoured with their flag carrier. The challenge is being commercial while also sensitive, as laggard as others are.
The Mumbai link meanwhile will enable Air Seychelles to tap the growing Indian market looking for overseas holidays, and Air Seychelles will no doubt find a local friend in Jet Airways, a key partner of Etihad's. Air Austral serves Chennai from Reunion while Air Mauritius serves multiple Indian points but with low frequency. Air Seychelles will have an advantage of offering a luxurious island destination in closer proximity to India than Air Austral or Air Mauritius.
The additional services will see Air Seychelles' international services nearly double from 16 to 29 flights per week.
Air Seychelles reports a USD3 million profit for 2013
Air Seychelles in Apr-2014 reported an unaudited profit for 2013, although small at USD3 million this represents a net margin of 3.4% – broadly in line with IATA's average estimates for the year.
Air Seychelles financial and traffic results: 2013
Revenue: USD88.7 million, +107% year-on-year;
Net profit: USD3 million, +171%;
Passenger numbers: 352,474;
Cargo volume: 5529 tonnes, +159%.
The figures may be small but they are a sharp reversal from previous years; Air Seychelles reported a EUR12.5 million loss and negative net margin of 11.1% for FY2011.
Manoj Papa replaces Cramer Ball as CEO
Earlier in 2014 saw the departure of Cramer Ball as CEO. Mr Ball, a former Etihad executive, was seconded to Air Seychelles after Etihad took an equity stake and signed a management contract with Air Seychelles.
Replacing Mr Ball is Manoj Papa, who started his career with South African Airways. He joined Etihad in 2007 and later served as Vice President Corporate Strategy until returning to South African Airways in 2012.
Local reports have speculated Mr Ball would be appointed CEO of Jet Airways, a recent addition to Etihad's Equity Alliance, although Mr Ball has not yet been formally appointed to any position.
Slow and steady growth, but not to the 'old' Air Seychelles
There will undoubtedly be some who dismiss Air Seychelles' growth as merely partial re-instatement of old routes. But a full return to the old and unsustainable Air Seychelles is clearly off the cards. While a new model structured around Etihad and its Abu Dhabi hub has brought profits, it also brought contention.
Air Seychelles used to mainly fly long-haul routes where passengers wanted to maximise their value and have long stays in the Seychelles. Now the Abu Dhabi hub allows for more regional passengers looking for a shorter stay, which disrupts the local tourism industry's modus operandi of catering to long stay visitors.
The Paris route restores some normality to that, as well as genuine opportunities. More regional flying can increase the Seychelles' profile as a destination and a hub. While the Maldives will overshadow the Seychelles as a destination in terms of visitor volume, plenty of small destinations have punched above their weight thanks to a hub. If the Seychelles' Vanilla Islands neighbours are willing to collaborate, they too can reap the rewards. Island life is not always so calm.