Air Partner active in Egypt repatriation
Analysis
International air charter specialist, Air Partner, has arranged several repatriation flights for travellers and expatriate employees leaving Egypt. On 03-Feb-2011, the company arranged the UK government's B757 charter which transported some 200 Britons from Cairo to London Gatwick.
The flight, for the Foreign and Commonwealth Office, forms part of Air Partner's four-year contract as the sole provider of passenger and freight air charter services for the Department for International Development (DFID).
Flights have departed from Cairo, Luxor, Alexandria and Hurghada to a range of destinations, including the UK, Dubai, Bahrain, France and Germany. A variety of aircraft have been used from Hawker 900XP and Embraer Legacy private jets to commercial aircraft such as A320s and B737s.
The company's share price has performed well over the past fortnight, gaining a further 2.8% yesterday.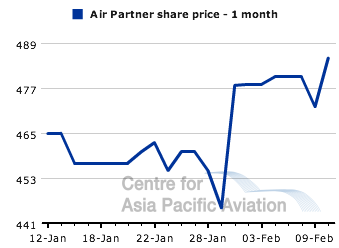 Selected aircraft lessors daily share price movements (% change): 09-Feb-2011