Air NZ takes delivery of its first sharklet A320 and lifts the veil on 787-9 routes and product
Analysis
Air NZ's fleet simplification plan has taken another couple of steps forward with the addition of its first domestic A320 fitted with sharklet wing tips and the announcement of routes and inflight products for the 787-9 for which the carrier is the launch customer. Within three years Air NZ will have phased out its legacy fleets of 737-300s, 767-300ERs and 747-400s and will have transitioned to operating a jet fleet of six types to just three; A320s, 777s and 787 significantly improving operating efficiencies.
The A320s will reduce operating costs on the domestic jet network, currently largely serviced with Boeing 737-300, while the 787-9 will be the airline's growth vehicle supporting its Pacific Rim network strategy.
Looking out to future long-haul fleet requirements, Air NZ has also issued a request for information (RFI) for the A350 and the yet to be launched Boeing 777-X as a long term replacement for the 777-200ER fleet. These aircraft were originally scheduled to exit the fleet coinciding with the arrival of the 787-9s. While the delay of the 787-9 has caused significant fleet management and route development issues, having retained the 777-200ERs has inadvertently placed Air NZ in a fortuitous position of being able to pull a number of levers to maximise fleet flexibility for the remainder of this decade.
Sharklet-equipped domestic A320s will increase capacity and lower operating costs
Air NZ took delivery of its first sharklet-equipped A320D (domestic) at the Paris Air Show in Jun-2013. The aircraft is the fifth delivery from an order of 14 A320s that will replace the remaining 12 737-300s which are expected to exit the fleet by the end of 2015. The first four 171-seat A320s (38 more than the 737s) were delivered without sharklets between Jan-2011 and Dec-2011 to boost domestic capacity ahead of anticipated increased demand during the Rugby World Cup in late 2011 hosted by New Zealand.
Air NZ also operates a regional fleet of 13 A320 on short-haul trans-Tasman and South Pacific international routes.
The carrier has accelerated the delivery programme of the A320D by about nine months in a bid to reduce operating costs and increase capacity. The sharklet-equipped A320s are expected to deliver an 18% operating cost improvement per seat compared to the 737-300s. The entire A320 fleet was originally intended to be in place in 2016.
In addition, the sharklet model is expected to be 2% more efficient than the standard domestic A320s. Importantly this will give the carrier an operating cost advantage over domestic rival Jetstar which also operates standard A320s. Air NZ's domestic and short-haul international fleets are configured separately to meet the different market needs. While the international fleet have operated domestic services at peak times, the domestic A320s are not equipped for international services.
Air New Zealand Fleet Summary: as at 2-Jul-2013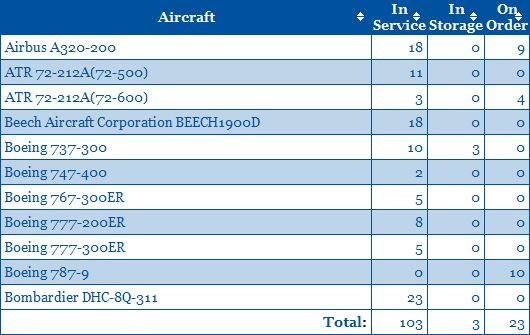 Air NZ is considering retrofitting older A320s with sharklet wing devices
Air NZ is investigating the economic viability of retrofitting its existing A320s with sharklets, which for the short-haul trans-Tasman fleet could yield a 4% efficiency improvement. The conversion process requires some strengthening work of the wing to help cope with the additional lift and torsion forces generated by the wing-tip devices.
The regional A320 fleet has an average age of 8.5 years with the first six aircraft all manufactured in 2003. An Air NZ executive said at the CAPA Aviation Finance Summit in Mar-2013 that a replacement next generation narrowbody fleet was being considered beyond 2015. Some work has been conducted on evaluating the 737-MAX and A320neo, including the issue of an RFI which appears to have highlighted the larger A321neo as a potential candidate. The aircraft would provide increased capacity on the important trade and tourism routes between New Zealand and Australia.
If Air NZ chooses to retrofit the existing A320 fleet then those aircraft would be retained well beyond 2015 to achieve a payback on the considerable investment required before replacing them with next generation aircraft about the end of the decade, by which time the average fleet age would be about 15 years.
Airbus claims the A320neo family with new generation engines and sharklet wing-tips will be 15% more fuel efficient than the current model. Air NZ would be keen to capture those benefits as soon as possible on the competitive trans-Tasman routes.
Meanwhile the 737-300s are being marketed for sale. These aircraft were among the last of the 737 classics to come off the production line and have an average age of 15 years. As a result the fleet are among the youngest -300s in the world and should have good value. Three of the aircraft were placed in storage between Jan and May-2013.
Air NZ will focus its fleet of 10 787-9 on the Shanghai and Tokyo growth markets
Air NZ confirmed on 25-Jun-2013 that it will primarily deploy its 787-9 fleet on long-haul routes from its Auckland hub to Shanghai and Tokyo as well as some mid-haul destinations such as Honolulu, Perth and Papeete when the first of the aircraft is delivered in Jun or Jul-2014.
China is New Zealand's fastest growing market with visitor numbers in the year to May-2013 increasing 28% to 220,700. That number is expected to increase to 376,000 by 2020.
Air NZ consolidated its Chinese services to Shanghai after suspending services to Beijing in Jun-2012 in favour of onward connections by partner Air China. It is adding further capacity to Shanghai from Jul-2013 by deploying 777-200ER aircraft on three of the daily services on the route while the existing 767-300ER service operates the remaining four frequencies.
See related report: End of line carriers increasingly relying on partners to serve China
China Southern offers a similar amount of capacity from its Guangzhou hub. However, with the majority of Chinese visitors travelling to New Zealand via Australia, demand for direct links has lagged overall market growth.
New Zealand to China (seats per week, one way): 19-Sep-2011 to 22-Dec-2013
Japan is New Zealand's fifth largest tourism market with nearly 75,800 visitor arrivals in the year to May-2013, up 12% on the previous corresponding year. The Japanese market collapsed following the global financial crisis and the Christchurch earthquakes and while growing, remains well short of the 170,000 visitors in 2004.
See related report: Asian tourism will provide the backbone of New Zealand's growth by 2020
Air New Zealand and Tourism New Zealand have also signed a one year partnership to spend NZD10 million (USD7.8 million) each jointly promoting travel to New Zealand in selected key markets, including China, Japan, North America and Australia. The MoU with Tourism NZ follows the New Zealand Government announcement in Apr-2013 that it would boost tourism marketing funding by NZD158 million (USD123 million) over the next four years.
787-9s will replace Air NZ's 767-300ER fleet and aimed at Pacific Rim network growth
The 787-9 fleet will replace the five existing 230-seat two class 767-300ER fleet while also increasing capacity. Air NZ CEO Christopher Luxon said the 787-9, "represents a significant growth opportunity for our business and opens up the prospect of expanding our Pacific Rim footprint".
See related report: Air New Zealand poised to deliver on "go beyond" strategy, still facing stiff competition
The carrier has announced the on-board product configuration, which includes its Business Premier seat, a new premium economy offering, the carrier describes as "Business-lite", and in economy 16 rows of Skycouch which allows a row of three seats to be converted into a sofa-like flat surface, as well as standard economy. But Air NZ is yet to reveal the overall number of seats the aircraft will be fitted with, which Boeing advertises as 290 seats in a typical three class configuration.
Air NZ has made no secret of its frustrations at the delays in receiving the aircraft which promises a 20% improvement in fuel economy over the 767-300ER, substantially improving route economics. The delays have forced the carrier to retain and refit the 767 fleet as well as continuing to operate up to four 747-400 at significant cost.
The last two 747-400s will exit the fleet with the arrival of two new Boeing 777-300ERs on operating leases in 2014 and 2015, taking the 777-300ER fleet to seven.
See related report: Air New Zealand reports NZD136 million 1HFY2013 profit, up 300%. A generally favourable outlook
Air New Zealand average fleet age
Air NZ retained 777-200ER to cover for delayed 787-9

The four year delay in receiving the 787-9 has caused Air NZ considerable difficulty in fleet planning. The fleet of eight 777-200ERs which were introduced from 2005, of which half were owned by the airline and the remaining half leased from International Lease Finance Corporation (ILFC), where originally programmed to exit the fleet by this year, in accordance with the original delivery schedule of eight 787-9 between 2011 and 2013.
The 304-seat, three class 777-200 is the primary aircraft on routes from Auckland to Hong Kong, Perth, Tokyo, Honolulu and Vancouver. The aircraft also operated to London via Hong Kong until that unprofitable service was cancelled in Feb-2013 following Air NZ forging a revenue sharing alliance with Cathay Pacific on the Auckland-Hong Kong route.
See related report: Air New Zealand-Cathay Pacific partnership has implications across Asia and for SIA & China Southern
Air NZ has issued an RFI on the A350 and 777-X as potential 777-200ER replacement
Air NZ has issued an RFI to Airbus and Boeing for the A350 and proposed 777-X as potential replacement for the 777-200ERs. However there is little time pressure to replace the aircraft which could remain in service until 2020. The 777-200ERs will be used to provide additional capacity in growth markets and greater fleet flexibility.
With the carrier growing its business it is in the happy position of being able to manage the 777-200ER fleet by either extending leases on the aircraft or return them as required. The fleet will undergo a NZD100 million (USD77.6 million) cabin refit in 2014, including the revised version of the Business Premier seat fitted on board the 777-300ER fleet. Air NZ has not yet announced which version of premium economy it will fit on the 777-200ER, leaving open the option of either the 777-300ER Spaceseat or perhaps more likely the new "Business lite" model given that the aircraft will operate on similar routes to the 787-9. The economy cabin will also be replaced and will include the Skycouch.
Chief flight operations officer David Morgan said: "So we are in quite a good place at the moment as far as our fleet plan is concerned."
As the legacy fleet departs and is replaced with more efficient next generation equipment, Air NZ will be in a strong position to deliver on its promise to strengthen and expand its Pacific Rim network with an eye to opening new routes deeper into Asia and North America.