Air New Zealand's better balance in international markets drives earnings growth, with more to come
Analysis
A record first half (six months to 31-Dec-2013) result of NZD180 million (USD151 million) before taxation, representing a 7.7% margin, was Air New Zealand's reward for finding better balance: exiting from loss-making routes, higher trans-Tasman load factors than competitors, and a more streamlined fleet. Air NZ increased profitability on flat revenue despite decreased capacity.
CEO Christopher Luxon is not resting on his laurels and is committed to growth in capacity and revenue while decreasing costs, although cost targets are for now opaque.
The domestic and Pacific Island networks are stable while trans-Tasman shows the wear from the weakening Australian dollar. But Air NZ has the advantage of efficiency with the highest load factors in the market. International has shown a strong improvement following exits from loss-making routes. Further gains will come from growth, creating scale and reducing unit costs, and partnerships, such as with Singapore Airlines.
More gains to come as Air NZ expects NZD300m+ annual result
Air NZ's 1H2014 operating revenue was down 1.6%, although once adjusting for the New Zealand dollar's gains against currencies in Air NZ's major markets, revenue increased 0.5%. But even with the small gain, this was against a 1.3% reduction in capacity. Operating costs were down 4.8% including foreign exchange, or down 1.6% including foreign exchange – slightly ahead of capacity reduction, showing overall efficiency gains in the business.
Air NZ top line financial figures: 1H2014 to 1H2013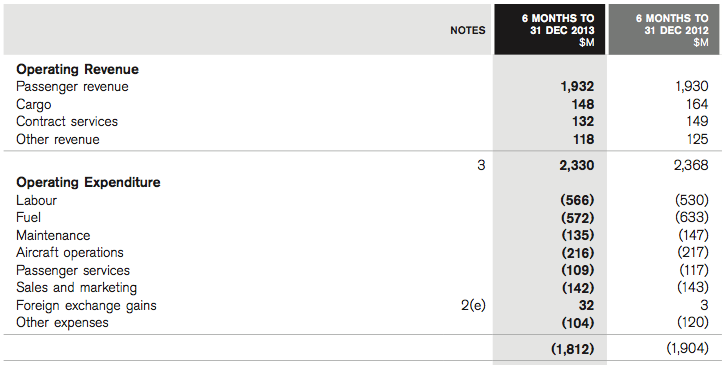 Mr Luxon expects FY2014 profits to be in excess of NZD300 million. The second half is traditionally the weaker part of the year. Mr Luxon delivered this historically high result on the same day competitor Qantas stole the headlines with a first half loss exceeding NZD200 million, the proclamation the environment was the worst Qantas had ever seen, and the announcement that 5,000 jobs and 50 aircraft would be eliminated (or also deferred in the case of aircraft) – something the carrier was happy to point out.
Mr Luxon's outlook on what is next for Air NZ – not just in the second half but future years – was remarkably different: "The realty is there is more to go" he said. Further gains, very much possible, will be quietly appreciated but will be strong achievements, especially in comparison to the regional outlook.
Lower fuel and maintenance, plus better international performance drive result
Driving Air NZ's performance was a lower fuel bill (down 9.6%), resulting from reduced flying but mostly due to lower prices and improving fleet efficiencies. Maintenance costs were also lower (8.2%) due to what Air NZ says were lower material costs for third-party maintenance work, but this area can continue to show gains as Air NZ's fleet phases out older, maintenance-intensive aircraft.
Short-haul markets were relatively stable while there were significant changes to long-haul markets that improved overall performance. Asia and UK/Europe revenue was down due to reduced flying, but this is a gain as loss-making routes were cut, including Hong Kong-London, which decreased cargo revenue, in turn dragging down profitability.
North America showed strong revenue growth. Yields were up 0.8% due to exiting loss-making routes, or up 3.7% excluding the impact of foreign exchange.
Air NZ revenue by geographical region of original sale: 1H2014 vs 1H2013

Air NZ long-haul key performance metrics: 1H2014 vs 1H2013

Short-haul markets stable
Air NZ's small but handsomely profitable domestic market grew efficiently, with a 4.1% expansion in ASKs about matched by 4% growth in RPKs with only a 0.6% decline in yield, all in all a strong performance given the size of growth.
Air NZ domestic key performance metrics: 1H2014 vs 1H2013

Further growth is defined by Air NZ's general growth outlook: capacity growth partially driven through up-gauging while scale reduces costs. Larger-capacity and more efficient A320s are replacing 737s. This is part of what Mr Luxon called "unprecedented" fleet renewal at the carrier.
Air NZ fleet summary: FY2014-FY2018

Air NZ has a near monopoly on the domestic market but faces competition on trunk routes from Jetstar.
New Zealand domestic seat capacity by carrier: 3-Mar-2014 to 9-Mar-2014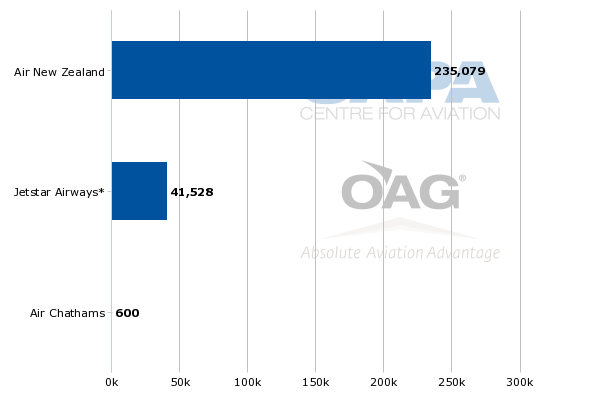 Air NZ's other short-haul market, trans-Tasman and Pacific Islands, showed slower growth. Air NZ upgauged Auckland-Perth and Auckland-Honolulu aircraft to the 777-200 while the weakening Australian dollar lowered yields.
Air NZ trans-Tasman and Pacific Islands key performance metrics: 1H2014 vs 1H2013

To Australia, Air NZ holds an efficiency advantage as it has the highest load factors of the major carriers on the market. From Jul-2013 to Nov-2013 (latest data available), Air NZ had the highest load factor every month.
Australia-New Zealand load factors of major carriers: Jul-2013 to Nov-2013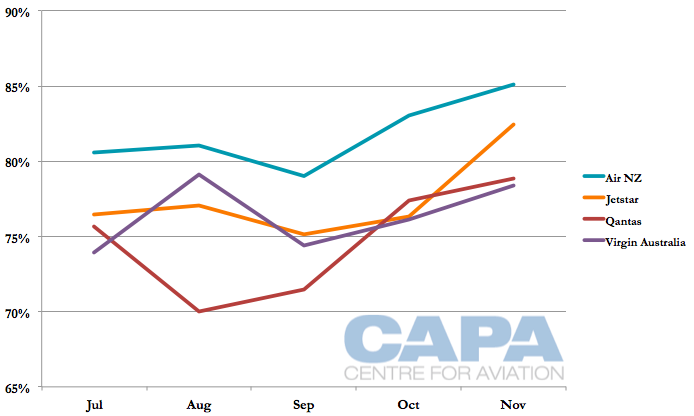 Future: more revenue from efficiency and growing alliances
Air NZ expects a revenue boost from further gains with alliances, including its proposed one with Singapore Airlines.
Alliances are proving critical to Air NZ, unsurprising for an end-of-line carrier, and have largely been enabled by the New Zealand government. In assessing Air NZ's alliance applications, the government has not been toothless but nor has it shown the rigour of the EU or US authorities. This has been to Air NZ's advantage.
See related report: Singapore Airlines-Air New Zealand partnership opens a new era for Australia-NZ-Singapore dynamics
These partnerships and ultimately long-haul growth come after a period of not growing the network as Air NZ optimised its long-haul network following losses associated with the global financial crisis.
Air NZ is planning an average 5% capacity growth per annum over the next five years, including an "aggressive" 8% in the near future. This hinges heavily on New Zealand as a tourism destination, and a 6% visitor increase in 2013 is supportive of that objective.
See related reports:
Air New Zealand will undertake further cost cutting but without a target figure
Mr Luxon announced Air NZ would undertake a cost-cutting programme but declined to give targets or specific areas that could do with reduction. Mr Luxon said he wanted daily cost discipline and move vendor relationships from transactional to strategic as well as reduce the number of suppliers. These may very well be the objective, or alternatively Mr Luxon may have wanted to be opaque on a day competitor Qantas was announcing large and specific cuts.
A bright outlook, but competitor's future capacity could bring swift changes in results
The cost-cutting programme combined with higher revenue and fleet simplification will drive scale at Air NZ, making it more competitive. Air NZ expects further declines in its cost base from scale, enabling expansion, thereby creating a virtuous cycle.
Air NZ CASK including fuel and foreign exchange: FY2012-FY2014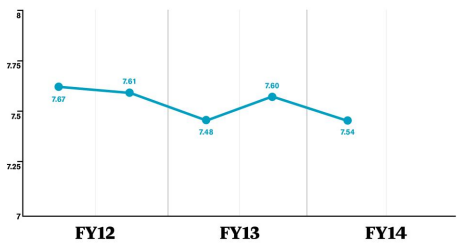 The gravity of Air NZ's previous situation was comparatively modest and, after some productive chair re-arranging (and removal), Air NZ's deck is in order by any measure. But it will not take much to rock this boat. The airline is small, at the end of the line and is vulnerable to casual moves by its major competitors.
Further capacity from mainland China, or a new entrant to North America – American Airlines continues to be rumoured – could dent performance, but perhaps there is room to give. The planned United 787 service to Melbourne, due to commence in Oct-2014 wil also have a significant impact on Air NZ's US feed, as Melbourne (and other Australian points) provide valuable fillers to its trans-Pacific services to the US west coast.
Even alliance partners have their own agendas, which do not necessarily coincide. But in general it would seem that, like its Australian partner, Virgin Australia in which Air NZ holds a 25% share, alliances must be the way of the future.
At the net level of profitability, as Air NZ grows its stake in Virgin Australia – important to securing access to the much bigger domestic market of its partner – it also increases its exposure to Virgin's losses.
Air NZ remains committed to Virgin in the long term, which must see Virgin exit the red. Mr Luxon will shortly take a seat on Virgin's board. Then Air NZ might be able to demonstrate the benefit of having exposure to common markets.
But Virgin's other shareholders – Etihad and Singapore Airlines – will be looking to do the same. The worry is potentially reduced by Air NZ's new common theme of partnerships: SIA and Air NZ will likely soon be partners between Singapore and New Zealand. They may find they have more in common in Virgin Australia than they do separately – although logic does not always prevail. For the time being they are however united in one feature: Qantas is the enemy.