Air New Zealand, the little airline that can, triples its FY2012 profit and 10-year average earnings
Analysis
Air New Zealand looks set to deliver on its objective to more than double earnings for FY2013, saying it is on track to achieve underlying earnings in at the "upper end" of the NZD235 million to NZD260 million (USD209 million) guidance provided in Apr-2013. If achieved, the result will nearly triple the FY2012 profit of NZD91 million (USD73 million) and build on the 300% improvement reported in the first half of the financial year.
Air NZ puts the improved performance down to a stable operating environment as well as changes to its long-haul network which has returned to profit for the first time since the global financial crisis. It is now focusing on forging deeper alliances to support its Pacific Rim network expansion plans.
In a surprise move, Air NZ also reinforced its hold on trans-Tasman alliance partner Virgin Australia by increasing its shareholding to just short of 23% and plans to creep to 26% in six months, thereby securing a strategic blocking stake over fellow shareholding partners Singapore Airlines and Etihad.
Air NZ share price gains 70% since Aug-2012
Air NZ's operating performance has been reflected in the carrier's share price which has gained about 70% since Aug-2012 in broadly three steps, moving from NZD0.90 to a peak of NZD1.54 (USD1.24).
The shares initially rallied on the back of outgoing CEO Rob Fyfe's call in Aug-2012 for underlying profits in FY2013 to double from FY2012's NZD91 million (USD73 million), based on Air NZ's agility to quickly implement business improvements with the backing of its highly engaged employees. The announcement of a share buyback programme of up to 3% of its ordinary shares provided the impetus for a further rise in Oct-2012. The 300% increase in underlying earnings for the first half of FY2013 reported in Feb-2013 demonstrated Air NZ was well on its way to delivering on Fyfe's challenge and saw the stock rise over the subsequent month to current levels, since underpinned by profit guidance affirmations in Apr-2013 and again on 07-Jun-2013.
The profit forecasts factored in a NZD7.5 million (USD6 million) settlement with the Commerce Commission over price fixing of cargo rates between New Zealand and Japan which formed part of alleged cargo price-fixing activities involving multiple carriers around the world.
Related reports:
Air NZ share price: 12 months to 13-Jun-2013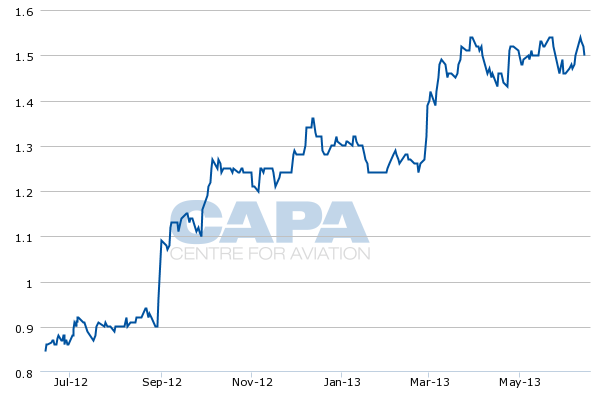 The rise in the share price has also led to renewed calls for the government to sell down its 74% stake in the carrier to 51% as part of a wider programme of partial sales of state-owned enterprises already underway.
The government acquired an initial 82% holding in Air NZ as part of a bailout package in Nov-2001 following the collapse of subsidiary Ansett Australia. With an average buy-in price of NZD1.29 (USD1.04) the government is in the money with its shares.
Air NZ CEO Christopher Luxon aims to double 10-year average underlying earnings
Air NZ CEO Christopher Luxon has proclaimed the carrier as the strongest airline financially in Australasia, allowing it to remain focused on optimising growth in existing markets, combined with developing new markets.
In a recent presentation to investors and analysts Mr Luxon set a target for the carrier to "sustainably double" its 10-year average normalised pre-tax earnings. According to Macquarie analysts that will require Air NZ to consistently achieve underlying profit before tax of ~NZD340 million (USD274 million), up from the broker's NZD243 million estimate for FY2013 in May-2013.
Air NZ normalised earnings before tax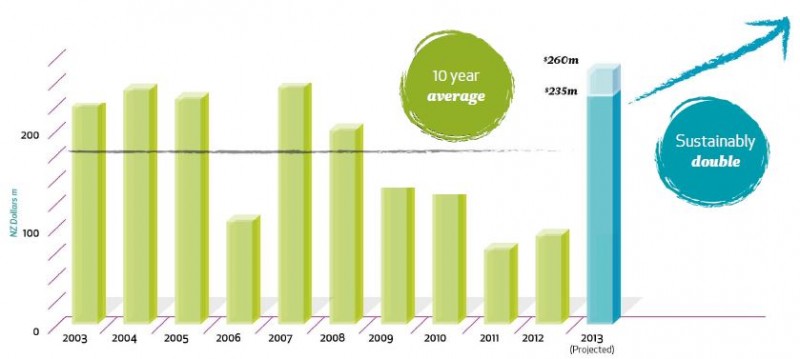 To achieve the target will require Air NZ to improve both sales growth and margins. And with capacity increasing by less than 15% over the next four years as A320s, 787s and 777-300ERs are delivered, in part to replace 737-300s, 747-400s and 767-300s, the focus will be on costs as well as increasing sales in long-haul premium cabins.
Air NZ looks to forge new and deeper alliances to support a Pacific Rim network
Air NZ's focus is on direct services to Pacific Rim markets with strong economic growth with high yielding traffic mix and able to sustain at least two weekly services.
The carrier will rely on codeshare partners to serve points beyond North America and Asia to Europe, with the exception of its flagship Auckland-Los Angeles-London route.
Long-haul markets will be developed through deeper partnerships with carriers in those markets to provide onward connections and better passenger feed.
Air NZ's definition of ideal new market characteristics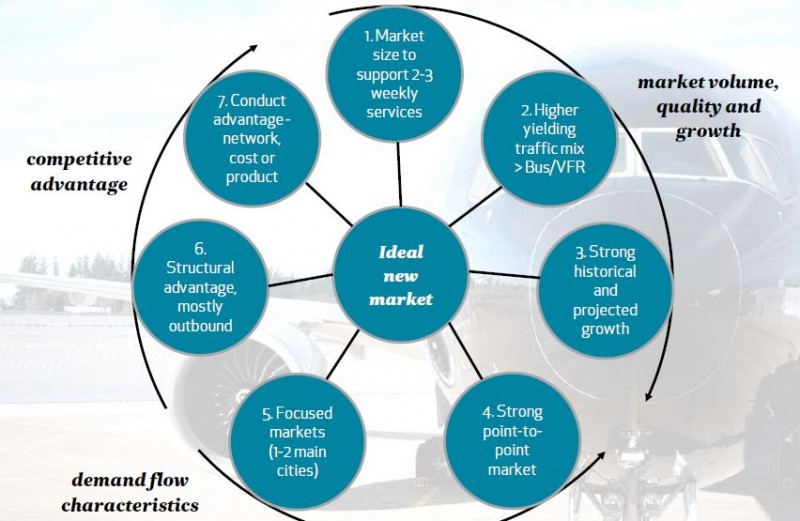 Air NZ points to existing alliances with Virgin Australia and Cathay Pacific as examples of immunised revenue sharing arrangements that could potentially be applied to other markets as a means of achieving consolidation on otherwise marginal routes.
Air NZ and Cathay have effectively combined their Auckland-Hong Kong services allowing the pair to offer double daily frequencies on each other's metal. The deal clearly benefits Air NZ, which gains network access to mainland China and India, two major markets where competitor SIA has been cleaning up and in which Air NZ did not have viable connecting opportunities.
See related report: Air New Zealand-Cathay Pacific partnership has implications across Asia and for SIA & China Southern
Air NZ continues to regard its Star Alliance membership as important, but also recognises that to be successful as a small carrier serving a small home market it must form deeper ties with airlines in markets where it can operate to just one or two points. This is increasingly becoming the case in a world where carriers are forming commercial partnerships independent of their global marketing alliances.
Air NZ suspends Osaka as yen weakens and refocuses on Tokyo
While Air NZ has enjoyed relatively benign trading conditions in recent months, the weaker yen and resulting lower yields have forced the carrier to suspend its three times weekly Auckland-Osaka services indefinitely from 01-Oct-2013 and consolidate operations to Tokyo. Frequencies from Auckland to Tokyo Narita increased from six times weekly to daily from 30-Mar-2013.
The carrier has already temporarily suspended the struggling Osaka twice this year. But it plans to increase its successful summer charter programme to regional centres in eastern and western Japan to help drive demand from the important market.
Japan is New Zealand's fifth largest tourism market with nearly 75,500 visitor arrivals in the year to Mar-2013, up 16% on the previous year. The Japanese market collapsed following the global financial crisis and the Christchurch earthquakes and remains well short of the 170,000 visitors in 2004.
See related report: Asian tourism will provide the backbone of New Zealand's growth by 2020
Shanghai to receive first Air NZ 787-9 service
Air NZ is reportedly likely to deploy its first 787-9 on the Auckland-Shanghai route when it takes delivery as the launch customer of the model about the middle of 2014. China is New Zealand's fastest growing market, attracting about 200,000 visitors in 2012, with that number forecast to increase by 376,000 by 2020.
Air NZ offers daily services from Auckland to Shanghai and codeshares with Star Alliance partner Air China for onward connections to Beijing, Chengdu and Chongqing. Load factors in excess of 80% have prompted the current 767-300 service to be upgraded to 777-200ERs in Jul-2013 as intensive marketing begins to pay off. But to gain the greatest access to the burgeoning demand it will be necessary for the New Zealand tourism industry to convince more Chinese visitors to spend longer in the country as part of a dual destination holiday with Australia. Currently nearly half of Chinese visitors travel to New Zealand via Australia, typically in groups and spend just four days visiting Auckland and Rotorua.
China Southern also operates daily to Auckland from its Guangzhou hub and has indicated an interest in launching services to Christchurch. That could encourage Chinese visitors to spend more time in New Zealand by allowing them to travel the length of the country arriving through one gateway and exiting at the other using the same airline. This has proven a successful strategy for SIA which operates double daily to Auckland and offers a daily service to Christchurch.
But while the bilateral air services agreement between New Zealand and China has been extended to allow three daily frequencies by carriers from either country, there is currently insufficient demand for more direct services.
Air NZ takes a surprise increased strategic stake in Virgin Australia
Air NZ surprised the market on 07-Jun-2013 by increasing its holding in trans-Tasman alliance partner Virgin Australia to 22.99% under the creep provision of Australia's takeover code. The code allows a shareholder with a stake of 20% or more to add up to 3% every six months without the requirement to make a takeover offer.
Air NZ was already Virgin Australia's largest individual shareholder on a register dominated by equity stakes from other strategic partner carriers, including Singapore Airlines with 19.9% and Etihad with about 10%. Virgin Australia's original financial backer, Sir Richard Branson's Virgin Group holds 13%, having sold down 10% to SIA in Apr-2013. Sir Richard has indicated that he will reduce his holding further in time.
Air NZ has applied to the Australian Competition and Consumer Commission (ACCC) and Foreign Investment Review Board (FIRB) for permission to raise its interest in Virgin Australia to just short of 26% in six months. If granted, this would give Air NZ the strategic ability to block any decision requiring 75% shareholder approval.
By creeping first, Air NZ has also gained a timing advantage that cannot be overtaken by SIA and Etihad unless they launch a takeover bid. Interestingly Air NZ has not yet bought the shares itself, but has instead entered into an arrangement with investment bank Gresham which gives the carrier an economic interest in the holding via a cash-settled equity swap and an option to take over the shares if approved by the ACCC and FIRB.
The carrier says it will not seek a seat on Virgin Australia's board, which would almost certainly result in SIA and Etihad demanding the same, nor does Air NZ intend to obtain control of Virgin Australia.
Instead, Air NZ views its investment as providing economic exposure to the fast growing Australian market without taking the risk of market entry with own metal. The investment will, in effect, make Air NZ a one and a quarter airline and gives it a position in any future Australasian consolidation.
Air NZ and Virgin Australia have operated a metal neutral alliance on the Tasman since Dec-2010 and have applied to the ACCC for a five year renewal when the existing authorisation expires in Dec-2013. Rival grouping Qantas and Emirates received regulatory approvals to extend their global alliance to include New Zealand in May-2013, effectively creating a duopoly on the route.
See related reports:
SIA appears relaxed, for now, about Air NZ's move and says it remains committed to its partnership with Virgin Australia which provides SIA with important Australian domestic market access and Virgin Australia with virtual access to Asia and Europe.
Etihad has indicated it will review whether to increase its holding in Virgin Australia once it has bedded down its deal to buy 24% of India's Jet Airways. Virgin Australia will hold its board meeting in Abu Dhabi in Jul-2013, demonstrating the importance of the Etihad partnership, which provides Virgin Australia with virtual access to Europe, the Middle East and Africa.
The tactical manoeuvring on Virgin Australia's share register has led to speculation that Virgin Australia may not need to remain listed in the longer term if the existing cornerstone shareholders came to an agreement to own the carrier between them.
Air NZ demonstrates its can-do attitude
Air NZ continues to demonstrate that it is the little airline that can. It has a near-impregnable and profitably position in its home domestic market. And changes to its long-haul network, leading to a renewed focus on serving the Pacific Rim, targeting high growth markets supported by strategic partners on long thin routes and providing beyond access into Asia and Europe, are reaping rewards. Like its bigger neighbour Qantas, it is adapting effectively to an end-of-the-line status where only non-stop operations with its own metal can be effective.
The Chinese market, where Air NZ has a relatively good strategic position, will inevitably grow rapidly, offering new options. Its stake in Virgin Australia should provide a solid anchor in the larger Australian system. But it remains a small airline and as such is vulnerable to large shifts on its key long haul routes. Rumoured entry by a now-renewed American Airlines onto the Pacific route for example would be an unwelcome development.
With an eye to a virtuous circle of continuous cost cutting and improving sales performance driving reinvestment, combined with few apparent head winds, Air NZ should however be well placed to deliver on its objective of doubling its 10-year average underlying earnings - and with it further driving a share price that for the time being still looks cheap.