Air freight volumes fall off cliff as economy slumps - airlines warned: prepare for "hard landing"
Analysis
IATA reports international air freight volumes (FTKs) fell an unprecedented 22.6% in Dec-08, as companies worldwide run down their inventories, abruptly cutting output and shipments. Exports of goods fell 20-30% in the US, Asia and Europe and air freight suffered proportionately, according to the industry body.
Director General and CEO, Giovanni Bisignani, stated the free fall in global cargo is "shocking" and there is "no clearer description of the slowdown in world trade". He added that even in the aftermath of September 2001, when much of the global fleet was grounded, the freight decline was only 13.9%. Air cargo accounts for 35% of the value of goods traded internationally.
Meanwhile, passenger travel weakened significantly in Dec-08 to a level 4.6% lower than a year earlier.
International passenger and freight tonne-kilometers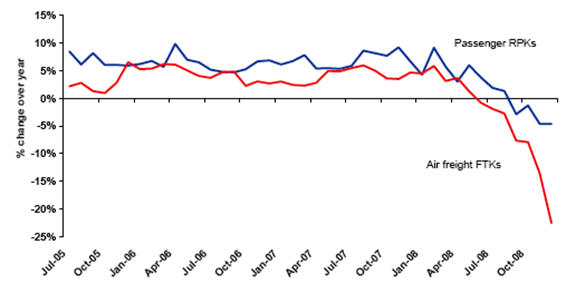 Capacity cuts lagging demand drops
Capacity growth on international markets is falling, but lagging demand. In Dec-08, airlines reduced their international passenger capacity by 1.5%, the second successive month of cuts. IATA added, "with much of the low hanging fruit picked during the fuel-spike induced efficiency drives, we are now seeing capacity being cut", and it says further cuts are planned by airlines.
Load factors are falling sharply, to 73.8% in Dec-08, down 2.4% ppys year-on-year. The 75.9% overall average load factor in the full year of 2008 ended an upward trend in aircraft utilisation achieved since 2001. IATA stated that while load factors are still much higher than eight years ago, their fall adds to the downward pressure on profitability.
Parking of older aircraft comes to a halt at the end of 2008
The industry body added the surge of activity to park older aircraft that was seen during Sep-Nov-08 came to a halt at the end of the year, when seven aircraft were taken out of storage and returned to the in-service fleet.
IATA stated older aircraft seem to have been "priced back into the market by the fall of fuel prices, though filling them with passengers may be a challenge".
There was also a reversal of the recent slowdown in deliveries, with over 130 delivered in December. Partly this was due to the ending of the strike at Boeing which reduced deliveries from September and a seasonal effect, "rather than any reversal of the trend towards deferring or cancelling orders", according to IATA.
The Centre believes this could point to potential upwards pressure on capacity, which would threaten the industry's outlook even further.
No recovery seen this year
Mr Bisignani stated that airlines are struggling to match capacity with fast-falling demand. He added, until this comes into balance, even the sharp fall in fuel prices cannot save the industry from "drowning in red ink". He warned, "keep your seatbelts fastened and prepare for a bumpy ride and a hard landing".
The outlook for air freight remains bleak in the short-term. IATA concluded, "once companies decide to restock depleted inventories there will be a correspondingly sharp rise in shipments and freight - but that is unlikely to be this year".