Air France-KLM: 3Q2013 operating result improves, but 2014 targets start to slip
Analysis
Air France-KLM reported an improved operating result for 3Q2013 and confirmed its aim to increase 2H2013 operating profit by the same year-on-year amount as in 1H2013. It has provided more details on the additional restructuring measures previously announced relating to headcount reduction and planned capacity in medium-haul and cargo.
However, while the group expects losses in medium-haul and cargo to reduce significantly in 2014, it does not expect to see the full impact of these measures until 2015.
As a result, it has pushed back its net debt reduction target by one year and focused its 2014 EBITDA target at the lower end of its previous range. Unfortunately, targets that start to slip have a habit of becoming more slippery.
Operating result improves in 3Q2013, but the net result hit by Alitalia write-down
In 3Q2013, Air France-KLM reported a 51% fall in net income to EUR144 million. For the first nine months of the year, the net loss was reduced by 34% to EUR649 million. The 3Q result was burdened by two non-operating items compared with the same quarter last year: a EUR110 million adverse swing in the change in fair value of financial assets and a EUR137 million loss in connection with the group's holding in Alitalia (both its share of Alitalia's losses at the write-down of the whole value of its holding).
The operating result, which gives a better view of the underlying profitability of the group, increased by 29% to EUR634 million in 3Q2013. For the nine months, the operating result improved from a loss of EUR199 million last year to a profit of EUR183 million.
Revenues were a little better than flat (+0.4%) at EUR7,312 million in the quarter. Free cash flow improved by EUR572 million and was positive for the nine months and net debt fell by more than EUR600 million relative to Sep-2012 to stand at EUR5.4 billion at Sep-2013.
Air France-KLM financial highlights 3Q and first nine months 2013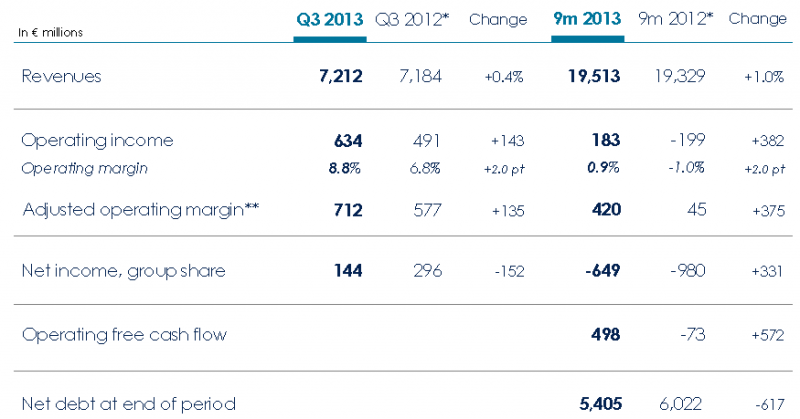 Revenues weakened by currency movements
The virtually flat revenue performance in the quarter mainly reflects the trend in the Passenger segment, the biggest of the group's divisions. The Cargo segment saw revenues fall by more than 9%, while Maintenance grew sales by almost 20%. Group revenues were depressed by adverse currency impacts. At constant exchange rates, revenues would have grown by 3.8%. This currency impact was more pronounced in 3Q than in 1H.
Air France-KLM revenues by segment 3Q2013 (EUR billion)
Passenger segment drives improved operating result
The improved 3Q operating result was mainly driven by the increase in the Passenger segment's operating result from EUR440 million to EUR577 million. The Cargo segment saw its loss widen from EUR69 million to EUR84 million, while Maintenance and the 'Other' segment saw improved results year-on-year. The biggest contributor to the Other segment is leisure carrier Transavia, which saw its operating result fall by EUR4 million to EUR66 million.
Air France-KLM operating result by segment (EUR million): 3Q2012* and 3Q2013
Passenger RASK down, but up excluding currency movements
In the Passenger business, capacity (ASK) grew by 1.4% year-on-year, with traffic (RPK) up 2.5% and load factor gaining 0.9 ppts to reach a very commendable level of 86.9%. Although reported unit revenues (RASK) fell by 0.6%, this was weakened by foreign exchange rate movements. The underlying trend was positive: on a constant currency basis, RASK was up 2.7%.
Long-haul RASK was up 2.9% on a constant currency basis, although Premium and Economy cabins performed differently. Long-haul Premium RASK was more or less flat (-0.2%), while long-haul Economy RASK grew by 4.1% (both at constant currency). On the loss-making medium-haul network, capacity cuts helped to improve unit revenues. For example, the French network saw ASKs cut by 8.6% and constant currency RASK grow by 6.5% (much of this due to a 4.9 ppt increase in load factor).
Air France-KLM passenger business, traffic data: 3Q2013
Air France-KLM passenger business, unit revenue change year-on-year: 3Q2013
The underlying RASK improvement in the quarter was reflected across the global network. At constant currency, medium-haul RASK grew 3.7%, with capacity down 1.9%. Both Latin America and Caribbean/Indian Ocean saw RASK up around 6%. The unit revenue strength on the Latin American network came in spite of strong capacity growth (ASK up 8.9%). North America saw constant currency RAK up 3.6%, with ASKs down 0.7%.
Air France-KLM passenger traffic and unit revenue by geography, (year-on-year change, %): 3Q2013
Cargo unit revenue weakness
In the Cargo business, load factor continued to fall in spite of a 1.5% cut in capacity (ATK), with full freighter capacity cut by 11%. Traffic (RTK) fell faster, at 3.7% and unit revenues (RATK) fell by 9.1% (the decline was 5.2% at constant currency). A focus on unit cost reduction (CATK -3.2% ex fuel and at constant currency) was not sufficient to offset this weak revenue environment and the segment's losses widened.
Air France-KLM cargo business, traffic data: 3Q2013
Air France-KLM cargo business, unit revenue change year-on-year: 3Q2013
Headcount reduction
Group headcount fell by 3,500 from Sep-2012 to Sep-2013 (adjusted for changes in the scope of consolidated companies in the group). Air France-KLM management say the carrier is on track to achieve its targeted reduction in employee costs by more than EUR200 million in 2013 compared with 2012 (excluding increased pension charges and consolidation impacts).
Air France-KLM change in employee costs, including temporary staff (EUR million): 9M2013 versus 9M2012
Costs fall
Fuel costs, the second largest cost category, fell by 4.8% in the first nine months of 2013 in spite of capacity increases, reflecting lower prices. Total costs fell by 1.0%, but ex fuel costs were up slightly, by 0.5%. The increase in costs was mainly due to maintenance costs increasing in line with increased third party maintenance revenues. The increase in costs was less than the 1.4% increase in EASK (a capacity measure which combines passenger and cargo capacity) for the nine months.
Air France-KLM costs other than employee costs: 9M2013
Further details of additional restructuring measures
Air France-KLM confirmed its 2013 full year targets to reduce unit costs, to bring down year end net debt and to improve 2H operating results in line with the EUR239 million improvement seen in 1H. Nevertheless, its attempts to turn around losses in its medium-haul passenger business and its cargo business with its Transform 2015 restructuring programme have proved to be more challenging than expected. As a result, in Sep-2013, it identified additional measures in these two areas.
See related report: Air France-KLM: 'on the way to being saved' or are new measures not radical enough?
These additional measures consisted of new headcount reduction targets, further capacity cuts in medium-haul (accompanied by growth in Transavia) and the removal of its Boeing 747 freighter fleet. Air France-KLM's new target on employee cost reduction will see labour costs cut by a further EUR150 million in 2015 relative to its previous target. With its 3Q2013 results announcement, the group also provided some additional details of the capacity measures in medium-haul and cargo.
Three activities in passenger medium-haul
In 2012, the medium-haul passenger business had revenues of EUR7.5 billion (29% of the total for the group) and lost EUR850 million at the operating level. These medium-haul revenues were driven by three activities:
Hub feeding, operated by Air France and KLM (59% of medium-haul revenues/53% of medium-haul fleet)
French point-to-point routes, operated by Air France, Hop and City Jet (30% of revenues/37% of fleet)
Leisure routes, operated by Transavia (11% of revenues/10% of fleet)
Air France-KLM medium-haul revenue (EUR billion): 2012
In the hub feeding activity, the group now plans a 1% increased in ASKs from 2012 to 2015, in spite of a reduction of 21 aircraft. This will necessitate significant improvements in aircraft productivity. In the French point-to-point market, ASKs will reduce by 27% and the fleet will be cut by 42 aircraft over the same period (after the planned sale of CityJet). In the leisure segment (Transavia), Air France-KLM plans a 30% increase in ASKs and an increase of 13 aircraft
Air France-KLM medium-haul capacity plan to 2015 after additional measures
Hub feeding: focus on productivity
Looking at each of these three areas in turn, the group regards hub feeding as vital to the long-haul network and this explains why it does not plan to cut ASK capacity. The focus will be on productivity. The measures adopted by Air France-KLM focus on the Paris CDG hub and include a new voluntary redundancy plan for 580 full time equivalents.
The revised fleet plan sees an additional five regional aircraft removed from the fleet in summer 2014 and an additional four removed in summer 2015, relative to the previous plan. This will see the Airbus A320 family fleet at CDG fall from 77 aircraft in summer 2012 to 70 in summer 2015; and the regional aircraft fleet fall from 36 to 24.
The capacity cuts will be accompanied by an increase in the seasonality of the schedule and a better adaptation of working conditions to the seasonality of demand. The company also says it plans to develop medium-haul to medium-haul connections. This seems to go against the market trend of more point-to-point connections being enabled by LCCs.
Air France-KLM: Paris CDG medium-haul fleet plan (summer schedule): 2012 to 2015
French point-to-point: capacity cuts in an essential network
Air France-KLM sees its French point-to-point network as essential to maintain a market presence, but recognises that it is most affected by economic weakness in Europe and the shift in the market away from the FSC model. The new voluntary redundancy headcount reduction targets in this area are 180 at Paris Orly, a total of 370 at Marseille, Toulouse and Nice, and 220 in other French bases.
It plans to cut capacity at Orly and its French regional bases, with the summer 2014 fleet now expected to be lower by five aircraft and the summer 2015 fleet by seven aircraft, relative to the previous Transform 2015 target. In particular, the Orly-based narrowbody fleet will be reduced by five aircraft instead of three.
The existing French network from Paris Orly includes many high frequency domestic routes and the airline plans to reduce its level of activity on such markets. For example, it operates 27 daily one-way frequencies from Paris to Toulouse, 21 from Paris to Nice and 18 from Paris to Marseille. It expects the impact on revenues to be limited.
A large part of Air France-KLM's capacity at its French regional bases outside Paris (40% of ASK) serves the main bases at Orly, CDG and Amsterdam. The losses in the French point-to-point network are concentrated in new routes to the rest of France and Europe. Additional fleet reductions at these bases, route closures and moves to seasonal flights are planned to stem these losses.
Air France-KLM: regional bases fleet plan (summer schedule): 2012 to 2015
Leisure: growth is to come through Transavia
Air France-KLM developed its Transavia business to capture growth in the leisure segment. By contrast with the rest of the medium-haul network, the group plans to increase its planned fleet growth for Transavia. This will be focussed on Paris Orly, where the fleet development plan has been increased from three to five aircraft per year. Transavia's fleet in the Netherlands will remain stable at 30 aircraft, while that of the French arm will grow from 11 aircraft in summer 2013 to 26 in summer 2016. Transavia is targeting a 5% operating margin "in the medium term".
In selected large leisure markets, Air France and Transavia will both operate alongside one another. While there may be some brand value in continuing to operate Air France flights alongside Transavia, this is more likely driven by union agreements limiting the use of Transavia. Given the latter's significant cost advantage over Air France, this seems to be less than ideal. As we remarked in our previous analysis of the group's additional Transform 2015 measures, the planned growth of Transavia France at the expense of Air France does not look aggressive enough.
See related report: Transavia: too little, too late? Air France-KLM's LCC enjoys a growth spurt
Air France-KLM: Transavia fleet plan (summer schedule): 2012 to 2016
Cargo: a reduction in freighter capacity as the cargo recovery remains slow
The cargo business continues to face challenges such as the slow recovery in world trade and the structural overcapacity resulting in part from new large-bellied passenger aircraft. Although Air France-KLM was one of the biggest capacity cutters among the top 20 global cargo carriers in 1H2013, its cargo business continued to report significant losses in the first nine months of 2013.
See related report: Air cargo: structural reform urgently needed where capacity exceeds demand by over 100%
Air France-KLM carries the majority of its cargo capacity in passenger aircraft (69% of its cargo ATKs in 2012, accounting for 66% of cargo revenues, was transported in passenger belly space). Passenger aircraft drove EUR1.9 billion of cargo revenues in 2012, so that cargo made an important contribution to passenger aircraft profitability. Although full freighter aircraft can be useful in addressing particular markets, they have cargo unit costs 20% higher than those of passenger bellies, according to Air France-KLM.
The group's new target is to reduce its freighter fleet by an additional four aircraft relative to its previous Transform 2015 plan. This will see its freighter fleet fall to 10 aircraft in 2015 (it had 20 at the end of Sep-2013) through the retirement of two 747 freighters at Paris CDG and one 747 and one MD-11 at Amsterdam. ATKs on full freighters will be cut by 32% from 2012 to 2015 and their share of group cargo capacity will fall from 31% to 22% over this period.
The cargo voluntary redundancy plan will target 280 full time equivalents. In addition, cost savings will be driven by changes to ground handling operations at CDG and outsourcing of the Orly hangar.
Air France-KLM full-freighter capacity plan to 2015
KLM is already benefiting from Transform 2015
In KLM, the group says that the restructuring programme is already having a strong impact on results. Profitability in the Amsterdam hub is expected to improve by around EUR100 million in 2013, with losses less than EUR75 million. The target for 2015 is to be close to breakeven. Medium-haul capacity is planned to increase by 11% between 2012 and 2015, with no increase in the number of aircraft. KLM expects cabin densification and shorter turnaround times to lead to improved asset utilisation.
But progress has not been fast enough
Air France-KLM's 3Q2013 operating result shows that it is making progress and it has confirmed its FY2013 operating result improvement target. It has also confirmed its target to cut ex fuel unit costs from 2011 to 2014 by 6%, with further reductions in 2015 (at constant currency and excluding increased pension charges resulting from accounting changes).
However, progress is not fast enough. The group's 2014 EBITDA target has been sharpened to EUR2.5 billion, the bottom if its previous range of EUR2.5 billion to EUR3.0 billion. Moreover, it now expects to achieve its EUR4.5 billion net debt target (EUR2 billion below its Dec-2011 level of EUR6.5 billion) by Dec-2015, a year later than the previous objective of Dec-2014.
Air France-KLM medium-haul operating result (EUR million): 2011, 2012 and estimates to 2015
Air France-KLM cargo operating result (EUR million): 2011, 2012 and estimates to 2015
This is a reminder restructuring plans are always hostages to fortune. External forces can push them off course and this is exactly what Air France-KLM is experiencing. The operating environment has remained weak, compounded by currency and fuel price volatility. Management expects that the full impact of its additional Transform measures will only be felt in 2015.
Comparing Air France-KLM with legacy flag carrier rivals, it is far from clear that these measures go far enough with either headcount reduction or the use of its LCC subsidiary in medium haul. It had better hope that it does not encounter yet more external challenges between now and then.