Air China, Grand Express to receive support. Airline Bailouts in China
Analysis
If there is an industry wide bailout for Chinese major carriers, this is likely to be accompanied by some form of forced consolidation, an outcome which would only be to the carrier's benefit.

And, for example, any support for China Eastern, whose shares are not currently trading, should help Air China too. Its parent company is showing (unbooked) losses of over USD400 million on its investment in China Eastern last year, when it acquired 12.1% of the carrier's H shares (which were suspended from trading last month).

Meanwhile, the Tianjin government announced that it would inject CYN200 million into its joint venture with Hainan Airlines, Grand China Express Airlines Co Ltd.

Air China has been the best performing of the Chinese mainline carriers, remaining profitable up until the most recent quarter, unlike its main competitors. It has had five years of good performance.
Air China operating profit margin and net profit margin: 2003 to YTD3Q08
Air China operating profit and net profit: 1Q08 to 3Q08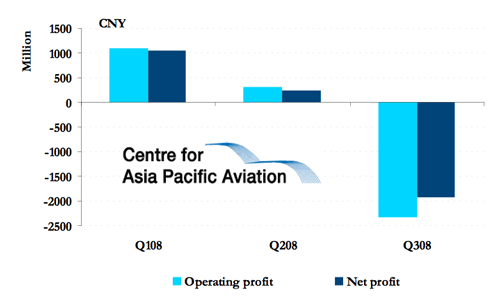 The reversal in the most recent quarter can partly be attributed to disruptions due to the Olympics, but the slowing of China's economy is also taking its toll.

Also, like some others, it is now suffering from an earlier excess of exuberance in ordering aircraft. Domestic capacity has increased significantly recently.
Air China passenger capacity growth: Nov-07 to Oct-08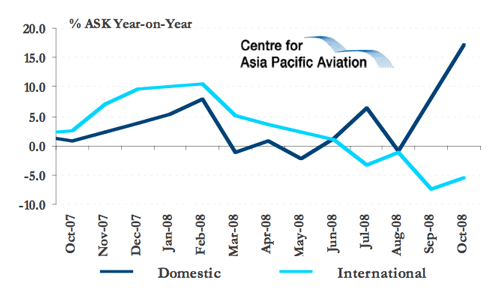 This is however apparently not impacting on load factors - yet.
Air China passenger load factor: Nov-07 to Oct-08
Most recent traffic data suggest a good recovery on domestic routes, post-Olympics, although international is still sluggish (and later November traffic numbers reported by Beijing Capital International Airport show another strong performance).
Air China passenger numbers growth: Nov-07 to Oct-08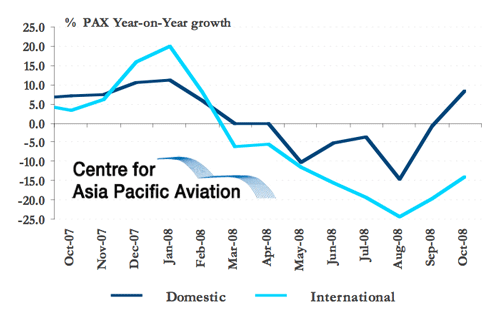 And now, with all the talk of funding injections, aircraft order cancellations and the encouragement of these most recent traffic trends, Air China's share price may start moving upwards again, with yesterday's leap definitely a good start.
Air China share price: 01-Jun-08 to 07-Jun-08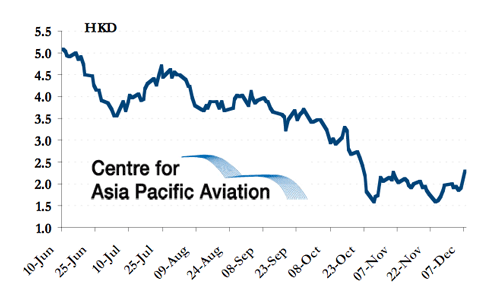 There will be more to come in this funding story over coming days. But the fundamental issue, that there is at least one major unsustainable airline in the marketplace, is something that Beijing is going to have to come to grips with soon. Otherwise the funding injections will just sink into the sand.