Air Canada's favourable top-line 2Q2014 results but 7% capacity growth provokes reduced yields
Analysis
Air Canada's record profitability in 2Q2014 is being undermined by a decline in the airline's yield performance, resulting in the airline defending its strategy of improving its bottom line by an increased stage length and a higher proportion of economy seating.

The underlying philosophy is that Air Canada is creating a framework for unit cost to decline at a greater level than yields and unit revenues as it works to reduce its unit cost, excluding fuel, by 15% from CY2012 levels in the medium term.

It may take some time for the market to understand Air Canada's tactics; but the airline's 2Q2014 results seem to indicate there is merit to the airline's efforts to meet its goals of long standing profitability.
Air Canada's higher mix of economy seating dilutes yields
Air Canada's yields fell 2% year-on-year in 2Q2014 largely through a combination of a 2.5% increase in stage length, the operation of higher density aircraft and a higher proportion of economy class seats in operation. The airline's passenger unit revenues fell 0.8% year-on-year.
Air Canada unit revenue, unit cost and yield performance: 2Q2014 vs 2Q2013 and 1H2014 vs 1H2013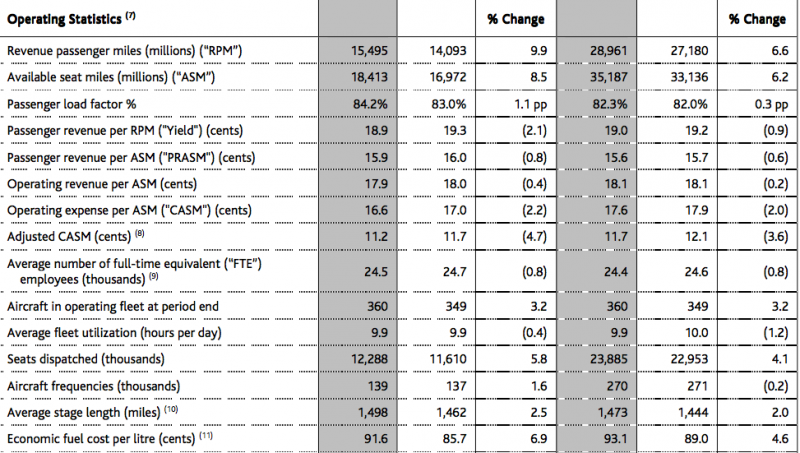 Air Canada recorded a decline in yields in the Canadian domestic market, in US transborder routes and in the trans-Atlantic market. It attributed the yield decrease in the trans-Atlantic and on US transborder routes to the operation of a higher number of seats in long-haul markets, new and expanded flying by its low-cost leisure subsidiary rouge and more seasonal flying at Air Canada mainline.
Air Canada passenger unit revenue and yield performance: 2Q2014 vs 2Q2013


Air Canada now has five high density, 458-seat Boeing 777-300ERs featuring a premium economy section of the cabin. The airline operates the aircraft on long-haul routes with a higher mix of leisure travellers – Montreal to London Heathrow and Paris, Vancouver to Hong Kong and Toronto and Vancouver to London.

The operation of higher density aircraft and the expansion of rouge, which features a higher percentage of economy seats, are a mainstay of Air Canada's strategy to lower its unit cost. But the changes have been dilutive on a unit revenue basis.

See related report: Air Canada's challenge is to compensate for revenue dilution triggered by unit cost reduction moves
Longer stage lengths contribute to a large portion of Air Canada's 2Q2014 drop in yields
Air Canada's 2% drop in yields during 2Q2014 was a deeper decline than the flat growth the airline recorded in 1Q2014. The airline estimates that the increased stage length – during the past year Air Canada has launched service to Tokyo Haneda, expanded rouge's trans-Atlantic operations (Toronto to Barcelona and Dublin and Montreal to Rome) and bolstered service to Asia – contributed approximately 1.5ppt of the year-on-year yield decrease in 2Q2014.
See related report: Canada's Airlines Part 2: Air Canada works to bolster its international network in 2014

CEO Calin Rovinescu is stressing to analysts the importance of understanding Air Canada's strategy – investment in higher density aircraft and a higher proportion of economy seats. By definition, those elements influence yields, he explained during a 2Q2014 earnings discussion.

Air Canada's reasoning is that its unit cost excluding fuel will fall at a greater rate than yields and unit revenue, resulting in a favourable bottom line. "That is the business model we are looking at," said Mr Rovinescu.

The logic applied to Air Canada's 2Q2014 results as unit cost excluding fuel dropped 4.7% year-on-year compared to the previously mentioned 2% decline in yields and 0.8% fall in passenger unit revenues.

Air Canada does not give forward looking unit revenue guidance, but has revised its unit cost guidance for CY2014 to 3.2% to 4.2% versus previous projections of a drop between 3% and 4%. The revision was driven in part by a better than expected cost performance in 2Q2014.
Previously Air Canada had forecast a unit cost decline of 3.5% to 4.5% in 2Q2014, and noted the drivers in the improved performance were its capacity growth reaching the top of its forecast of 7.5% to 8.5% and a slight improvement in the depreciation of the CAD against the USD. After reaching a rate of CAD1.10 to the USD earlier in 2014, Air Canada now forecast a rate of CAD1.08 for 3Q2014 and CAD1.09 for CY2014.
Air Canada capacity and unit cost outlook: 3Q2014 and CY2014

Air Canada needs to get used to managing higher capacity growth
During the 7M ending in Jul-2014 Air Canada posted a 7.6% increase in traffic on a 7% increase in capacity, which kept load factors at a healthy 83%. Its stand-alone results for Jul-2014 included a nearly 13% rise in traffic on an 11% increase in capacity.

Given its healthy traffic increases and load factors, Air Canada fielded questions about potentially raising prices. Company chief commercial officer Ben Smith explained that overall Air Canada is introducing a greater level of supply – 9% to 10% in 3Q2014 and 7% to 8% for FY2014 – after managing low growth rates during the past few years. As the airline moves forward in managing its capacity growth, there should be improvements in revenue and cost, said Mr Smith.
Air Canada sees a rebound in Pacific yields during 2Q2014
Air Canada recorded a 3% decline in yields year-on-year in 2Q2014 in both its US transborder and Canadian domestic geographies. The drop in domestic yields was driven by increased capacity and competitive pricing within Ontario and Quebec, and in Western Canada, where WestJet has rolled out its regional subsidiary Encore, and Air Canada has stepped-up its own capacity in some regional markets in the region.

The airline recorded a rebound in yields and unit revenues year-on-year in its Pacific operations during 2Q2014. Yields increased 1.8% and unit revenues grew by 4%. That compares with a 1.6% drop in yields during 1Q2014 and a 2.8% decline in unit revenues.

Air Canada's improvement in its Pacific operations was driven by yield growth on the majority of its routes with the exception of Hong Kong, where it operates one of its higher density 777s featuring a larger economy cabin. The airline also cited increased industry capacity to Hong Kong, but concluded the yield reduction in Hong Kong was offset by a favourable performance elsewhere in its network. A positive CAD12 million currency impact also helped lift Air Canada's yield performance in the Pacific during 2Q2014.
Air Canada posts solid gains in 2Q2014 profits despite yield pressure
As Air Canada found itself explaining how lower yields will actually benefit its bottom line, it grew adjusted net income to CAD139 million (USD127 million) from CAD115 million (USD105 million) year-on-year during 2Q2014. Its recorded GAAP net income was CAD223 million (USD204 million) compared with a CAD23 million (USD21 million) loss the year prior.
Air Canada financial performance: 2Q2014 vs 2Q2013 and 1H2014 vs 1H2013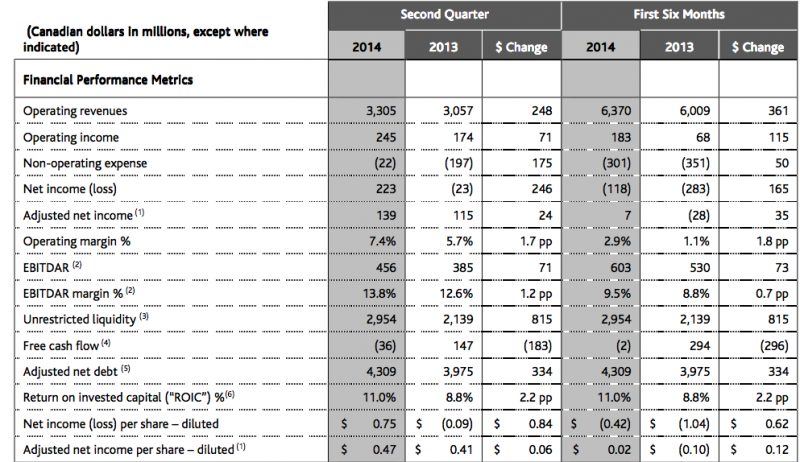 The airline's operating revenues increased CAD248 million (USD227 million) during the quarter to CAD3.3 billion (USD3 billion) and operating income grew by CAD71 million (USD65 million) to CAD245 million (USD224 million). Operating expenses increased by CAD177 million (USD162 million) to CAD3.1 billion (USD2.8 billion).
Air Canada needs consistent profitability to ease market jitters over yields
The optimal situation for any airline is decreasing unit cost and rising unit revenue and yields. Air Canada emphasises it is in the early stages of building a sustainable model, and for the time being, trading in yields for lower costs is not affecting Air Canada's profitability, which it declared as a record for 2Q2014.

But in the short term its profitability could be overshadowed by concerns over yields, which during 3Q2014 are expected to mirror 2Q2014's performance. It could take some time for the market to absorb Air Canada's strategy.
The key for Air Canada will be to keep delivering positive bottom line results on a consistent basis in order to calm market jitters, which is not an easy task to accomplish.
See related reports: