Air Canada shakes out its network with high profile long-haul service and small domestic routes
Analysis
Air Canada is to put the mission of the Boeing 787-9 to the test in late 2015 with the planned launch of new service to Dubai and the resumption of non-stop service to Delhi. International expansion is a pillar of the airline's growth strategy as it seeks to leverage is still-leading position as Canada's largest international airline.

At the same time Air Canada is making domestic adjustments, transferring some routes to its low-cost subsidiary rouge, and entering smaller markets in western Canada.

The long-haul international flights will not be a huge contributor to Air Canada's planned system-wide capacity increase of 9% to 10% in 2015, which is higher than its North American peers. But Air Canada believes those targets are reasonable as it has not grown in line with available international opportunities during the last decade.
Air Canada continues to grow its long-haul revenue
Previously, Air Canada has explained that roughly 55% of its planned capacity increase in 2015 is attributed to the expansion of rouge, and 38% of its capacity growth is allotted to mainline international markets as it continues to take delivery of Boeing 787 widebodies.

See related report: Air Canada's declining yields could continue as it prepares for a capacity push in CY2015

At the end of 3Q2014, Air Canada estimated that international routes excluding transborder service represented roughly 42% of its revenues, and year to date its revenue in those regions had grown nearly 10% year-on-year.
Air Canada revenue breakdown by geography: 3Q2014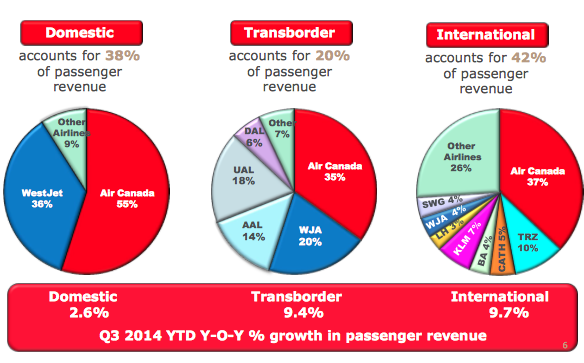 During 2014 Air Canada will add six Boeing 787-8 widebodies to its fleet and deploy the 251-seat jets on service from Toronto to Tel Aviv and Tokyo Haneda. In early 2015 it plans to operate the aircraft on service from Vancouver to Beijing and Seoul after converting Vancouver-Shanghai route and placing the aircraft on the Vancouver-Tokyo Narita pairing by YE2014.

Air Canada is scheduled to take delivery of three 298-seat Boeing 787-9 widebodies during 2015, and has pegged the aircraft to operate from its Toronto hub to Dubai and Delhi starting in Nov-2015. CAPA's Fleet Database shows the airline has 28 of the aircraft on order.
Air Canada Fleet Summary as of 12-Dec-2014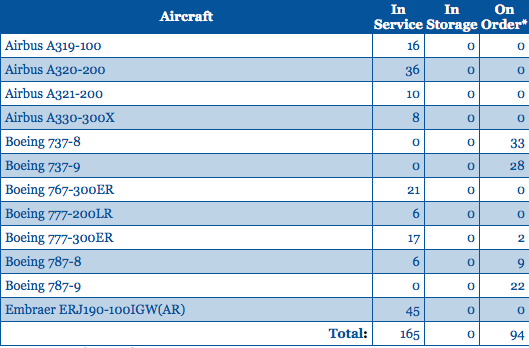 Delhi was among the routes cited by Air Canada in 2013 as a potential market for the 787. Air Canada had dropped its service to Delhi in 2007, and at the time told The Toronto Star that the route did not meet its financial objectives, and it was difficult to fill the flights on a year-round basis. It was also during the global economic recession, and as oil prices began to spike.
The flexibility of the 787 and the seemingly established lower oil price changes the scenarios possible.
Air Canada potential 787 destinations as of late 2013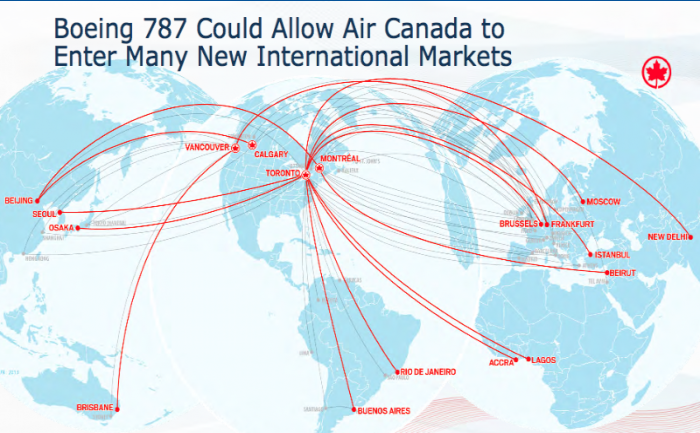 Now with a more fuel efficient aircraft, perhaps Air Canada sees more promise in serving Toronto-Delhi. It has more connection opportunities beyond Delhi with its Star Alliance partner Air India. The government of Canada has stated that India is currently the third largest source of immigrants to Canada, and the Indo-Canadian community stands at over one million.
Generally improving economic conditions, a more efficient aircraft with sufficient range for the route and an ability to offer connections beyond Delhi could make the route more viable for Air Canada.
Air Canada's new service joins Emirates' three weekly flights from Toronto to Dubai. Under the bilateral between Canada and the UAE, Emirates and Etihad are allowed to operate six weekly flights between the two countries. Etihad operates three weekly flights from Abu Dhabi to Toronto, and codeshares with Air Canada on those flights.

A few years ago Emirates launched a campaign to ease the flight restrictions between Canada and the UAE, a move fiercely opposed by Air Canada, arguing additional flights by Emirates would flood the Canadian airspace with seats to divert more travellers through Dubai. At that time Air Canada and its Star Alliance partner Lufthansa opted instead to funnel passengers through Lufthansa's hubs in Frankfurt and Munich.

Emirates backed off its push for more access to Canada, and now Air Canada plans to launch three weekly flights from Toronto to Dubai with its 298-seat 787-9 aircraft, injecting nearly 2,700 weekly (round trip) seats into the market. Emirates operates Airbus A380 aircraft on its service from Toronto to Dubai.

Previously Emirates has stated that average seat factors on the route from Jan-2012 to Aug-2012 were roughly 93%, "spilling passengers on nearly every flight". Air Canada's new flights to Dubai presumably have the blessing of Lufthansa, as the new direct service will presumably reduce the number of connecting passengers on Lufthansa's flights covered under the Star Alliance joint venture between Air Canada and Lufthansa.
Air Canada is also planning to place rouge aircraft on Canadian domestic routes next summer after deploying the A319s and Boeing 767s operated by the airline to Europe, the US and Caribbean.

Rouge will assume mainline flights from Toronto to Kelowna and Sydney, Nova Scotia as well as operating new seasonal flights from Calgary to Halifax. Presently, Air Canada competes with WestJet on all of those routes, and with the transition to rouge, Air Canada presumably is better equipped to compete with WestJet given rouge's lower cost structure, which translates into Air Canada's ability to offer fares similar to WestJet without suffering under-performance of the routes.
Air Canada makes a moves into western Canada through small route launch
Air Canada during 2015 plans to debut new service from Calgary in western Canada to Terrace (operated with 50-seat CRJ aircraft) Calgary-Nanaimo (operated with Q400 aircraft) and Vancouver-Comox, (with Dash-300 turboprops).

Based on schedules from CAPA and OAG for the week of 8-Dec-2014 to 14-Dec-2014, both Air Canada and WestJet, through its regional subsidiary Encore, operate service from Vancouver to Terrace. It is not clear if Calgary-Terrace is in Encore's sights; the airline is making a push into eastern Canada, with the latest new route, Toronto-Fredericton, slated to begin in Apr-2015.

Encore does operate between Calgary and Nanaimo, and is presently the only airline operating on the route. Air Canada is entering the market with the same aircraft type, the Q400. WestJet often touts its ability to stimulate traffic with Encore, so perhaps Air Canada aims to capitalise on the traffic growth ushered in by WestJet.

Vancouver-Comox is a relatively short route of 74nm as Comox is a launch point for many of the locations on Vancouver Island. The route is presently served by Central Mountain Air and Pacific Coastal Airlines. Air Canada is offering twice daily service on the pairing with 50-seat turboprops. It is not clear if the market can support that level of capacity; but Air Canada should be able to fill the aircraft with connecting passengers looking to visit the Island through its Vancouver hub.

During late 2012 and early 2013 Air Canada made a push into western Canada ahead of Encore's route announcements, placing Q400s on certain routes from Calgary and Edmonton, and Encore now operates in some of those routes including Calgary to Fort McMurray, Regina and Edmonton. Air Canada's latest routes could be a strategy by the airline to deflect some of the competitive pressure Encore is creating in western Canada.

See related report: Air Canada fortifies some of its western Canadian routes ahead of WestJet's regional debut

Rounding out some of the network changes Air Canada is undertaking in 2015 are new seasonal flights from Montreal to Mexico City operated by rouge. Air Canada joins Aeromexico on the pairing.
Air Canada continues to manage a fair amount of flux in its operations
As previously reported by CAPA, Air Canada's 2015 capacity growth is an increase from 2014 levels. Its domestic capacity growth is remaining steady year-on-year at 4% to 5%, which means up to half of its planned growth is pegged for international markets operated by rouge and long-haul mainline service. The airline believes much of the capacity it plans to introduce is lower cost, and should be margin accretive.

That is likely to be the case as its higher profile service to Delhi and Dubai will not affect its performance until 2016 given the Nov-2015 planned route launches. Those markets will be watched closely as it puts the mission profile of the 787-9 and Air Canada's long-haul calculations to the test. Air Canada is undertaking a lot of network jockeying in 2015 as it also works to attain ambitious cuts in its unit costs of 15% (using 2012 as a baseline). The key for Air Canada is to maintain its recent positive momentum while working to achieve maximum network utility in the face of a familiar and fierce competitor.