Air Canada continues its strategy of higher capacity growth to fuel rapid international growth
Analysis
Air Canada's yield and passenger unit revenues during 3Q2016 remained broadly in line with those of the previous quarter, which is a different outcome from the results posted by many of its North American peers. However its top line revenues grew nearly 11%, and its costs fell at a lower rate than those of many other North American airlines.

The airline's yields and passenger unit revenues began falling earlier than those of most other airlines based in North America, and Air Canada's recurring explanation is that lower yields and unit revenues are an expected byproduct of changes in its business model – the creation of its low cost unit rouge, a higher mix of lower-yielding leisure travellers, and longer average stage lengths. As yields and unit revenues continue to decline, Air Canada continues to deliver on its own established financial goals for EBITDAR, ROIC and leverage ratios.

Air Canada's focus has been on international expansion during the past few years, and that trend will continue for the foreseeable future. In 2017 the airline is expecting nine Boeing 787s scheduled for delivery and its capacity is likely to mirror 2016's double-digit growth – given that the company will accept delivery of nine new widebodies this year. The bulk of its growth will again be directed to international routes as several new long haul markets are scheduled to come online in 2017.
Air Canada benefits from unit revenue improvement in domestic and US transborder routes
Air Canada's 7% decline in yields and 8.6% decrease in unit revenues year-on-year in 3Q2016 was not much of a sequential improvement on 2Q2016's results of a 6.8% drop in yield and an 8.2% fall in passenger unit revenues.
Air Canada passenger unit revenue and yield performance: 1Q2016 to 3Q2016
| | | |
| --- | --- | --- |
| Quarter | Yield decrease | Passenger unit revenue decrease |
| 1Q2016 | 4.7% | 5.1% |
| 2Q2016 | 6.8% | 8.2% |
| 3Q2016 | 7% | 8.6% |
In 3Q2016 the company did post sequential passenger unit revenue improvement upon 2Q2016 in its domestic and transborder markets, whereas results worsened in trans-Atlantic and trans-Pacific markets, pressuring Air Canada's system performance in those metrics.

On Canadian domestic routes Air Canada's unit revenues dropped 1.4% year-on-year in 3Q2016, versus a decline of 6.1% in 2Q2016, and decreases in yield slowed sequentially to 3.1% compared with the previous quarter. The company attributed 0.7ppt of yield declines to: a 1.3% longer stage length on domestic routes, a higher proportion of lower yielding international passenger flows to fuel its international growth, and increased competition on regional routes, particularly in Eastern Canada.

Air Canada also posted sequential yield and unit revenue improvement from 2Q2016 to 3Q2016 in US transborder markets. Passenger unit revenues improved to a fall-back of 4.5% year-on-year in 3Q2016, versus a 9% decrease in 2Q2016. Yield declines slowed to 5.6% in 3Q2016 compared with a nearly 8% decline in 2Q2016.
Air Canada stated that a stronger premium cabin performance and a favourable currency effect of CAD13 million (USD9.7 million) were offsetting factors to the 3Q2016 yield declines. But the airline faced pressure from competitive capacity increases on short haul routes, and challenges in pricing from competitors on US sun routes operated by rouge.
Air Canada also highlighted growth in US outbound traffic to Canada, driven by a lower CAD against the USD. Revenue from that traffic is recorded in the USD, which creates benefits for Air Canada due to the depreciation of the CAD against the USD.
Competitive capacity hurts Air Canada's trans-Pacific and trans-Atlantic yields
On trans-Atlantic routes Air Canada's yield declines year-on-year worsened sequentially from 2Q2016 to 3Q2016 – from 9.9% to 13.6%. Decreases in yields grew from 5.4% in 2Q2016 to 9% in 3Q2016.

Air Canada calculated that a 2.4% increase in average stage length represented 1.4ppt of the 3Q2016 yield decline, and it also joined other North American airlines in citing increased competitive capacity and pricing on the trans-Atlantic.
US airlines have cited capacity pressure from a new crop of low cost airlines entering the trans-Atlantic market, including WOW Air and Norwegian. Air Canada has also faced heightened competition in the trans-Atlantic from its rival WestJet, which launched direct nonstop flights to London Gatwick from several Canadian destinations in summer 2016. Data from CAPA and OAG show that during the summer high season in late Jul-2016 seats between North America and Europe had grown 7.5% year-on-year.

See related reports:
Decreases in Air Canada's trans-Pacific passenger unit revenue and yields also deepened on a sequential basis from 2Q2016 to 3Q2016. Passenger unit revenues fell 3.1% in 2Q2016 and 11.6% in 3Q2016. Yield worsened from a 4.2% decline to a decrease of 7.6%.

Similarly to its large global airline counterparts, Air Canada concluded that competitive capacity and pricing pressure had created yield headwinds in 3Q2016. However the airline cited some positive elements in its Pacific network, including a favourable performance in its Japanese markets.
Air Canada posts a favourable unit cost performance and exceeds some financial goals
Although Air Canada's yields and unit revenues changed little sequentially from 2Q2016 to 3Q2016, it posted top line revenue growth of close to 11% – to CAD4.5 billion.

Growing stage length has been a major factor in Air Canada's passenger unit revenue declines during the past couple of years, and during 3Q2016 the airline recorded an increase in average stage length of 7.2%. The airline estimated that the rise represented 4ppt of its yield decline in 3Q2016. A projected 6% rise in average stage length in 4Q2016 will continue to pressure the airline's yields.

At the beginning of 2016 Air Canada stopped offering yield, unit revenue and capacity guidance, in an effort to steer investors toward additional longer-term financial metrics. The result is that Air Canada is not joining its large global US airline counterparts in offering a timeframe for returning to positive unit revenues. Given its international push and its higher level of leisure travellers at both mainline and rouge, Air Canada's unit revenue and yields will likely remain negative for quite some time.

Air Canada's stated financial targets include an EBITDAR margin of 15% to 18% and a return on invested capital (ROIC) of 13% to 16% on a trailing 12M basis. For the 12M ending 30-Sep-2016 the company's EBITDAR margin was 19% and its ROIC reached 15.5%.

Unlike those of most of its US counterparts, Air Canada's unit costs excluding fuel, special items and package costs at Air Canada Vacations fell 5.9% year-on-year in 3Q2016, and its forecast for the full year is a decline of 2.75% to 3.75%. The CASM declines are not enough to offset decreases in yields and unit revenues, but obviously Air Canada's cost performance is trending in a more positive direction than it is at many North American airlines.
Air Canada's capacity growth marches on, with the bulk directed to international routes
Projections from CAPA and OAG show Air Canada's ASKs should increase 10.5% year-on-year in 2016 after growing 8.2% in 2015.
Air Canada system ASKs year-on-year: 2012 to early 2017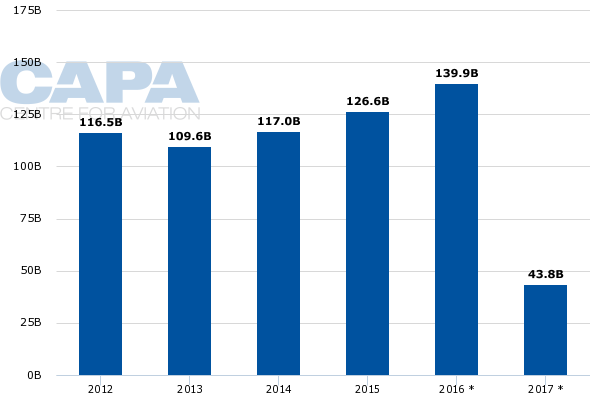 The airline is slated to take delivery of nine Boeing 787-9 widebodies, and two Boeing 737 Max narrowbodies. Air Canada also plans to move five 767 twin-aisle aircraft from mainline to rouge during 2017.
Air Canada projected delivery dates for aircraft purchased from OEMs and leased from lessors as of 10-Nov-2016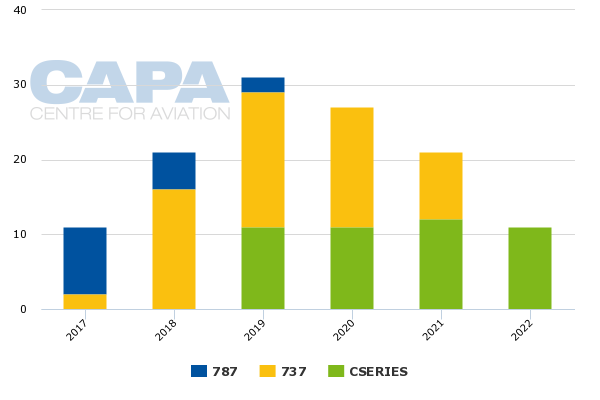 Air Canada is also taking delivery of nine 787-9s in 2016, so broad calculations would point to the company's capacity in 2017 settling near 2016 levels. The company's planned new mainline long haul routes for 2017 include Toronto-Mumbai, Montreal-Shanghai and Vancouver-Taipei. rouge plans seasonal service from Montreal to Algiers and Marseille, Toronto to Berlin and Vancouver to Nagoya.

The message that Air Canada repeatedly stresses is that the bulk of its capacity growth is deployed into international markets, since it works to create a network to rival its North American peers. Nearly 74% of its ASMs are deployed into international markets, and the company calculates that on average 90% of its capacity growth is allocated to international markets.
Air Canada international vs domestic capacity (% of ASMs): 7-Nov-2016 to 13-Nov-2016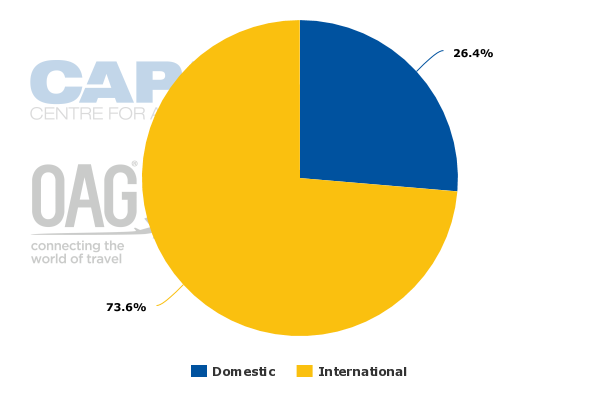 Air Canada stays the course on international expansion and higher capacity growth
Air Canada's international expansion strategy is still a work in progress as the company exploits international opportunities on both mainline and rouge routes.
Its growth will continue to pressure its yield and unit revenue for the short to medium term, and as that pressure persists, the airline's efforts to urge investors to focus on longer-term metrics will continue.
The company continues to deliver solid results in EBITDAR margins and ROIC even as its capacity growth is poised to remain in the high single to low double digits during the next couple of years.