Air Canada and Porter Airlines report load factor growth in Sep-2011 as WestJet load factors weaken
Air Canada, Canada's largest carrier, and the much smaller Porter Airlines, reported improved load factors in the summer-winter transitional month of Sep-2011, while the nation's second largest carrier and largest LCC, WestJet, reported weaker-than-expected load factors. This weakening load factor result occurred despite WestJet offering seat sales to stimulate demand and amid more aggressive growth in the month than at its larger rival. Porter Airlines' load factor, while improving 12.2 points in the month, remains considerably weaker than its larger competitors.
While WestJet traffic growth was not able to keep pace with expansion in Sep-2011, it is widely expected that the carrier, with its lower operating costs than Air Canada, is better placed to weather potentially reduced travel demand amid an environment of global economic uncertainty. It is also expected that with capacity growth slowing in 4Q2011 and into 2012, and with healthy forward bookings, the load factor weakness in Sep-2011 could be rectified.
Air Canada and WestJet passenger load factor growth (ppt): Sep-2010 to Sep-2011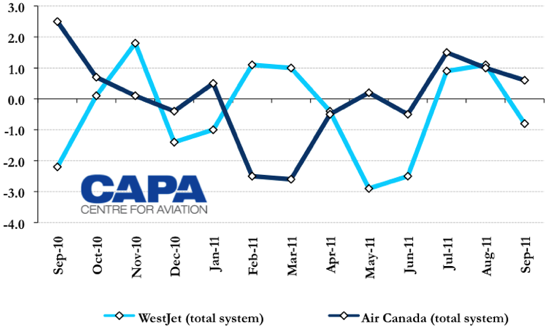 While there has been some select fare discounting over the past month, National Bank Financial Inc has noted that overall fares remain higher than a year ago. However, share prices have not held up so well, amid deteriorating economic conditions. Since the beginning of 2011, Air Canada shares have tumbled around 60% with WestJet shares declining by a more moderate 11%.
Shares Comparison for Air Canada B shares, Westjet for the Last 12 Months (indexed)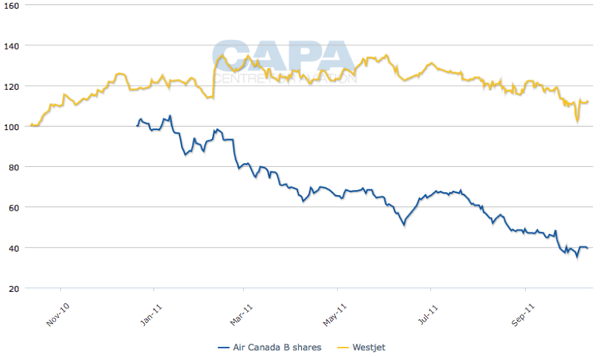 Shares Comparison for Air Canada B shares, Westjet for the Last 12 Months (CAD)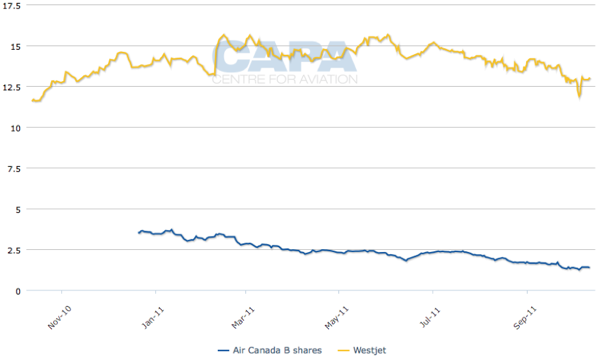 WestJet forward bookings 'remain healthy' amid transition to winter schedule
WestJet CEO Gregg Saretsky, upon the release of the Sep-2011 traffic results, conceded that the LCC's Sep-2011 traffic "fell slightly short of our capacity growth despite increased fare sale activity". However, forward bookings "remain healthy as we begin to transition to our winter schedule".
WestJet's network profile differs significantly from the winter to summer months. In winter, it increases service to sun destinations and then switches back in summer when about 75% of capacity is in Canada.
WestJet's load factors, which vary significantly both on a month-on-month and year-on-year basis, have been weaker on a year-on-year basis for five of the nine months reports to-date for 2011. In Sep-2011, the carrier's load factors were weaker than both Sep-2010 and Sep-2009 levels, a first for the year. In Aug-2011, the carrier reported record load factors for the month of August.
WestJet Passenger Load Factor (2009 to 2011)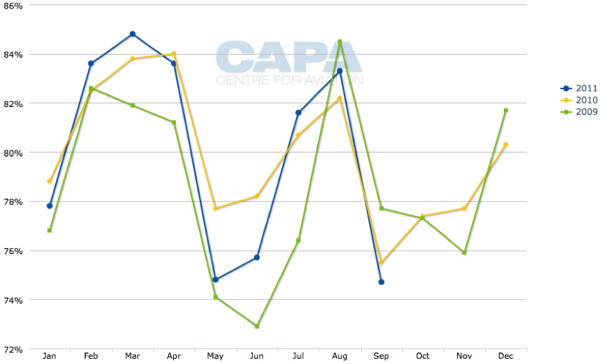 WestJet handled an additional 76,000 passengers in Sep-2011. Traffic (RPMs) increased 6.9% on an 8.0% increase in capacity (ASMs), resulting in the 0.8 ppt load factor decline to 74.7%. WestJet's monthly capacity growth, as is generally the case, was larger than Air Canada's capacity additions in the month.
Air Canada and WestJet capacity (ASM) growth: Sep-2010 to Sep-2011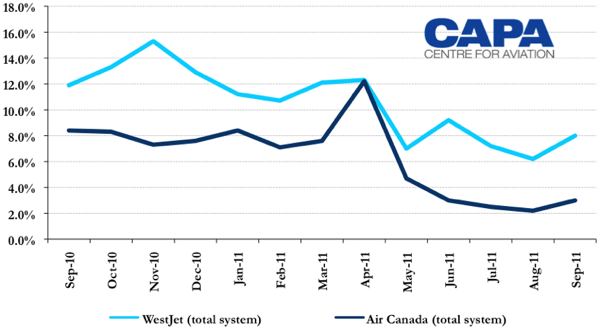 Upon the release of the carrier's 2Q2011 financial results in Aug-2011, WestJet anticipated continued year-over-year RASM growth for 3Q2011 based on advanced bookings. However, it stated it expected year-over-year growth to moderate versus levels seen in 1H2011 "since the pricing environment was more robust during the second half of 2010 as compared to the first half of 2010".
See related article: WestJet beats consensus in 2Q with 247% gain in net income
WestJet expands partnerships with KLM and Emirates for virtual expansion
In other news, WestJet and KLM Royal Dutch Airlines (KLM) operated their first code-share flight on 26-Sep-2011. The new code-share agreement between the two airlines allows KLM to market and distribute WestJet-operated flights under KLM flight numbers. WestJet has had an interline agreement in place with KLM since 2009.
Also in Sep-2011, WestJet signed an interline agreement with Emirates, as part of which passengers can connect between WestJet's network and Emirates' three times weekly Dubai-Toronto service. WestJet, on 22-Sep-2011, also signed an interline agreement with El Al. The carrier also extended its codeshare agreement with American Airlines in the month, seeing additional routes carrying both AA and WS code. WestJet has 15 code-share and interline partners, which should drive increased traffic onto its network and increase its international competitiveness. In addition to codesharing relationships, it also has interline relationships with JAL, Air France, Qantas, Alitalia, Korean Air, China Airlines, Dragonair and China Eastern. Its philosophy mirrors both Alaska and jetBlue in capitalising on many connections rather than a single alliance membership. "There are 70 other global airlines beating a path to our door," CFO Vito Culmone said. "It's a way to sell beyond their gateways into Canada and with Sabre we are getting more traffic spill and expect a significant amount of revenue to be generated."
See related article: WestJet touts success despite fuel increases
The carrier is also targeting further expansion in South America, with the carrier welcoming the signature of new and expanded air services agreement with Mexico, Costa Rica and Brazil. On the signature of the new open skies-type agreement with Brazil, WestJet Executive VP, Strategy and Planning Hugh Dunleavy stated: "The announcement of a new Open Skies-type air agreement between Canada and Brazil will support our continued rollout of our codeshare partnerships." The carrier is scheduled to operate 95 times weekly services to Mexico from 19 Canadian cities as part of its 2011-2012 winter schedule with Mr Dunleavy noting that the expanded air transport agreement "lays the framework for future growth in both leisure and business travel, and we look forward to exploring new opportunities in this important international market."
Air Canada reports record load factors for previous three months factors
Air Canada, meanwhile, reported a load factor that was notably stronger (5.8 ppts) than at WestJet, as has been the case for the past five months. The improvement occurred despite threats of a strike by the airline's 6,800 flight attendants. Over the past 13 months, Air Canada has reported stronger load factors than WestJet in nine months, with WestJet's load factors stronger in only four of the past 13 months.
Air Canada usually reports its strongest load factors in Jul-2011 and Aug-2011. The carrier's system load factor was a new record in September, increasing 0.6 ppts to 82.8%, marking the third consecutive month of record load factors for the carrier. Air Canada stated this reflects its "disciplined and efficient capacity deployment". Domestic load factors increased 0.8 ppts to 80.5% in Sep-2011.
Air Canada, WestJet and Porter Airlines passenger load factor (%): Sep-2010 to Sep-2011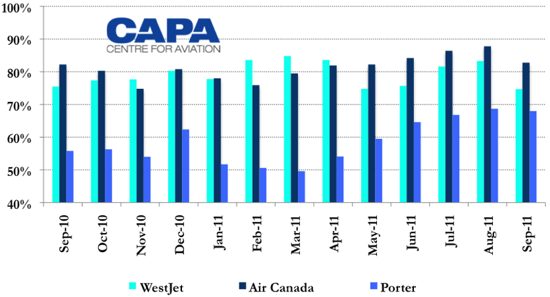 Air Canada system traffic (RPMs) increased 3.8% on a system-wide (ASMs) capacity increase of 3.0%. Domestic traffic (RPMs) increased 2.2% on a 1.1% capacity (ASMs) increase. Like WestJet, Air Canada does not report monthly traffic numbers. Both Air Canada and WestJet have reported traffic (RPMs) and capacity (ASMs) growth over the past 24 months, although traffic growth at both carriers has slowed from double-digit growth 12 months ago to single-digit growth in the past few of months.
Air Canada and WestJet passenger traffic (RPM) growth: Sep-2010 to Sep-2011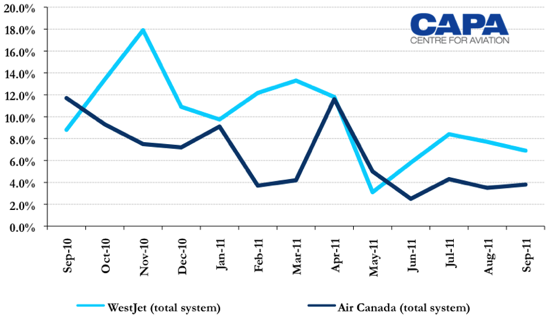 Air Canada, upon the release of its 2Q2011 financial results in Aug-2011, stated it plans to increase its full year 2011 system capacity (ASMs), by 3.5% to 4.5%, achieved primarily through the use of Air Canada's current aircraft fleet. Air Canada stated it expects its full year 2011 domestic capacity to range between a 0.5% decrease and a 0.5% increase from 2010. As a result of Air Canada recording better than expected CASM, excluding fuel expense, in 2Q 2011, Air Canada stated it expected its full year CASM, excluding fuel expense, to decrease by 1.0% to 3.0% from 2010 levels.
See related article: Chorus/Jazz income down 20% in quarter
In other news, Air Canada Component of CUPE, which represents 6800 flight attendants, on 11-Oct-2011 stated it is willing to continue contract negotiations with the carrier. Union members rejected a tentative agreement this past weekend, resulting in a strike position on 13-Oct-2011. The union reiterated its calls on the Federal Government not to intervene and "respect the collective bargaining rights of flight attendants" after Labor Minister Lisa Raitt announced in Sep-2011 plans to introduce back-to-work legislation as attendants at the airline came within hours of a strike. The Minister stated: "The Government will be considering its options. However, we will be clear that a work stoppage is unacceptable in this time of fragile economy".
Large load factor improvement for Porter Airlines
The much smaller and privately owned Porter Airlines, the third largest scheduled carrier in Canada, reported a 12.2 ppt load factor improvement to 68%, although this load factor is considerably weaker than at WestJet and Air Canada. Passenger numbers reached over 212,000, a record for any month. Traffic (RPMs) in the month increased 46.8%, significantly outpacing the 20.4% increase in capacity (ASMs). Early in the month Porter ran a high-profile coupon promotion, offering 50% off travel between Sep-2011 and mid Dec-2011.
"September is typically a slower month with the transition from summer leisure to fall business travel," said Robert Deluce, president and CEO of Porter Airlines. "The ability to maintain load factor within one per cent from August is impressive and a good sign as we enter the year's last quarter."
Porter, based at Billy Bishop Toronto City Airport, lost its monopoly at the airport when Air Canada relaunched its service from that airport in May-2011. However, Air Canada CEO Calin Rovinescu in Aug-2011 commented that he is "not unhappy" with passenger numbers on the new Toronto Billy Bishop-Montreal route. Meanwhile, the airport on 22-Sep-2011 somewhat surprisingly awarded an additional 16 daily slots to Porter Airlines, turning down Air Canada's application to introduce new services at the terminal. The award gives Porter 172 slots at the airport, while Air Canada has 30. See related article: Porter Airlines win surprisingly shuts Air Canada out of downtown Toronto airport slots award
APPENDIX: Air Canada, WestJet and Porter Airlines traffic results for Sep-2011
Air Canada Sep-2011 traffic highlights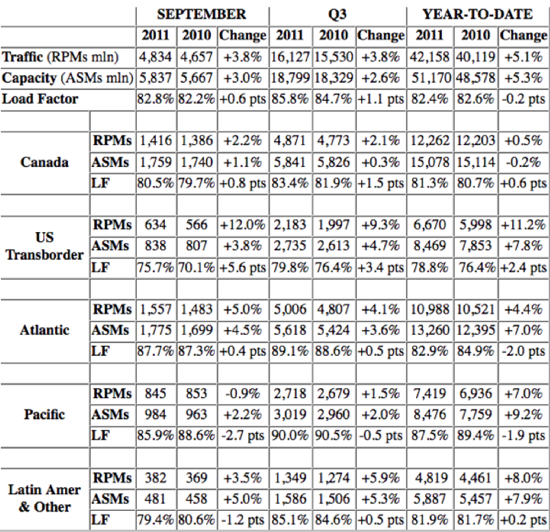 WestJet Sep-2011 traffic highlights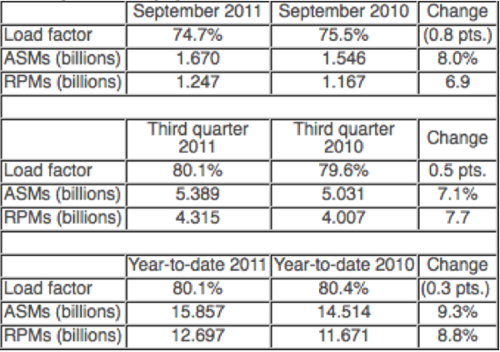 Porter Airlines Sep-2011 traffic highlights