Air Canada, American and Delta higher, Southwest and WestJet ease - Stock Wrap
Analysis
Air Canada's B shares rose another 2.8% yesterday as investors digested news that the carrier had struck agreements on pension funding and contracts with its unions late on Monday (see below). The deal will help ease Air Canada's cash drain and boosts its chances of survival. Rival WestJet's shares eased 1.3% yesterday.
Southwest Airlines' stock closed 0.2% lower yesterday in lacklustre trading on Wall Street. Barclays Capital reiterated its "equal weight" rating on Southwest, but reduced the target price from USD12 to USD11 per share.
Southwest Airlines and JetBlue feature prominently in The Centre's forthcoming LCC Outlook 2009 report.
Barclays also reiterated "overweight" ratings on JetBlue (shares up 5.4% yesterday) and Delta (+2.7%), but lowered their target prices to USD8 and USD16, respectively. American Airlines clawed back some of Monday's losses, rising 2.6% yesterday, despite oil prices closing above USD70 per barrel for the first time in over six months.
For daily updates on American aviation stock prices and a complete wrap of the day's breaking news, sign up now for a complimentary subscription to America Airline Daily.
North & South America selected airlines daily share price movements (% change): 09-Jun-09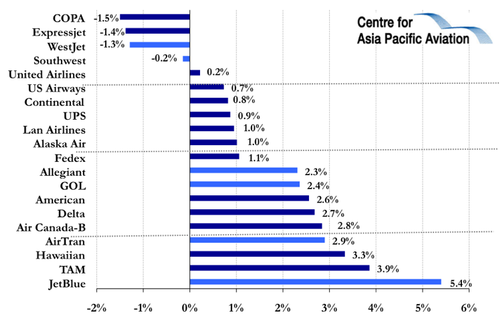 Air Canada reaches pension funding moratorium agreement with unions
Air Canada struck tentative agreements late on Monday with three of its unions (CALDA, the CAW and the IAMAW), which represent 16,500 employees or over 60% of its unionised workforce in Canada. The agreement has also been signed by the Air Canada Pionairs, an association that serves, but does not bind, over 15,000 retirees of Air Canada and its predecessor airlines.
The pension agreement calls for a moratorium on past service contributions for a 21-month period and fixed payments thereafter for the 2011-2013 period.
To assure labour stability, CALDA, the CAW and the IAMAW have also agreed to extend or renew the terms and conditions of their collective agreements for a period of 21 months from the expiry of their current agreements in 2009 with a provision for no strike or lockout as per the Canada Labour Code.
Air Canada President and CEO, Calin Rovinescu, stated, "these agreements with three of our unions represent an important milestone in providing stability for our company during this challenging period". Mr Rovinescu praised the Hon James Farley for his "valuable contribution" in facilitating the conclusion of the agreements.
But the Air Canada CEO added that agreements with ACPA and CUPE are still outstanding and the carrier needs the approval of the Federal Government to the Moratorium. Mr Rovinescu stated, "both the pension funding solution and labour stability are key conditions precedent to obtaining critical new financing for the Company. While we continue to see very difficult credit markets during this deep recession, we are in discussions with several potential lenders who are assessing our financing needs."