Air Berlin's RASK up in the full year but weaker in Dec-2009; Monarch sees over 6.3 million pax
Analysis
Air Berlin reported a 6.5% year-on-year reduction in revenue per ASK (RASK) to EUR 5.33 cents in Dec-2009, for only the second year-on-year RASK reduction in over 20 months, although this was off strong RASK growth of 17.6% in Dec-2008. RASK increased 7% year-on-year to EUR 5.75 cents in FY2009.
Air Berlin revenue per ASK (RASK) growth (% change year-on-year) and trend line: Apr-2008 to Dec-2009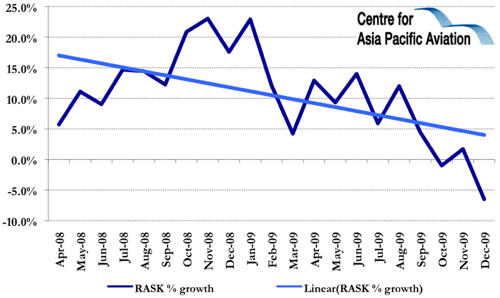 But yields are still well above levels of two years ago, with RASK in Dec-2009 up some 11.1% over Dec-2007 - continuing its trend of double-digit increases over 2007 levels.
Air Berlin two-year change in revenue RASK (EUR cents) and trend line: Apr-2009 to Nov-2009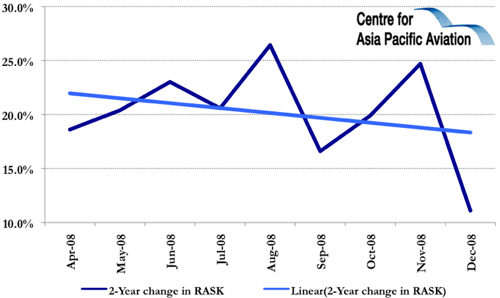 27.9 million pax in FY2009 for Germany's second largest airline
The German LCC transported 2.1 million passengers in the month (including TUIfly's former city connections), a 0.8% increase, on a 0.1% capacity (ASKs) increase. Load factor was up slightly, gaining 0.5 ppts to 73.1%.
In the full year, Air Berlin transported 27.9 million passengers (including those travelling on the TUIfly routes acquired on 25-Oct-2009), a 3.9% year-on-year reduction, as capacity (ASKs) was reduced by 2.6%. Load factors reached 77.3%, a 1 ppt year-on-year decline.
Selected LCCs daily share price movements (% change): 11-Jan-2010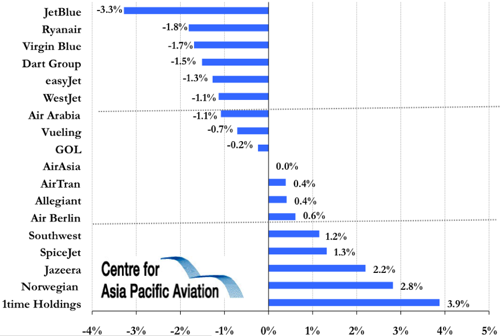 Monarch sees over 6.3 million pax in 2009
In other Europe LCC traffic news, Monarch transported over 6.3 million passengers across its charter and scheduled routes in 2009 and saw average load factors rise to 84.2%.
The carrier, which will this year celebrate its 42nd year of operation, commented that its continued robust passenger numbers and strong average load factors during 2009 were aided by the launch of eight new scheduled service routes. The carrier plans to launch new routes to Turkey in 2010, to further boost passenger traffic.
For daily LCC updates from around the world, sign-up to receive Peanuts! Daily.
Ryanair downgraded by RBS
Meanwhile, shares in Europe's largest LCC, Ryanair, fell 1.8%, following a downgrade by RBS from 'buy' to 'hold'. The downgrade follows a 21% increase in the share price over the past two months. RBS has left its earnings estimates broadly unchanged.
In the US, JetBlue's shares slipped 3.3%, while Southwest's shares gained 1.2%. In the Asia Pacific region, AirAsia's shares remained unchanged, and in Africa, 1time Holdings' shares were up 3.9%.
For more analysis, please see The Centre's landmark Global LCC Outlook Report.