Air Berlin unit revenues reach highest levels in 18 months, JetBlue yield weakness continues
Analysis
Air Berlin's shares gained 5.1%, upon the release of the carrier's Sep-2009 traffic results, which showed a 4.4% increase in revenue per ASK to EUR 6.22 cents - the highest figure in at least 18 months.
Air Berlin revenue RASK (EUR cents): Apr-2008 to Sep-2009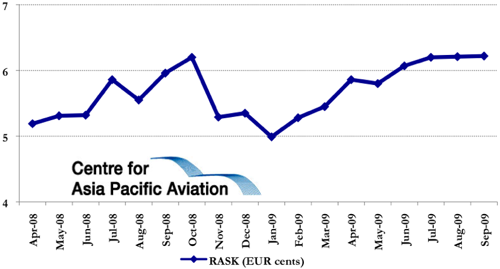 Air Berlin has reported impressive increases in RASK over the past two years, stemming from its effective capacity deployment plans and acquisitions that have reduced fare competition in some core markets.
Air Berlin revenue RASK growth (% change year-on-year): Apr-2008 to Sep-2009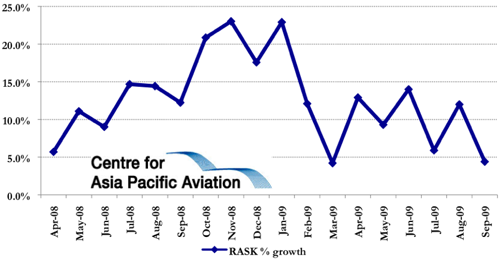 Air Berlin has also benefited from trade downs by business travelers from full service carriers. CEO, Joachim Hunold, previously stated the slowing economic conditions in Europe "could be an opportunity for us, as it increases cost-consciousness".
The German LCC transported 2.7 million passengers in the month, a 5.0% reduction, as the carrier implemented a targeted 4.8% capacity (ASKs) reduction. Load factor decreased 0.2 ppts to 82.3% in the month.
easyJet pax and load factors up in Sep-2009
Also in Europe, easyJet's shares gained 1.7%, as the carrier reported a 5.3% increase in passenger numbers in Sep-2009, to 4.4 million, with an equally impressive load factor improvement of 1.2 ppts to 88.1%.
JetBlue yield weakness continue
In the Americas, JetBlue (shares up 0.9%) reported 12.3% increase in revenue passenger numbers to 1.6 million in Sep-2009, but experienced a 9% reduction in passenger revenue per available seat mile (PRASM) for the month. Load factors improved 0.9 ppts to 76.7% in the month.
JetBlue passenger revenue (PRASM) growth (% change year-on-year): Sep-2007 to Sep-2009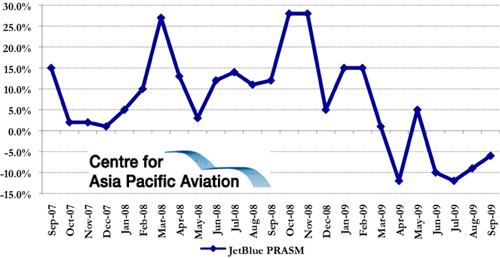 Elsewhere, Southwest's shares gained 0.9%, while in the Asia Pacific, AirAsia's shares slipped 1.5%.
Selected LCCs daily share price movements (% change): 06-Oct-09