Air Berlin expects stable yields in 2H2009; considering cancelling B787s, GOL to issue new shares
Analysis
Air Berlin's shares were weaker yesterday, down 2.5%, despite reporting a better-than-expected second quarter operating profit (+33% to EUR17.6 million). The carrier also stated it expects yield to remain stable in 2H2009 (yield increased 13.4% in 1H2009).
Overall, Air Berlin maintained its 2009 outlook, stating it is well on track to weather the global economic crisis. The carrier's share price has fallen by nearly a quarter so far in 2009 and have lost approximately 70% of its value since its IPO in 2006.
In other Air Berlin news, the carrier stated it may cancel its order for 25 B787s, saying the delays in the programme are "everything but satisfactory". The carrier plans to make a final decision in the next few months.
NB: LCC SECTOR strategic updates from around the world are NOW AVAILABLE. Sign up today for your free trial subscription to Peanuts! Daily.
Air Berlin share price growth: Jan-2009 to Aug-2009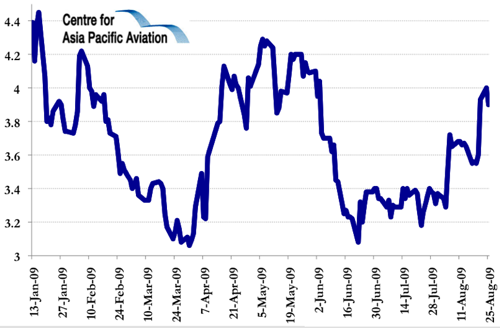 GOL slumps on capital raising
In the Americas, GOL's shares slumped 7.5% yesterday, the largest reduction for the carrier since 05-Mar-2009, after the LCC announced plans to raise up to BRL650 million (USD366 million) as part of a global offering of preferred shares.
GOL intends to use the proceeds from the global offering and the concurrent subscription of common shares by ASAS Investment Fund primarily for general corporate purposes and to strengthen its balance sheet, particularly its cash and cash equivalents position. GOL's shares have gained 85% this year, outpacing the 53% gain in the benchmark Bovespa index.
Also in the Americas, Southwest and WestJet both gained, up 2.5% and 1.2%, respectively, as Southwest stated it expects to complete its codeshare partnership with WestJet in 2010, before possibly operating its own aircraft to Canada from as early as 2011.
In the Asia Pacific region, AirAsia was down 1.4% yesterday, on a day that a 2.1% stake in the carrier was traded off-market. Approximately 50 million shares were traded at MYR1.44, marginally higher than the day's closing price. No further details were disclosed.
Selected LCCs daily share price movements (% change): 25-Aug-09