Aeroports de Paris and Macquarie Airports rise, Fraport on a high, Vienna Airport soars
Analysis
Airport shares were on a high yesterday, as global stock markets surged. Vienna Airport was the star on the day, rising 5.9%, while its rival, Zurich Airport, lost the ground it gained on Friday (+7.5%), closing down 1.3%.
Shares in New Zealand's infrastructure investment company, Infratil, gained 0.6% following the release of its Jul-2009 traffic highlights at its investment airports, which showed mixed results:
Passenger numbers:
Cargo volume:
Shares in Chinese airports recovered ground from last week, led by Beijing Capital International Airport and Hainan Meilan International Airport, which gained 2.6% and 2.0%, respectively, as Hainan Airport welcomed Jetstar Asia's announcement yesterday to launch services from Singapore to Haikou (see below).
Elsewhere in the region, Australian Infrastructure Fund's shares also recovered ground yesterday, rising 3.1%, while Airports of Thailand (+4.9%) continued its ascent after reports the airport operator will submit plans to expand Bangkok Suvarnabhumi Airport.
Selected airports daily share price movements (% change): 24-Aug-2009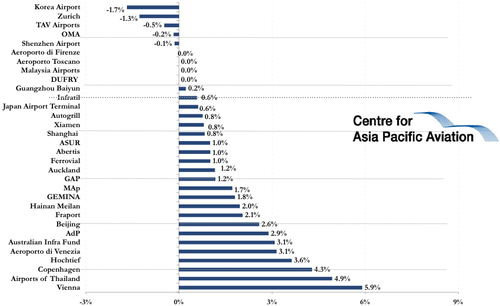 Jetstar to launch services into Mainland China – edited press release
Jetstar announced it will launch its first services into Mainland China from 16-Dec-2009 with a four times weekly service between Singapore and Haikou, capital of Hainan Province, subject to regulatory approval. The new services will be operated by Jetstar's eighth A320 aircraft which will commence operations in December.
In the next 12 months, Jetstar plans to increase its existing capacity from Singapore by 46%, supported by the arrival of three additional A320 aircraft to support ongoing expansion from its Singapore hub.
Jetstar Asia and Valuair Chief Executive Officer, Ms Chong Phit Lian, stated the carrier's first entry into Mainland China was an important next step in Jetstar's long-term growth plan from its Singapore hub, "Mainland China has immense potential for Jetstar's low fares offering and the broader Jetstar Group network connections…Haikou has long been in our sights for both its appeal to the large Hainanese community living in Singapore and the broader group of Asian holiday makers looking for low fares access to the island."
Haikou will become Jetstar's 19th destination from Singapore and will be included in Jetstar Asia's interline agreement with Qantas.
Jetstar Asia currently offers double daily flights from Singapore to Hong Kong and up to five times a week to Macau.
The announcement follows new services between Singapore-Phuket (double daily from 15-Dec-2009) and additional Singapore-Manila services (increasing to 10 flights weekly from 25-Oct-2009).
Ms Chong added, "China is a clear focus of future growth and with our expanding fleet in 2010, we are in the stage of actively assessing future potential growth. Haikou is a very solid entry into mainland China for Jetstar and we look forward to the opportunity for further growth from this market should conditions prevail."
From Singapore, Jetstar and Valuair currently operate nearly 600 weekly services to an existing 17 destinations, growing to 19 destinations with future services to Phuket from 15-Dec-2009, followed by the introduction of Haikou operations.
Jetstar operates from Terminal One at Changi International Airport.