Aeromexico and Volaris' different strategies in challenging market
Analysis
Mexico's two largest airlines are approaching the weakness in the country's domestic market differently. The full service carrier Aeromexico has opted to slash its domestic capacity by 5% in 1Q2018, whereas its ULCC rival Volaris has no plans to cut its capacity growth, concluding that sustaining its aircraft utilisation and driving passenger volume are key to its leading cost and ancillary revenue performance.

Pricing pressure in Mexico's domestic market remains an overhang well into 2Q2018, and forward-looking schedules show domestic ASK growth will remain elevated through 3Q2018.

Both Aeromexico and Volaris are experiencing some signs of capacity rationalisation in the US transborder market after capacity jumped when Mexico and the US forged a new liberalised bilateral agreement a couple of years ago. Each airline believes yields in the market are improving as 2Q2018 is progressing.
Summary
Mexico's only full service airline, Aeromexico, gained improving domestic yields in 1Q2018 as it slashed capacity by 5%.
Both Aeromexico and Volaris see some signs of yield improvement in the Mexico-US transborder market.
Volaris works to keep its cost advantage as domestic pricing remains challenged
During a CAPA TV interview at the CAPA Americas Summit in Apr-2018, Volaris CEO Enrique Beltranena noted a dramatic decrease in domestic yields, concluding that consumer activity in Mexico is declining.
In 1Q2018 Volaris' average fares fell 10.6%, which drove a 12% decline in yields. The airline's other passenger revenue, which includes baggage, seat selection and other travel related fees, increased 10.9%. Its net loss for 1Q2018 was USD61 million.
Volaris CEO Enrique Beltranena speaks to CAPA TV at the CAPA Americas Summit
Volaris executives stated that there was a significant capacity increase in Mexico's domestic market during 1Q2018, and data from CAPA and OAG show that Mexico's domestic ASKs are forecast to remain elevated through early Oct-2018.
Mexico weekly domestic ASKs from Jan-2015 to early Oct-2018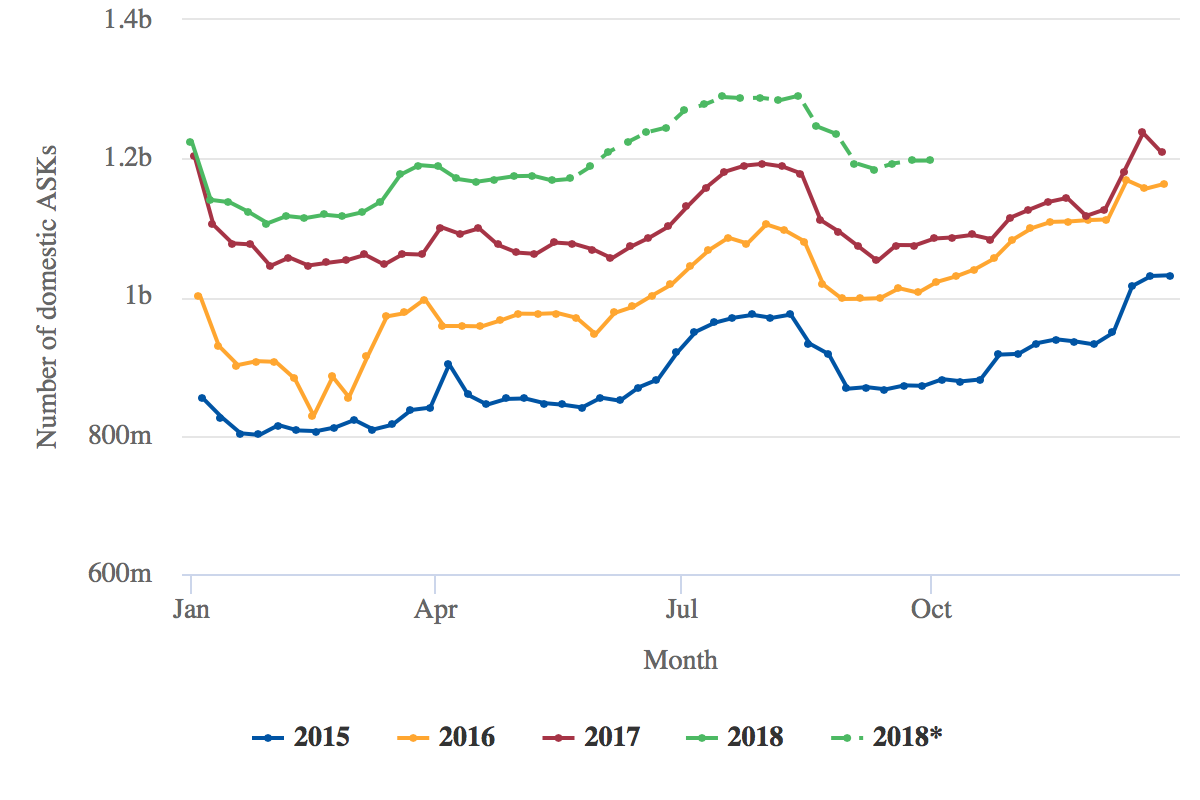 Volaris focused on VFR (visiting friends and relatives) traffic and price sensitive leisure customers, and its management stated that those passenger segments were tougher to stimulate in the first quarter due to seasonality.

The airline projects that its capacity should grow 9% to 12%, and it currently has no plans to cut its domestic capacity growth. Volaris has stated that it reduced fares in 1Q2018 to push load factor and remain competitive. Its domestic load factor during the first three months of 2018 was flat year-on-year at 84%.
"We're convinced that volume generation remains the most important driver of the top-line and a healthy corresponding increase in our ancillary business", Mr Beltranena recently told analysts and investors. Ancillaries represented 34% of Volaris' total operating revenue in 1Q2018.

Volaris' unit cost excluding fuel denominated in MXP fell 9% year-on-year in 1Q2018 and 1.3% in the USD, to USD4.8 cents, which is one of the best cost performances among any ULCCs in the Americas. Pulling back capacity would drive down aircraft utilisation, which would drive up costs. Volaris' average aircraft utilisation increased 6% year-on-year in 1Q2018, to 13.2 hours.

One of Volaris' key focuses is switching passengers from bus to air travel, and with Mexico's trips per capita at just 0.34, the airline believes that much opportunity for growth remains in the country's domestic market, despite the current pricing pressure on domestic routes.
Aeromexico opts to slash its domestic capacity as fares remain depressed
Mexico's only full service airline Aeromexico posted an increase in domestic yields in 1Q2018 on a 5% drop in capacity year-on-year.
Company executives recently stated that Aeromexico's domestic ASK growth during the past three years had been well below its competitors as the airline has focused on international expansion. Its domestic ASK growth was 6% in both 2015 and 2016, before falling 1% in 2017. International ASKs increased by 14.6%, 8% and 20%, respectively, in 2015, 2016 and 2017.
Grupo Aeromexico domestic ASK growth from 2012 to Apr-2018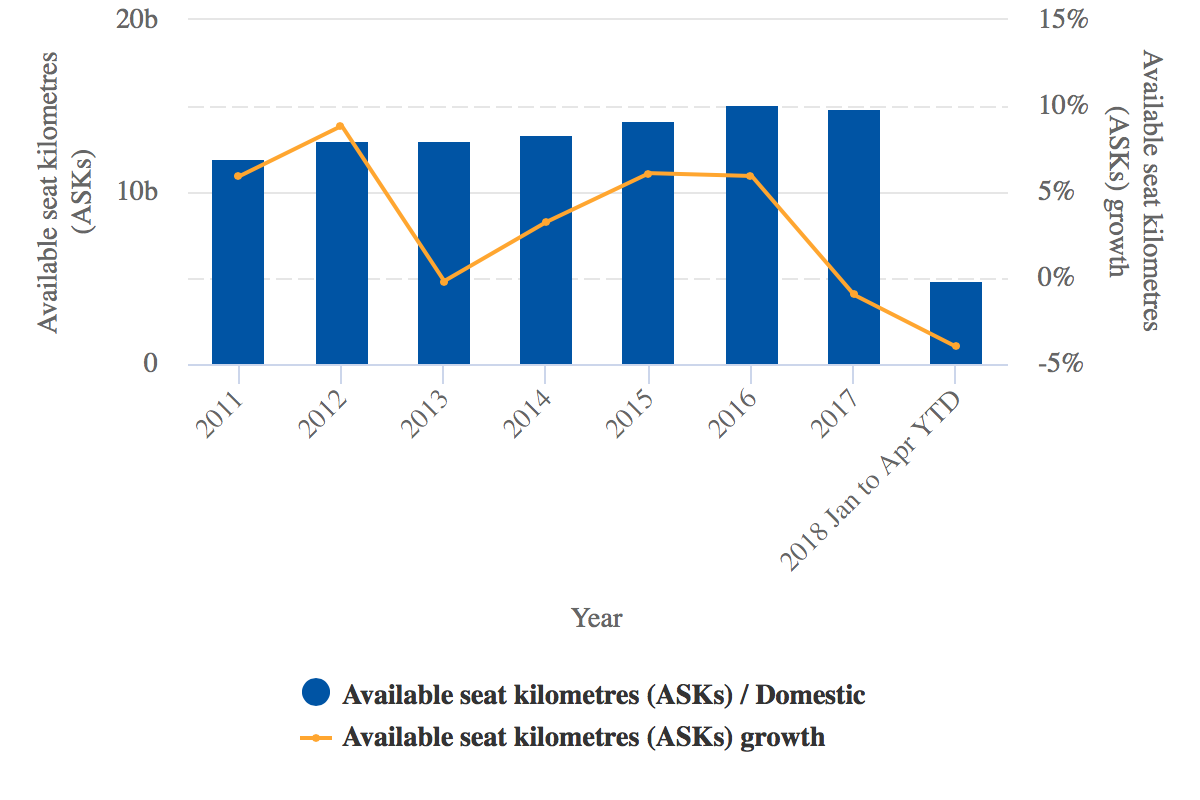 Aeromexico focuses more on connecting and business traffic than its lower cost domestic rivals, but it has moved to align its product offerings with its transborder joint venture partner Delta by introducing tiered fares in 1Q2018. The airline is offering branded fares on domestic routes and to and from the US and Canada.
Aeromexico and Volaris: some positive signs in the US transborder market
The US transborder market has experienced weakness during the past year, triggered by capacity pushes from a new more liberalised Mexico-US bilateral agreement that took effect in late 2015 and uncertainty over NAFTA and US immigration policy after the election of Donald Trump as US President in late 2016.

Executives from Aeromexico have stated that US transborder capacity grew as much as 10% after the agreement was formalised. But both Aeromexico and Volaris have cited improvement in the transborder market. Mr Beltranena commented to CAPA TV that yields between Mexico and the US are stable, and capacity is falling in the market.
Aeromexico stated that it expected transborder yields to improve in 2H2018, and said that its new routes launched to Seattle and Portland in 2018 were performing well.
Weekly seats between Mexico and the US from 2012 to Sep-2018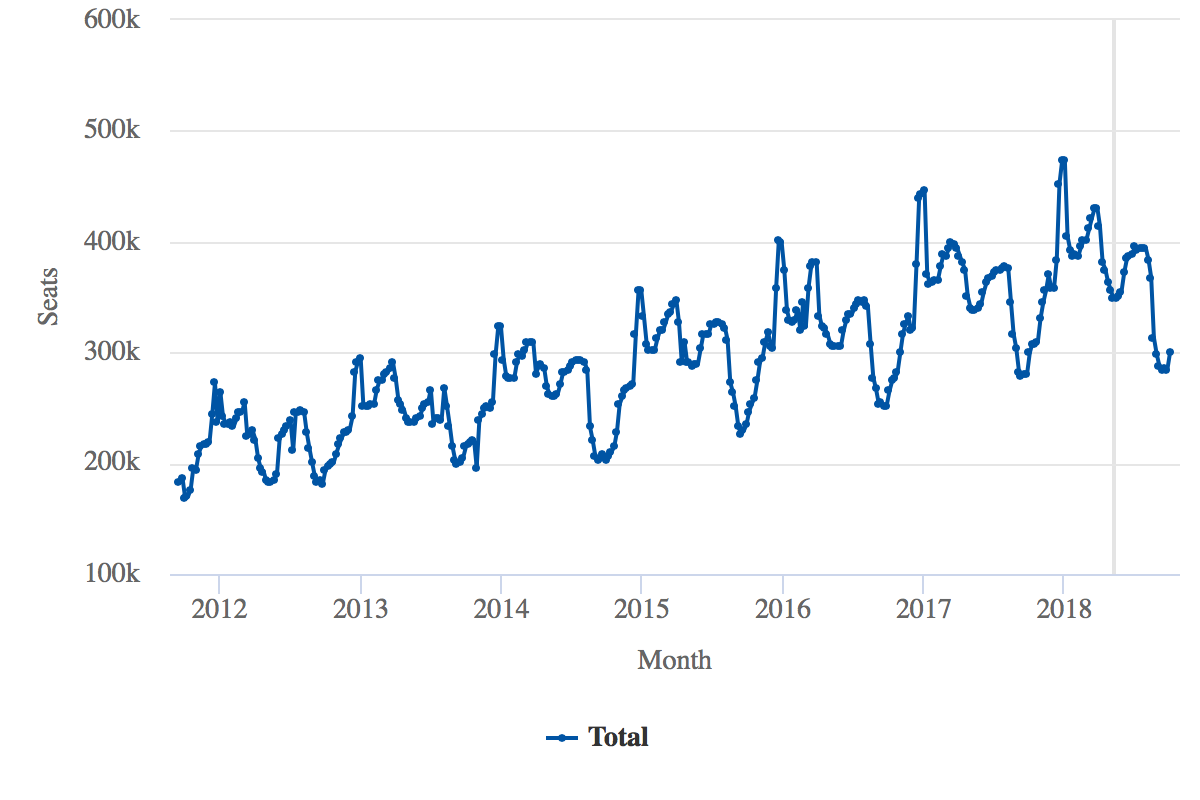 Uncertainty hangs over the Mexican market well into 2Q2018
Aeromexico is sticking to its capacity forecast of high single-digit growth in 2018, driven by fleet upgauging and the introduction of several new transborder routes in 2017 as it launched an immunised JV with its SkyTeam partner Delta Air Lines.

Volaris remarked that it was continuing to build strong passenger volumes, albeit at the expense of discounted domestic fares. The airline also expects the uncertainty over NAFTA and Mexico's presidential election (scheduled for Jul-2018) to increase during 2Q2018, "which makes it very difficult to predict our customers' behaviour and further price sensitivity", Mr Beltranena stated.
Different airlines take varying approaches to Mexican market challenges
Mexico's two largest airlines Aeromexico and Volaris are tapping into differing aspects of their business models to navigate challenges in the country's domestic market.
Aeromexico is using its diversified network and strength in Mexico City to adjust its capacity to strengthen its yields, whereas Volaris is attempting to steer investors to look towards the longer term, emphasising that it is important for the airline to maintain its growth in order to capitalise on the untapped potential it believes remains inherent in Mexico.

The overarching theme is that a level of uncertainty remains in Mexico's domestic market, and to a certain degree, in the strategic US transborder market.
The result is that Mexico's airlines may not have much clarity on when those two markets will show marked improvement; not until trade and immigration policies crystallise in the US and the results of Mexico's election are firmed up.