Aeromexico and Volaris cite positive signs in Mexico despite growing currency pressures
Analysis
Conditions in Mexico's aviation market continue to improve as domestic passenger growth remains steady. The stabilising conditions are helping Mexico's two publicly traded airlines Aeromexico and Volaris regain some lost ground with unit revenues and yields.

One major challenge that remains for those airlines is the rate of depreciation of the MXP against the USD, which was 26% at the end of 3Q2015. Aeromexico and Volaris seem to be weathering the effects of the depreciation as their profits and revenues grew steadily in the quarter.

Both Aeromexico and Volaris feel confident that the improvements in the Mexican market will continue as their respective outlooks for 4Q2015 remain stable. Volaris has expanded its domestic supply growth targets for 2015 as some markets show strong demand from passengers switching from bus travel.
Growth in Mexico's domestic market remains solid with market share essentially unchanged
Both Aeromexico and Volaris cited positive economic indicators in the Mexican market for 3Q2015. Volaris stated that consumer confidence increased 4% in Jun-2015, nearly 2% in Jul-2015 and 0.8% in Aug-2015. The airline noted that Mexican GDP growth in 2Q2015 was 2.2%, which is fairly solid compared with other economies within Central and Latin America.

Aeromexico noted that Mexico's General Economic Activity Indicator grew by 2.4% from Jan-2015 to Aug-2015, a 0.5pp increase over the year ago period.

Data from Mexico's SCT show that domestic passenger numbers in the Mexican market grew from roughly 24 million to 27 million in the Jan-2015 to Sep-2015 time period.
Grupo Aeromexico retained a leading 34% market share, followed by Interjet and Volaris each with 25% share. VivaAerobus held a 12% share, Magnicharters a 3% share and Aeromar a 1% share. There was little change in market share year-on-year with the exception of Interjet picking up a single point and Volaris gaining 2ppt.
Domestic market share among Mexican airlines: Jan-2015 to Sep-2015 vs Jan-2015 to Sep-2014
2015
2014
Volaris has increased its domestic capacity throughout 2015 as it targets bus passengers
Of the roughly 8.4 million passengers transported by Volaris during the first nine months of 2015, approximately 80% travelled on domestic routes. Data from CAPA and OAG for the week of 26-Oct-2015 to 1-Nov-2015 show that 80% of Volaris' seats are deployed into the domestic market and 20% are allotted to international operations, mostly US transborder service.
Volaris international vs domestic capacity (% of seats): 26-Oct-2015 to 1-Nov-2015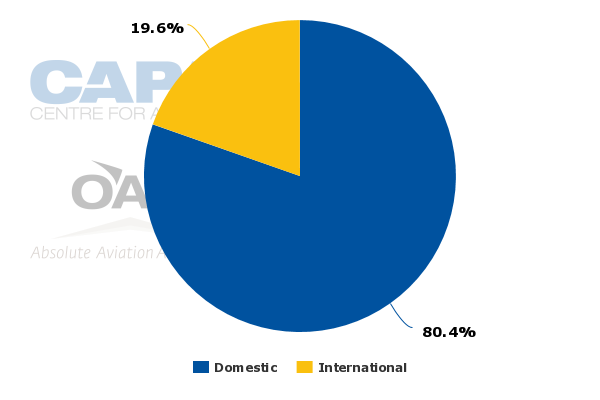 During 2015 as conditions have improved in the Mexican domestic market, Volaris has revised its domestic capacity growth upwards. Earlier in 2015 the airline increased its system capacity growth from 10%-12%, to 12%-15%, with domestic growing to a 5%-7% expansion versus previous estimates of a 2%-4% increase. It has now upped its domestic expansion to 9%-11%, which will result in a total 2015 capacity increase of 15%-18%. Volaris still plans international capacity growth of 33%-36%.
See related report: Mexico's domestic market remains stable as the four largest airlines sustain their market share
Some of the capacity increase is driven by higher utilisation, which Volaris estimates increased from 12.5 hours in 3Q2014 to 13 hours in 3Q2015. Previously, Volaris has cited the growing number of travellers transitioning from bus travel for the increase, and stated most of the capacity growth was directed towards the Pacific corridor and northern Mexico. Volaris has been engaged in a campaign to lure customers from bus travel to air transport as part of its strategy to grow its passenger base.
Volaris is stressing that the refined capacity targets are not hurting its performance. The company stated for the first nine months of 2015 it was not posting any decline in base yields or total yields (which includes ancillary product sales).
Volaris' yields in 3Q2014 grew 3.4% year-on-year. Its non-ticket revenue per passenger jumped 13% to USD18. For the 9M ending Sep-2015, Volaris posted a 7% increase in yields and a 24% rise in non-ticket revenue per passenger to USD24.
Its top line revenue in 3Q2015 expanded nearly 31% to USD307 million and net income grew more than 100% to USD68 million.
Aeromexico and Volaris conclude their international markets are performing solidly
Aeromexico's domestic yields in 3Q2015 fell 2%, but international yields increased 5% for a total increase of 0.1%. Its passenger unit revenues grew 1% during the quarter. For the 9M ending in Sep-2015 Aeromexico's yields fell 1.5% and passenger unit revenues decreased nearly 2%.
Company CEO Andres Conesa stated that the 2% yield contraction during 3Q2015 was better than the conditions of 1H2015, highlighting different areas of strength and weakness within the Mexican market. The central and northern areas of the country were strong performers while markets in the southern part of Mexico were weak.
Mr Conesa also cited significantly higher competitive capacity, no doubt driven in part by Volaris' decision to ratchet up its domestic growth. Despite the yield contraction, Aeromexico's top line revenue during 3Q2015 increased 11% year-on-year to USD747 million and its profits during the quarter were USD44 million.
During 3Q2015 Aeromexico's international flights represented 56% of its total passenger revenue and domestic accounted for 44%. For the first nine months of 2015 domestic passengers represented about 70% of the roughly 13.3 million customers travelling on Aeromexico.
Data from CAPA and OAG for the week of 26-Oct-2015 to 1-Nov-2015 show that 68% of Aeromexico's seats are deployed into the domestic market and 32% are assigned to international routes.
Aeromexico international vs domestic capacity (% of seats): 26-Oct-2015 to 1-Nov-2015
Mr Conesa unsurprisingly noted the softening in South America, but said that cutting its worst performing route from Mexico City Juarez to Rio de Janeiro should help its performance in the region.
Aeromexico's markets in Europe and Asia were behaving well, however, they were not significantly strong, said Mr Conesa. On its US routes, point of sale US is performing better given that it is difficult to pass through the effects of the devaluation of MXP on point of sale Mexico tickets. North American routes, the bulk of which are in the US transborder market, represent about 54% of Aeromexico's international seats for the week of 26-Oct-2015 to 1-Nov-2015.
Aeromexico international capacity by region (% of seats): 26-Oct-2015 to 1-Nov-2015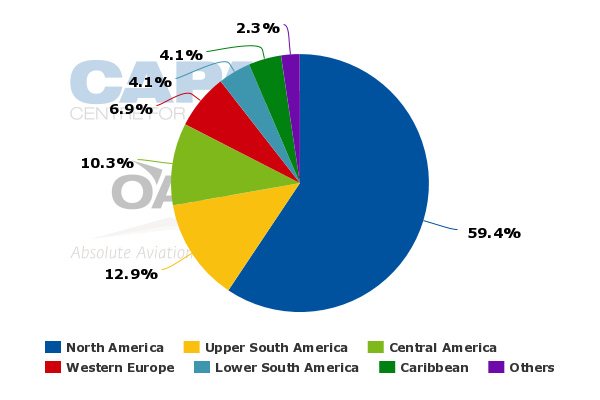 Volaris does not break down yields by domestic versus international, but company executives remarked that foreign remittances, which are a good indicator of its visiting friends and relatives business, increased on USD basis 12% in Jul-2015 and 13% in Aug-2015.
Aeromexico and Volaris are weathering the sharp devaluation in Mexico's currency
Aeromexico estimates that the MXP depreciated at an average rate of 25.4% against the USD during 3Q2015, and the depreciation had grown to 26.2% by the end of the quarter. The depreciation does negatively affect costs denominated in the USD, but during 3Q2015 Aeromexico recorded an 11% drop in unit costs excluding fuel denominated in the USD. Revenues generated in the USD help to offset some of the cost pressure driven by the depreciation.
Volaris estimated that during 3Q2015 35% of its total operating revenue was USD denominated, which helps to create a natural hedge against exchange rate volatility.
Mexico's publicly traded airlines feel positive about the outlook for 4Q2015
Both Aeromexico and Volaris feel positive about trends for 4Q2015. Mr Conesa remarked that bookings for Nov-2015 were solid, and running higher than the year prior. He concluded having good booking volumes at the beginning of the month allows for favourable revenue management to achieve higher yields. Volaris characterised bookings for Nov-2015 and Dec-2015 as healthy, but noted it was a bit too early to determine how 4Q2015 and the season would shape up.
Volaris has not yet offered any definitive preliminary capacity guidance for 2016, but Aeromexico is forecasting an increase in the high single digits, with one third of the growth directed at the domestic market and two thirds to international destinations. In 2015 Aeromexico is expanding capacity by 8.5% to 10.5% with 11% to 13% growth in international markets.
Aeromexico and Volaris work to maintain their momentum; other airlines may not fare so well
Market dynamics in Mexico are trending favourably after a couple of years marked by weak conditions - the result of tepid economic growth. Although Volaris' growth in the domestic market may seem to be a bit ambitious, its financial performance remains sound.
Aeromexico also remains in a solid financial state, and is smartly directing the bulk of its 2016 growth to international markets, and pursuing a joint venture with SkyTeam partner Delta Air Lines to bolster its transborder strength further.
The growth in Mexico's domestic passenger market shows that stimulation opportunities remain within the country. But the tough question to answer is if the market at maturity will support four domestic airlines.
Aeromexico's position remains sound, and Volaris is working hard to stake its claim. Prospects looks less certain for Interjet and VivaAerobus.