Aer Lingus: putting cost at the CORE after 2013 profit growth stalls
As anticipated by the company, Aer Lingus' 2013 operating result was below that of 2012. The profit recovery from heavy losses in 2009 had been driven by mainly unit revenue growth, but, in 2013, RASK growth was outpaced by CASK growth. Unit revenues were particularly weak on short-haul in the second half of the year, reflecting fierce price competition in European markets. Strong growth in revenues from Aer Lingus' new contract flying business helped, but not enough to drive earnings growth.
Against this backdrop, a concerted push on cost reduction is necessary and Aer Lingus has recognised this priority in a new profit improvement programme, dubbed CORE. Although revenue initiatives are also part of it, the weak pricing environment of 2H2013 underlines the need for a competitive cost base and CORE includes a EUR30 million cost reduction target over two years. With savings largely expected to come from the payroll, the quality of industrial relations will be a key feature in the programme's success.
Aer Lingus' operating result drops 12%
Aer Lingus' net profit of EUR34 million in 2013 was almost identical to the result of 2012 (+0.6%), in spite of a 2.3% increase in revenues to EUR1,425 million. The operating result dropped by almost 12% to EUR61 million, with the operating margin slipping by 0.7 ppts to 4.3%. Although Aer Lingus originally expected an operating result in line with 2012, this outlook was lowered as a result of the intense price competition experienced in 2H2013. The result reported is consistent with the revised guidance.
The board is proposing to pay a dividend of EUR4 cents, the same as last year, and to maintain this level of payout into the future.
Aer Lingus financial highlights: 2012 and 2013
| EUR million unless otherwise indicated | 2012 | 2013 | Change % |
| --- | --- | --- | --- |
| Total revenue | 1393.3 | 1425.1 | 2.3% |
| Operating profit/(loss) (before exceptional items) | 69.1 | 61.1 | -11.6% |
| Margin % | 5.0% | 4.3% | -0.7ppts |
| Net Profit | 33.9 | 34.1 | 0.6% |
| Dividend per share (EUR cent) | 4 | 4 | - |
| ASKs (million) | 18,658 | 18,898 | 1.3% |
| Gross cash | 909 | 898 | -1.2% |
| Debt | 532 | 478 | -10.2% |
| Net cash | 377 | 420 | 11.4% |
Steady profits since 2010 and a strong balance sheet
Aer Lingus has now remained in profit for four consecutive years. Although its operating margin slipped slightly in 2013, it has been fairly consistently in the 4% to 5% range since the company returned to profit in 2010.
This margin is lower than those recorded by the more successful LCCs such as Ryanair and easyJet, but compares favourably with many other legacy carriers.
Aer Lingus – revenue and operating profit (before exceptional items), EUR million: 2006 to 2013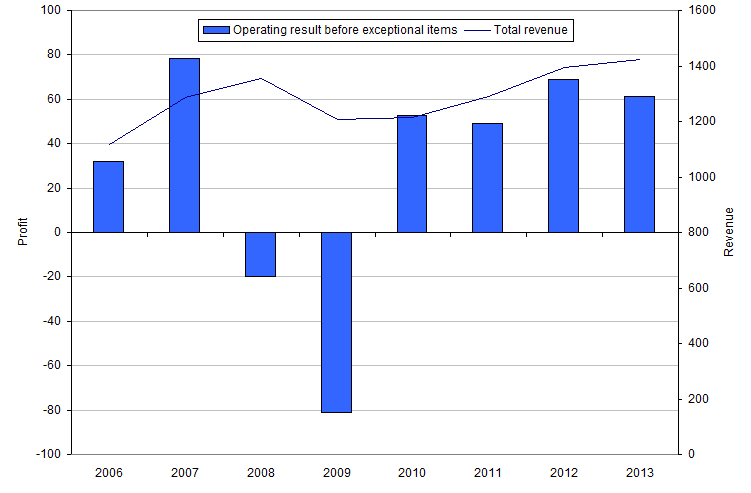 Moreover, Aer Lingus continues to maintain a net cash position (gross cash levels exceed its debt balance), with net cash increasing from EUR377 million at the end of 2012 to EUR420 million at the end of 2013. The gross cash balance of EUR897 million at year end is equivalent to 230 days of revenues, one of the biggest cash cushions of any airline in Europe.
This combination of what appears to be steady profitability and a strong balance sheet positions Aer Lingus favourably to weather the competitive storms that consistently buffet it.
Aer Lingus – development of debt and cash 2006 to 2013, EUR million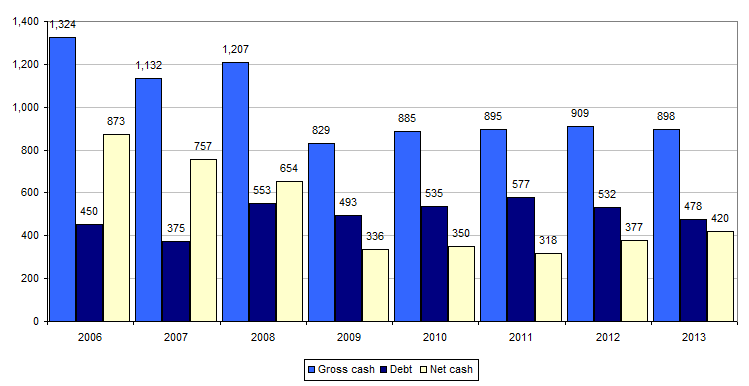 Double digit growth in long-haul passenger numbers
Aer Lingus' 2013 passenger numbers were almost flat year on year at 9.6 million in total. The year saw strong growth in long-haul passenger numbers, up 12.2% to 1.1 million, while short-haul passenger numbers fell by 1.7% to 8.5 million. The number of passengers carried by Aer Lingus Regional, the franchise operated by Aer Arann on behalf of Aer Lingus, grew by 10% to 1.1 million.
Aer Lingus' return to profit in 2010, after a heavy loss in 2009, was partly driven by a significant capacity cut in both long-haul and short-haul 2010. Since then, long-haul numbers have returned to growth and 2013 numbers were 21% higher than 2010, while short-haul numbers were only 1% above their 2010 level. Long-haul expansion in 2013 was driven by the re-deployment of an additional A330, leading to higher frequencies on Dublin to Boston and Chicago.
Passenger load factor gained 0.7 ppts to reach 78.4% in 2013, an increase of 5.6 ppts versus 2008 (both parts of the network saw load factor gains). Nevertheless, it remains lower than the average level of 80% for members of the Association of European Airlines in 2013. CCO Stephen Kavanagh told analysts that capacity would be broadly flat in 2014 and that he was "happy with the network". He said that the challenge in 2014 was to fill the seats more.
Aer Lingus passenger numbers (million): 2006 to 2013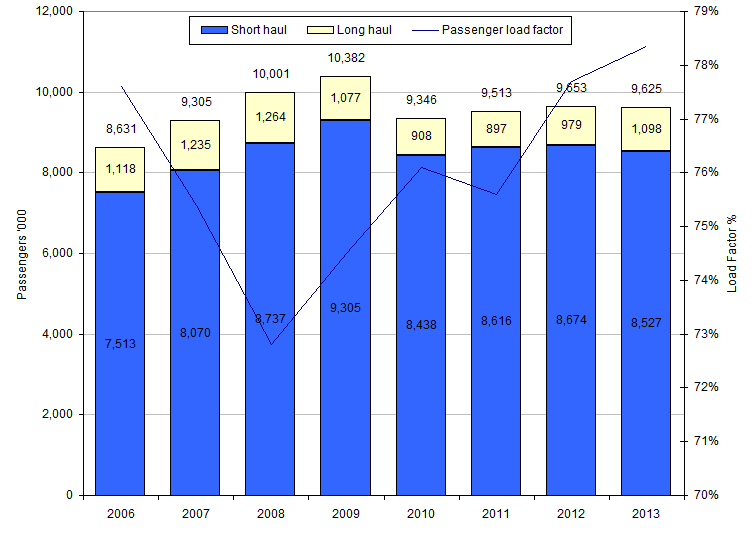 Revenue growth in 2013 driven by long-haul
Revenue growth of 2.3% in 2013 was mainly driven by long-haul revenues, which were up 11.1% to account for 27% of the total. Short-haul revenues dropped by 3.3%, affected by good weather in northern Europe during the summer and what Aer Lingus called an "increasingly competitive pricing environment" in 3Q and 4Q, but still represented more than half (55%) of the total. Retail revenues grew by 2.8%, ahead of the growth in passenger numbers, reflecting the impact of new initiatives such as pre-order, enhanced and refreshed meal offerings, wi-fi on long-haul and new checked baggage options.
See related report: Aer Lingus 3Q2013 profits grow as long-haul expands but short-haul discounting will weigh on FY
The growth in long-haul revenues was driven by traffic growth: average fares on long-haul were down by 0.9%. On short-haul, both passenger numbers and average fares declined slightly. The short-haul market was particularly affected by strong price competition in the second half of the year. In 4Q, short-haul passenger numbers were down 4.0% and short-haul average fares down 4.5%.
Across the whole network, average fares increased by 1.2% in 2013, in spite of a fall in average fares in both long-haul and short-haul, because of the increased mix of long-haul in the network.
The growth in 'other' revenues (up 160%) reflected Aer Lingus' nascent contract flying business, including operating Virgin Atlantic's UK domestic feeder services under the 'Little Red' brand and a long-haul service from Scandinavia to the Caribbean for tour operator Novair.
Aer Lingus revenues (EUR million): 2012 and 2013
2012

2013

%Change
vs 2012


% of 2013
revenue

Short haul fare revenue

816.3

789

-3.3%

55%

Long haul fare revenue

343.5

381.6

11.1%

27%

Total fare revenue

1159.8

1170.6

0.9%

82%

Retail revenue

176.5

181.5

2.8%

13%

Cargo revenue

45.7

43.6

-4.6%

3%

Other revenue

11.3

29.4

160.2%

2%

Total revenue

1393.3

1425.1

2.3%

100%
Analysis of fare revenues and yield per passenger: 2012 and 2013
EUR million
(except where stated)

2012

2013

Change

Short haul revenue

816.3

789

-3.3%

Long haul revenue

343.5

381.6

11.1%

Total fare revenue

1159.8

1170.6

0.9%

Short haul pax '000

8674

8,527

-1.7%

Short haul rev/pax EUR

94.1

92.5

-1.7%

Long haul pax '000

979

1098

12.2%

Long haul rev/pax EUR

350.9

347.5

-0.9%

Total pax '000

9653

9,625

-0.3%

Total fare rev/pax EUR

120.1

121.6

1.2%
Airbus discussions over A350XWB delivery delays
Aer Lingus says it is discussing with Airbus revised delivery dates for the nine A350XWB aircraft on order as the original delivery dates cannot be achieved. It says it is likely that it will still take nine aircraft (a mixture of A350-900 and A350-900R), with deliveries over the period 2018 to 2020.
It also plans to start to evaluate its short-haul fleet rollover options but says, "this is not urgent given the relatively young age of our short haul fleet."
Aer Lingus Fleet Summary: as at 25-Feb-2014
| Aircraft | In Service | In Storage | On Order* |
| --- | --- | --- | --- |
| | | | |
| | | | |
| | | | |
| | | | |
| | | | |
| | | | |
| | | | |
Costs have grown faster than revenues
Operating costs increased by 3.0%, faster than the growth in revenues and passenger numbers. Fuel costs, accounting for 26% of the total, were just below flat (-0.4%) and non-fuel costs grew by 4.3%. Staff costs, which made up 20% of the total, increased by 4.0%. This was the result of additional headcount in the contract flying business and the long-haul fleet expansion.
The company's voluntary severance programme, under which 199 out of 124 people had left Aer Lingus by the end of 2013, should have a cost benefit in 2014.
Aer Lingus operating costs EUR million: 2013 versus 2012
2012

2103

Change

% of 2013
total costs

Fuel & oil costs

358.6

357.3

-0.4%

26.2%

Airport charges

295.3

298.7

1.2%

21.9%

Staff costs

266.7

277.4

4.0%

20.3%

Ground operations, catering & other operating costs

126.2

127

0.6%

9.3%

Depreciation & amortisation

76.1

82.9

8.9%

6.1%

Maintenance expenses

60.1

68.4

13.8%

5.0%

En route charges

61.4

60.7

-1.1%

4.5%

Distribution charges

47

47

0.0%

3.4%

Aircraft operating lease costs

46.1

45.2

-2.0%

3.3%

Other gains/losses

13.3

-0.6

-104.5%

0.0%

Total operating costs

1324.2

1364

3.0%

100.0%
CASK grew faster than RASK in 2013
Aer Lingus' profit recovery from the losses of 2009 was driven by unit revenues (total revenue per ASK, RASK), which climbed faster than unit costs (cost per ASK, CASK). In 2013, RASK growth slowed to 1.0% and, although CASK growth also slowed, it outpaced RASK growth (it was up 1.7%).
Contrary to the typical inverse relationship between unit costs and average trip length, Aer Lingus has seen two consecutive years of rising average trip length together with rising unit costs. At the same time, it has managed to increase unit revenues also, but the gap is narrowing. As experienced in 2009, any fall in demand leading to a drop in RASK would leave its profitability looking very vulnerable without a concerted push to lower unit costs.
Aer Lingus – index of operating cost per ASK and fare revenues per ASK (each indexed to 100 in 2009)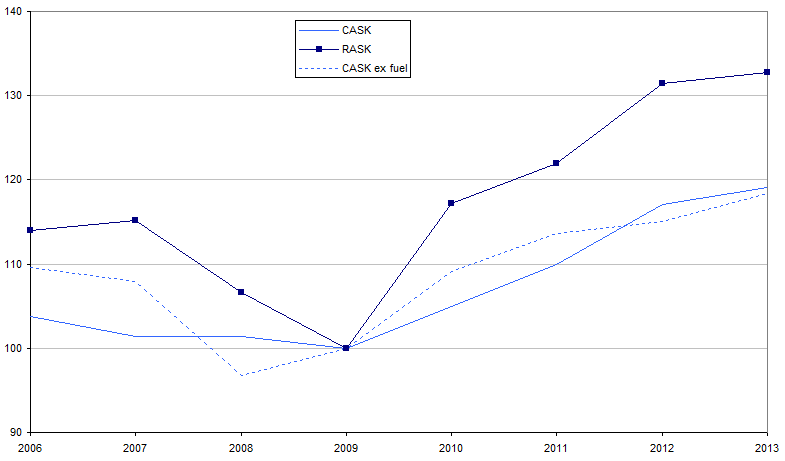 20% seat growth on long-haul in 2014
In 2014, Aer Lingus plans new services to Toronto and San Francisco, in addition to increased frequencies on its Shannon services to Boston and New York. These factors will contribute to long-haul seat capacity growth of 20% in 2014, brought about through the wet lease of three Boeing 757 aircraft from ASL Aviation Group. All trans-Atlantic services will enjoy full US Customs and Border pre-clearance in Ireland by the summer 2014 schedule.
The company says that forward bookings are currently ahead of last year and its new services are "performing in line with expectations". Overall in 2014, it expects operating profit to be "broadly in line with 2013", although it anticipates that the changed timing of Easter this year will make 1Q2014 weaker. Its three areas of focus for 2014 will be cost reduction, product/service improvement and selling the additional long-haul capacity.
Aer Lingus planned product and service improvements in 2014 and beyond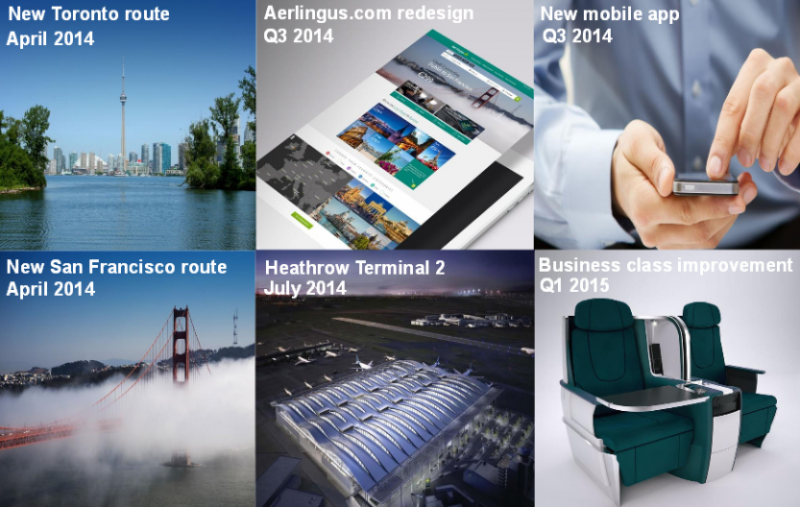 Costs are at the CORE
It is introducing a new two year business improvement programme, with the acronym CORE ('Cost Optimisation and Revenue Excellence'). This explicitly recognises Aer Lingus' need to have a cost base which allows it to be competitive on price, while maintaining its differentiation (eg from Ryanair). It includes a EUR30 million cost reduction target, of which "the lion's share will come from the payroll", according to CEO Christoph Mueller.
Of course, such programmes bring industrial relations challenges and a resolution of the outstanding pension dispute will be an important step in this respect. Members of the SIPTU union have voted in favour of industrial action related to pension matters and other unions are thought to be considering it, since they are not comfortable with Aer Lingus' pension funding proposal.
Aer Lingus believes that the continued lack of a solution to the pension issue has held back its cost reduction efforts. Its decision to launch its CORE programme reflects management's determination not to allow any further delays, although the current industrial relations backdrop is less than ideal for the programme.
As CAPA noted in our analysis of the Aer Lingus 2012 results a year ago, its creditable profit recovery since 2009 owes more to market-driven unit revenue recovery, albeit aided by some sensible management decisions, than it does to equally sensible action on unit costs. With unit revenue growth slowing significantly in 2013, this increases the need for ever more action on unit costs. Aer Lingus is right to press ahead with CORE.
See related reports: