AENA's stop-start partial privatisation is ready to start again. Can it succeed this time around?
Analysis
If all goes to plan (and that is a very big if) Spain's state airport operator AENA's part privatisation is supposed to swing back into action in Feb-2014, having been suspended late in 2011 following a General Election and the rise to power of the People's Party (PP), led by Mariano Rajoy.
It would be first privatisation in Spain since the start of the economic crisis – as well as being that of the busiest airport operator in the world.
Prior to the election, the People's Party had been unequivocal about both the format of the privatisation and the valuation placed on the airports. But since then, the government has had to handle a sovereign debt crisis with attendant public deficit, an economy in freefall and raging unemployment, particularly amongst young people, for whom it has reached 50% of the workforce.
The last two years have also witnessed the arrival of the 'aeromuertos'; private or public/private ghost airports, notably evident in cities such as Ciudad Real and Castellon and often vainglorious monuments to Spain's false economic zenith, founded on the belief that limitless construction, be it of apartments or airports, would always find a market to fill them with inhabitants or passengers.
End of Spain's recession is in sight – but still some distance away
Latterly, there are just the first signs that the end of Spain's lengthy recession may at last be in sight, even if it is still at the very far end of a long tunnel, with hopes encouraged by considerably better export-led manufacturing figures and the fact that more than a year has passed without a major bank having to be bailed out.
As for the air transport sector, while there are shocking scenes of mass unemployment in the barrios of some major cities, a stroll around a typical coastal resort city might suggest 'business as usual' and tourism is on the increase. Indeed it might be argued that tourism is the economic segment that prevented Spain from sinking without trace during the very tough years (2009-2012).
The allusion to long tunnels is a deliberate one because even during the recession work continued on extending the AVE high speed train network, one that has brought stiff opposition to the airline network and especially on short-medium length trunk routes. Spain's AVE is the second-biggest high-speed rail network in the world after that of China.
Spain's AVE network as of Jul-2013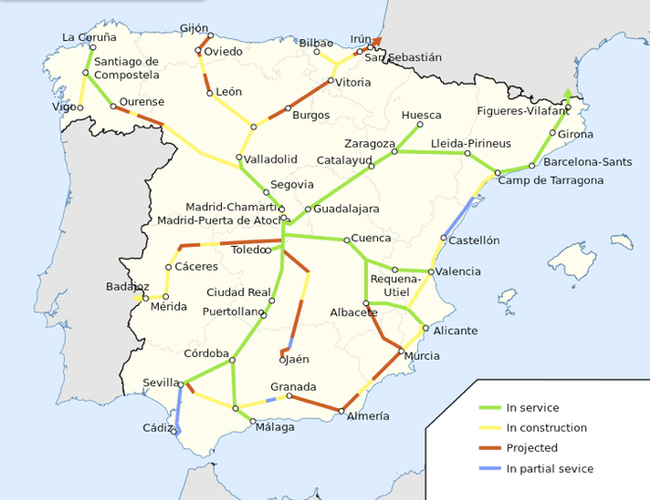 So the government, which still needs to encourage large cash injections through the sale of state infrastructure where it can, but which also perhaps perceives that a forthcoming change of fortune for the country will influence infrastructure valuations positively, could not be blamed for trying to optimise the current turn of events.
Moreover, the re-emergence of the sale comes at a time of heightened foreign investor interest in the country. The shift in market sentiment recently gained pace when Bill Gates, Microsoft's billionaire founder, bought a 6% stake in FCC (the Spanish construction group that expressed interest in 2011 in the concessions on Madrid and Barcelona airports within a consortium). Foreign investors have also bought into Spanish debt, sending bond yields to multiyear lows, while private equity groups are circling previously shunned assets such as property.
There is a considerable difference however between the process that was determined in 2010/11 and the one envisaged now.
The initial procedure was concession-led
Previously, the initial concession procedure was solely for the Madrid Barajas and Barcelona El Prat airports, the two largest in Spain and for which Special Purpose Vehicles (SPVs) were incorporated in which private investors could take a majority stake (up to 90%), with the promise of a partial privatisation of the entire AENA organisation to follow at a later date (to a total of 49% of the equity) with additional concessions offered at smaller airports. Within this transaction structure the Madrid and Barcelona concessions holders would act as subsidiaries to the 'mother company'. The effective incorporation of AENA Aeropuertos took place on 25-Feb-2011, allowing the partial privatisation process to move forward.
AENA Aeropuertos is the leading airport operator in the world, managing 46 airports (including Madrid-Barajas and Barcelona-El Prat) and two heliports in Spain, and at the time of its incorporation was involved, directly or indirectly, in the operation of another 23 airports around the world. In 2012 AENA handled 190 million passengers.
AENA is a substantially bigger operator in terms of passenger numbers than rival European groups such as the partially privatised Aeroports de Paris, which in 2012 hosted 89 million passengers, and the also partially privatised Fraport, the owner of Frankfurt airport, which had 58 million passengers.
The difference is closer in terms of financial performance though; AENA's revenues are almost identical to those of AdP, and just a little above those of Fraport.
AENA's Spanish airport network
In the immediate aftermath of its election the PP indicated it would halt the plan by the previous (Zapatero/Socialist Workers) government to sell concessions in Madrid and Barcelona airports and that it would not continue with the plan to tender management contracts for the airports. The previous government had hoped for at least EUR3.7 billion for Barajas and EUR1.6 billion for El Prat upfront as well as an annual operating fee of 20% of the relevant airport revenues for a 20-year concession with the possibility of a further five-year extension.
Instead the PP indicated it would 'group' them with other airports with the aim of submitting them to private companies.
Seven interested parties vied for the original contract
There were initially seven interested parties including some of the larger players in the sector but several of them, such as Fraport, which does have operating experience in Spanish-speaking countries, quickly stepped back owing to the difficult financial and operating market conditions that the newly-installed People's Party had also recognised, the very high price requested, the unacceptable concession conditions of the tender, and the allocation of risks.
This led to the cancellation of this immediate transaction and postponement of the process in general until a more suitable time for all parties involved.
Despite its reluctance to commit to the previous government's schemes it should be remembered that the PP led the previous wave of privatisations in Spain in the mid-late 1990s so it has history in this field. As such it was expected to push on with the sale of the airport concessions by the end of the first half of 2012, together with other prime assets for privatisation including the network of Paradores, the tourist accommodation in castles, palaces, monasteries and other historic buildings. At the time CAPA suggested in a report in Airport Investor Monthly that the new government might consider privatising one or more of Spain's smaller airports first, to give some confidence to the market.
In May-2013, over a year after its cancellation, the new government, still mired in its battle with the deficit, decided to revisit the privatisation of AENA in order to raise funds to alleviate that deficit, instructing financial and legal advisers to assist AENA on the revised privatisation process.
According to the tender conditions, the new privatisation process would differ from the original one in both scope and structure. While the original process was based, at least initially, on a concession-model limited to the Madrid Barajas and Barcelona El Prat airports, the new process had a wider scope and aims to give access to AENA Aeropuertos' share capital to private investors under precise conditions to be decided.
It was believed that the privatisation process of AENA would take place before the end of 2013.
During the period between the suspension and revisiting of the privatisation process, AENA implemented a viability plan, which included the refinancing of its EUR14 billion debt pile, in order to make itself more appealing to potential private investors.
In addition, the Ministry of Public Works, which has ultimate responsibility for AENA, announced the intention to reduce operational costs and improve the management of the airports in a more efficient manner in order to increase the value of AENA. This was particularly important because traffic has been vanishing from some of AENA's larger airports – notably Madrid – faster than a novice matador from the bullring on his first encounter with El Toro.
Barajas Airport "could be relegated to secondary hub status"
Indeed, Barajas Airport recorded some of the biggest declines in passenger traffic among the largest European airports in 2013 (-12%) and has registered a 20% fall in passengers over the past two years, leaving it ranked ninth among the continent's major airports, having not long ago ranked fourth, when it overtook Amsterdam Schiphol.
The 39.7 million passengers in 2013 was the lowest traffic figure recorded since 2004, before the construction of T4 in 2006, while Spain's overall 187.3 million passengers was the lowest figure since 2005.
The only airport to have performed worse in 2012 was Athens International (a tale of two deficits?), while Spain's Gran Canaria airport experienced the fourth largest traffic fall in that year.
Barcelona's El Prat airport though has roughly acquired equivalence with Barajas in terms of passenger traffic and may well even overtake it in 2014, courtesy at least partly of the growth of Vueling and its hub there; Vueling now being part of IAG.
Moreover, Madrid's own CEO, Luis Gallego has admitted the airport could be relegated to the status of a secondary hub in Europe in the now unlikely event that the state airline Iberia fails, likening the prospect to the post Sep-2001 collapse of Sabena and its effect on Brussels Airport, or the collapse of Swissair and its effect on Zurich Airport.
On the contrary, Barcelona is doing quite well, having achieved 35,211,000 passengers in 2013 (+1.8%) while Madrid languished on 39,729,000 (-12.1%).
As the table below indicates, clearly the problem is getting worse, faster, in Spain, even allowing for the wide variation between the Madrid and Barcelona figures.
| Airport | Pax 2011 | Pax 2012 | Pax 2013 | Variation 2011-2012 | Variation 2012-13 % |
| --- | --- | --- | --- | --- | --- |
| | 49,662,512 | 45,195,014 | 39,729,027 | (-9) | (-12.1) |
| | 34,399,180 | 35,145,576 | 35,210,735 | 2.1 | 0.2 |
| | 69,390,328 | 69,995,273 | 72,334,583 | 0.9 | 3.34 |
| | 60,970,551 | 61,611,934 | 62,052,917 | 1.05 | 0.7 |
| | 56,436,255 | 57,520,001 | 58,036,947 | 1.9 | 0.9 |
| | 49,755,252 | 51,035,590 | 52,569,250 | 2.5 | 3.0 |
There are several reasons why Madrid has fared so badly. Firstly, the negative effect of the severe shrinkage of Iberia under the control of International Airlines Group (IAG); a procedure that is not yet finished by any margin, but which seems to be paying dividends at last.
Madrid has not only lost O&D traffic to the Latin American continent as a result of the curtailment of loss-making Iberia flights but also the significant hub traffic through Barajas that went with it. (Air Europa has been building up an alternative network but is still at an early stage of that process.)
Madrid Barajas Airport capacity, all carriers: 27-Jan-2014 to 02-Feb-2014
Comparable capacity share of national airline at London Heathrow, Paris CDG and Frankfurt: 27-Jan-2014 to 02-Feb-2014
| Airport | Carrier | Capacity share % |
| --- | --- | --- |
| | | 46.9 |
| CDG | AF | 55.4 |
| FRA | LH | 64.7 |
Secondly, the aforementioned effect of the AVE high-speed train, which has decimated some of Spain's more important domestic trunk air routes including the critical Madrid-Barcelona route.
Late last year AENA's Javier Marín revealed that Madrid Airport had lost almost half a million passengers following the decision by state rail operator RENFE to lower fares on AVE routes, adding that internal airfares could not compete with the 10.7% growth seen on the country's three AVE lines, and that this rail competition and a fall in domestic demand has caused the heavy decline in Barajas' passenger numbers.
(Mr Marín noted, however, that greater integration between air terminals and rail connections could possibly reverse this negative effect and contribute to improving Barajas' connectivity.)
2012 airline charges hike led to base closure and route curtailments
But the third reason is probably the most significant; namely the decision in mid-2012 to hike up airline charges, which resulted in easyJet closing its Madrid base and Ryanair severely curtailing its services. While Norwegian Air Shuttle has recently announced a new base at Madrid there is dissatisfaction in the Madrileno community about the negative effect of the increase in charges. Community of Madrid president Ignacio González has called on AENA and the Development Ministry to implement a "specific plan" to boost traffic at Barajas.
See related report: AENA: high airport charges deter traffic at Spain's airports. Ryanair discounts its discount scheme
So much dissatisfaction in fact that in Nov-2013 AENA announced it was planning to freeze charges and then reduce them in the medium term. At the same time it would incentivise the opening of new routes with significant airport charge discounts of up to 100%, effective from Jan-2014 through to 2015.
Additionally, Barajas Airport submitted an application to the Development Ministry requesting permission to assign three of its terminals to low-cost carriers, apparently in an attempt to claw back lost traffic and possibly to entice easyJet to reopen its base activities. Meanwhile, Tourism Minister Jose Manuel Soria pleaded that Terminal 4's "underused capacity... should be opened to airlines from the rest of the world", calling the terminal "Spain's most important airport infrastructure asset".
Peripheral airports fear being left out in the cold
The biggest worry facing the smaller, peripheral airports that are not in the major cities, on the coast, or on vacation islands (a little less than half of them) is the fear that they will be squeezed out and ignored in future planning if and when the privatisation process goes ahead. To be fair to AENA it has been investing in its airports that are neither Madrid nor Barcelona (it was heavily criticised in the provinces for putting too much emphasis on its 'Plan Barajas' and subsequently for a similar degree of focus on Barcelona's El Prat).
AENA airport expenditure
| Airport | Expenditure (USD) | Project(s) |
| --- | --- | --- |
| | 275,000,000 | Terminal renovation/apron expansion/car parking (in progress) |
| | 2,600,000,000 | New terminal (2010); Second runway (2012); (also a potential airport city) |
| | 675,000,000 | New terminal (2011) |
| | 80,400,000 | Terminal building expansion (in progress) |
Moreover, several smaller airports have also received a makeover, such as Mahon on the island of Menorca, considered to be an excellent example of how a small airport (2.5 million passengers per annum in 2013; +1%) should operate. For these reasons AENA's president José Manuel Vargas believes the operator is attractive to potential investors because there are no big investments needed at Spanish airports in the "long term", as there is sufficient capacity in the network as well as over-capacity at some major airports.
But none of this has assuaged the fears of the peripheral airports' management or of the local municipalities.
For example, the Canary Islands' President, Paulino Rivero reiterated opposition to the privatisation of AENA at the end of 2013, stating: "We will continue whatever it takes to defend and ensure public control" over the airports, which he described as being of "public and social interest" to the islands, as other transportation options which are available on the mainland are unavailable on the islands, including road and rail. He accused the government of using the three profitable Canary Island airports of Gran Canaria, Lanzarote and Tenerife Sur as "bait to potential investors".
The Andalusia Tourism and Commerce Councillor Rafael Rodríguez meanwhile warned of the "negative effects" of the potential privatisation of AENA on the region's airports (Granada, Almeria and Cordoba) and called on Development Minister Ana Pastor to develop a plan which "guarantees the future viability of these installations".
In particular he called for AENA to present an action plan for Cordoba Airport, similar to one being developed for Seville Airport. Mr Rodríguez described connectivity and airports as "fundamental" to the development of the local tourism industry, adding that it was up to AENA and the Development Ministry to come up with proposals to ensure the viability and development of the airport as the competent authorities, not the Andalusia Regional Government.
He should worry. Cordoba, on the fringe of a major tourist region but somewhat overshadowed by the Malaga and Seville airports that are each approximately 100 miles (160 km) away to the south and west respectively, is one of those airports most likely to come under close inspection by any private sector investor in AENA. The table below lists some of the others:
| Airport | Passenger numbers 2013 | Variation from 2012 % |
| --- | --- | --- |
| A Coruna | 839,837 | (-0.7) |
| | 705,552 | (-5.9) |
| El Hiero | 139,154 | (-8.9) |
| | 638,289 | (-12.4) |
| Melilla** | 289,551 | (-8.3) |
| | 155,935 | (-18.1) |
| | 244,952 | (-6.4) |
| | 260,271 | (-31.2) |
| Zaragoza*** | 457,284 | (-17.1) |
The concerns are so deep that Minister Pastor was obliged to state that a draft bill was being prepared to establish the government as an aviation regulator, in preparation for the privatisation. Ms Pastor said the government would "guarantee" airport service offerings and prevent the closure of facilities under the new framework.
AENA's nascent financial turnaround gathers pace
One piece of good news for the privatisation process is the fact that AENA reportedly closed 2013 with a net profit of EUR308 million, to which Ms Pastor immediately attached herself keenly, declaring that this leaves the operator well placed for possible part-privatisation, but without specifying a date.
The profit stands in some contrast to the EUR68.9 million loss in 2012, which itself was almost triple the EUR25.3 million loss the operator reported for 2011.
In that year (2012) the 'highlights' included:

EBITDA: EUR235.9 million, -27% year-on-year
Turnover: EUR3.3 billion, +2.2%
Staff costs: EUR1.1 billion, +12.5%
Group debt, end of 2012: EUR12.8 billion, -3.5%
Even so, there were the first signs of a nascent financial turnaround in 2012. AENA claimed the 2.2% increase in turnover was "particularly significant" given the economic conditions in the country, with a 5% year-on-year decline in passengers and a 10% year-on-year decline in operations. Total operating expenses were in line with the previous year, despite the 12% increase in staff costs. AENA also noted that the EBITDA, adjusted for non-recurring effects, amounted to EUR1.3 billion (down from a previously estimated EUR1.5 billion), a 6.4% year-on-year increase on the EUR1.2 billion in 2011, while the cash balance was in the order of EUR600 million.
So, where does the privatisation process stand at the end of Jan-2014 and what is the chance that it will be now be completed quickly? The signs are not good.
The complex process first entailed the publication of a document to the Comision Nacional de la Competencia, the equivalent of a Competition Commission in Spain, outlining the transaction status.
60% of the equity is to be available by sale and IPO
That document outlined a procedure whereby 60% of AENA would be privatised, with a sale of up to 30% of the equity to between four and six investors (or consortia) each with up to 5-7% of that equity. Another 30% would go by way of an IPO at an undisclosed date, leaving the state with 40%. If the government made the decision to press ahead on or by 14-Feb-2014 the administration to set the process in motion might even be completed by Jun-2014.
(The figure remaining with the state of 40% was suggested by Spain's Consulting Council on Privatisations. It is not binding but looks to have been accepted by the Cabinet.)
AENA president Vargas has dismissed suggestions of separating the management of Barcelona's El Prat Airport (in Catalunya, the most separatist-inclined region of Spain after the Basque country) from the rest of the operator's network, noting the financial commitments made by AENA and banks for infrastructure investment there.
AENA's international operations may be consolidated by recent expansion of activity in the UK
AENA might consolidate its international operations after its privatisation process is complete, and plans to divest its involvement in airports where it holds a minority stake and is unable to exercise management control. While it has not exactly been investing wildly over the past few years it did take control of the lease on London Luton Airport in 2013, jointly with France's Ardian (previously Axa Private Equity), having been a minority shareholder since 2005 with Spain's Abertis, which held 90% but which has now all but quit the airport sector.
Naturally there was opposition to the privatisation scenario from the Socialist Parliamentary Group, which introduced a "non-legislative proposal" in the Congress of Deputies (lower house) which would limit private participation in AENA to 49%. The group said the privatisation of an asset of such "strategic importance" should warrant a "clear and thorough explanation" from the government and "deep and transparent" debate in parliament.
Airlines are largely supportive
The sale process in general has its supporters among the airlines but that is only to be expected. Vueling's CEO Alex Cruz, whose opinion carries more weight as the curiously hybrid airline Vueling continues to expand into a major force under the IAG label, is convinced the privatisation would benefit both the operator and its customers through increased efficiency and lead to greater profitability, adding that private investors either in individual airports or to manage the network as a whole would be "the best" outcome.
The privatisation has also received the support of Air Nostrum's (a franchise operator for Iberia/IAG) CEO Carlos Bertomeu, who said the measure would be "very positive provided it is managed correctly". He also called for a greater balance between air and rail infrastructure spending, noting that investment in small and medium-sized airports "receive the same investment as a few kilometres of AVE high speed rail lines, which cost an average of EUR24.5 million."
He insisted that: "With the cost of two kilometres of AVE [track], Air Nostrum could provide free [transport] for all users on Valencia-Madrid and Madrid-Santander services for three years."
Trades Unions may still have a major role to play but their influence has been reduced by attrition
The trades unions, however – and notably the CCOO union – which are never slow to call a strike and which have frequently flexed their muscles in the past, once again warned in Dec-2013 of "disastrous" consequences to tourism, the "sole engine" of the Spanish economy, should 60% of AENA be privatised. CCOO's Madrid Airport secretary general Antonio Rigol Sevillano went so far as to warn that private investors would seek a return on their investment which could result in higher airport charges, conveniently overlooking the fact that charges at the airport where he is based are already in the stratosphere under public ownership.
There is an opinion held by some analysts in Spain that the unions are no longer as significant as they once were; partly because so many of their members have been relieved of their duties already: hence they are much fewer in number and many of the activists are no longer on the scene. Whether or not that is the case remains to be seen, in the land of the national strike.
Prospects for the procedure are not helped by the fact that the government faced great difficulty in privatising air traffic control towers, which was supposed to be a gentle predecessor to the main job of privatising the airports and it is believed this may have queered the pitch somewhat for the airport transactions.
Investors only, por favor
A potentially bigger problem facing the process as we enter Feb-2014, when it was all supposed to come together again, is the suspicion that AENA, as advisor to the government on the most beneficial transaction structure, is promoting the view that it prefers investors only to acquire its equity, not operators, which straight away would rule out those organisations which are both, but which also constitute entities of the size and scope to take on a challenge of this magnitude.
Another thorny issue is the position of the Prime Minister's advisor and right-hand man, Alvaro Nadal, who is believed to be at odds with Development Minister Pastor about the privatisation.
It was mentioned earlier that a bill was being prepared to establish the government as an aviation regulator, meaning the operator and regulator (currently the DGAR) are one and the same, even if the government's shareholding reduced to 40%. While this might alleviate the concerns of some of the peripheral airports it would undoubtedly encourage disquiet amongst a clutch of organisations, including the actual and potential private or public/private airport operators of smaller airports that are already pledged to development of facilities. Not to mention the airlines, which are always wary of this 'Big Brother'-like degree of control.
Ghost airports are very slowly edging closer to operational status, or disposal
Those airports include the aforementioned classic ghost airports of Ciudad Real (for which an auction is planned soon for around EUR80-100 million – it having been constructed at a cost of EUR1 billion – if it cannot be sold off as a going concern or even just for the land), and Castellon, where there are now believed to be several (at least potential) bidders. Also, Murcia International Airport, which still seeks a concessionaire, well past its initial projected opening date, the original concession having been revoked.
This bill, known as the DORA or Document of Airport Regulation, would ensure the regulation of tariffs in line with certain expenditure factors (Op Ex, Cap Ex etc) and would establish a regulatory asset base.
But it was anticipated that the procedure would take many months to put into place, and certainly not before the end of Mar-2014. It would then go back to the Competition Commission with a more appropriate structure in place according to the views represented above, and others. Then Ana Pastor might be able to complete the mechanism by Jun-2014 as forecast.
Even then there are other issues to be resolved. Many economic advisors are unable to come to terms with the anticipated value of the airports and perceive the true value of the disposable equity as being more in the order of EUR1 billion than the EUR5 billion that is being touted as a government requirement.
There is a time frame for completion, as the 2015 general election approaches
If any part of the procedure falls down for this or any other reason, then the privatisation will have to be boxed until 2H2014. It really needs to be in place by Sep-2014 because campaigning will begin in earnest at that time for the 2015 General Election and all transactions in progress like this one will grind to a halt, yet again.
It is quite conceivable that such an outcome would be the kiss of death for the privatisation of AENA.
Spain is not alone in witnessing a snail's-pace procedure towards privatisation of course. Brazil left it rather late in the day with two major sporting events looming, leaving precious little time for newly privatised entities to drive forward the necessary structural improvements at key airports, while in India the Airports Authority has just announced yet another round of delays for the dates for the issue of request for qualification (RfQ) documents in respect of the privatisation of six airports. Disagreements over the details of the privatisation process, airport charges and revenue models have delayed the Indian process, evoking bad memories of the previous privatisation effort (focused on Delhi and Mumbai) back in 2006.
But at least those processes are under way or are more likely than not to happen.
In Spain it is still in doubt that the procedure will reach fruition at all.
See related report: Airport finance and privatisation: CAPA's review of the year 2013 - Part-1