Aegean Airlines' acquisition of Olympic: approved by European Commission, but questions remain
Analysis
On 9-Oct-2013, the European Commission (EC) approved the acquisition of loss-making Olympic Air by loss-making Aegean Airlines. Although a previously proposed merger of the two was blocked by the Commission in early 2011, its analysis now indicates that Olympic would go broke in the near future if it were not acquired by Aegean.
This would leave Aegean as Greece's only significant domestic carrier. The EC argues that the competition provided by Olympic on domestic routes would disappear regardless of the acquisition. It concluded that any competitive harm caused by the removal of Olympic as an independent competitor is not caused by the merger, which "is compatible with the internal market and must be authorised."
This raises some interesting questions. For example, why did the EC not give fuller consideration to the possibility that new entrants might fill the gap left by Olympic? And why is Aegean paying EUR72 million for a loss-maker that the EC says is "highly unlikely to become profitable in the foreseeable future under any business plan"?



Completion expected by 18-Oct-2013
The acquisition was agreed with Marfin Investment Group (MIG), Olympic's current owner, in Oct-2012. It then became the subject of an investigation by the European Competition Commission. Under the recently approved deal, Olympic will become a subsidiary of Aegean and will retain its own brand, fleet and livery.
The consideration for the transaction is EUR72 million, of which Aegean has already paid EUR20 million to MIG. Completion of the deal is expected by 18-Oct-2013. The process of integration of support functions has already begun.
Olympic is much smaller than in 2011
The in-depth, or Phase II, investigation by the Commission into the effect on competition in the domestic market was opened in Apr-2013. The Greek crisis led to a fall in domestic passenger numbers of 26% from 2009 (6.1 million passengers) to 2012 (4.5 million). The first half of 2013 saw a further 6.3% decline year on year.
Fleet of Aegean Airlines and Olympic Air as of Oct-2012
| Aircraft | Aegean | |
| --- | --- | --- |
| A321 | 4 | 0 |
| | 25 | 0 |
| A319 | 1 | 0 |
| Airbus Α320 Family | 30 | 0 |
| Q400 | 0 | 10 |
| Dash 8-100 | 0 | 4 |
| Total | 30 | 15 |
Olympic is also in decline. At the time of the first proposed deal, Olympic was operating 32 aircraft, including 15 jets. Today it has an operating fleet of only 14 turboprop aircraft and is in the process of giving back its last remaining A319.
See related report: Greece's Aegean Airlines and Olympic Air try once again to combine forces
The EU investigation focused on five domestic routes
Moreover, the number of overlap routes between Aegean and Olympic fell from 17 in 2011, of which nine raised competition concerns, to seven currently. According to the EC, five of these seven are duopolies: Athens to Chania, Mytilini, Santorini, Corfu and Kos; the last two of which Aegean operates only in the summer. The investigation focused on these five domestic routes.
Aegean Airlines and Olympic Air network summary: 20-Oct-2013
| Destinations | Aegean | |
| --- | --- | --- |
| Domestic | 12 | 35 |
| International | 28 | 5 |
According to Innovata, the other two overlap routes are Athens to Mykonos, where the two also operate a duopoly, and Athens to Rhodes (but Olympic ceased to compete on the latter route in Sep-2013). The five routes identified by the EC accounted for 950,000 passengers in 2012, compared with four million passengers on the nine overlap routes in 2011.
The Commission says that its investigation, "has revealed that entry in the immediate future by other airlines is unlikely on any of those routes". It attributes this to a number of reasons, including costs of entry, the Greek economic situation, or because potential market entrants see more profitable opportunities elsewhere.
Olympic is 'highly unlikely to become profitable …under any business plan'
Aegean has not been profitable since its privatisation and acquisition by MIG in 2009, although its net loss narrowed to EUR8.6 million in 2012 from EUR37.6 million in 2011 and its EUR12.2 million loss in 1H2013 was narrower than the EUR21.6 million it lost in 1H2012.
See related report: Aegean Airlines: RASK growth drives return to profit in 1H2013, with Olympic Air decision looming
The European Commission asserts that: "A thorough analysis of Olympic's business prospects has confirmed that the company is highly unlikely to become profitable in the foreseeable future under any business plan".
Olympic Air results: 2012 vs 2011
| EUR million | 2011 | 2012 | Change |
| --- | --- | --- | --- |
| Sales | 240.5 | 216.3 | -10.1% |
| EBITDA | -15.5 | 11.6 | -174.8% |
| Recurring EBITDA | -26.7 | 3.2 | -112.0% |
| Recurring EBITDA margin | -11.1 | 1.5 | 12.6 |
| Net income | -37.6 | -8.6 | -77.1% |
| Recurring net income | -48.8 | -17.0 | -65.2% |
| Passenger millions | 3.4 | 2.9* | -14.0% |
| Sales/pax EUR | 71.3 | 74.6 | 4.6% |
As a result, MIG was no longer prepared to support Olympic and the only realistic alternative to acquisition by Aegean would be its permanent closure. The Commission's investigation has confirmed "that there is no other credible purchaser other than Aegean interested in acquiring Olympic" and that there has been no "credible" interest in acquiring its assets or brand.
"Consequently, the most likely scenario is that absent the transaction Olympic's assets would leave the market completely", says the Commission. The EC approved the acquisition by invoking the so-called 'failing firm defence' scenario.
Aegean and Olympic jointly have 90% of domestic seats
Top airlines in Greece ranked by domestic seats: 2-Sep-2013 to 8-Sep-2013
| Rank | Airline | Share of seats |
| --- | --- | --- |
| 1 | | 52% |
| 2 | | 38% |
| 3 | | 3% |
| 4 | | 2% |
| 5 | | 2% |
| 6 | | 1% |
| 7 | | 1% |
| 8 | | 1% |
| 9 | | 1% |
| | Total | 100% |
The Commission's investigation rightly focused on the domestic market, where Aegean and Olympic jointly control 90% of seats and LCC competitors have less than 3% of seats. At Athens, Aegean and Olympic have 99.6% of domestic seats between them (source: Innovata, week of 2-Sep-2013).
By contrast, on international routes, their joint share is only 17%, virtually all of which is Aegean's. LCCs' year-to-date share on international routes is more than 35%, up from les than 32% in 2012 and less than 5% 10 years ago. So the Commission's focus on domestic routes, where there were justifiable competition concerns, and its ignoring of international routes make sense. Or does it?
Is a near-monopoly in the domestic market inevitable?
In the domestic market, the Commission cannot be faulted for concluding that Olympic will disappear unless Aegean buys it, but is a near-monopoly situation inevitable with or without the merger? The Commission believes that there are no other credible buyers of Olympic and this may well be the case.
However, is it not also possible that the market believed that the acquisition would be blocked? The proposed 2011 merger was blocked and the present acquisition was referred to a so-called Phase II investigation in Feb-2013 after the briefer Phase I investigation did not approve it.
Greece domestic seat capacity: 14-Oct-2013 to 20-Oct-2013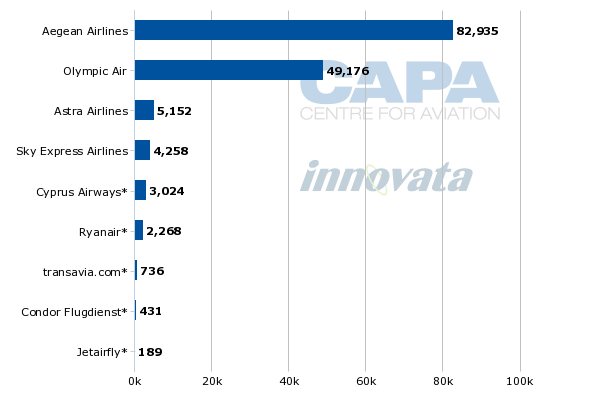 Why would a competitor airline step forward and trigger a bidding war for a loss-making airline if that competitor had good reason to believe that the deal would be blocked and that Olympic was then likely to collapse?
Stepping into the vacuum created by a bankrupt carrier is a far more affordable, and less risky, approach to industry consolidation. The assets of the business can then be acquired more cheaply, or by-passed altogether. Ryanair's moves in 2012 into Budapest and Barcelona following the demise of Malev and Spanair respectively are a good example of that phenomenon.
Could there be new entrants on domestic routes?
The Commission's argument seems to rest on its assessment that new entrants into the domestic market were unlikely in the immediate future. While this is no doubt based on their very thorough investigation, again it is impossible to be certain about the response to the collapse of a significant market player by those currently operating in different, but related, markets.
Who thought it likely that Ryanair was about to make such an aggressive entry into new routes from Budapest just before Malev's collapse?
Domestic routes operated by both Aegean Airlines and Olympic Air: 11-Oct-2013 to 20-Oct-2013
Route

Aegean

Olympic

From Athens to:

Weekly freq

Seats/freq

Weekly freq

Seats/freq

Corfu

10

168

9

78

19

168

13

78

5

168

13

78

13

168

17

78

24

195/168

21

78

12

168

9

78
LCC competitors would be damaging to Aegean on domestic routes
It is true that Olympic's business model as a regional airline operating 78 seat Bombardier Q400/Dash-8 turboprops is very different from that of the major European LCCs that compete with it and Aegean on the international markets. However, Aegean itself currently competes with Olympic on six domestic routes with 168 seat A320 aircraft (and some with 195 seat A321 aircraft).
If an LCC were to enter any of these markets, it is very likely that it would offer fewer frequencies than currently offered by Olympic. However, there can be little doubt that these routes could support the A320 family or Boeing 737 aircraft typically operated by LCCs. Previous CAPA analysis has shown that LCCs have a significant cost advantage to Aegean.
See related report: Aegean Airlines: caught between the devil and the deep blue sea after three annual losses in a row
If the acquisition of Olympic by Aegean had been blocked by the EU, and if Olympic had then disappeared, any subsequent entry by LCC competitors on the overlap routes would likely have proved damaging to Aegean. It should be grateful to the Commission for allowing the merger (although it is still possible that LCCs may enter in the future).
Acquisition raises no competition concerns on international routes…
On the international market, Olympic is a very minor player, operating to only five destinations in Eastern/Central Europe. Only 11% of its seats are on international routes (source: Innovata, week of 14-Oct-2013) and its share of international seats to/from Greece is only 1%.
Top airlines in Greece ranked by international seats: 2-Sep-2013 to 8-Sep-2013
| Rank | | Share of seats |
| --- | --- | --- |
| 1 | | 16% |
| 2 | | 10% |
| 3 | | 8% |
| 4 | | 6% |
| 5 | | 5% |
| 6 | | 4% |
| 7 | | 4% |
| 8 | | 3% |
| 9 | | 2% |
| 10 | | 2% |
| … | | |
| 25 | | 1% |
| | All others | 39% |
| | Total | 100% |
Aegean is number one in the international market, with 16% of seats, but it does not overlap with Olympic on any routes. LCCs are significant competitors on international routes. Clearly, the acquisition of Olympic by Aegean does not directly raise competition concerns in this regard.
…but supports 'improved growth for Aegean's international network'
However, this does not mean that the impact of the acquisition will not be felt at all on international markets. CAPA observed in a recent report on Aegean that, "the acquisition would provide a strong domestic basis and keeping LCCs out of the domestic market would be indirectly positive for Aegean's international position."
See related report: Aegean Airlines: RASK growth drives return to profit in 1H2013, with Olympic Air decision looming
Aegean chairman Theodore Vassilakis agrees. After receiving the Commission's approval for the merger, he said: "…the synergies will allow us to support an improved growth rate for our international network, both from Athens and the periphery…".
This impact on international markets is neither sufficiently defined nor significant to warrant intervention by the competition authorities. Nevertheless, it is an important element of the motivation behind the merger.
'Failing firm defence', but why was new entry not considered?
As far as we are aware, this is the first example of the European Commission using the failing firm defence scenario to approve a merger that clearly leads to a monopolistic situation. It is also a rare example of approval for a combination that has previously been blocked.
Joaquín Almunia, vice president of the European Commission responsible for Competition Policy, admitted that the market situation on the five overlap routes "is not favourable to the almost one million passengers who use them each year and, in any possible scenario, would only face one single carrier. But the merger itself is not the cause of this situation."
It is not clear why the possible entry of new competitors was not considered to be a possible scenario. This looks like an oversight on the part of the investigation.
Why would Aegean pay?
Approval of the merger is almost certainly good news for Aegean as it will strengthen its position in the Greek domestic market and give it a firmer platform from which to pursue international growth. Without an annual profit since 2009, the cost synergies and improved pricing power derived from the deal should help in its strive to restore profitability.
Indeed, equity markets welcomed the deal: Aegean's share price rose by 20% from 1-Oct-2013, the day before the EU decision was leaked, to 10-Oct-2013, the day after official confirmation was announced.
Nevertheless, it may have been even better news for Aegean if Olympic had collapsed, especially if the European Commission is right that new entrants on its domestic routes are unlikely. This would have allowed Aegean to step into Olympic's routes and market share without having to pay EUR72 million for an airline that lost almost EUR130 million in the three full years it spent under MIG's ownership.