AEA sees "significant downturn in the already weakening trend" in November after poor October data
European airlines are expected to report even steeper downturns in traffic in a market already suffering from a marked demand slowdown. According to the Association of European Airlines (AEA) indications for November, derived from the Association's weekly reports, are for a "significant downturn in the already weakening trend", with the traffic losses only partially offset by capacity cuts introduced in the Winter schedule.
AEA Secretary General, Ulrich Schulte-Strathaus, stated the sector is experiencing excess capacity. He added, "although airlines have significantly increased the speed with which they can reduce the size of entire networks, seat load factors are too low; demand is decreasing more quickly than capacity offered".

Mr Schulte-Strathaus warned, "given that no one knows whether we have seen the eye of the economic storm yet, adapting capacity quickly has become the number one priority".

AEA members' load factors in Oct-08 fell 2.0 ppts to 76.1%, with only the Middle East escaping the decreasing trend, while load factor losses of three points or more were recorded on the Far East, the South Atlantic and within Europe.

Overall passengers numbers growth of 0.1% was outstripped by a 2.7% increase in capacity. The Association stated however that the reversion to growth in demand in Oct-08 was "illusory", as it included an element of recovery of traffic lost to industrial action in Oct-07. Discounting this effect, a truer picture would be a decrease of 1.5%, following on from the -0.9% recorded in Sep-08.

Apart from domestic European routes, where structural changes have significantly impacted traffic flows, the weakest markets were the two largest: cross-border Europe, at minus 2.7%, and the North Atlantic at minus 0.7%.

While the third of the major traffic flows, between Europe and the Far East, showed a small increase of 1.0%, that too would have been negative were it not for the depressed 2007 baseline.

Other regions continued to show growth, notably the Middle East and North Africa, and the still-buoyant South Atlantic routes.
AEA passenger numbers growth (% year-on-year) by region: Nov-07 to Oct-08.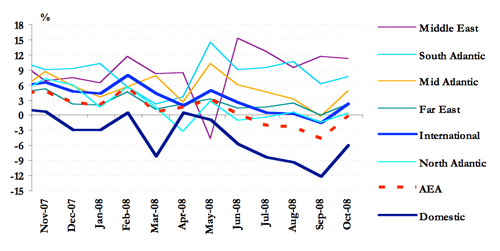 The AEA also noted that the severe slowdown in the air cargo market continued, with a 6.0% drop in volumes in Oct-08, following the 7.3% reduction in Sep-08.