A350/787 in China: Airbus and Boeing book more orders, Sichuan Airlines to be first A350 operator
Analysis
Since a number of orders placed over the past 15 months, Airbus' A350 has narrowed the gap with mainland Chinese airlines compared to Boeing's 787. Yet the 787 is still outselling the A350 nearly two to one: in service, and on order, 787s total 136 (with five options), compared to 71 for the A350. A handful of smaller airlines, without widebody experience so far, have ordered next generation widebodies, so there is a risk that some orders may not eventuate – or airlines will be merged, and orders consolidated.
Only three airlines – all state-owned, Air China, China Eastern and China Southern – have ordered both the A350 and 787.
While the first of a new aircraft type typically goes to a state-owned airline, and often Air China, it appears Sichuan Airlines will be the first in mainland China to receive the A350. The A350 will enable Sichuan to open nonstop services to North America, potentially in competition with Hainan Airlines.
At the same time, China Eastern is deciding how to allocate its overlapping fleet of A350s and 787s.
A350 narrows the gap, but the 787 has nearly twice as many orders
Airbus and Boeing had a busy early summer disclosing acquisition plans for their respective next generation widebodies – the A350 and 787.
Boeing and Okay Airways announced a 787 deal, while Juneyao's expected 787 deal was confirmed. In Jul-2017 Airbus signed a General Terms Agreement with China Aviation Supplies Holding Company for 140 aircraft, comprising 100 A320 family aircraft and 40 A350s.
See related reports:
Boeing now has 136 787s in service or in various stages of being ordered.
Airbus has 71 A350s known to be planned for acquisition. This excludes Lucky Air, which plans to operate A350s but has not disclosed further information. Air China was long the A350's only mainland Chinese customer, but there has been significant activity over the past 15 months.
An Apr-2016 order from China Eastern was followed by China Southern, A350 acquisition plans from Sichuan Airlines, and then an A350 placement from HNA.
The A350 is known to have orders from seven airlines, while the 787 has orders from 10 but is expected to have 11 operators, since China Eastern is expected to allocate 787s to Shanghai Airlines. HNA-affiliated airlines are counted individually.
Only three airlines – Air China, China Eastern and China Southern – have ordered both the A350 and 787. This is fairly concentrated overlap, considering the limited number of airlines globally that are operating both types.
Although the three state-owned Chinese airlines will find strategic functions for each type, ordering both types is largely the result of government pressure to split orders. The orders are not always split evenly, but the total calculation is complex – for example, ordering more widebodies from one manufacturer but more narrowbodies from another.
The split orders are one reason why the airframers take greater interest at private airlines, where the mentality is ''winner takes all'.
A350 and 787s in service/on order (known): as of 01-Aug-2017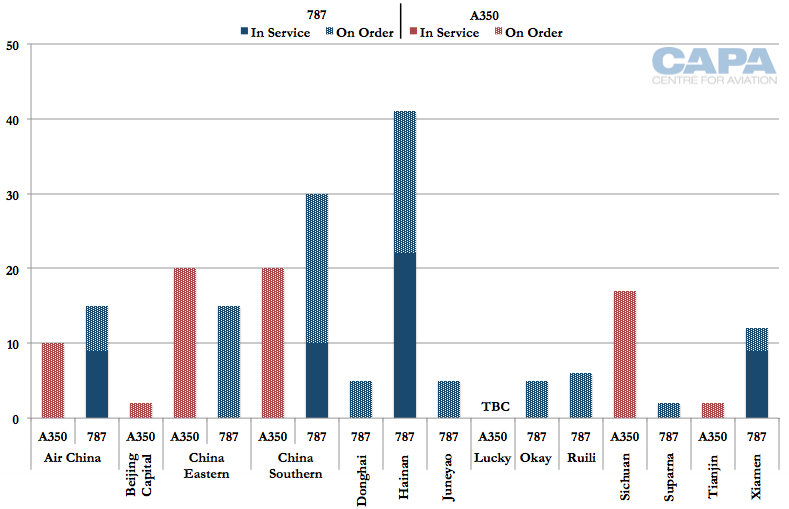 The first of a new aircraft type in mainland China usually goes to a state owned airline – and often Air China. However, it is likely that Sichuan Airlines will be the first A350 operator in mainland China. This is apparently because CAAC North, the bureau overseeing Air China (and the other A350 operator, Beijing Capital Airlines), does not intend to take the lead in overseeing and certifying the A350 for China. Instead, CAAC Southwest (overseeing Sichuan Airlines) will certify the type.
Sichuan Airlines plans to operate A350s on nonstop flights to North America. The airline serves Vancouver and Los Angeles on one-stop A330 services through various northeast and eastern Chinese cities. Sichuan Airlines was China's first secondary airline to go long haul, and was the first to fly long haul from a secondary Chinese city.
Sichuan being able to fly nonstop to North America is an area to watch, because Hainan Airlines has applied for nonstop Chengdu-North America designation. While Hainan was first – and with 787s already has the capability to fly nonstop – Sichuan Airlines is the home airline for Chengdu and Sichuan province. Sichuan Airlines has direct/indirect ownership from all three state-owned airlines: Air China, China Eastern and China Southern. Its growth and even partnerships/alliance membership is often subject to jockeying among the conflicted shareholders.
Sichuan Airlines is the second largest domestic operator at Chengdu, with 19% of available seats. The largest is Air China, with 29%. Internationally, Sichuan is largest with 19% and Air China second largest, with 15%. System capacity is weighed by domestic exposure, and Air China (28%) is larger than Sichuan (19%).
Chengdu Shuangliu International Airport system seat capacity: week commencing 31-Jul-2017
In Apr-2016 China Eastern placed an order for 35 widebodies, comprising 20 A350s and 15 787s. All 20 A350s were for the -900 variant, while all 15 787 orders were for the -9 variant.
It appears China Eastern is allocating 787s to Shanghai Airlines. China Eastern merged with Shanghai Airlines but retained the Shanghai Airlines licence and brand. This was largely to appease the government of Shanghai, which owned Shanghai Airlines and did not want the brand to disappear – and if the brand was consolidated out, the Shanghai government could potentially back another airline at the expense of Shanghai-based China Eastern.
Shanghai Airlines fleet summary: as at 31-Jul-2017
There is now a thought to use the larger A350-900s on trunk routes from Shanghai, while the smaller 787-9s can be flown by Shanghai Airlines on secondary routes. China Eastern's secondary routes in 2017 are flown by A330s and some 767s; China Eastern's 777s only operate out of Shanghai.
The smaller 787 is better suited to thin markets. Delta, which has a minority stake in China Eastern, advised on the order. Delta and China Eastern could simultaneously deploy A350-900s on Shanghai-US routes. Delta received its first A350 in Jul-2017.
Shanghai Airlines' widebodies have not had a scheduled service outside East Asia in recent years, aside from leisure flights to Male in 2015 and 2016. However, Shanghai Airlines aircraft can be substituted for China Eastern-operated flights – such as to Melbourne.
In Dec-2017 China Eastern operates long haul flights from seven Chinese airports: its main hub at Shanghai Pudong, and then six secondary airports. The combined secondary airport services are 21% of China Eastern's Shanghai Pudong frequencies.
China Eastern long haul departures by Chinese origin airport and aircraft type: week commencing 18-Dec-2017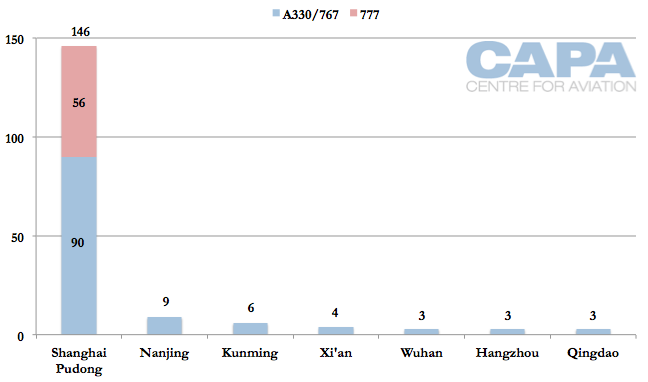 Outlook: most next gen widebodies are for growth
There are more next generation aircraft on order for Chinese airlines than in service.
There are 50 787s in service and 86 on order, while all 69 A350s are on order.
Chinese airlines have largely re-fleeted already, so the aircraft mostly represent growth for coming years. Some could be used as replacement for older A330s or deployed to domestic and international markets, but this is expected in only a minority of cases.
Further orders will be due again in the medium term, since Chinese airlines tend to order only a few years ahead.