Major Airport Construction: Projects that will come to fruition in 2019 or the following years
Airline Leader
THE LATTER END OF 2018 saw the opening (in double-quick time), in Istanbul, of what will become one of the world's largest airports when it is fully commissioned. Meanwhile, in Mexico, the incoming President has cancelled the project to build what would have been by far the largest airport in Latin America, in his capital city, preferring to deal with social issues.
Summary
Increasingly, government pockets are getting shallower, while the private sector has not yet filled the investment gap in many countries
Some economists are forecasting a return to recession in 2019 in several world regions (though not the US). There are some elements in the air transport business which dislike privatisation anyway and are not shy to say so, and often. Regulation remains an off-putting issue for private investors, together with the idiosyncrasies of some governments, which expect private investments to be made without the realistic prospect of a good financial return on them.
Nevertheless, there are numerous airport construction projects around the world, funded by public or private sectors (or both) that should be completed in 2019 or within the next few years. The main focus of this article is on them, because, like Istanbul, they are the ones that make the news and inspire the public, just as reports of new aircraft types and onboard service features do.
First to Europe, one immediately thinks of the USD7.3 billion Berlin Brandenburg Airport, which is now scheduled to open in October 2020, assuming there are no further technical, funding or regulatory issues
Even now further testing remains for technical systems including fire sprinklers and alarms and ventilation; the very cause of the original problems in 2012.
Hopefully, a successful conclusion and opening will give Berlin the boost it needs to attract more long haul services and establish what will be its sole airport, once Tegel closes, in the same category as the likes of Paris Charles de Gaulle, London Heathrow, Frankfurt and Amsterdam.
In France, Paris Orly is the centre of attention as a modernisation project instigated late in 2012, over a period of six years, reaches its conclusion. In Jul-2018, Groupe ADP opened the new Hall 1 at the airport's Terminal West, covering 6,000sqm and with a capacity of 5.5 million passengers per annum.
Airport Construction Investment Summary
Current and predicted global airport investments (millions USD)*
| | | | | | |
| --- | --- | --- | --- | --- | --- |
| | 2018 | 2019 | 2020 | 2021 | 2022 |
| New Airports | 23,062.59 | 62,397.83 | 26,257.20 | 7,647.30 | 8,750.00 |
| Existing Airports | 58,857.71 | 74,855.88 | 66,746.80 | 27,915.87 | 38,174.43 |
| Global airport investments | 81,920.30 | 137,253.71 | 93,004.00 | 35,563.17 | 46,924.43 |
Current and predicted global airport improvement investments (millions USD)*
| | | | | | |
| --- | --- | --- | --- | --- | --- |
| | 2018 | 2019 | 2020 | 2021 | 2022 |
| Terminal (new/expansion) | 14,690.59 | 25,515.22 | 17,820.99 | 14,262.30 | 18,289.55 |
| Runway (new/expansion) | 28,789.12 | 33,630.37 | 41,637.00 | 11,458.07 | 15,073.18 |
| Other improvements | 15,377.99 | 15,710.30 | 7,288.81 | 2,195.50 | 4,811.70 |
| Global airport investments | 58,857.70 | 74,855.89 | 66,746.80 | 27,915.87 | 38,174.43 |
In the UK, it is the MAG-owned airports, especially Manchester and London Stansted, which are forging ahead with construction projects to deliver increased capacity in a shorter timescale than at London Heathrow and Gatwick
Manchester's USD1.3 billion Terminal 2 extension should be partly completed in 2019 including a new 200m pier, with more in 2020 and the full opening in 2022. Meanwhile, Stansted Airport's USD775 million transformation programme is under way and the first phase was completed in Oct-2018. The estimated completion date is in 2021. London City and London Luton airports will see projects valued over USD1 billion in total being completed in 2019 and 2020 respectively.
New airport investment by region (USD)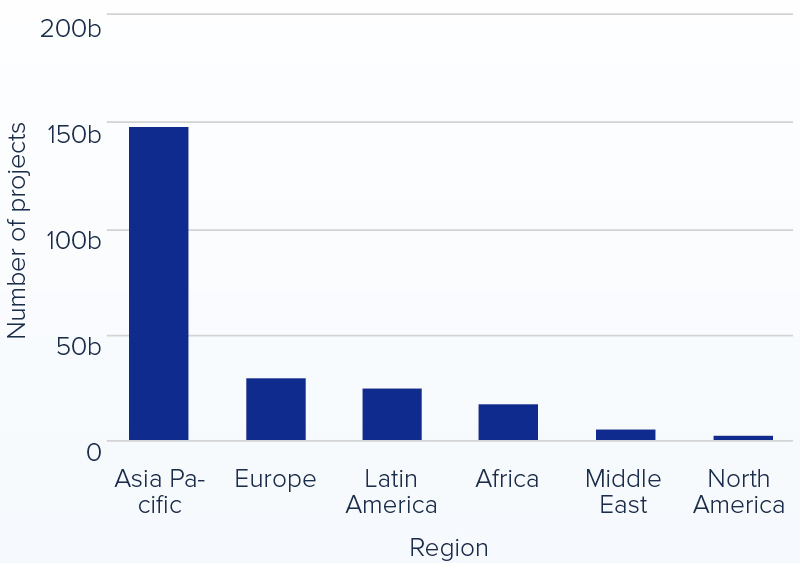 Number of known airport projects (> USD5 million value) by region that are incomplete
Across the Irish Sea, Dublin Airport Authority (daa) commenced consultations on its USD1 billion investment programme, which is projected to increase Dublin Airport's capacity by 40 million passengers a year. USD454 million will be invested between 2020 and 2024 to deliver capacity to the northern end of the airport near Terminal 1. The daa also plans to invest USD567 million in the airport's southern apron area near Terminal 2. A decision will be reached in 2019 on whether a third terminal will be built. The new north runway is scheduled to be delivered in 2021 and in all projected expenditure is in excess of USD3 billion.
Amsterdam Schiphol Airport's improvement programme, worth USD2 billion, will come to an end in 2022, but with the opening of Lelystad Airport to commercial services delayed there is now talk of extending the airport "seawards", towards the west. This comes on top of a recent partnership with Dutch construction firms to carry out projects with an estimated value of up to USD4 billion over a period of up to nine years.
Faster progress is being made in the Nordic countries
At Oslo, the winner of 2018's CAPA Awards for excellence in the Medium Airport category, Oslo Airport, is investing a further USD400 million to expand its non-Schengen east terminal by 30,000sqm, having only within the past two years opened a new terminal, in Apr-017.
Projects are also under way in Helsinki, where new central plaza and west pier expansion projects will open in 2019 (USD1 billion) and in Stockholm, where Swedavia will invest USD1.36 billion in Stockholm Arlanda Airport to improve capacity, efficiency and passenger services through to 2022.
To the east of the continent, 2021 will see the conclusion of works at Istanbul's Sabiha Gökçen airport, which have included a second runway and a domestic terminal, at an overall cost of USD1.75 billion
Clearly the management there is prepared to take on the new 'Istanbul Airport', which is operated by a rival consortium.
Bucharest Otopeni and Belgrade Nikola Tesla airports have big projects on the go. At Belgrade, the new concessionaire, Vinci, will invest USD1.54 million in the airport in the first four years to 2022, while in Bucharest USD1.2 billion is being invested through to 2023 in a general expansion project.
In Russia, three of the main Moscow airports (Sheremetyevo, Domodedovo and Zhukovsky) have projects that will reach a conclusion in 2021, 2023 and 2019 respectively, at a total value of USD5.6 billion.
Berlin Brandenburg apart, no other new airports of significance will open in Europe in the next few years.
Airport
Country
Construction cost
(USD, billions)

Anticipated conclusion date (year)

Existing or new airport

Beijing Daxing

13.8

2019

New

12.0

2019

New

4.7

2019

Existing

4.3

2018/2019

New

7.2

2020

Existing

6.9

2019

New

3.0

2018/2019

Existing

Haikou Meilan

2.0

2019

Existing

Lanzhou

2.6

2018/2019

Existing

3.24

2019

Existing

3.0

20191

New

Xiamen Xiangan

2.1

2018/2019

New

India

2.0

2021

Existing

India

2.3

2021

New

India

2.9

2018/2019

Existing

India

3.1

2021

New

India

2.1

2020

New

Clark International

3.7

2020

Existing

Manila (Ninoy Aquino)

2.0

2019

Existing

Thailand

2.42

2020

Existing

Hanoi Noi Baht

Vietnam

5.5

2020

Existing

It is difficult to know where to start in Asia Pacific
Because of the high volume of activity a bar of USD2 billion in infrastructure cost has been set, with delivery in the period 2019 to 2021, and the data is tabulated below. Hence it does not include for example the USD19 billion cost of infrastructure enhancements at Hong Kong Chep Lap Kok, which will continue on to 2023, the USD5 billion third construction phase at Seoul (2022) or Vietnam's USD16.3 billion Long Thanh airport (2023).
Predictably, most of the very large scale activity is in China. Construction projects of this magnitude are announced with less frequency nowadays, especially in China, but the advent of the new Beijing airport alone will focus industry attention again on the country in 2019, although it is only marginally the largest project for completion in this timescale.
Americas set a bar of USD1 billion in infrastructure expenditure, with a large number of projects to reach conclusion in 2019-21 in the Unites States
There are none in Canada although some will do so later, in Toronto, Montreal and Vancouver.
North American airport construction
Airport
Country

Construction cost
(USD, billions)

Anticipated conclusion
date (year)

Existing or new airport

1.5

2020

Existing

1.2

2018/19

Existing

1.8

2018/2019

Existing

1.6

2020

Existing

1.3
2019

Existing

Columbus OH

1.3
2020

Existing

Kansas City

1.4
2021

Existing

1.6
2020

Existing

New Orleans

1.1
2019
Existing

New York JFK

2.0

2020

Existing

Orlando

2.9
2019

Existing

2.3
2019

Existing
Latin American Airport Construction*
Airport
Country

Construction cost
(USD, billions)

Anticipated conclusion
date (year)

Existing or new airport

1.5

2025

Existing

Santiago

0.7

2020

Existing

0.75

2020

Existing

1.5

2020

Existing

Chinchero1

0.6

2023

New

0.8

2024

New

Bogotá El Dorado II

1.1.

2023

New

0.6

2024

New

São Paulo Catalina2

0.52

2018/19

New
The table below details no new airport projects of this scale at all within this timescale. A new, mainly general aviation, airport opened at Sioux City, Iowa, as this report is written, and it is possible that other new or converted, fairly small, commercial airports in Florida and Washington State could be completed in 2019. It is still the case that the last wholly major new airport in the U.S. was Denver, in 1995, and the last minor commercial one at Branson, Missouri, in 2009.
The situation in Canada is even more dire, where there is no immediate sign of any new airport on the horizon.
Again, as with the case of Asia Pacific it should be mentioned that some very large projects at major gateways are set for completion in the extended period up to 2025 and 2026 including a grand total of over USD30 billion infrastructure investment collectively at Chicago O'Hare and Los Angeles International airports.
In Latin America including the Caribbean, a lack of ambition – of which the region is often accused where infrastructure is concerned – is a big part of the problem, together with regulatory constraints
Because airport construction is on a modified scale here the bar for inclusion in this survey was reduced to just USD0.5 billion, and the timescale extended to 2025. Even so, with the cancellation of the new Mexico City airport project and slow progress on the proposed new São Paulo airport (not to be confused with the Catalina airport in the table) total high level expenditure on new and existing airport infrastructure runs to only USD8 billion, which is around two thirds of the projected final bill for the Mexico City airport alone.
There is one project, the new Costa Rica Orotina Airport, scheduled to open in 2026 at a cost of USD3 billion, which falls just outside the remit of the table.
Africa traditionally does not figure highly on airport construction but demand for air travel is growing amongst the 1.2 billion population and in some countries the middle class is swelling
Accordingly, the number of airport construction projects is growing and there is a level of ambition there to build airports that are modern, efficient, and which will cater for growth for several decades.
Some of the projects are very large indeed.
The inclusion level in this case is project investment of USD0.5 billion or more, from 2019 to 2025.
Turning finally to the Middle East, the value bar for inclusion here is set at USD2 billion in capital expenditure, owing to the nature of the typically ambitious projects there and the timescale restricted to 2018/19-2021
There are not quite as many projects of this size and scope as one might expect although, again, some large ones are scheduled to finish two years later, such as Kuwait Airport's expansion project (2023) while additional infrastructure at Dubai World Central is being delivered in a piecemeal fashion through to the end of the next decade.
It is interesting to note the big three airline hub locations (Dubai, Doha and Abu Dhabi) are not alone by any means in being in receipt of capital expenditure on this scale. The largest project scheduled to conclude in the next few years is in Saudi Arabia while Iran has two in the table, including the only new one that fits the criteria.
In conclusion, Istanbul and Mexico City are not the only airport projects that merit analysis at this moment. There is a great deal of infrastructure activity under way, some it to be fully realised over the next few years. A variety of public and private funding mechanisms are involved. Whether it is sufficient to host the anticipated growth in passenger numbers remains to be seen.
Project investment of USD0.5 billion or more
Airport
Country

Construction cost
(USD, billions)

Anticipated conclusion
date (year)

Existing or new airport

0.95

2018/2019

Existing

Nairobi

0.5

2018/2019

Existing

Tripoli

1.0

2019

Existing

0.5

2018/2019

Existing

1.0

2020

Existing

Johannesburg Lanseria

0.725

2018/2019

Existing

Kigali

0.82

2018/2019

New

4.0

2024

New

Didoma

1.5
2020

New

1.25

2022

New

Luanda

3.8

2019/2020

New

0.52

2020/2021

New

0.55

2021

New
Project investment of USD2 billion or more*
Airport
Country

Construction cost
(USD, billions)

Anticipated conclusion
date (year)

Existing or new airport

Bahrain Int

4.7

2019

Existing

2.8

2020

Existing

7.1

2019

Existing

4.4

2021

Existing

6.8

2019

Existing

Dubai Int

7.8

2018/2019

Existing

3.2

2019/2020

New
The CAPA Airport Construction Database is part of the CAPA Airport Suite, which is a premium add-on to CAPA Membership. The database contains, inter alia, enhanced and detailed levels of information appropriate to every airport known to CAPA, globally, where there are construction projects to the value of USD5 million or more, and on almost 900 investors in airports, worldwide.