Region: Southwest Pacific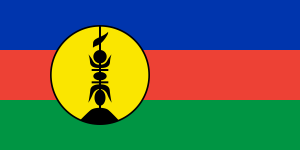 About
A territory of the Republic of France, the islands of New Caledonia are located in the South Pacific Ocean, east of Australia. The 1998 Noumea Accord commits France to hold as many as three referenda between 2013 and 2018 to decide whether New Caledonia will be granted full sovereignty and independence. Until such a time, civil aviation operations in New Caledonia fall under the jurisdiction of French authorities. The Directorate of Civil Aviation New Caledonia represents the French civil aviation authority, the Direction Générale de l'Aviation Civile, which oversees aviation security and safety, environmental regulation, the air transport market, aviation service providers and training institutions.
Société Aircalin, also known as Air Calédonie International (IATA: SB), is the international airline of New Caledonia. It operates scheduled services to 10 regional destinations, including Japan, Australia, New Zealand and other pacific islands with connections to Europe and the US. Its main base is La Tontouta International Airport, Noumea. Air Calédonie (IATA: TY), is the domestic airline for New Caledonia, headquartered on the grounds of Magenta Airport, Noumea. It operates scheduled passenger and cargo flights from Noumea to 10 destinations in New Caledonia.
To have full CAPA Profile access you need a CAPA Membership
Our suite of profiles covers:
Your portal for aviation data
CAPA Profiles contain the most up to date news and analysis plus a comprehensive range of timely and reliable data including schedules, capacity share (passenger and cargo), fleet summary, traffic results (monthly and annual), financial results and more. Access Profiles for the latest statistics and insights on airlines, airports, suppliers, countries and regions.
I didn't realise all this traffic data was here. The data is much more up-to-date than the other results we usually use - I'll be using this from now on.

- Air Services Development Manager, Airport Member.