Worst-ever trading conditions for European airports, BAA sees "stabilisation"
European airports continue to feel the "harsh reality" of the global economic crisis, according to ACI-EUROPE, as the latest traffic figures reveal an overall decline of 7.6% in passenger traffic in Jun-2009. Overall freight traffic among European airports decreased -20.1% in Jun-2009, while aircraft movements decreased -8.6%
According to the airport body, negative traffic figures have translated into sharply decreasing aeronautical and commercial revenues. It added, "coupled with increasing capital costs stemming from the financial nature of the crisis, airports are facing their worst ever trading conditions".
We may have hit bottom – ACI-EUROPE
ACI-EUROPE maintains its traffic forecast for the full year at -8% for passengers and -16% for freight. Director General, Olivier Jankovec, stated, "these figures speak from themselves. More than 85% of European airports are suffering falls in traffic so far this year. Traffic recovery is not yet in sight, although we may have hit the bottom."
ACI-EUEOPE noted the following traffic highlights for airport groups ranked by size.
ACI-EUROPE traffic results for Jun-2009 by Group
| Group | Definition | % change from Jun-2009 to Jun-2008 | % change from Jun-2009 to Jun-2007 |
| --- | --- | --- | --- |
| 1 | Airports handling >25 million pax p/a | -7.4% | -6.3% |
| 2 | 10-25 million pax p/a | -8.2% | -7.9% |
| 3 | 5-10 million pax p/a | -6.5% | -4.8% |
| 4 | <5 million pax p/a | -8.0% | -3.4% |
Pockets of growth
The airport body highlighted the following "exceptional examples" of airports that saw positive traffic trends in year-on-year passenger traffic in Jun-2009:
Group 2: Zurich ZRH (+1.8%)
Group 4: Stockholm BMA (+14.7%), Bari (+12.8%) and Riga (+11.5%).
Notably, no Group 1 airports were included in the list.
BAA airport traffic stabilising, Heathrow sees third busiest month ever
However, one of the Group 1 airports, London Heathrow, is showing more signs of a stabilisation in traffic, according to BAA's report for Jul-2009.
Heathrow handled 6.5 million passengers in July, an increase of 0.9% on Jul-2008, making July its third busiest month ever (and its busiest since Jul-2006).
BAA stated that, overall, its UK airports "recorded further signs of stabilising traffic figures with the results for July". BAA airports handled a total of 14.5 million passengers, down 2.4% compared to July 2008, following decreases of 5.9% in June and 7.3% in May.
Heathrow, Gatwick and Stansted passenger number growth: Aug-2008 to Jul:2009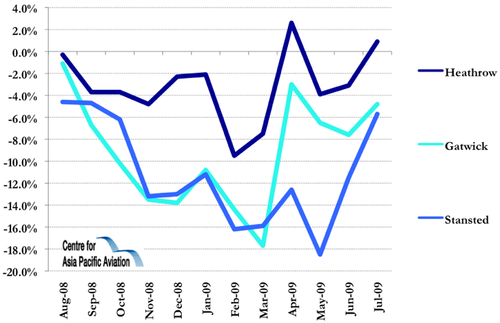 BAA sees return to growth in European traffic
Across the Group as a whole there was a return to growth of 1.2% in European scheduled traffic and 4.8% in long haul traffic, excluding North Atlantic, with Heathrow up by 5.5%. UK domestic traffic was 4.8% lower and European charters fell by 18.6%. North Atlantic traffic was 8.0% lower overall but only by 2.1% at Heathrow.
See related article: European full service airline traffic ticks back up
Overall the number of air transport movements at BAA's UK airports was down by 5.1%. At Heathrow the reduction in flights (-3.0%), combined with the increase in passengers, produced the highest ever figure for the average number of passengers per aircraft - at 162. The three regulated London airports together recorded a 2% reduction, bolstered by Heathrow's continued strength.
Cargo activity, as measured by tonnes carried, although still lower year on year, was also on an "improving trend", with the rate of decrease cut to 11.7% in July.
Outlook: Uncertainty ahead, but some airports to prosper
While BAA declined to provide an outlook, ACI-EUROPE stated that while markets may have bottomed, "there is still a great deal of uncertainty".
Mr Jankovec commented, "we don't know yet when the much-talked about 'green shoots in the economy' will result in a return to growth in aviation and we remain heavily exposed to potential risks relating to H1N1 and future oil price fluctuations".
An easyJet spokesman stated earlier in the week that airport operators have "dramatically changed their tone [towards the LCC segment] over the last 18 months. He added, "now, they are much happier to talk to us."
easyJet and rival Ryanair are considering various options for expansion, particularly in continental Europe. It would not be surprising that some continental European airports continue to shine amid the overall gloom.