Worldwide airline losses to hit USD9 billion in 2009
IATA has revised its industry net loss forecast for 2009 down from a USD4.7 billion loss predicted in March to a USD9.0 billion loss, as the revenue and demand environment continues to weaken. A widening in expected losses by Asia Pacific and North American carriers were the main drivers of the almost doubling in IATA's loss estimate for the industry this year. IATA also revised its loss estimate for 2008 to USD10.4 billion from the previous estimate of USD8.5 billion.
The profit estimates are based on USD56 per barrel oil (Brent), following last year's average price of USD99 per barrel. The USD59 billion decrease in the industry fuel bill will not cover the USD80 billion expected revenue reduction this year.
[See related article: IATA AGM Perspective: Things could get worse before they get better]
Asia Pacific airlines are expected to account for over one third of industry net losses in 2009. The region's USD3.4 billion loss is a dramatic downwards revision from the USD1.7 billion loss predicted in March (and the break-even result predicted in Sep-2008).
North American airlines are expected to report a USD1 billion combined net loss (the previous estimate was for a USD100 million profit), following last year's USD5.1 billion net loss.
The forecast for European airline net losses is unchanged from March at USD1 billion.
Middle East carrier loss estimates continue to widen. In Sep-2008, IATA predicted a USD200 million combined net profit for the region's carriers. This was revised to a USD200 million loss in Dec-2008 and a USD600 million loss in Mar-2009 and now to a USD1.5 billion loss.
Evolution of IATA's Industry net profit (USD billion) forecast for 2009
Industry operating loss now seen - Asia and Middle East share dubious honour
The worldwide airline industry is also expected to slip into the red at the operating level this year with a USD1.7 billion loss expected for 2009, compared to a USD3 billion profit foreseen by IATA just three months ago.
North American carriers account for the bulk of the turnaround, with USD2.3 billion carved off their operating profit estimate since Mar-2009. They are now expected to post a combined USD1 billion operating profit.
European carriers' operating profit estimate has been slashed by USD900 million since March to just USD200 million.
Asia Pacific carriers are expected to turn in the heaviest losses this year - of USD1.4 billion - a more than doubling of the Mar-2009 prediction of a USD600 million operating loss.
Middle East carriers are also expected to post USD1.4 billion in operating losses this year, up from a USD800 million loss predicted in Mar-2009.
Evolution of IATA's Industry operating profit (USD billion) forecast for 2009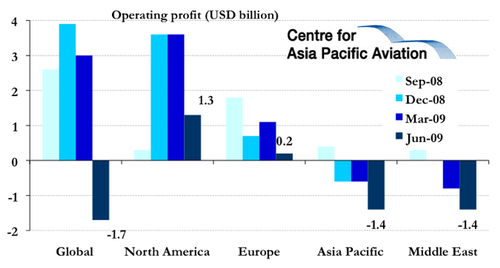 Industry "shaken" - IATA
IATA Director General and CEO, Giovanni Bisignani, stated, "there is no modern precedent for today's economic meltdown. The ground has shifted. Our industry has been shaken. This is the most difficult situation that the industry has faced".
He drew a comparison to the aftermath of the events of September 11, when industry revenues fell by 7%, stating it took three years to recover lost ground, even on the back of a strong economy. "This time we face a 15% drop - a loss of revenues of USD80 billion - in the middle of a global recession", he said, adding, "our future depends on a drastic reshaping by partners, governments and industry. We cannot bear the cost of government micro-regulation, crazy taxation and partners abusing their monopoly power".
Air cargo demand is expected to decline by 17%. In 2009, airlines are forecast to carry 33.3 million tonnes of freight, compared to 40.1 million tonnes in 2008. Passenger demand is expected to contract by 8% to 2.06 billion travelers compared to 2.24 billion in 2008. Large falls in yields are predicted; -11% for cargo and -7% for passenger segments.
Outlook: Cash reserves under pressure
Mr Bisignani stated that while airlines are in a better cash position than after September 11, "our pockets are not that deep". He stated a long L-shaped recovery could "drain the industry of cash". According to Mr Bisignani, this makes liberalisation of access and ownership constraints by governments even more critical.
Mr Bisignani concluded, "we cannot manage in these unprecedented times with one hand tied behind our back. Airlines need the same commercial freedoms that every other industry takes for granted - access to global markets and capital".