World Bank slashes global GDP outlook for 2009 from -1.7% to -2.9%
Analysis
The World Bank's latest research contains some extremely gloomy predictions, sparking a heavy sell-off on Wall Street overnight. Global GDP is now predicted to contract by 2.9% and world trade by nearly 10%. On 31-Mar-2009, the World Bank had predicted 1.7% and 6.1% falls in 2009, respectively. And in further bad news for the aviation sector, the World Bank has also revised upwards its oil price prediction for 2009 by 18% in just three months, from USD47 per barrel to USD55.5 per barrel.
World Bank Chief Economist and Senior VP Development Economics, Justin Lin, stated the extraordinary measures by governments around the world have "helped save the global financial system from complete collapse, but the economic recession in the real sectors persists". He added, "to break the cycle, we need bold policy measures, including restoration of domestic lending and global capital flows".
GDP growth in developing countries is expected to slow sharply, from 5.9% in 2008 to 1.2% in 2009. However, their performance surpasses developed countries, whose collective GDP is expected to fall 4.5% in 2009. The World Bank noted, "when India and China are removed from the total, developing countries as a group will experience a contraction in GDP of 1.6% - a real setback for poverty reduction".
Global GDP growth is expected to rebound to 2% in 2010 and 3.2% by 2011. In developing countries, growth is expected to be higher, at 4.4 % in 2010 and 5.7 % in 2011, albeit subdued relative to the robust performance before the current crisis.
World Bank forecasts comparison: March-2009 outlook vs Jun-2009
| | March-2009 Outlook | June-2009 Outlook |
| --- | --- | --- |
| Global GDP growth 2009 | -1.7% | -2.9% |
| Developing countries | +2.1% | +1.2% |
| Developed countries | -3.0% | -4.5% |
| Global GDP growth 2010 | +2.3% | +2.0% |
The latest World Bank GDP forecasts and assumptions by region are summarised in the table below.
Global GDP outlook in summary (% change from previous year, except interest rates and oil price): 2007-2011F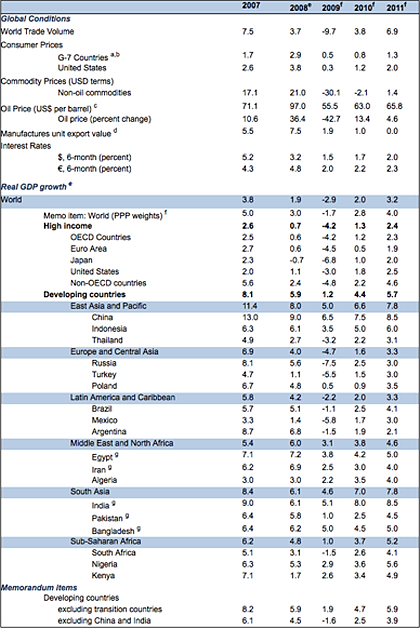 Outlook: "Recession-like conditions until 2011"
Overall, the World Bank sees very difficult times ahead for the global economy, despite a predicted return to positive global growth in 2010.
Hans Timmer, Director of the World Bank's Development Prospects Group stated, "while the global economy is likely to begin expanding again in the second half of 2009, the recovery is expected to be subdued as global demand remains depressed, unemployment remains high, and recession-like conditions continue until 2011".