"Why don't women run airlines?" New report in launch edition of Airline Leader magazine
Analysis
(Sydney, 27 October 2010) A study on women in the executive ranks of the world's airlines encourages senior managements to seriously assess their corporate cultures and attitudes towards women in high-level positions. As competition and service standards converge and the industry's core offering becomes commoditised, areas such as communication skills and social intelligence – where females have an edge according to many studies – will become increasingly vital.
The report, entitled "Why don't women run airlines?", features in the October launch edition of new aviation management magazine Airline Leader. It suggests that "any 'policy' that excludes more than 50% of the entire population from senior management roles should at least require robust justification at management and board level. This is most relevant as the airline industry profile changes in nature".
But the report notes that it is not so much about having women in the company that is important: "It is about the attitude that wants to have women in the company. Or, more accurately, that wants everyone to be involved; women are one part of that."
In the first of a four-part series examining women in aviation, Airline Leader reviewed the profiles of over 200 airlines around the world, finding just 15 female CEOs/MDs, of which half are from low cost carriers (LCC). Three LCC leaders are from Asia and three of Europe's six female airline heads are at low cost operators. Not one of North America's low cost carrier CEOs is a woman; indeed there is no woman airline CEO among substantial airlines in any of the US contiguous states, or Canada, and just one in South America.
The report notes: "An airline that advances women may prosper (or not) because of the female presence – but more likely it is the broader culture which opens those doors for females that makes the company a more effective competitive entity. Being gender-blind, as well as open on other cultural levels, sounds like a compelling argument for greater efficiency. And where such a stark industry transformation is occurring, there should be advantages."
Commenting for the report, Southwest Airlines co-founder, Chairman Emeritus and former CEO, Herb Kelleher, and President Emeritus Colleen Barrett, say that the outward face of an airline must reflect what lies behind it. Says Herb, "If we are talking customer service, we have to begin with internal customer service, with our people. Otherwise we seem hypocritical. Our people have to have the right attitude." And, as for where women fit in this, Ms Barrett emphasises, "we have quite a women's network here in Southwest.... But that is there more for the wider Culture, not for the women as such."
The report contends that: "A level of blindness is needed towards anything but the person's attitude and capability – backed up by active, preferably informal, corporate practices. But of those, the right attitude is not optional; it is an essential ingredient. For most large, established airlines, making a change of this size is a big ask, to say the least. To use a piece of Irish advice, 'if you want to get there, you wouldn't want to be starting from here'."
The Airline Leader feature report on Women in Aviation may be downloaded in PDF format at this page:
http://www.airlineleader.com/Issue-1-Feature-Article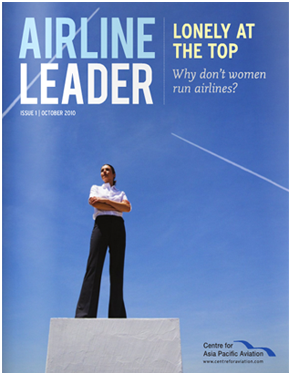 The second part of the report, which examines the typical airlines roles played by women, continues in the November edition of Airline Leader. The November edition also features an analysis by former senior airline executive and deregulation pioneer Professor Michael E. Levine of the condition of the airline market and the key features necessary for survival as it evolves.
About Airline Leader Magazine
Airline Leader is a new high quality full colour 64-page monthly magazine covering global aviation management issues. It provides cutting edge feature stories and analysis; latest financial and traffic reports; reports on regional events, exclusives from industry thought leaders and interviews with leading CEOs.
The hard copy of the magazine is exclusively distributed to over 2,000 C-level executives from airlines, airports, aviation suppliers, government bodies and industry associations.
The soft copy is available free for download from the website www.airlineleader.com