Who's purchasing SAS shares? A buyer for Spanair?
Yesterday, while most other stocks were sleeping, its valuation increased by 7.1%, a substantial standout in an otherwise quiet market.
Is Father Christmas coming early this year?
SAS share price: 10-Jan-08 to 11-Dec-08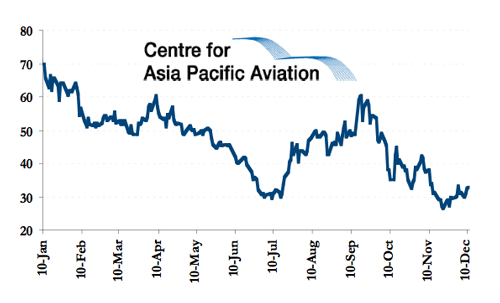 SAS itself is hardly a great prize. Together with its wholly-owned Spanair subsidiary, SAS operates 64 MD-80s over the age of 17 years. The parent operates 21 different aircraft types (admittedly several are family versions), almost as many unions as it has to work with.

And, by virtue of holding only a handful of long haul aircraft, the Scandinavian flag carrier is itself largely confined to operating in short haul markets, where competition is intense, often up against aggressive, efficient LCCs with new aircraft.

SAS' other assets include its 20% shareholding in bmi, also a serious loss-making operation, recently acquired by Lufthansa. It is nominally worth about GB100 million, or that was the asking price when SAS tried to sell down last year, before Lufthansa was forced to buy Sir Michael Bishop out of bmi last month.

But placing a value on the holding is complex; unless SAS folds entirely into the Lufthansa empire, there is little in it for the Scandinavian airline. Arguably Virgin Atlantic might be a buyer, to get inside that empire, but Virgin is more likely at present to be a seller, rather than a buyer.

Interestingly, Lufthansa, on its "who shall we buy this week?" expedition, has quietly reopened a slight possibility that it may still be interested in buying into SAS.
SAS current fleet in service: as at 11-Dec-08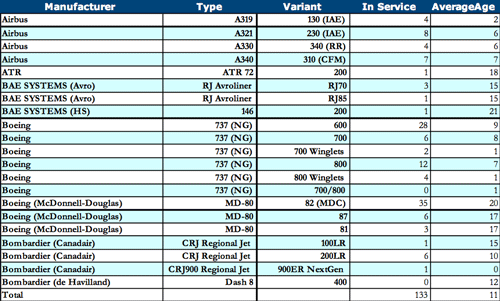 The only valuable assets held by Spanair are its 6-year old 24 A320/321s.

Although its geriatric MD-80s have been given a lease of life by the slump in fuel prices, it would be unwise to assume that relief will be permanent. Spanair operates in the highly contested Spanish leisure market, although there are signs of peace breaking out, as most seek some form of refuge in consolidation.
Spanair current fleet in service: as at 11-Dec-08

The airline lost USD64 million in the first half of 2008, and expects to lose almost that much as a direct result of the Madrid accident in Aug-08, quite apart from continued operational losses.

Back in Jul-08, when it reported the first half results, management announced its intention to cut costs by slashing 900 jobs and other measures. At the time, fuel prices were peaking.
This week, that number was reduced to around 500, together with reduced working hours for a couple of hundred pilots and other operational staff. A key substantive move is also to reduce its operations to two bases, Madrid and Barcelona.

First Mile Investments (FMI), a UK private equity group, is apparently circling Spanair, with a view to buy. That much it concedes, but denies making any direct approach to Spanair's owners at SAS, nor of having made any decision to buy. But it does have money to invest in Spain.

FMI is probably figuring that SAS' asking price might be a whole lot more reasonable now than previously, and an opportunistic bid might just work. And that, if it raises expectations, then walks away, SAS' share price will really dive, adding some spice to any negotiations.

Meanwhile, the obviously canny investors are staying well away from the owners. And one or two speculators are jumping in. It could be a dangerous play. SAS ability to get it wrong has been notable.