Where to now for SAS, as Lufthansa walks? Share price heads south again
Analysis
Lufthansa has recently confirmed a buy-in to Brussels Airlines and has become further entrenched in bmi; but its earlier interest in Alitalia has waned and Austrian Airlines' disposal is looking decidedly more hazy since a new government was elected last month (although Lufthansa is still keen to go there).

Faced with a steep market downturn, Lufthansa's feeding frenzy appears to be returning to more realistic levels and probably the last thing it would need at present is to be buying into the highly political and union-riddled SAS.

This leaves little interest for SAS on the buyer side. And the share market felt the same way, knocking 7.7% off the airline's market capitalisation yesterday.
SAS share price: 02-Jan-08 to 11-Nov-08 (SKR)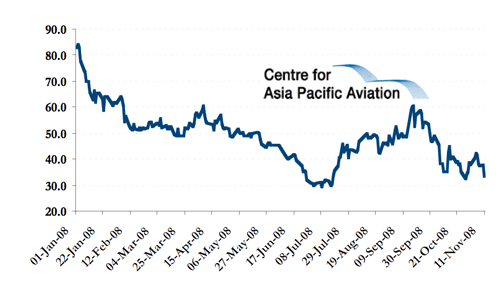 SAS is suffering from what it calls a "cost disadvantage" - another way of saying it is high cost in an increasingly cost-effective airline business. And this is a disadvantage that is unlikely to go away, given the constraints imposed by its great challenge in walking the fine line of 50% ownership by three governments, along with the choice variety of demands created by that.

SAS is also encumbered by its ownership of lower-cost Spanair, which it tried to sell for most of the early part of 2008 and which gained unwelcome notoriety for the Scandinavian flag carrier, following a deadly accident in Spain in Aug-08. Although traffic figures for the Spanish-based carrier have now recovered, yields in the still- competitive Spanish market have slumped, as Spain's weakening economy drives demand down.

Only Finnair has expressed interest in cherry-picking some of SAS' long haul routes. And that is not quite what the respective government owners of the Scandinavian conglomerate are looking for.

Lufthansa's announcement encouraged airport speculators to buy into Copenhagen Airport, believing that it would mean a fuller role for SAS at its main base. They may be more than hopeful. The potential for SAS to continue with business as usual diminishes daily.

Last week reporting losses of USD260 million for 3Q08, SAS' model is simply unsustainable. So long as any enthusiasm for drastic cutbacks - essential for its independent long term survival - is absent from its political owners, the course being charted by Alitalia looks sadly familiar.