What's driving the world's busiest airports? #7, Paris Charles de Gaulle
Analysis
Paris Charles de Gaulle (CDG) is the primary airport serving the French capital and the third, and most recent, to be the city's principal aviation gateway. Established in 1919, Le Bourget was Paris' first airport and now the venue for the world-famous Paris Airshow. In this the seventh in our series of reports on the world's busiest airports, we look at what's driving Paris CDG, utilising the data now available on the CAPA profiles covering some 3,000 airports worldwide.
As aviation continued to develop, a second airport, Orly, was opened in 1932 and served the city as its primary airport until 1974, when the facility ceded that role to the newly constructed CDG.
Unlike Orly, CDG was sited a considerable distance from the city in Roissy, with room for expansion which has occurred regularly in the past three decades, making it Europe's second busiest. All three airports are managed by Aéroports de Paris (AdP).
Some interesting SkyTeam traits
Air France is the airport's primary tenant and provides roughly 56% of the total seats offered each week. Interestingly, its sister carrier KLM, exists in the "other" grouping with the two carriers offering 12 flights between CDG and Amsterdam each day. Unlike other alliance partners, AF/KLM operates distinct networks at each airport and is far less focused on inter-alliance cross-feed than can be found at other airports and within other alliances.
Similarly, Delta, as the other primary trans-Atlantic carrier in SkyTeam, has a rather small presence at CDG, providing a seat offer that is only about 2% of that of AF. At London Heathrow (LHR), American's seat offer is more than 6% of that of its oneworld partner, BA.
Paris Charles De Gaulle Airport capacity (seats per week, to/from) by carrier (18-Apr-2011 to 24-Apr-2011)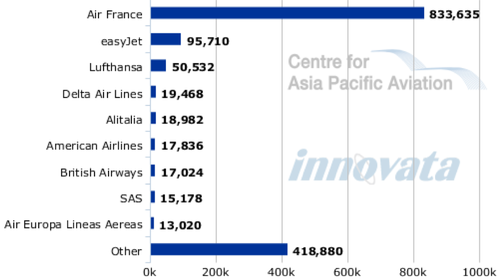 With relatively low profiles by other alliance partners, SkyTeam is clearly the primary player at CDG, albeit with a much lower concentration than was found at Atlanta, where Delta and its partners provided nearly 80% of the seats. However, the alliance has a much bigger percentage of overall traffic at CDG than oneworld enjoys at London Heathrow (48%).
Paris Charles De Gaulle Airport capacity share by alliance (18-Apr-2011 to 24-Apr-2011)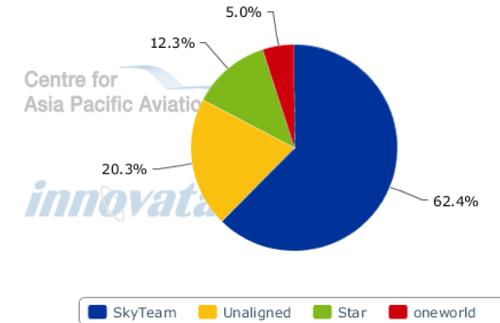 As with Heathrow, the largest available seat block is within Western Europe. North America similarly takes second place (17 non-stop alliance routes) but the total seat offer is only 46% of that available at LHR (19 non-stop alliance routes). A similar disparity exists in the Middle East, where London has double the number of seats available each week.
However, given the historical links, CDG does provide considerably more seats to North and West Africa than can be found at LHR.
Paris Charles De Gaulle Airport international capacity by region (18-Apr-2011 to 24-Apr-2011)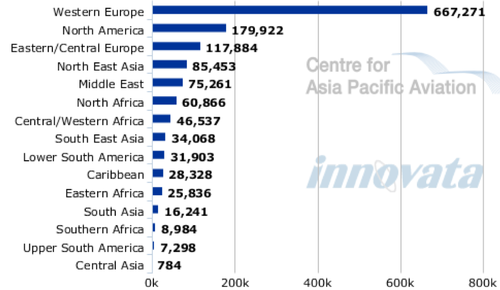 It also has a larger domestic network than Heathrow with just over 8% of CDG's seats operating to points within France.
Paris Charles De Gaulle Airport international vs domestic capacity share (18-Apr-2011 to 24-Apr-2011)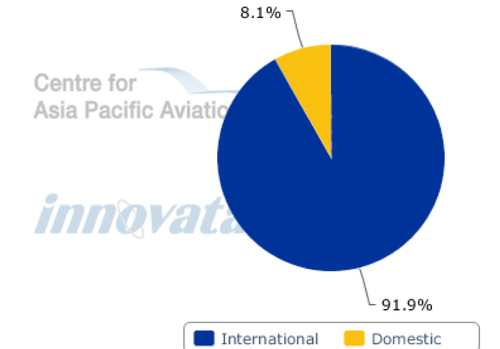 The French authorities have been criticised for the lack of Paris access granted to low-cost operators, though with none at Heathrow, CDG's 8+% looks less restrictive.
The bulk of Paris' domestic and low-cost traffic is located at Orly where almost 22% of the seats are on LCCs and 42% of the seat offer is domestic, leaving CDG the primary international network gateway. Click here for the Paris Orly profile.
Paris Charles De Gaulle Airport capacity share by carrier type (18-Apr-2011 to 24-Apr-2011)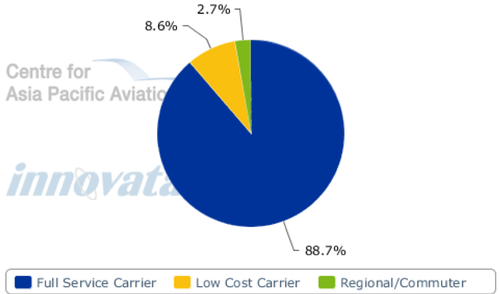 In looking at fares to New York, the recent low for a round-trip economy ticket has been USD722 and the chart peaks on April 23, the day before Easter. The moving average for spring 2010 ranges between just more than USD1000 (13.8 cents per mile) to an April high of nearly USD2100 (30 cents) for the round-trip journey of 7242 miles. The lowest fares are significantly below similar journeys between New York and London, and at the higher end, somewhat exceed the LHR averages. Click here for more fares data to/from Paris CDG.
As is true of most trans-Atlantic routes, there is sufficient capacity and competition to ensure that the careful shopper can likely find a reasonable price outside of peak periods.
In 2000, CDG was in eighth place globally with 43.6 million passengers, but with an impressive 12.9% growth. Though having moved only one position and now ranked seventh, at 58 million, it is placed ahead of Dallas and Frankfurt.
With adequate land available and a location that provides good connectivity to all of Europe and airlines with a global reach, Paris and Charles de Gaulle are well placed to continue to grow within the global network structure.
The expansion of low-cost alternatives is less clear. However, with AirAsia X providing service to Kuala Lumpur from Orly, the city does appear to have high value for new generation carriers as well, and their continued growth is likely in the metro area.