What's behind Boeing's 15% upgrade to China's aircraft demand forecast? 5000 new aircraft by 2030
Analysis
Boeing has raised its 20-year forecast for commercial aircraft demand in China by an impressive 15% from last year's outlook amid continuing strong economic and air travel growth. According to Boeing's annually updated forecast for China, released in early Sep-2011, Chinese airlines will require 5000 new commercial aircraft valued at USD600 billion over the next 20 years through 2030. The forecast, which will see a more than tripling of the Chinese fleet size by 2030, underscores China's lynchpin status for the world's manufacturers, their suppliers and airports.
In Nov-2010, Boeing forecast that China would require 4330 new aircraft valued at USD480 billion by 2029. In addition to the 15% increase in aircraft demand from the last forecast, the latest outlook marks a 25% increase in the value of Chinese aircraft orders over the next 20 years.
Boeing Commercial Airplanes VP of marketing Randy Tinseth said the manufacturer has had a better-than-expected year in China. He said, "Sustained strong economic growth, growing trade activities, increasing personal wealth and income, as well as continued market liberalisation will be the driving forces in shaping China's air travel market".
According to Ascend data, China has a fleet of 1704 aircraft at present, with 639 aircraft on firm order.
China fleet breakdown for in service aircraft (at 05-Sep-2011)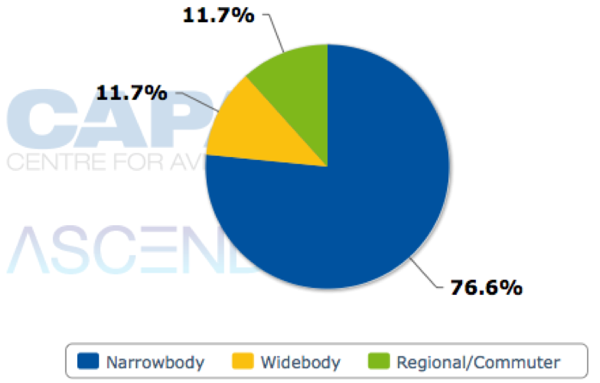 China fleet breakdown for on order aircraft (at 05-Sep-2011)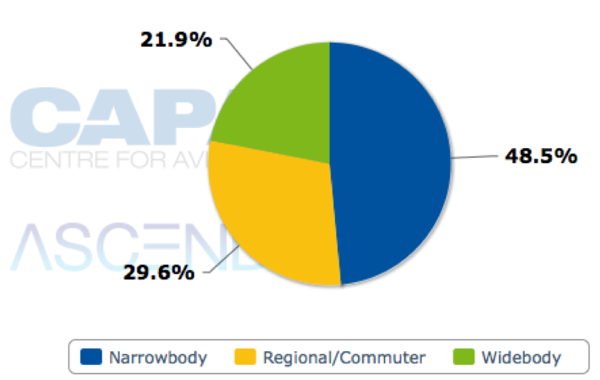 Demand driven by small and intermediate twin-aisles
Boeing forecasts that small and intermediate twin-aisle aircraft will be the significant drivers of the forecast deliveries. They are expected to constitute over 40% of the market in value, with some 1040 deliveries anticipated.
Major Chinese airlines, taking advantage of their membership in the major airline alliances, will gradually shift their focus from domestic to international markets to become competitive global players, Mr Tinseth said, stimulating the demand for twin-aisle aircraft.
Air China, the world's largest airline by market value, aims to double its widebody fleet to 700 aircraft in the five years through 2015, VP He Li said in Jul-2011. Air China introduced 16 new aircraft into the market in the first half of this year and expects to introduce another 14 in the second half of the year.
China Southern Airlines, Asia's biggest carrier by passenger numbers, is due to commence operations with its first A380 in Oct-2011. The company also has 10 B787s on order.
China Eastern Airlines Chairman Liu Shaoyong has stated the airline plans to expand its fleet to 588 aircraft during the 12th Five Year Plan from 2011 to 2015. The carrier's fleet is expected to comprise 531 passenger aircraft and 30 freighters by 2015. The carrier plans to add 18 aircraft in 2H2011 and 49 aircraft in 2012. According to Ascend, Air China will receive 19 long haul aircraft by the end of 2012 with China Southern Airlines scheduled to receive 17 long-haul aircraft in this period.
See related article: In China's embryonic international aviation market, airlines jostle for slice of growing pie
Widebody aircraft due by carrier: Deliveries from 2H2011 through 2012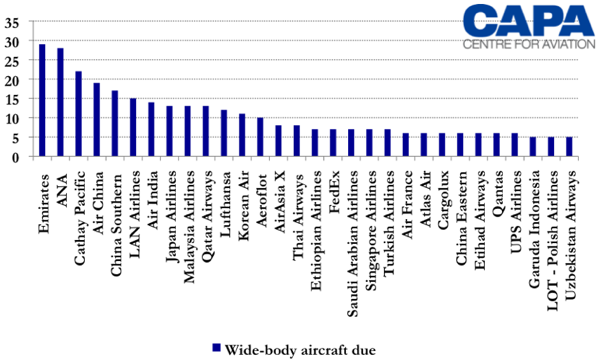 Boeing expects the single-aisle market (including the new B737 MAX family aircraft) to remain strong, with total deliveries to China reaching 3550 over the next 20 years.
In terms of cargo fleet requirements, Boeing expects Chinese air carriers will add about 400 freighter aircraft by 2030. Mr Tinseth said the majority of the demand would be for large, long-range freighters, given the majority of traffic growth is projected to occur on long-haul traffic routes tied to China.
More than tripling of fleet in China forecast
According to the updated forecast, Boeing expects that over the next 20 years, Chinese airlines' fleet of aircraft will more than triple from the current 1750 to 5930. Of the new aircraft, 16% will be replacements for ageing aircraft and 84% extra purchases, Mr Tinseth said.
The new forecast assumes continued economic growth in China of at least 7% over the 20-year period. This is below the pace of economic growth over the past three decades but reflects current concerns in light of current global economic woes. The forecast also includes a predicted 6% increase in aircraft prices, which Airbus and Boeing have raised to cover higher raw-material costs.
Boeing, in its forecast, also considered the impact of factors including the high-speed railway network. Mr Tinseth said Boeing has forecast that high-speed rail will affect around 2% of China's domestic traffic (RPKs) but may also boost the country's economic development, which will benefit aviation. By 2012, China will have 13,000 kilometers of high-speed rail, linking around 70 cities. See related article: Beijing-Shanghai airfares slump as high-speed rail service commences
China to become second largest international air travel market
Boeing expects Chinese airlines to double their combined share of the world's international air-travel market from between 6% and 10% at present, with Chinese carriers expected to grow "stronger and strong over time". The domestic market will still take 75% of the total traffic (RPKs) in the next 20 years, although Chinese carriers will experience rapid international expansion in the period, Boeing said.
The manufacturer expects China's international passenger numbers to grow 11% p/a through 2014. Domestic frequencies in China have increased more than nine-fold since 1990 according to Boeing, with a seventeen-fold increase in total weekly capacity (ASKs) in the domestic market.
China domestic traffic development: 1990 to 2010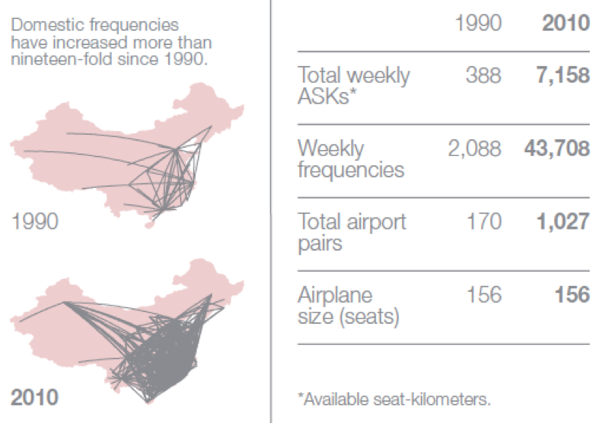 Boeing estimates China's domestic and international travel to grow at an average annual rate of 7.6% over the next 20 years to be the second largest country for new commercial aircraft deliveries after the US.
Scheduled fleet deliveries by country to 2010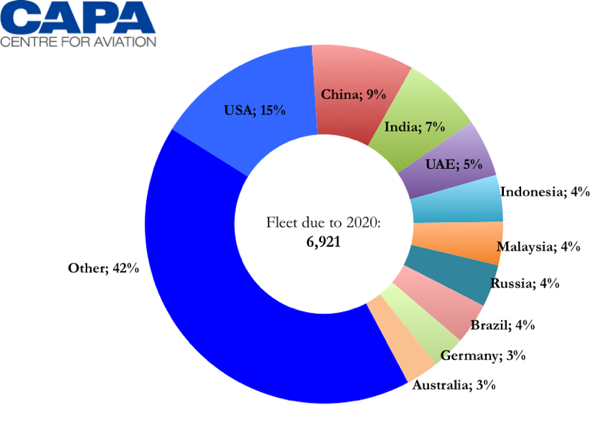 Mr Tinseth separately added the manufacturer is "becoming more Asia-centric". "For the first time last year, the North American travel market was surpassed by travel within the Asia Pacific (region)... China will account for more than 40% of demand in the Asia Pacific [over the next 20 years]," he said.
Boeing traffic (RPKs, trillions) growth forecast: 2010 to 2031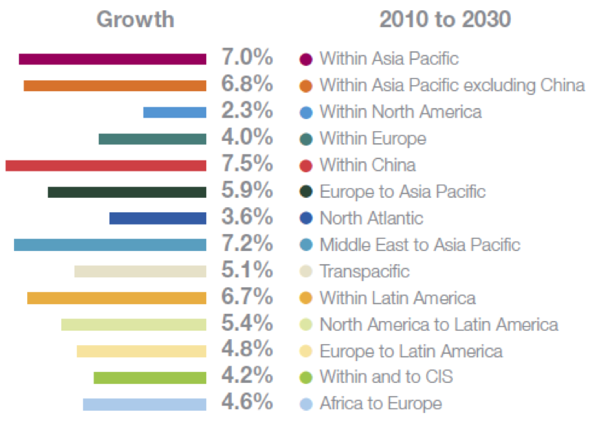 Boeing traffic (RPKs, trillions) forecast: 2010 to 2031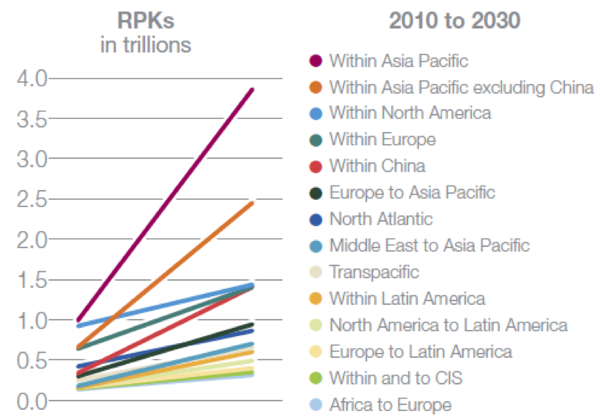 IATA, meanwhile, is tipping China to experience the fastest pace of international traffic growth, at 13.9% p/a until 2014. China is also expected to become the largest international and domestic market in Asia and the second largest domestic market, with 379 million passengers, after the US (671 million). See related article: IATA forecasts 3.3 billion pax by 2014; shift eastward with 1 billion expected in Asia
Expects to maintain 51-52% market share
Boeing aims to maintain its 51-52% share of the Chinese market, although Mr Tinseth conceded that Boeing's share of new orders from China in recent years has been declined amid increased competition from Airbus.
According to Ascend data, Boeing has a 48.4% share of the total in-service aircraft fleet in China (which includes aircraft with less than 19 seats), compared to 39.9% for Airbus. The US manufacturer holds a 34.6% share of existing confirmed on-order fleet in China, slightly lower than Airbus' 35.8%, according to Ascend.
China fleet breakdown by manufacturer for in service aircraft (at 05-Sep-2011)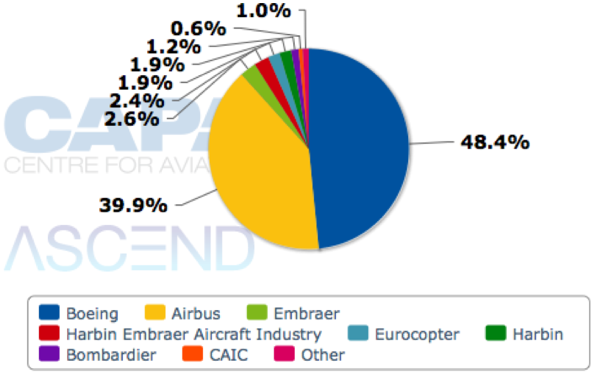 China fleet breakdown by manufacturer for on order aircraft (at 05-Sep-2011)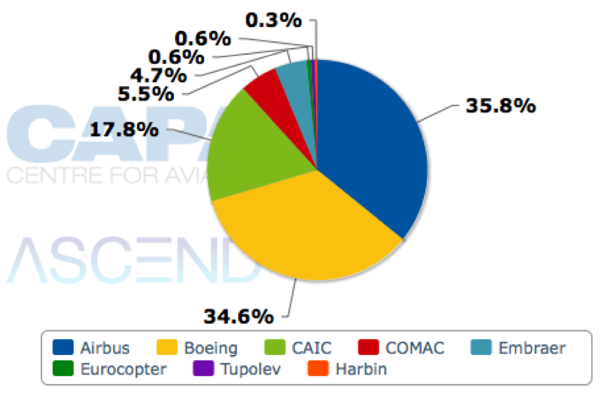 However, Boeing and Airbus will face competition from locally-manufactured aircraft with Mr Tinseth conceding that "the time of the Boeing and Airbus monopoly is over". Commercial Aircraft Corp of China (COMAC) is set to introduce the C919, the nation's first large passenger aircraft, in 2014, providing competition for B737 and A320 equipment. The manufacturer has already gained orders for as many as 100 C919s from customers including Air China, China Southern and China Eastern Airlines, the nation's three largest airlines.
COMAC Vice General Manager, Wu Guanghui, has forecast C919 sales would reach 2000 by 2030, or 10% of the estimated global demand of 20,000 passenger aircraft over the period. He added that more C919 orders are expected in 2011 in addition to existing orders for 100 aircraft from six companies, including Air China, China Eastern Airlines, China Southern Airlines and GECAS. COMAC has also signed an MoU to participate in discussions on the development of the COMAC C919 aircraft for Ryanair. COMAC also outlined possible seating configurations for the C919, with 168 seats in single-class configuration and 156 in two-class configuration.
Boeing's dramatically enlarged forecast for aircraft sales would be welcomed by the local manufacturer.
Considerable investment in China's aviation industry ahead
The CAAC expects Chinese airlines to order more than 2000 aircraft over the next five years, resulting in a fleet of more than 4500 aircraft by the end of 2015, according to CAAC director Li Jianxing, in comments made in Mar-2011. The country's airlines operated a fleet of 2600 aircraft and transported 267 million passengers in 2010. This is expected to grow to more than 3000 aircraft by the end of 2011, according to Mr Li.
Separately, CAAC Flight Standards Department Deputy Director Zhou Kaixuan has stated China's airlines would receive between 220 to 250 new 'large' aircraft in 2011, with the total number of 'large' aircraft in operation in China to reach 2890 by 2015.
In 2010, Boeing delivered every fifth aircraft of its entire production to China. Boeing also forecasts that around 72,700 new pilots also would be needed to meet the demand in the next 20 years. China's requirements for maintenance personnel will also be the region's largest at around 108,300. Mr Tinseth added that Boeing had no plans to set up an assembly factory in China, unlike Airbus which operates a plant for A320 aircraft in Tianjin.
Mainland fleet increases three fold over past decade: Airbus
Airbus, which is due to publish its global forecasts on 20-Sep-2011, stated growth in the Chinese mainland fleet has increased three-fold between Jan-2010 and Dec-2010, with a twelve-fold increase in the production backlog.
Fleet growth in China and India between Jan-2010 to Dec-2010 (Airbus)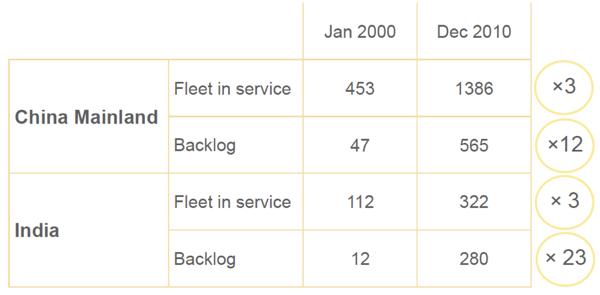 Domestic China growth is forecast to grow by an average 7.0% over the 20 years to 2029, according to Airbus, to represent 8.4% of total traffic.
Airbus 2009 and 2029 traffic volume per biggest traffic flow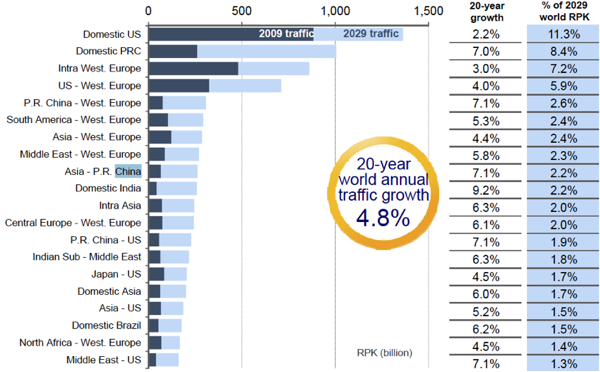 The upgrade of the 20-year forecast for new aircraft demand in China by Boeing by almost 700 aircraft compared to last year's outlook highlights China's enormous potential, but is also provides a jolt for the industry not to underestimate this potential.
Additionally, the forecast highlights a coming change in the composition of the China market as high-speed rail and an influx of international operators into the market prompts Chinese airlines to look to international opportunities. This will provoke profound change for global aviation.
APPENDIX:
Boeing airline passenger traffic growth forecast by regional flow