Vueling pax soar due to clickair merger; AirAsia adds Vietnam to its JV portfolio
Shares in Vueling soared 9.2% yesterday, as the carrier reported a 94.8% increase in passenger numbers, to slightly over 675,000 in Jan-2010, as the number of flights offered by the carrier doubled, due to increased traffic volumes attributed to the carrier's merger with clickair in Jul-2009. Load factors slipped slightly, by 0.3 ppts, to 63.8%.
Vueling has previously stated it expects to report improved financial and traffic results in 2010, following its merger with clickair last year, with 60% of the expected merger synergies expected to be accrued in 2010.
Also in Europe, shares in Jet2.com parent, Dart Group, slumped 5.2%, with shares in Air Berlin, Ryanair and easyJet all stronger, up by 1.4%, 2.2% and 2.5%, respectively.
AirAsia adds Vietnam to its JV portfolio Jetstar also seeking to expand its franchise operations
AirAsia's shares gained 3.0% yesterday, on the same day the LCC acquired a 30% equity stake in VietJet Aviation Joint Stock Company (VietJet Air), to establish a Vietnam-based JV LCC, which will carry the name VietJet AirAsia. The Ministry of Transportation of Vietnam approved the share acquisition on 09-Feb-2010. The carrier is expected to commence operations in 2Q2010. See related article: AirAsia's fourth cross-border JV: Vietnam. Next stop: The Philippines (then India and North Asia)?
JetBlue weaker
In the US, JetBlue's shares were down 3.9%, with the carrier's share price currently below its 50-day moving average of USD5.53 and below its 200-day moving average of USD5.28.
JetBlue share price: Jan-2010 to Feb-2010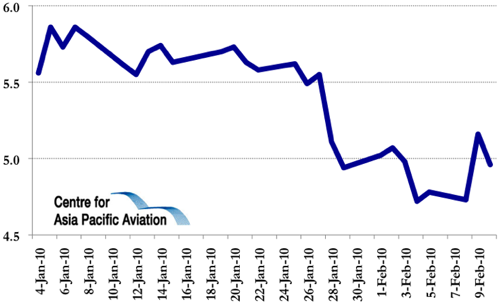 Also in the US, Southwest's shares were down 0.9%, while AirTran slipped 4.7%.
You can now receive strategic LCC news from around the world every morning with Peanuts Daily. Sign up today - it's free for a limited time!
Selected LCCs daily share price movements (% change): 09-Feb-2010