Vueling and Thomas Cook jump, British Airways, Air Berlin & Lufthansa lower, Air France-KLM tumbles
Air France-KLM shares dropped 5.2% yesterday (following Monday's 3.4% fall), as investors digested the carrier's weak May 2009 traffic report (see below). Passenger load factors fell 2 ppts, while the cargo segment showed "further signs of stabilisation". RBS cut its rating on the stock from "buy" to "hold".
British Airways' shares fell a further 0.8% as investors consider Willie Walsh's comments at the IATA AGM. Reviewing industry conditions, Mr Walsh stated, "it's a very difficult environment for all airlines. Every airline is facing up with great honesty [to the conditions]".
Lufthansa's shares fell 1.3% as the carrier prepares to release its monthly traffic figures for May-2009 today. The carrier's CEO, Wolfgang Mayrhuber, told Der Standard newspaper that sales would decline by approximately 20% this year.
Air Berlin's shares fell 2.2% ahead of today's annual shareholders meeting. The carrier is executing its operating plan well amid the downturn, with yields holding up much better than most carriers.
Air Berlin features prominently in The Centre's forthcoming LCC Outlook 2009 report.
Among the gainers, Vueling and Aegean Airlines rose 6.3%, while Thomas Cook Group surged 10% as the company stated its financing arrangements are completely independent from its insolvent parent company, Arcandor (see below).
For daily updates on American aviation stock prices and a complete wrap of the day's breaking news, sign up now for a complimentary subscription to America Airline Daily.
Europe selected airlines daily share price movements (% change): 09-Jun-09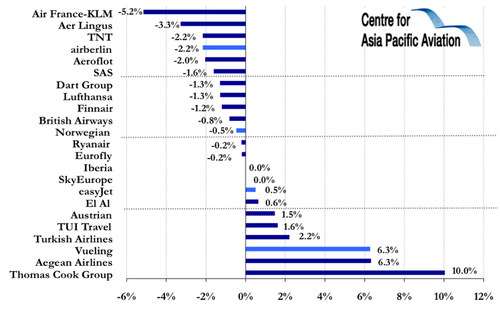 Air France-KLM's group RPKs dropped 8.1% in May-2009 year-on-year - exceeding the reduction in capacity (-5.7%), resulting in a 2.0 ppts reduction in load factor to 77.3%. Air France-KLM stated traffic was impacted by "unfavourable calendar effects in France" (three public holidays compared with only two in May 2008).
On the Americas network, traffic declined 9.8% with a 8.3% reduction in capacity. The load factor declined 1.5 points to 82.6%.
On the Asia network, capacity was strongly reduced by 8.3% while traffic declined 11.1%. The load factor dropped 2.2 points to 79.4%.
Traffic on the Africa and Middle East network rose 0.3% with capacity up 4.0%. The load factor fell 2.7 points to 71.8%.
The Caribbean and Indian Ocean network saw reductions in traffic and capacity of 6.5% and 6.6% respectively, leading to a stable load factor of 80.5% (+0.1 point).
The European network saw capacity down 4.5% and traffic by 7.4%. The load factor declined 2.2 points to 70.1%.
In the cargo segment, excluding Martinair, traffic and capacity fell 18.0% and 14.1% respectively, leading to a 3.0 point reduction in load factor to 61.8%. Air France-KLM stated, "this data confirms the signs of stabilisation witnessed in the cargo activity in recent months, as well as the progressive adjustment of capacity to demand".
Arcandor insolvency - edited press release
On 09-Jun-2009, the Board of Thomas Cook Group plc ("Thomas Cook") noted the announcement made earlier today by Arcandor AG ("Arcandor"), its 52.8% shareholder, that Arcandor has applied to commence insolvency proceedings.
Today's announcement will have no impact on customers and is not expected to result in any adverse effect on any of the contractual arrangements of the Thomas Cook group. Thomas Cook's financing arrangements are completely independent from Arcandor's financing and are not affected by today's development.
In accordance with the relationship agreement between Thomas Cook and Arcandor, Thomas Cook has been operated as a standalone entity, separate from the Arcandor group. As a result, there are minimal balances outstanding between the two groups.
Trading balances owed by the Arcandor group to the Thomas Cook group arising in the ordinary course of business are less than GBP1 million. There are no non-trading balances owed by the Arcandor group to the Thomas Cook group. There are no cash pooling arrangements between the Thomas Cook group and the Arcandor group and the Thomas Cook group has not guaranteed any obligations of Arcandor.
Thomas Cook will closely monitor the implications of this development in respect of Arcandor's 52.8% shareholding in Thomas Cook.
Thomas Cook confirms that it has not had any approach and is not in any discussions in relation to the acquisition of the Arcandor stake or in relation to a potential offer for the Company.
Manny Fontenla-Novoa, CEO, Thomas Cook Group plc, said, "we are saddened by the news announced today by Arcandor. Dr Karl Eick and his colleagues have worked tirelessly to address their financial difficulties and Arcandor has been a constructive and supportive shareholder of our business".