Virgin Blue: The New World Warrior under siege, as the guard is about to change
Analysis
Virgin Blue has announced it will seek to raise AUD230 million by a combination of a one-for-one share offering and an institutional placement. This would raise its cash balance to around AUD700 million.
Recently suffering considerable losses on its new trans-Pacific longhaul services, the LCC was the first and most conspicuous low cost airline to rebadge as a "New World Carrier". Like most other airlines, it is now struggling. How much of this is down to the burden of its greater complexity and where does it go from here?

From its incarnation in 2000 as a genuinely low cost, core model LCC operating domestic services with a single-type fleet, Virgin Blue has evolved today into something that looks very like a full service domestic, regional and international airline, although with a lower cost structure. The objective of the metamorphosis was to improve average yields by attracting corporate traffic.
Progressively this goal took the airline further away from the basic LCC model. Acquiring a second aircraft type – the Embraer 70 and 90 seater jets – to operate higher frequency on smaller key regional business routes meant there was no turning back. Then came the long haul international attraction, in turn requiring a widebody, third aircraft type, the B777. And then…. came The Recession.
Throughout the company's history, it has been dogged by ownership difficulties. These both made life troublesome for management and probably distorted the evolution of what was at first a tight and profitable airline. Today, its future is threatened by a combination of its new operational model and, once again, ownership uncertainty. This will need to be resolved soon.
There have been rumours of a Middle East airline investor – probably a media phantom - which could resolve the Virgin Blue Group's long battle to find a loving long term parent. Virgin Blue has the attraction of offering access to the Australian market and there would be significant synergies if the right airline partner were to appear. But there are obstacles: the carrier is unionised and Virgin Group sits as a substantial minority shareholder. At least one serious suitor from the region has had a detailed look and decided against. Whatever the case, alternatives are running out for the carrier.

This week's cash raising, assuming it is successful, will buy time, but if Virgin Blue had a committed owner with deep pockets, a long term vision and, ideally, operational synergies, the outlook would be much rosier, as CEO Brett Godfrey announces his pending departure.
A new force in the market
When Sir Richard Branson's Virgin Group put AUD10 million into a speculative Australian domestic startup in mid-2000 and loaned it a couple of B737-400s from the Group's Belgian operation, it intended to plunder the lucrative Australian market, then dominated by a turgid and inefficient duopoly. The market was there to be plucked. The motive force behind the concept was Brett Godfrey, a Virgin employee in Brussels, one of Virgin Group's less happy ventures. He became CEO and has guided the airline throughout its existence.
But the first bad news was that another locally grown LCC startup, Impulse Airlines, had decided to enter just ahead of it. Coming off an unhappy venture in Brussels, the newest Virgin franchise had to succeed. Fortunately, despite Branson's failed attempt quickly to sell his new child to neighbouring Air New Zealand a few months in, this became unnecessary as first Qantas bought out Impulse, then shortly afterwards, the other half of the old duopoly, Ansett Airlines, collapsed, three days after September 11, 2001.
(As it turned out, the parallel entry of Impulse probably actually helped Virgin Blue in a perverse way; had Virgin alone challenged the duopoly, it is unlikely to have caused sufficient blood-letting to provoke Ansett's collapse. Ansett's then-new owner, Air New Zealand, would have turned the overweight carrier around - and the history would have taken a different course.)
Ansett had occupied nearly 40% of a very large and lucrative domestic market – although it was too cost-heavy itself to benefit. Its demise left Virgin Blue in a stunning position, suddenly as the number two airline – and the market consisted largely of point to point routes, ideal for the low-frills airline. The carrier scrambled to get hold of aircraft – fortuitously, the downturn immediately after September 11 provided an ideal climate.
That is perhaps where the new airline should have stayed. It had nearly died and was now in heaven. But its owners, quite reasonably, were there to make money from it. Growth is a constant goal and, despite its success in tapping whole new markets, CEO Brett Godfrey was soon to note that most of the "low hanging fruit" had been plucked, as new tourist routes were exploited.
A role as the second major in a lucrative domestic market
But at first the upside for Virgin Blue appeared limitless. The scope for expansion was beyond the owners' wildest dreams. Management was quick to capitalise, eating substantially into Qantas' near-monopoly market share. Under the previous duopoly, demand had been severely suppressed by high fares. Now, with aircraft cheap and easy to come by, Virgin Blue's fleet and route network grew rapidly as it both stimulated new traffic and rushed to pick up where Ansett had exited.
Its customers were typically leisure, but this was to change over time; as frequencies grew, the carrier saw increasing numbers of "suits" using the lower fares. Later, with a new fleet of all-B737NG aircraft, the image quickly moved up market, albeit retaining a Virgin-like sense of humour. Its new business-directed commercials had awards heaped on them.
For a while, Qantas had not seen the new upstart as a threat. But recognition dawned as Virgin Blue's market share shot past 30% and showed no sign of slowing. Once it recognised the extent of the threat, the flag carrier's response was first to "segment" its domestic Qantas services, reconfiguring some aircraft on predominantly leisure oriented routes to a low frills, high density operation, at discounted prices. At the time conventional wisdom, led by some very expensive consultants' advice, was that creating an LCC subsidiary would only cannibalise the parent. Segmentation in fact proved disastrous, polluting Qantas' valuable brand and confusing passengers, a situation that took years to recover.
Around this time, Qantas also did have a try at a separately branded low cost longhaul international airline, Australian Airlines, to target lower yielding markets such as Japanese inbound. The short-lived experiment was important; it helped Qantas recognise that a semi-greenfield airline (for example with seconded pilots from the mainline carrier) was destined to flop. Australian never managed to achieve the cost differential necessary to be effective.
Next steps: cashing in and IPO. Owner problems begin
A major goal of most startup entrepreneurs is to cash in once the airline grows and, hopefully, becomes profitable. Branson was soon happy to sell down part of his shareholding in Mar-2002 to transport conglomerate, Patrick, for a tidy takeout of AUD260 million. The new influence on the board started to push Virgin Blue to look upmarket to take advantage of corporate travel opportunities, but this was to involve a change in style – and cost profile.
Against initial opposition from then-minority owner Patrick, an IPO was held in Dec-2003. Ten times over-subscribed, the float was a success, with shares opening at AUD2.25 and quickly rising to AUD2.40 on the first day's trading.
The Qantas LCC subsidiary response: Jetstar
By late 2003 on the airline front, things were about to change. Just as Qantas before it had underestimated the impact of Virgin Blue in the market, so the LCC did not see Jetstar's impact coming - Qantas having already announced its launch for May-2004.
On the day of the Virgin Blue IPO in Dec-03, Branson dismissed any likely threat, saying the prospect of Jetstar competing head to head with Qantas created a "bizarre situation". He said, "we've jokingly re-named it 'Onestar' on the basis that they've said they are going to cram in as many seats as possible. We're not worried about it; I think the chances are that it is just going to cause Qantas a lot of damage." It may merely have been standard Branson rhetoric, but he couldn't have been more wrong.
Casting the global (and Branson) wisdom aside, Qantas took the plunge, having stated that the "line in the sand" was to be drawn at 65% domestic market share for Qantas. The fully standalone (in management terms anyway) subsidiary began flying in May-2004. Jetstar's great success became the fact that it rarely competed head to head with its parent. Here the Australian market was different from many others, in that many of the point-to-point routes are quite discrete and unlikely to divert traffic away from parallel city pairs.
Importantly, though, despite some minimal ring-fencing, Jetstar was left to do its own thing, without direct interference from the mainline management. This was probably CEO Geoff Dixon's greatest enduring achievement; he not only forced through the concept, but he also overrode the inevitable screams from the mainline carrier's network and revenue planning groups, as Jetstar bit into yields. In doing so he placed total trust in the new LCC's CEO, Alan Joyce, a trust which proved fully justified – to the extent that Joyce subsequently succeeded Dixon at the Group level. Were it not for a successful Jetstar, Qantas would today be on the rocks, as most full service airlines with LCCs in their backyard are.
However, the intrusion, after some teething problems, more importantly also quickly bit heavily into Virgin Blue's underbelly, attacking with lower prices, or at least adding competition where Virgin had previously had free rein. The market share equation shifted back towards Qantas Group and the line in the sand was regained.
With a fleet of new A320s, provided on generous terms by Airbus, eager to restore its then-limited role in the Australian market, Jetstar under its energetic and savvy CEO, started to do to Virgin Blue exactly what the independent airline had previously done to Qantas. Meanwhile, the mainline carrier was aggressively reducing its own costs. Virgin's market share was pegged back and its growth path started to look threatened.
Jetstar was thus to become the catalyst, first of a remarkable two-brand operation which has greatly enhanced Qantas' survivability, and also of Virgin Blue's new resolution to eat back into Qantas' near-monopoly of the premium market. As Virgin Blue started to hurt, differences on the board grew. The carrier was still profitable, times were still good, but the momentum was now being wrested away from it.
Dawn of the New World Carrier
After the 2003 IPO, Sir Richard and the robust leader of Patrick Corporation found few points to agree on. Disputes between Patrick's CEO, Chris Corrigan, and the Virgin Blue team were so frequent that they occasionally boiled over into public, hardly a good omen.
A little over a year after the IPO, in Mar-2005, Patrick acquired a further 17% of equity for AUD346 million in a hostile takeover, giving Corrigan's company a controlling share of 62.4%. The airline was riding high and the share price still showing upside, although fuel prices were rising ominously. Branson/Virgin remained with just over 25%, still enough to veto key decisions.
Patrick's CEO, Chris Corrigan, now in a position to call the shots and not a fan of the heavily discounted fare operation, promptly declared "we've tended to have a model, which was excellent for the times. We now have a completely different competitive environment and we need to make some changes in that model"; by that he implied a very different airline.
It did not take long before the airline's metamorphosis began. Some seven months after Patrick took control, the New World Carrier (NWC) model began in earnest.
The core of the NWC logic (as explained by Virgin Blue in the Centre's Peanuts! of 29-Nov-05), was "a willingness to trade off a small cost increase against a much larger yield increase where necessary", as illustrated in the diagram below. The assumption was that the "much larger yield increase" would be quickly achievable. But, confronted by Qantas' market distribution power, that proved not to be so easy.
And the "small cost increase" (combined with the greater complexity) made Virgin Blue much more vulnerable when the new low cost competition from Jetstar began to bite.
Virgin Blue's New World Carrier's planned shift up market (Nov-2005)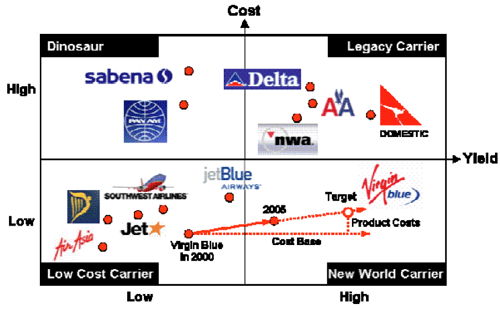 ...and of the New World Complexity
The new format also brought with it an unaccountable but important new item: it greatly increased management complexity, moving away from the fundamentally straightforward LCC operation.
There were other distractions too; Virgin Blue's domestic market power had become attractive to foreign airlines, notably United, which had previously worked with Star Alliance partner, Ansett, to distribute passengers behind its Sydney gateway. Much effort was expended developing a basic interline system – difficult for an LCC using the basic Open Skies reservations system, which could not communicate across other IT platforms. A similar, domestic, venture was established with regional carrier, Regional Express.
And then, all of this brought home the unavoidable fact that Virgin Blue needed to upgrade from Open Skies if it was ever going to graduate to the New World, where connectivity is a fundamental. A great deal of senior management time –and money – was dedicated to working to evolve it into a more sophisticated version. This also wasted over a year and diverted many man-years on what proved to be a fruitless exercise.
Add some international complexity
By this time the airline was beginning to expand its short haul international operations into the island destinations of the South Pacific from Australia and, subsequently, from New Zealand. A cross border joint venture was established which de facto made Pacific Blue the national airline of Western Samoa (with yet another brand, Polynesian Blue). These predominantly holiday routes were, after a short set-up time, mostly profitable; they also offered Virgin Blue some valuable flexibility in allocating its now-extensive order list of new B737s.
The international routes were run on solid LCC lines, mainly selling outbound from Australia and New Zealand. But international affairs each have their unique features; and they took up a lot of management time and attention. The operation was growing in complexity. Interlining opportunities were for many months far more elusive than expected, chewing up much scarce management time. And costs were growing.
The second aircraft type arrives
Virgin Blue's response to the regional priority meanwhile provoked the next major step away from the core LCC model.
One of the first lessons learned in the move to address corporate travel accounts and other business travellers was that a comprehensive network was essential and, in this respect, regional services were far more important – and far harder to service – than envisaged. Virgin Blue had been the leaders in developing previously untapped regional tourism markets with low prices, flying into mid-sized regional markets, often at off peak times.
But tourists differed from higher yield customers in important ways. The price of winning "suits" was to provide high service frequency, even in small markets. Virgin Blue could not do justice to those needs with one daily service in the middle of the day; and higher frequency simply could not be economically achieved using the large capacity of B737NGs, no matter how low the seat cost.
It didn't take long to learn that and by the third quarter of 2007, Virgin Blue was taking delivery of the first of its fleet (of 20 ordered) Embraer ERJ-170s and -190s. That these had to be bargained for at the peak of the market didn't help. They were not cheap.
Meanwhile, back at the ownership saga
Whether or not Patrick ever fully elaborated a goal to use Virgin Blue as part of its transport and logistics system was never clear. If so, it didn't come close to achieving it, although it did acquire Ansett International Ground Handling from the liquidators of Ansett, giving it a foot in aircraft cargo handling, as it broadened its transport investments. Passenger LCCs and logistics don't combine well. The original purchase of Virgin Blue had been seen as a good opportunistic corporate acquisition and it proved profitable, even if not as good as initial prospects appeared. But, as Virgin's share price deteriorated, even this argument lost strength.
It was obvious that Patrick's involvement with the leap of faith away from the base LCC model was more than coincidental. As CEO Corrigan had flagged, Patrick wanted Virgin Blue to move up market.
Now though, there were still more ownership changes to come. Toll Holdings, another logistics and transport group and former joint venture partner of Patrick, commenced a hostile takeover of Patrick itself in Aug-05. Toll was interested in the mainstream business of its target company and Virgin Blue was only an appendage. Toll announced that if successful in the takeover it would sell down equity in the carrier, "but still maintain a relationship with Virgin Blue so (they could) work together to expand the cargo market" – an unlikely objective, probably for market consumption, which was not achieved, despite some hopeful small joint ventures.
Against stout resistance from Patrick, Toll prevailed with the (extremely) hostile takeover in the following year and so by mid-2006 Virgin Blue had yet another new owner – but this time, as its share price slipped further, it found it had become an unwanted stepchild. Toll had inherited the obligations of some expensive aircraft orders (for B737s and Embraer jets) and, had taken on a highly complex operation whose growth path was starting to look challenged – and in what was a non-core area for the new owner.
Virgin Blue's monthly share price movements: Dec-2003 to Jul-2009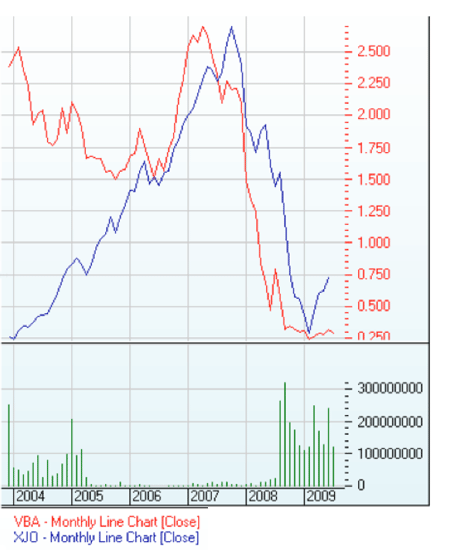 As time passed, analysts prodded Toll to divest Virgin Blue, because the airline was depressing the company's value. But buyers were in short supply. In mid-2008, just before the wheels really fell off the industry, Toll effectively gave away its holding in the airline, issuing all but a tiny proportion of its 62.7% holding by way of an in specie dividend to its shareholders.
This allowed Virgin Blue CEO Brett Godfrey to announce hopefully, "we see Toll's exit as an opportunity to introduce long term investors to the company. Despite the difficult trading environment that we are facing at the present, the longer term outlook for the Group is very strong, and we have a number of new products that will be launched in the coming months, including V Australia." So long as Toll was a controlling but unwilling shareholder, the airline had been hamstrung. Now there was the possibility of some stability.
With renewed hopes, the share price more than doubled to over AUD1, but the euphoria was quickly curtailed as oil prices surged and demand went the other way.
Still more battlefronts to fight
In late 2007, yet another low cost carrier had arrived in the Australian domestic market. The aggressive Tiger Airways, whose pedigree was in Singapore, entered, threatening a new breed of ultra-low cost operation. This was unwelcome, but was initially modest in size.
Tiger provoked Jetstar into very active responses – sometimes even before Tiger had acted – while Virgin Blue largely stood on the sidelines. It was not yet wounded by the new entrant's activities, but it is now increasingly being caught in the backwash, up against another LCC whose costs are considerably lower than its own. At the end of 2008, Virgin Blue retained around 32% domestic market share and, in duopoly with Qantas, still had a firm hold on the key Melbourne-Sydney-Brisbane routes, among the busiest in the world. This is now being challenged, as Tiger entered the Sydney-Melbourne route in Jul-2009.
Internationally, Virgin Blue at first stated that it was not prepared to expand beyond a limited service in the cutthroat market between Australia and New Zealand, which was dominated by fierce competition between Qantas and Air New Zealand, as well as daily fifth freedom operations by Emirates (then, later, Jetstar). But it had ordered too many aircraft for the Australian market. And order postponements and aircraft groundings could only go so far.
As 2008 began, total additional Australian domestic capacity planned for the year, together with Qantas/Jetstar and now Tiger, would have increased total supply by some 20%.
The market's long term growth rate is around 5%, so this level of expansion spelled one thing, even before the global economy convulsed: uneconomic fare wars. Moves were begun by each of the airlines (except the still-small Tiger) to defer aircraft orders and redirect capacity elsewhere, in order to soften the blow in Australia.
By Feb-2009, when Virgin Blue's most recent, 1H09 to 31-Dec-08, results were released, the Group had reduced its domestic expansion plans downwards, from growth of 20.2% for the full year to 30-Jun-09, to 4.5% – a rapid reduction, as ASKs had actually already increased by 16.1% in the December half. Five aircraft were to be grounded for up to 18 months. For FY2010, a net domestic capacity reduction of 2.4% was now planned.
Virgin/Pacific Blue meanwhile now deployed more aircraft towards New Zealand, having entered the domestic market there in Nov-2007, a bold move; but it was one more front to occupy. Pacific Blue's fleet had been increased by four B737s, to 10 by this time.
That particular battle became even more intense when Jetstar, still dogging Virgin's heels, subsequently started domestic New Zealand service in Jun-2009.
Next: Virgin Blue takes on the Pacific (and Qantas and United and Delta) – and a third aircraft type
Back in Mar-2007, Virgin Blue had announced orders for seven B777-300ERs (including one leased from ILFC), plus six options. Times were still good back then. The purpose: to launch long-haul operations the following year, initially between Australia and the West Coast of the US, using the brand V Australia (Singapore Airlines – now reluctantly - owns just under half of Virgin Atlantic and one condition of its buy-in was that it retain a veto over use of the Virgin brand on any other international airline – hence also, the "Pacific" Blue of the short haul international operator).
This was to be a massive step for what was still a relatively small short haul airline. The distortion of the original model went much further than adopting a third aircraft type. The financial implications of
There was some urgency in the decision, as Virgin management was - ironically - keen to ensure that the Australian government did not grant the US route rights to Singapore Airlines, a keen contender for the route. Arguing the nationalist line, V Australia managed to keep SIA out.
By 2007, Qantas had built a 70% share of the highly lucrative US market. With limited competition, total passenger numbers on the route had expanded a measly 22% over the 14 years since 1993 (when there had been five major players in the market, including Northwest and Continental). Qantas meanwhile enjoyed 150% growth in its passenger numbers on the route. And yields had bloomed in step with its growing dominance, with premium fares providing as much as double the yield on more competitive international routes.
Like the attractive domestic market, this plum was simply too juicy for the now increasingly FSC-like Virgin Blue to ignore. After all, it was the only other airline which could tap the behind gateway Australian market, crucial to gaining a valuable hold. Likewise, if Virgin Blue was to succeed in its domestic corporate climb, it needed to have the ability to deliver its customers to key international destinations too. Qantas' other lucrative international route, South Africa, was to be next.
There were also, probably, some Virginal aspiration of global coverage, as, combined with the Group's other branded airlines, this would complete the links in an around-the-world hookup involving Virgin-branded carriers. (If this was an emotional motive, even establishing codeshares with the others in reality proved challenging.)
Less clear is why Toll apparently agreed to this move, as presumably the decision to make the massive leap to buying B777s was made while it controlled the company, even if the concept may have been envisaged under Patrick's ownership. Perhaps Toll believed the Pacific route was another gift too good to be missed. Late 2007 was boomtime, with still-low fuel prices and powerful demand; the boom was never going to end. And perhaps Toll saw logistics opportunities – or had plans to sell out anyway.
Then, as luck would have it, the timing of this already-expensive new entry proved immaculately unfortunate – it sailed into the worst global recession in nearly a century, destroying the premium traffic which made the market so attractive, along with a decision by the world's largest airline, Delta, also to enter the route.
And, as if the omens were not already sour, just as stock markets around the world crashed, a strike at Boeing meant that V Australia's B777 was not ready for delivery in time, forcing it to push back its much publicised pre-Christmas 2008 launch (without compensation from the manufacturer for the several millions of dollars in costs) until the end of Feb-2009. This still gave it a short headstart on Delta, but things were getting tough, as Delta too published its product online.
Even in good times, the commencement of B777 long haul operations would have completely shifted the centre of gravity of the Virgin Blue Group, bringing with it too the expectation of at least a couple of years of initial losses. The cost/revenue profile of the longhaul widebody operation dwarfs the original domestic LCC.
Not yet in the New World – but gone from the old
So, step by inevitable step, Virgin Blue Group has been drawn into a scenario which eventually dramatically increased its risk profile, not only in entering new markets, but in being a first mover in a complex transformation from domestic point to point LCC to a full service domestic and international – short and longhaul - operation. What started as a simple, core low cost airline model with a single aircraft type operating out-and-back short haul domestic service in 2000 has transformed itself beyond recognition.
Virgin Blue Group's operation may be lower cost than the longer established full service airlines, but its services have not yet been able to generate sufficiently higher yields to justify the greatly increased complexity of the new structure. With premium traffic the worst affected of all by the economic downturn, that seems unlikely to change soon.
Ownership now the possible solution
And its ownership woes continue. Only Virgin Group/Richard Branson retains a significant holding in the carrier, at over 25%, with the other stock widely dispersed following Toll's giveaway of its holding (the Virgin shareholding may increase a few points as part of the capital raising). The company's share price has thudded down to hover in the AUD0.25-30cent range (with this week's institutional share placement at a measly AUD0.20cents) and losses are mounting as the Pacific route cuts into the airline's flesh. The capital raising – which may not be all smooth sailing – should help. Attempts at sale and leasebacks of the B777s are also reportedly under way. But these are only bandages, not the full scale revitalisation which is needed.
The Group has withdrawn aircraft from service, reduced staff, deferred deliveries of Embraers and Boeing aircraft (all of which are courses being followed my the majority of airlines around the world). And still it must be haemorrhaging cash, as the Pacific gobbles up much bigger fish than V Australia.
Relying on a Delta miracle is not the answer
A newly proposed Pacific partnership with Delta could enable a massive transformation and would be a potential attraction to another airline buyer. A joint operation between the two would deliver a more balanced competitive situation, reducing Qantas' stranglehold. Fortuitously too, both operate the long range B777. But it will take many months (and enormous numbers of complex management hours) to achieve, as the deal will have to confront strenuous opposition before competition authorities in the US, Australia and even New Zealand.
The US Justice Department in particular – with perhaps embarrassing encouragement from Virgin Group itself, keen to prevent British Airways from allying with American Airlines – is very wary these days about agreeing to this sort of tie-up, especially when it involves the world's largest airline, Delta. And, Delta did after all, forget to tell the Australian public or media when it made the first announcement of its proposed entry. This is not the biggest item on its corporate agenda. As it now cuts back on other international routes, there may be questions over the logic of remaining on a route where it is guaranteed to lose money for the foreseeable future.
And now a changing of the guard
So the formerly domestic LCC might occasionally look wistfully back on those simple days when it couldn't get enough B737s to service a juicy domestic Australian market. Given the benefit of hindsight, entrenching itself there at home and finding a foreign partner to join with might have been a more profitable option. It would probably have made for a quieter life. Unfortunately, the progressive decisions to evolve the model were taken under temporary owners, often with their own, different priorities. And that is where stability needs to be restored, if the airline is to have a long term future.
As this stage is reached, the timing is perhaps appropriate for Virgin Blue's co-founder and CEO, Brett Godfrey, to transfer the leadership, as he announced this week he will in coming months. Apart from anything else, merely surviving through the massive stresses of this evolution – and LCC leadership is hands-on everything – for over nine years is a rare achievement in itself.
Godfrey is one of the longest serving heads of an LCC anywhere in the world a tribute to his perseverance, and he leaves voluntarily, not a common feature. He has weathered some difficult boards, multiple ownership fluctuations and some tough external pressures - yet throughout managed to maintain a reasonably consistent thread of logic behind the development of the airline.
Under his guidance, the carrier became a formidable force. He can justly claim much of the credit for developing Virgin Blue from a couple of leased B737-400s in 2000 into an international airline with an annual turnover of nearly AUD3 billion. That makes him one of a very select group in the aviation world. Australia has produced some notable airline leaders and, although Mr Godfrey is rarely accorded the stature of sometimes ordinary leaders of competing carriers, his achievements speak for themselves.
A now very different airline will be seeking a very different type of leader. But what it really needs most is a long term resolution of the airline's ownership. Meanwhile, Virgin Group has committed to put in sufficient funds at least to maintain its current holding. The impression, despite Sir Richard's effusion, is that Virgin Group would happily exit if it could get the price. That may now have become even more difficult. If it is going to remain, it will need to become a more supportive parent.