Virgin Blue gamblers push price up. Jet Airways, Kingfisher rise again on faint hopes
Virgin Blue shares (+17.1%) rose steeply yesterday as speculators (or a focussed buyer) invested in the hope either that a takeover would occur, or simply to increase a position in the stock while it plumbs its depths. The carrier advised the Stock Exchange that it knew no reason for the change, implying that the move was purely non-market driven.
We can expect to see more volatility in Virgin Blue's share price, so long as the uncomfortable position with its ownership remains unresolved.
Meanwhile, misguided Indian investors continue to push Indian airline stocks higher, with Jet Airways (+17.2%) leading the way, as they interpreted this week's traffic data as meaning that the market had turned the corner.
Taiwanese carriers, China Airlines (+7.0%) and EVA (+6.9%) also gained again on hopes that there would be accelerated opening of direct cross-straits market access.
Asia Pacific airlines daily share price movements (% change): 16-Mar-09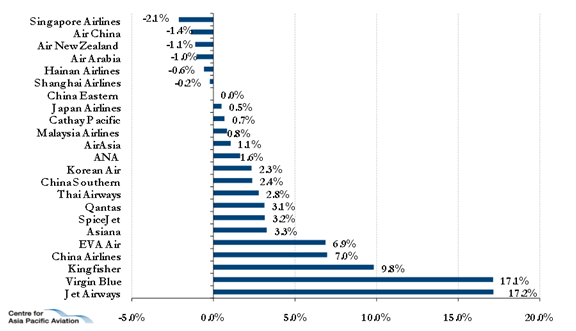 Singapore Airlines reported ugly traffic figures after yesterday's market had closed, so, although the results were unsurprising for industry watchers, we can expect a sell-off today. (See separate report)