Virgin Blue falls 5%, China Southern soars - share wrap
Analysis
Virgin Blue's share fell back 5.4% yesterday, as the carrier warned of further cutbacks after it announced plans to cut 28 of its 330 daily flights and said there would be fewer redundancies than the 400 initially expected.
The schedule changes will take place from 07-May-2009, as the airline removes five B737s from domestic service. The airline said it had not withdrawn from any markets, but had targeted high-frequency routes where flights could be consolidated.
Meanwhile, Hong Kong stocks rose strongly on Thursday, with the benchmark Hang Seng Index increasing 486.87 points or 3.57%. Airline stocks were among the gainers, with China Southern Airlines soaring 12.2% to HKD1.56, China Eastern Airlines rising 8.0% to HKD1.21, Air China jumping 6.56% to HKD2.76, and Cathay Pacific adding 0.60% to HKD8.37.
Asia Pacific selected airlines daily share price movements (% change): 25-Mar-09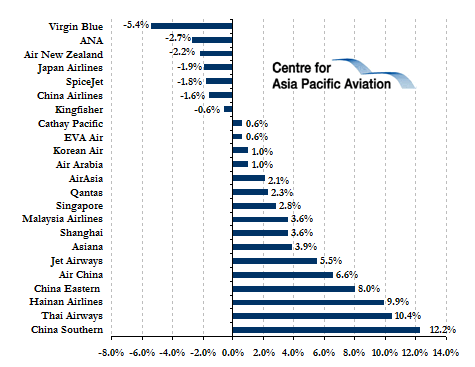 The 'Big Three' Chinese airlines' shares are all in positive territory this year, while Hainan Airlines shares have shot up 50% this year, after a 9.9% gain yesterday.
Chinese Mainland Carriers share price index: 02-Jan-09 to 26-Mar-09